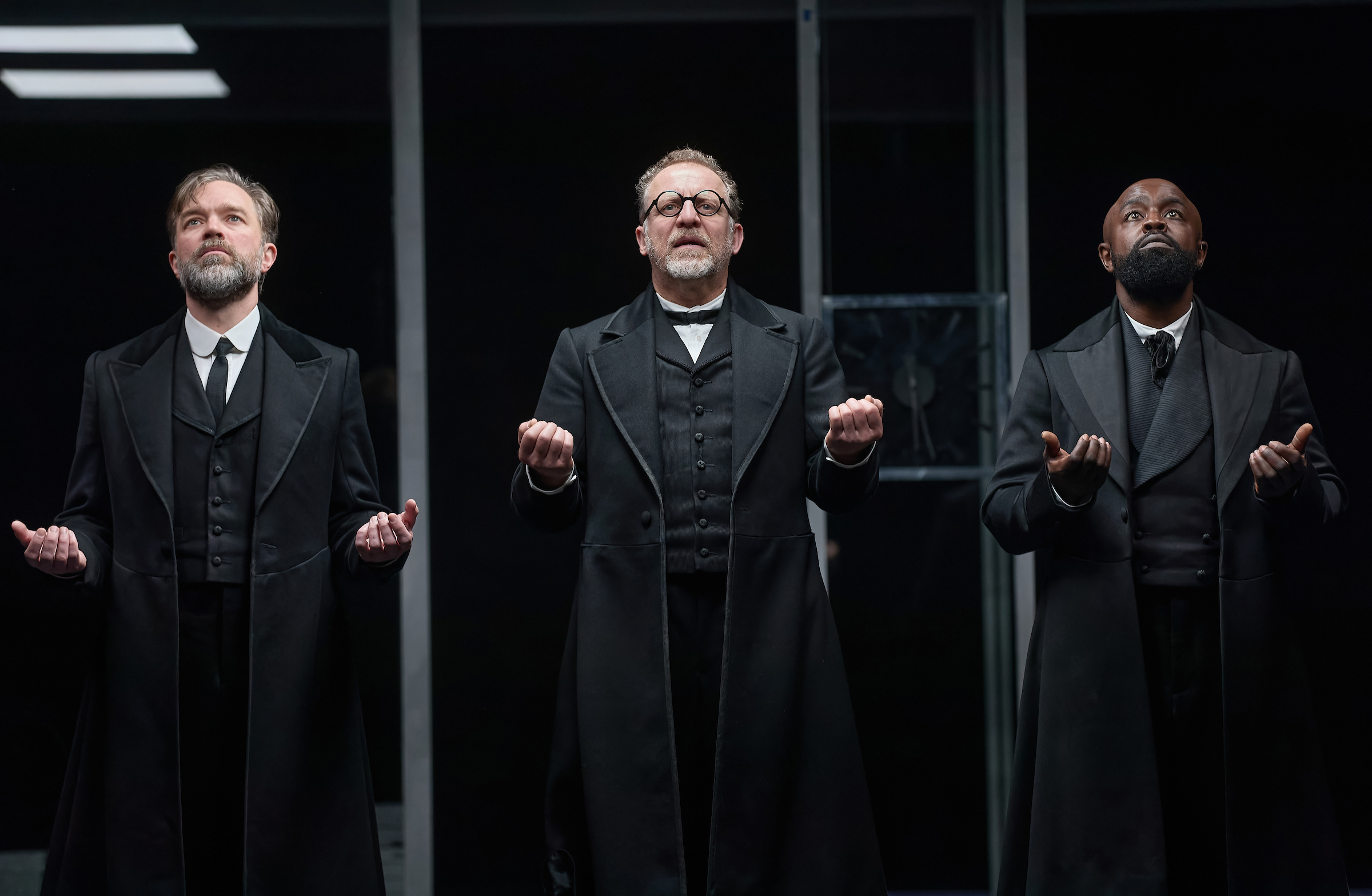 Let me cut the suspense right away… this play is one of the best technical displays of narrative storytelling one could ever wish to experience in a theatre production.
The word 'suspense' is multi-faceted – especially in theatre. It can be used to describe a sense of emotional attachment placed upon the audience (usually regarding the fate or wellbeing of one or more of the main characters); it could also apply to the story itself, and the thrill of 'not knowing' what happens next, yet being impatient to find out; it could also apply – in circus theatre – to the fear that a performer – or some important objects – might be in some actual physical imminent danger (e.g. fire, gravity, violence, etc.).
Director, Sam Mendes, uses and – like a master storyteller – circumvents all of these tropes in differing ways during the (almost) 3.5 hour running time.
This is the narrative telling – ostensibly by three thespians (inhabiting a multitude of roles) and a piano – detailing the rise and pre-eminence of one of the most successful – and influential – immigrant families ever to set foot in America. Yes, the family's 'brand' was 'Lehman Brothers', but it could have been changed to 'Lehman Dynasty' at any stage throughout the last century. But I digress.
"Michael Balogun's monologue was so good that – at its end – the whole audience broke out into spontaneous applause".
Es Devlin's wonderful set is revealed as a huge see-through, plexiglass cube, with translucent walls, open doorways and minimal furniture. What furniture there is makes the centre-piece resemble an open' plan office or boardroom. The only other 'props' are – what appear to be – an endless supply of cardboard, office-centric boxes. These are used throughout the show – by all three cast members – as part of a constantly-evolving (and involving) choreography. Very impressive.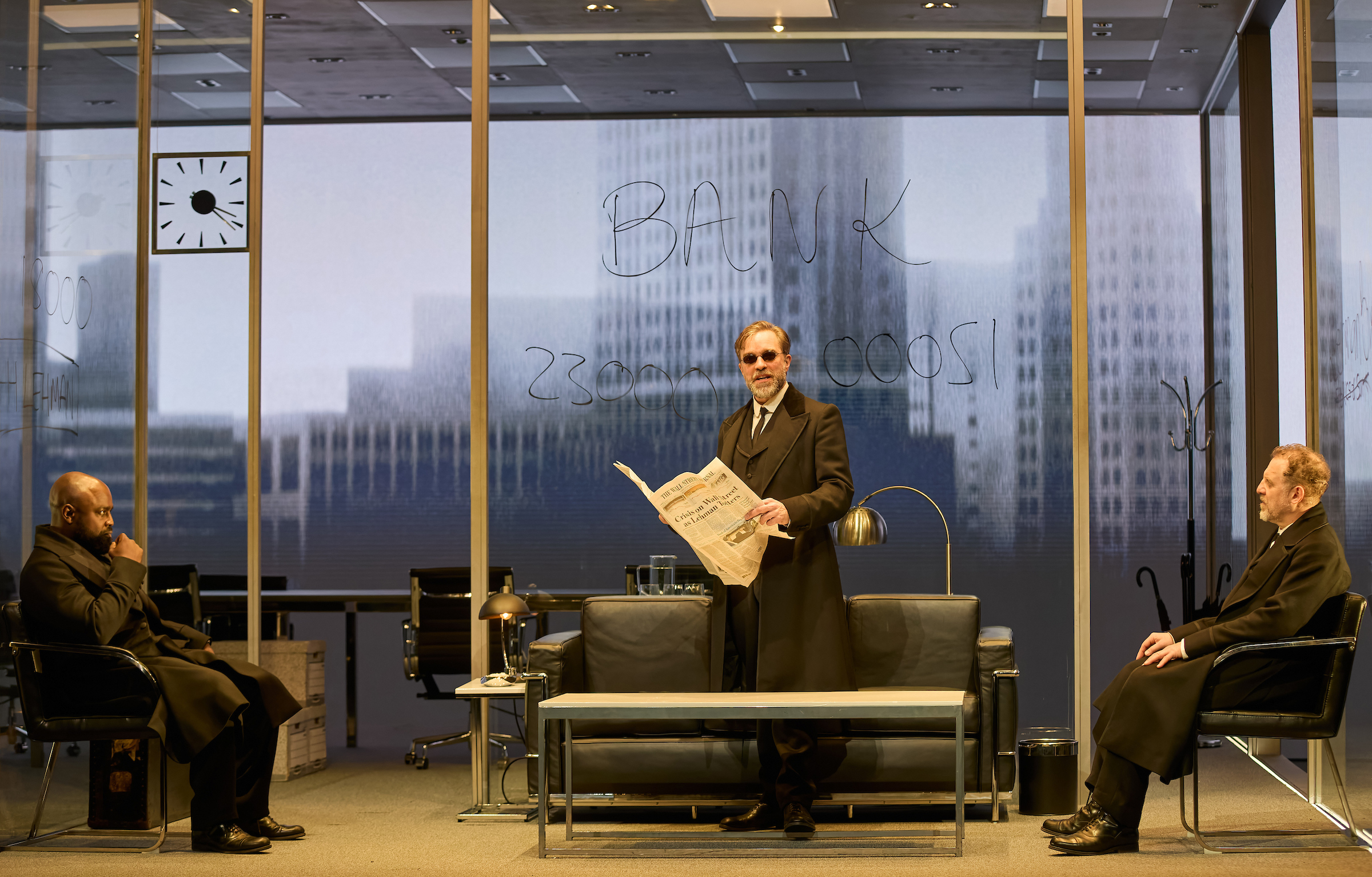 The back-drop is one huge and concave; covering the complete stage, it is used for a multitude of projections and lighting shifts. This proves to be a remarkably flexible and effective tool; one that can easily allude to the seemingly endless cotton-fields of The South, as well as the vast Manhattan skyline.
Indeed – as the last remaining Lehman makes the final Mephistophelean pact with an unscrupulous chain-trader near the finale – the backdrop accurately explores his (and Capitalism's) descent into hell… by travelling up above the Manhattan skyline, showing the rarefied air to be 'blood-red', as the dirty deal is done.
The other 'trump card' is the amazing pianist Yshani Perinpanayagam who – accompanying with only piano and Nick Powell's bespoke score – was perhaps the most versatile of all the four performers and that's saying something! Her tempo changes, mood shifts, single-note refrains, evocative arpeggios and full on crescendos ensured that the actors' tonal shifts and measured soliloquys were all supported and corroborated by the musical tone platform.
But now… the actors.
The show starts – after a 'janitor' has locked the office away 'for the night' – with, Emanuel Lehman, portrayed astonishingly by Michael Balogun – telling the story of his 45-day crossing to New York from Europe; his obligation, as the eldest brother, to pave the way for his other siblings; and his pride at finally having the chance to prosper in America.
His monologue was so good that – at its end – the whole audience broke out into spontaneous applause.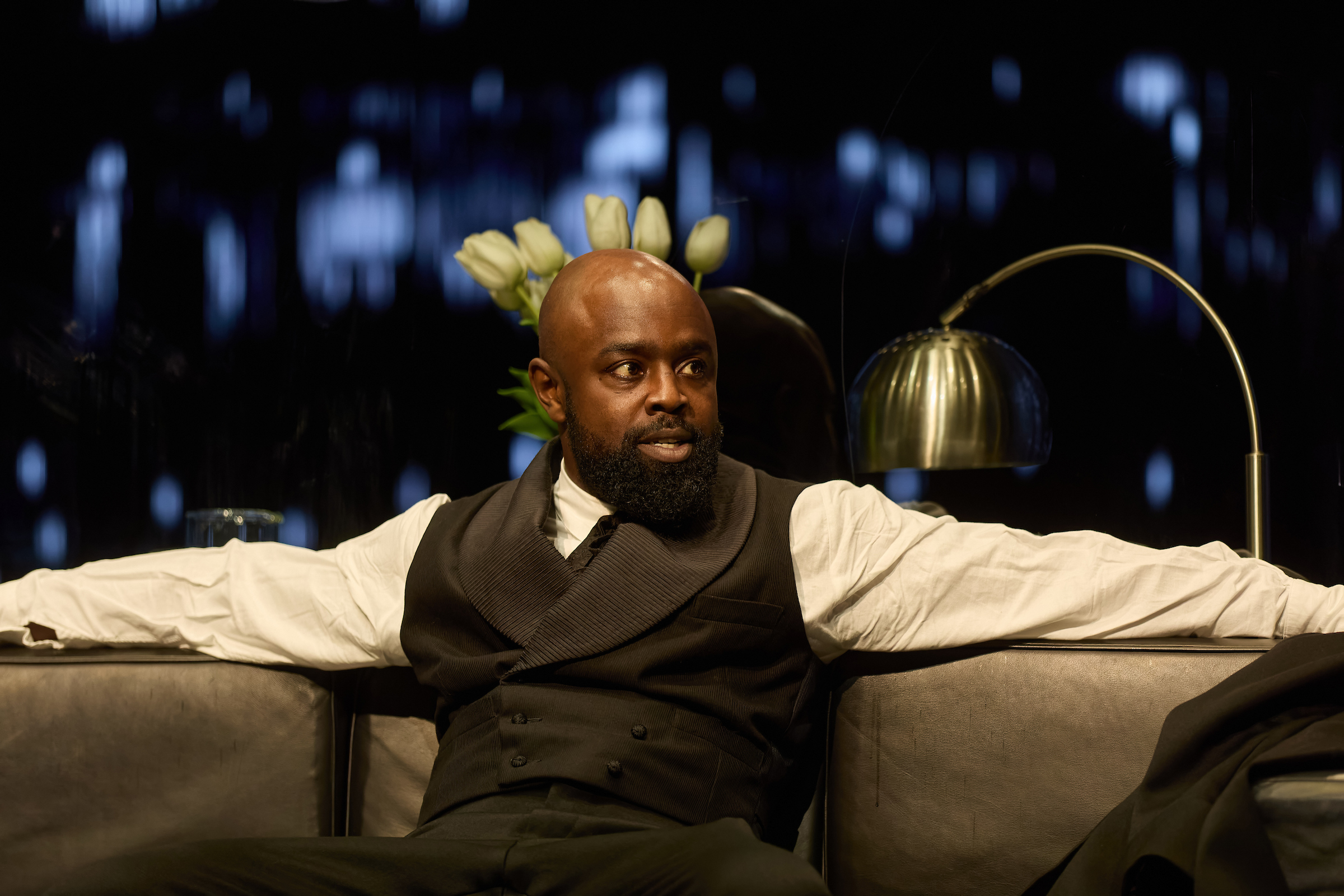 As Nigel Lindsay's 'Henry Lehman' and Hadley Fraser's 'Mayer Lehman' get introduced, it is clear that this will not take the usual route of 'antagonist, protagonist, and major cast members'.
In fact – with dizzying feats of verbal, physical and emotional dexterity – each of them embody a myriad of the play's supporting cast, as well as all the major family members themselves. The whole evening is an acting masterclass, with Balogun and Fraser especially 'knocking it out of the park' time and again.
Of course, they were, no doubt, helped by the script by Stefano Massini, and the director Sam Mendes. If there is a more complete and polished director – hitting 'homers' regularly across both stage and screen – then I am unaware of them. Mendes seems less like a director; more a sculptor who is able to carve out moments of perfection time and again in both mediums. Astonishing.
The lighting, sound design, costumes all are superb.
Even the ending – which most of us know – was beautifully crafted, surprising and excellently judged. A near-miracle.
If I didn't make it clear before, I will say – with no hesitation – go. It's extraordinary.
NEED TO KNOW: The Lehman Trilogy is at the Gillian Lynne Theatre, 166 Drury Ln, WC2B 5PW until 20 May 2023 | Audio Described Performance on Monday 27 February, 7pm, Saturday 25 March, 1pm | BSL Performance on Saturday 11 March, 1pm | Twitter and Facebook: @LehmanTrilogy | Instagram: @TheLehmanTrilogy