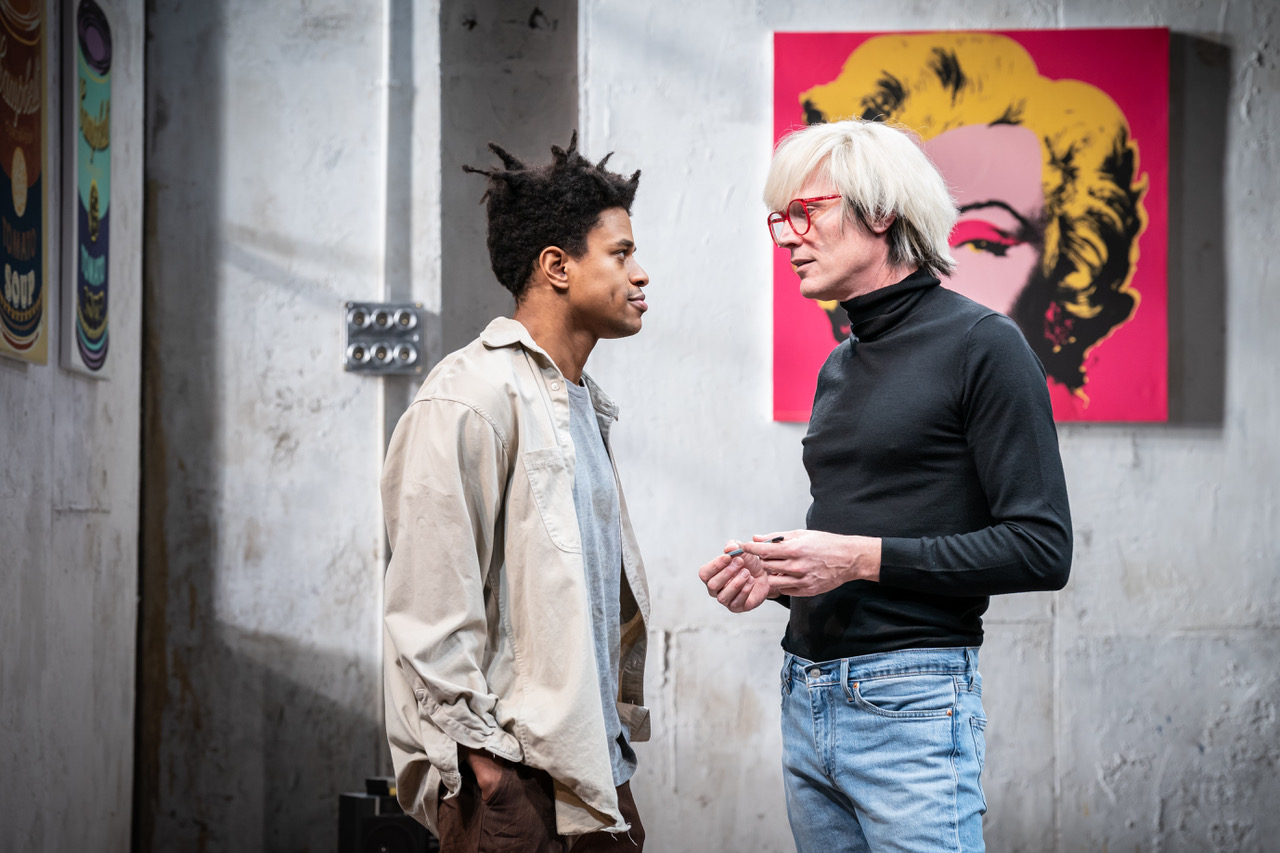 Warhol vs. Basquiat. These two art titans will be advertised as prize fighters, and their joint exhibition as a boxing match bound to entertain the world's richest and most elite buyers. The pair's Swiss art dealer, advertiser, and gallerist Bruno (Alec Newman) has concocted this grand idea and explains it giddily to Warhol. And as soon as we see the two artists meet for the first time, we see why Bruno is so eager to facilitate this collaboration-as-clash.
The pair are complete opposites; their personalities and artistic practices and beliefs are incompatible. Warhol believes in art as 'business' whereas Basquiat believes art should take a 'stand against corporations'. Andy Warhol is a neurotic middle-aged man who is worried his career is in decline. Despite the incessant name-dropping of A-list and Hollywood celebrities, it is clear that Warhol is unable to sell the illusion of his own popularity to himself. Paul Bettany (of Marvel fame) expertly characterizes Warhol's debilitating anxiety and germaphobia, crossing his arms and holding his elbows, like he is trying to keep his fragile body and state together.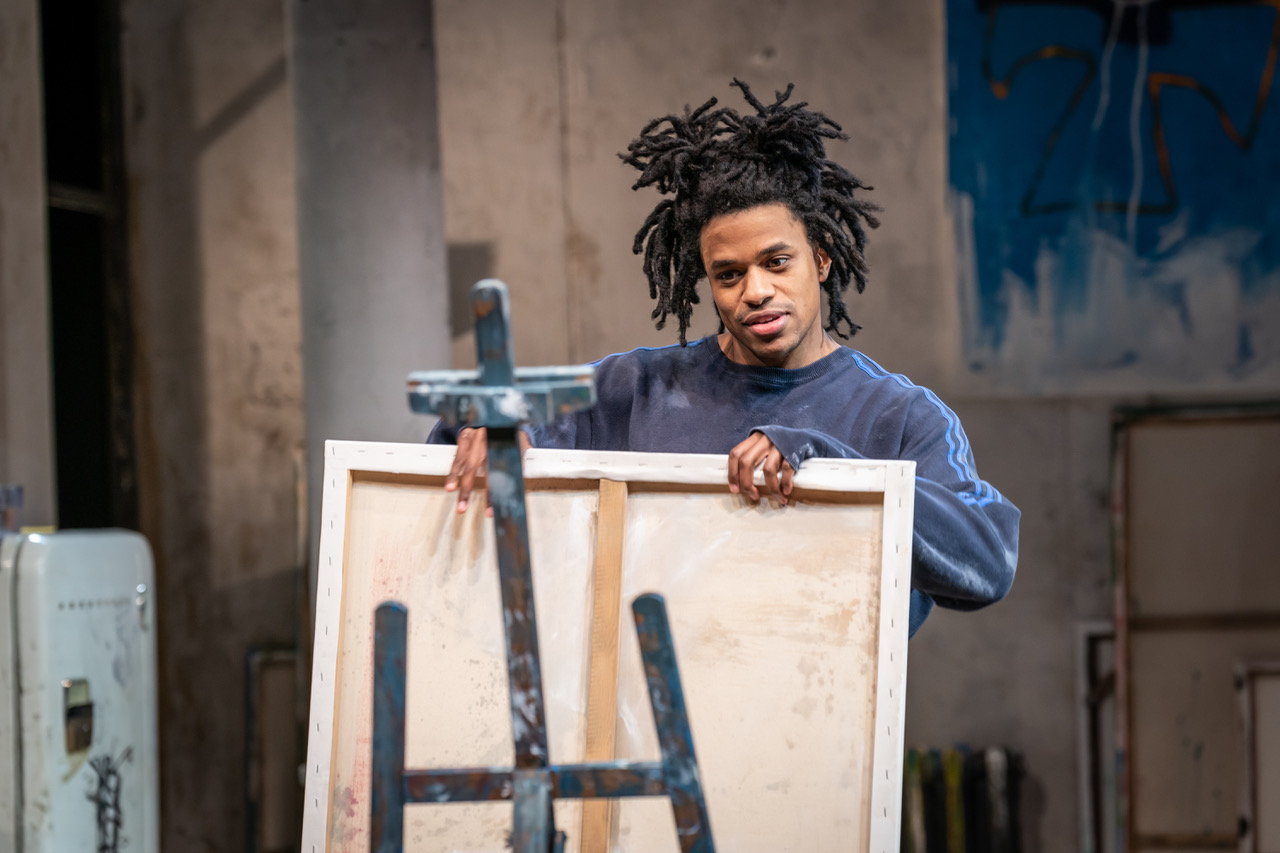 Meanwhile Jean-Michel Basquiat is young, spiritual, and getting more and more popular by the day. He can bang out a painting in only a couple of hours and has a string of girlfriends, including Maya (Sofia Barclay). From his first appearance, Tony-nominated Jeremy Pope shows off his acting chops, playing Basquiat as dazed and dangerously child-like. However, as the play goes on, we witness an intense – bordering on homoerotic – friendship blossom between them, painted humanely by writer Anthony McCarten.
Because this is in essence a semi-biography, the overall production feels fairly functional and Kwame Kwei-Armah's direction traditional. However, I could tell that this is a production that had the essence of 'collaboration' at its core, from the rehearsal room to the design meetings, and this has made this high-budget production feel memorably high-value. Projection designer Duncan McLean's scenes of New York are set on gauze which is overlaid on DJ Xana's booth. Xana's 1980s pre-show nightclub set blends with the SAMO graffiti (Basquiat's former collective, short for 'same old shit') which we see painted along the walls of the Young Vic as we make our way to and from our seats.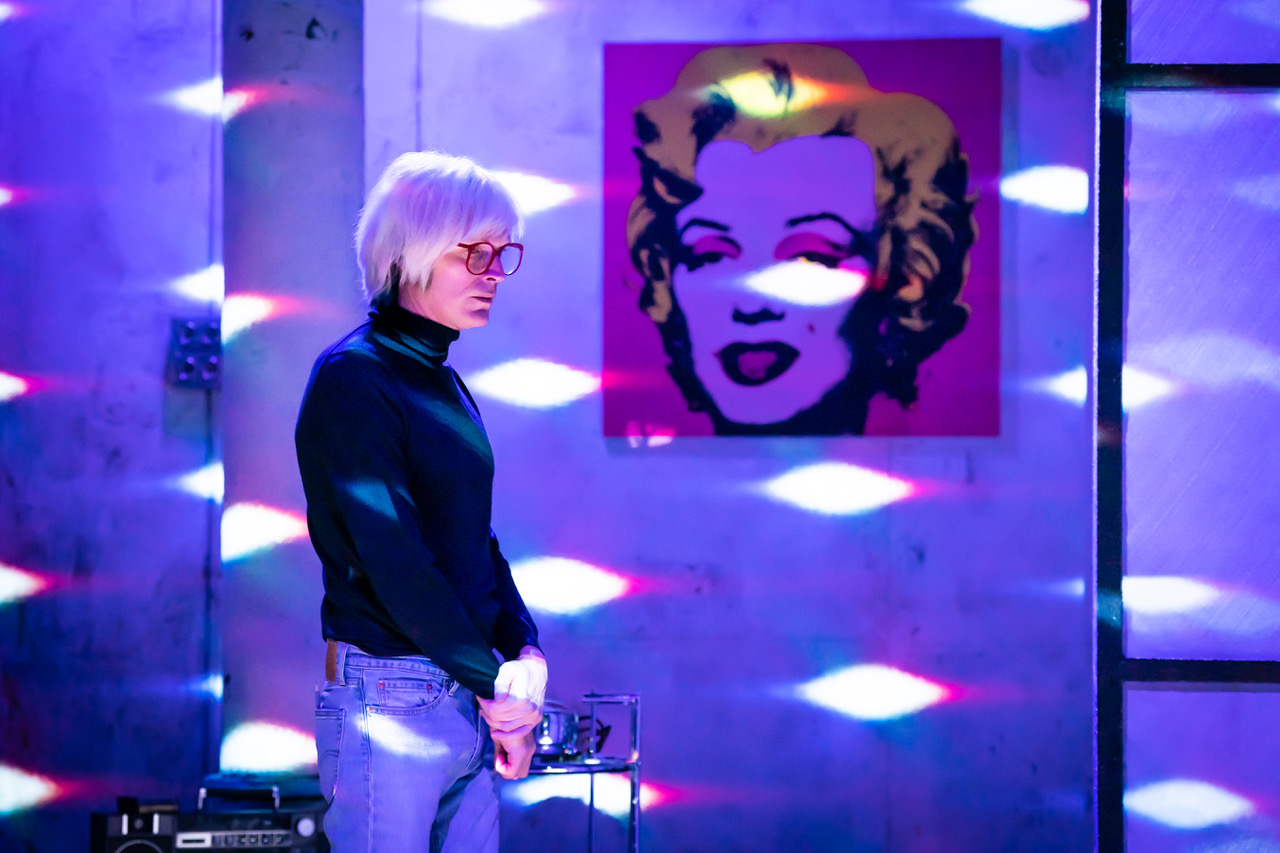 Anna Fleischle's shabby chic white-washed set encapsulates the relationship between clash and collaboration. The set effortlessly transitions from Warhol's overly-clean studio loft to Basquiat's studio loft, which is especially filthy because he is in the grip of his heroin addiction. The Young Vic creative team has committedly brought the pulsating world of 1980s New York alive in this pocket of Southwark. And Bettany and Pope have committedly portrayed just how small and lonely they feel in this world.
The characters and the story come alive post-interval. In the second act, Kwei-Armah's direction sweeps the entire stage, and Bettany and Pope are no longer confined to walking the outskirts of the wooden stage. After hearing them talk for so long about the state of the world in abstract, we finally get to see how these artists navigate the real world – Bettany jumps anxiously when he hears a violent domestic dispute off-stage; Pope reacts heartbreakingly after learning that his friend, Michael, did not survive a brutal assault by the the cops. Accordingly, we get to see Basquiat actually paint on a canvas – up until then, they had been miming. We get to see actual footage from Warhol's film camera projected onto the walls.
This is Basquiat's story, and Jeremy Pope's stage. Warhol monologues a lot about his life, but it is Basquiat's friends, struggles, addiction, vulnerabilities that we see play out in real life. I cannot say whether people who are hardcore admirers of these two artists will enjoy McCarten's interpretation, but I would highly recommend it to those who, like me, know next to nothing about Warhol and Basquiat but want to learn. McCarten and the creatives on this production, have done an incredible job humanizing these 'modern giants'. 
NEED TO KNOW: The Collaboration is at the Young Vic until 2 April 2022