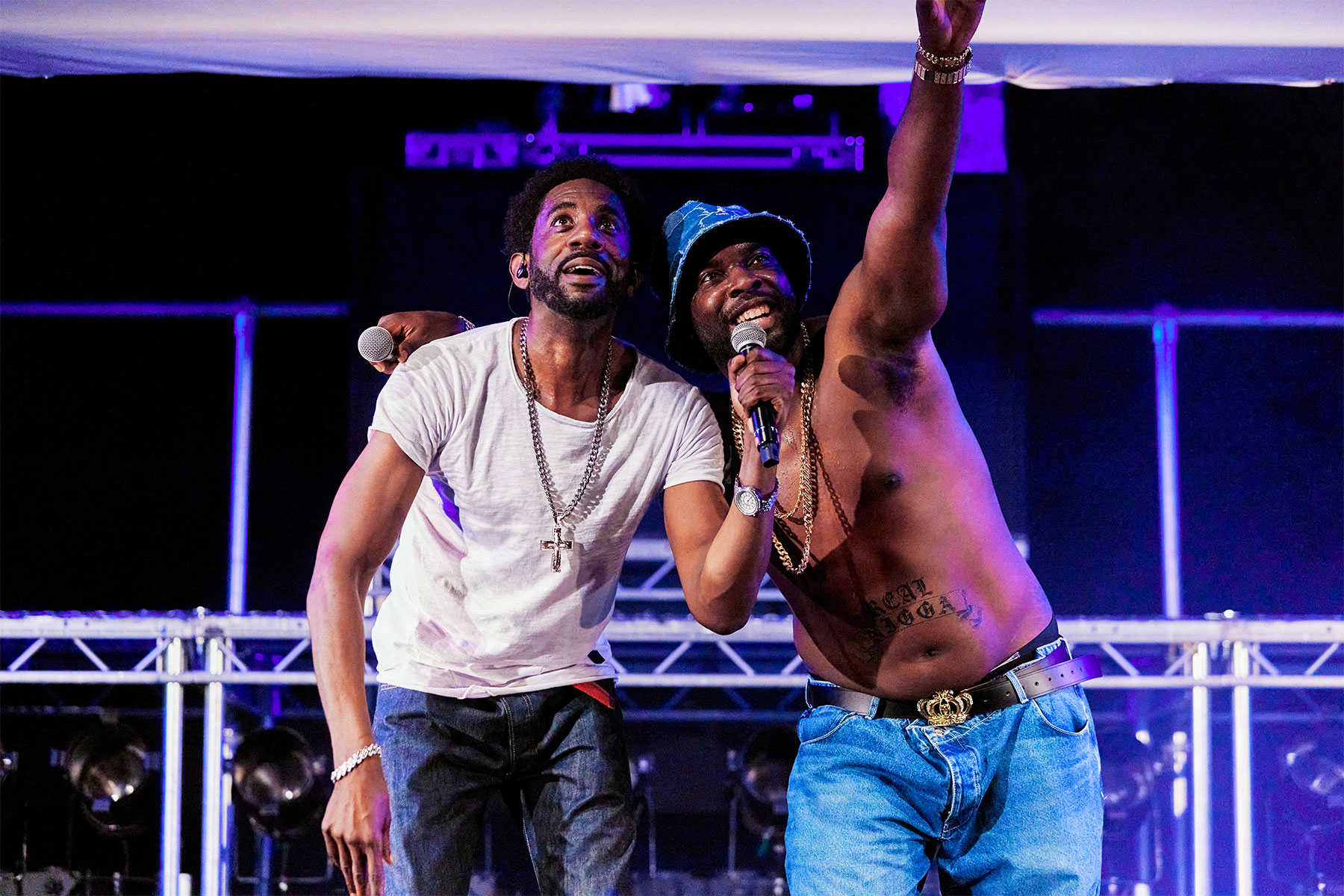 After watching countless plays, I can honestly say that Tambo and Bones are unlike anything I've seen before. Writing this review was a challenge, not because it was bad, but because it completely blew my mind – in a good way.
The play's description is brief, yet it highlights the captivating narrative of Tambo and Bones, who are trapped in a Minstrel show, determined to break free, be rich, and seek retribution against their oppressors.
Cleverly written by Dave Harris, without spoiling too much, Tambo and Bones is divided into three sections. The first section resembles a typical Minstrel show, with Bone and Tambo portrayed as being stuck in what looks like an American cotton field. Tambo (Rhashan Stone) is solely focused on escaping his troubles through napping, while Bones (Daniel Ward) has grand aspirations of becoming wealthy.
"The play was truly outstanding, with the entire cast delivering an exceptional performance"
He is willing to go to great lengths, even if it means self-inflicted harm, to impress the audience and collect as many quarters as possible. Despite their differences, they eventually realise they share a common goal and go on a journey together to fulfil their purpose.
In the second section, Tambo and Bones find themselves on a huge concert stage, as rap stars, captivating their fans with their latest hits. Amidst the electrifying performance, they unapologetically tell their genuine thoughts and emotions through their lyrics, shedding light on a looming civil race war about to shake America to its core.
The third section takes us to a future setting, revealing the aftermath of the Civil War. In this future world, the white population has been eliminated, leading to an even greater racial division than what exists in our present day.
Directed by Matthew Xia, Tambo and Bones is a visual masterpiece that will captivate your imagination. With its rap concerts and mesmerising robots, this play showcases the limitless possibilities of theatre. However, it's not just a feast for the eyes; it's a gut-punching exploration of racism and the harrowing consequences of white supremacy. This unflinchingly honest portrayal leaves no room for ambiguity, shedding light on the endless struggles faced by us black people.
While the play delves into weighty topics that require thoughtful reflection, Dave Harris skilfully infuses humour into the narrative to soften the harsh blows from the hard-hitting themes. While the play centres on racism in America, its issues resonate just as strongly in the UK. Though the actions may differ, the UK is very guilty of racism and must improve.
There were many meaningful moments in the play that deeply resonated with me, particularly those centred around performance. Tambo and Bones firmly believed that their path to financial stability relied solely on their ability to showcase their talents. Whether it was enduring the hardships of a Minstrel show or channelling their pain into successful rap careers, it prompted a thought-provoking question: Is it necessary for us to include elements of pain or struggle in our stories as black people to achieve success?
What I loved about the play was how dynamic and fast the pace was. I was captivated by Tambo and Bones' rap performances. Their incredible flow and songs fully immersed me in the experience, and I almost felt like I was in a concert. I would definitely purchase the soundtrack!
"I would recommend this play in a heartbeat"
I also loved watching the two robots (Dru Cripps and Jaron Lammens) who depicted the events of the Civil War and its impact on America. Their robotic moves were truly mesmerising. Without giving too much away, their movements were some of the best things I have ever seen on stage. Just pure talent!
What I didn't love about the play was the frequent use of the N-word. Regardless of who utters it, I find it to be a deeply offensive word, and I personally wish it had been used less throughout the play.
Overall, the play was truly outstanding, with the entire cast delivering an exceptional performance that brought this unique production to life. The ending left me utterly speechless, and I could sense the same from the whole audience.
I would recommend this play in a heartbeat! Not only will you be fully entertained, but you will leave in deep thought. Exactly how a play should make you feel long after the curtains close.
NEED TO KNOW:
Tambo and Bones is at Stratford East until 22 July.
Find Out More.
|
See listing.
|
Tambo & Bones is a co-production between Theatre Royal Stratford East and Actors Touring Company.