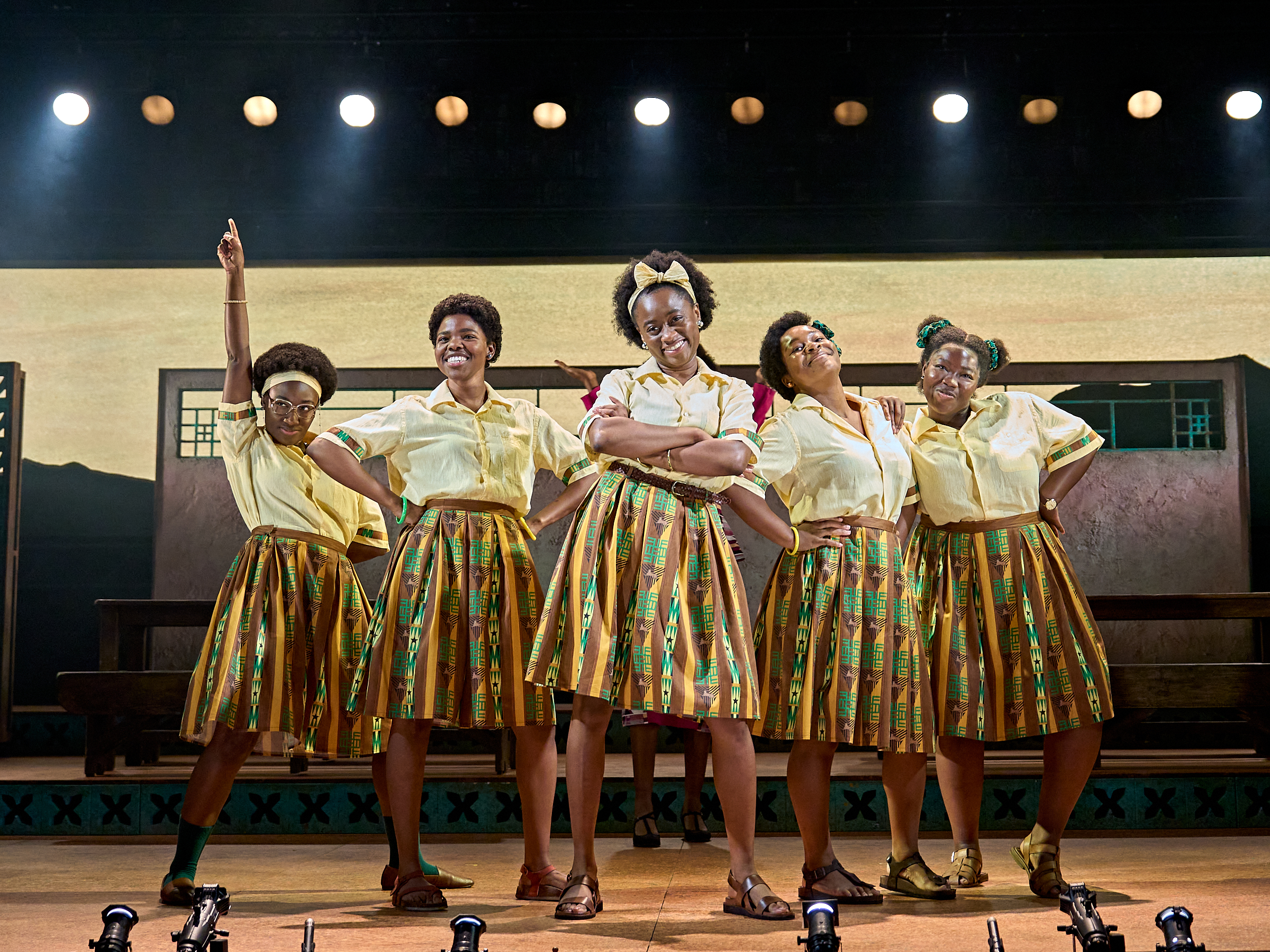 As the lights go down, the opening track immediately sets the tone as the joyful dancing of five school girls begins. Welcome to School Girls; Or, The African Mean Girls Play, a terrific 80-minute rollercoaster of joy, wit and brilliantly funny one-liners.
Picture this: the year is 1986 and we're transported to Ghana's prestigious Aburi girls' boarding school where resident mean girl Paulina (Tara Tijani) is lording it over her crew in her imitable style.
As the girls eagerly await the arrival of the Miss Ghana recruiter, Paulina is confident she's the only frontrunner at the school until a pretty new light-skinned student Ericka (Anna Shaffer) arrives. All hell breaks loose when Paulina's crew inevitably flock around Ericka, and surprisingly as does the recruiter (Deborah Alli), a former student who brings Rich Aunty vibes to the play with her bouncy hair, electric blue blazer and leopard print trousers.
Headmistress Francis (Alison A Addo) is a class act striking a beautiful balance between strict and motherly. When she makes a case for her darker-skinned pupil to have a shot at the crown, it leads to a mini showdown between her and the recruiter, aka Miss Ghana 1966, which brings out her fierce protective side. Those little moments when she winks at the audience or does a quick two-step across the stage give her character soul.
Casting is superb as all school girls shine in unison. Queen Bee Tijana is exceptional as Paulina showing the vulnerable side behind her savage remarks, Francesca Amewudah-Rivers is hilarious as Gifty and makes a great double act with Bola Akeju who plays her cousin Mercy; Heather Agyepong is the mouthy force that is Ama and Jadesola Odunjo wonderfully plays shy girl Nana, who Paulina cruelly vilifies for her weight struggles.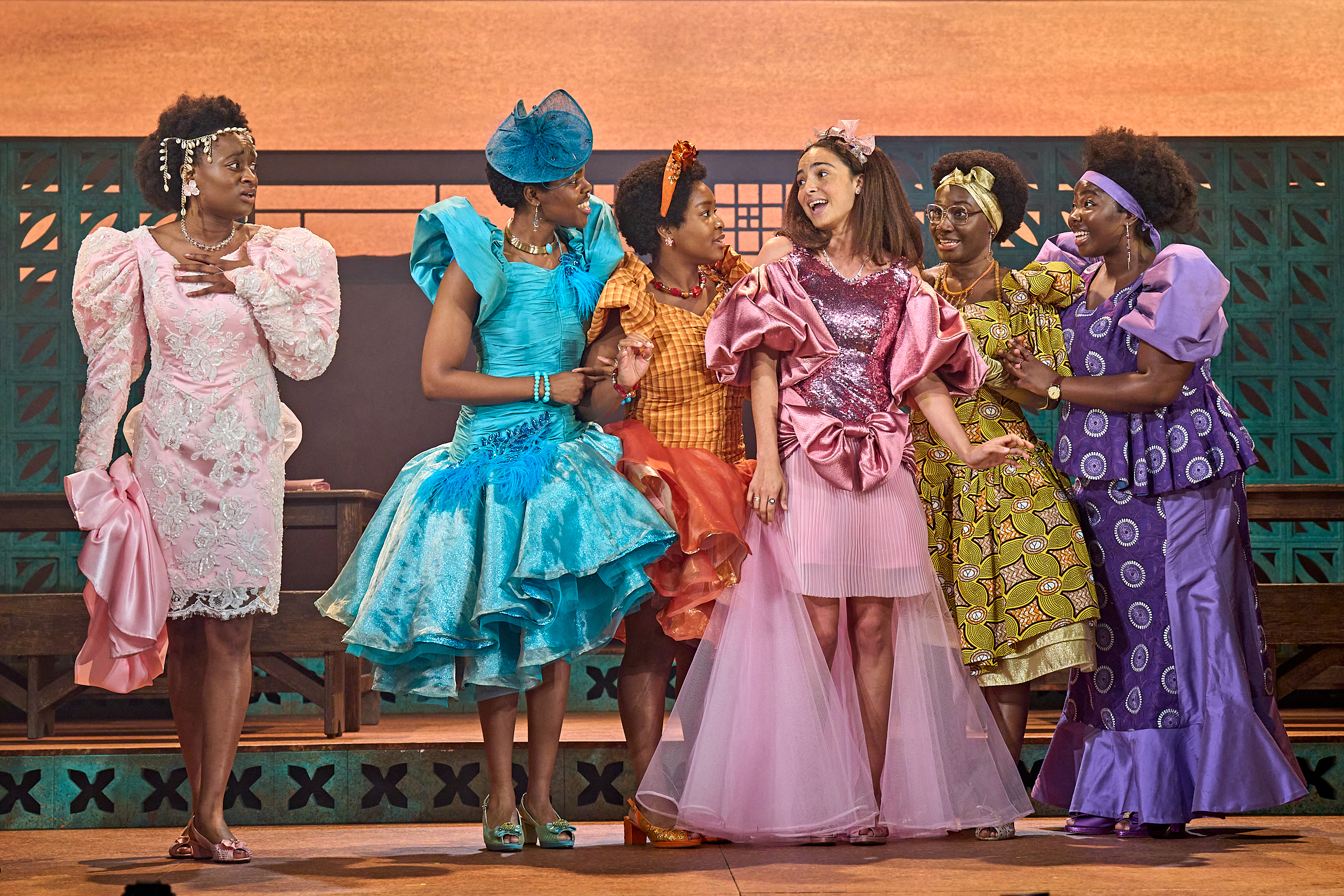 Ghanaian-American playwright Jocelyn Bioh does a great job conveying the complexities of teenage female friendships through a clever script which delves into themes such as colourism, racial identity, body image and complex family dynamics, as director Monique Touko effectively brings it all to life.
There are so many laugh-out-loud moments, like when the girls perform a Whitney Houston vocal number in hideously puffy 80s gowns (great costumes from Kinnetia Isidore) to disastrous effect.
"Casting is superb as all school girls shine in unison."
While it's comical, it also highlights the desperation of these naturally attractive African girls to conform to Western beauty ideals by any means necessary.
With no interval, the play has a great pace, however, the ending lands so abruptly that it feels like a missed opportunity to close with a defiant message about being comfortable in your skin or at least with some of the summer joy it so effortlessly started with. One thing's for sure, the rousing soundtrack by Shiloh Coke leaves the audience hyped up as Bioh does an excellent job of turning us all into that hormonal teenage girl of our past!
NEED TO KNOW:
School Girls; Or, The African Mean Girls Play is at the Lyric Hammersmith Theatre until 15 July.
See listing