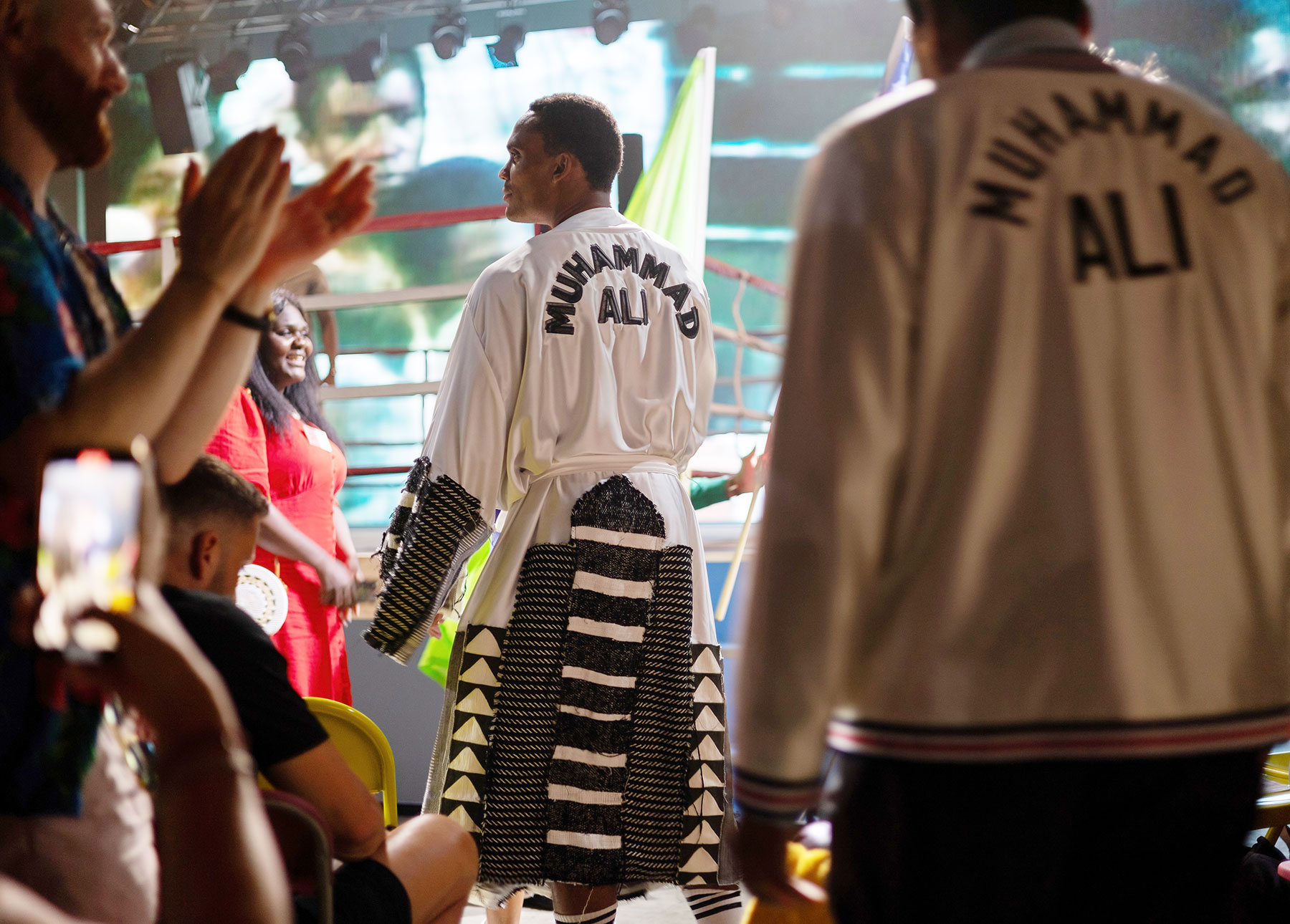 If you've ever wondered what it would be like to witness the legendary showdown between George Foreman and Muhammad Ali, well, here's your golden opportunity!
Located in a spacious warehouse in Canada Water, Rumble in the Jungle Rematch transports you straight to 1974 Zaire (Congo). You'll find monumental statues, bustling traditional markets dishing out tasty West African street food, bars whipping up delicious cocktails (The Eyinda was amazing!), and a hotel lobby from one of the most luxurious hotels. Here, you can eat hot dogs (they do vegan ones too), sip on cocktails, and be serenaded by talented musicians. It's so authentic that you'll easily forget you're in London and believe you've landed in Zaire.
Rumble in the Jungle Rematch delivers a fully immersive experience while also sharing a great story. It takes you through the preparations of Foreman and Ali for their epic Zaire fight, giving you a glimpse into the triumphs and tribulations they faced, both in the ring and in a foreign land. From confronting racial injustices to dealing with the effects of Zairean cuisine, the show provides a profound understanding of what life might have been like for these legendary boxers.
"The entire ensemble, including the dancers, singers, actors, and musicians, were some of the best I've ever seen".

The story really gets going when Foreman suffers an injury, resulting in a delay in the match. This sparks considerable controversy, with the Zairean president extending an offer of six weeks of free access to local restaurants and hotels for tourists. While a generous gesture, this has unintended consequences for the local population, who must provide their services for free. The president's decision to pay each boxer 5 million dollars adds to the growing concerns, considering the country's existing poverty issues.
With mounting tensions, the much-anticipated fight finally takes place, captivating audiences from around the world. With 15 intense rounds, we bear witness to the climax of this epic match as the world's greatest boxer delivers his final punch and secures a triumphant victory.
Rumble in the Jungle Rematch offers an immersive experience that's truly unlike anything I've ever seen. Interacting with the cast is a highlight – you can engage with Ali or Foreman about the fight, discuss finances with Don King, or have a chat with BBC reporter David Frost. The seamlessness of it all amazes me. Even though the venue can accommodate over 700 people, it never felt chaotic.
The atmosphere is incredible, attracting diverse crowds from first dates to multi-generational families, all coming together to enjoy this historic moment. With food, drinks, entertainment, and even a ping pong table on offer, at this point, what's not to love about 'Rumble in the Jungle Rematch'?
Apart from absolutely loving the immersive experience, I have to take a moment to highlight how fantastic the whole cast was. When I encountered David Frost (Timothy O'Hara), he instantly embraced his role as a reporter and asked such engaging questions about the match. His energy was infectious, and he even gave me a task to help him uncover his story on corruption in Zaire.
Sese, (Kossim Osseni), embodied his character perfectly. Loyal to the president, he maintained a firm and professional demeanour, staying in character regardless of the question. My interactions with Don King, (Elliot Rodriguez), were so fun. He exuded charisma and was always ready to draw you into the action.
"I enjoyed it so much that I'm already planning to watch it again!"
Both Kimane Juneau as Muhammad Ali and Joshua C. Jackson as George Foreman were truly outstanding in their final fight scene. They were not only entertaining to watch but also great to talk to. It felt like they gave it their all in their performances.
The entire ensemble, including the dancers, singers, actors, and musicians, were some of the best I've ever seen. They remained in character throughout and created a welcoming atmosphere for everyone to interact with them.
My favourite scene was undoubtedly the boxing match. I was fortunate enough to secure VIP ringside seats, which came with nice perks. Not only did I have a front-row view of the action, but I also had the privilege of being in Ali's dressing room with him. I could cheer him on, offer words of encouragement, and even walk with him through the audience to the boxing ring.
However, even without the VIP treatment, the standard package seats are fantastic. The ring, accommodating up to 750 seats, ensures a comfortable seat with an excellent view. The movements during the match were incredibly realistic without being gruesome. Each punch was executed flawlessly, and, thankfully, no one got hurt. Kudos to the fight director, Alex Payne, and the movement director and choreographer, Joseph Toonga, for their incredible work.
The best part of the match was how they seamlessly combined the original footage on the screen with the live performance. It was incredible to see the level of attention to detail in the costumes designed by Jessica Cabassa, right down to the socks. Everything was an exact replica of the attire from 1974.
Tristan Fynn-Aiduenu's writing allowed the story to be conveyed in a unique and captivating manner, making these historical events effortlessly come to life.
With so much creative talent, it's no wonder Rumble in the Jungle Rematch is a massive hit. The show offered me a new perspective on both Ali and Foreman's careers, educated me about the history and corruption in Zaire, and deepened my respect for these two iconic boxers as they navigated life as black men whilst facing racial injustices in the '60s and '70s.
Finding a show that can be both educational and incredibly entertaining is rare, but 'Rumble in the Jungle Rematch' accomplishes just that.
If you're looking for a unique, thrilling, and enjoyable experience suitable for all ages, this show should be at the top of your list. It will leave you inspired, thoroughly entertained, and utterly amazed. With great food, a fun atmosphere, and amazing music, it's the perfect place to go with friends.
I enjoyed it so much that I'm already planning to watch it again!
NEED TO KNOW: Need to know: Rumble in the Jungle takes place at Dock X until 9 Dec 2023