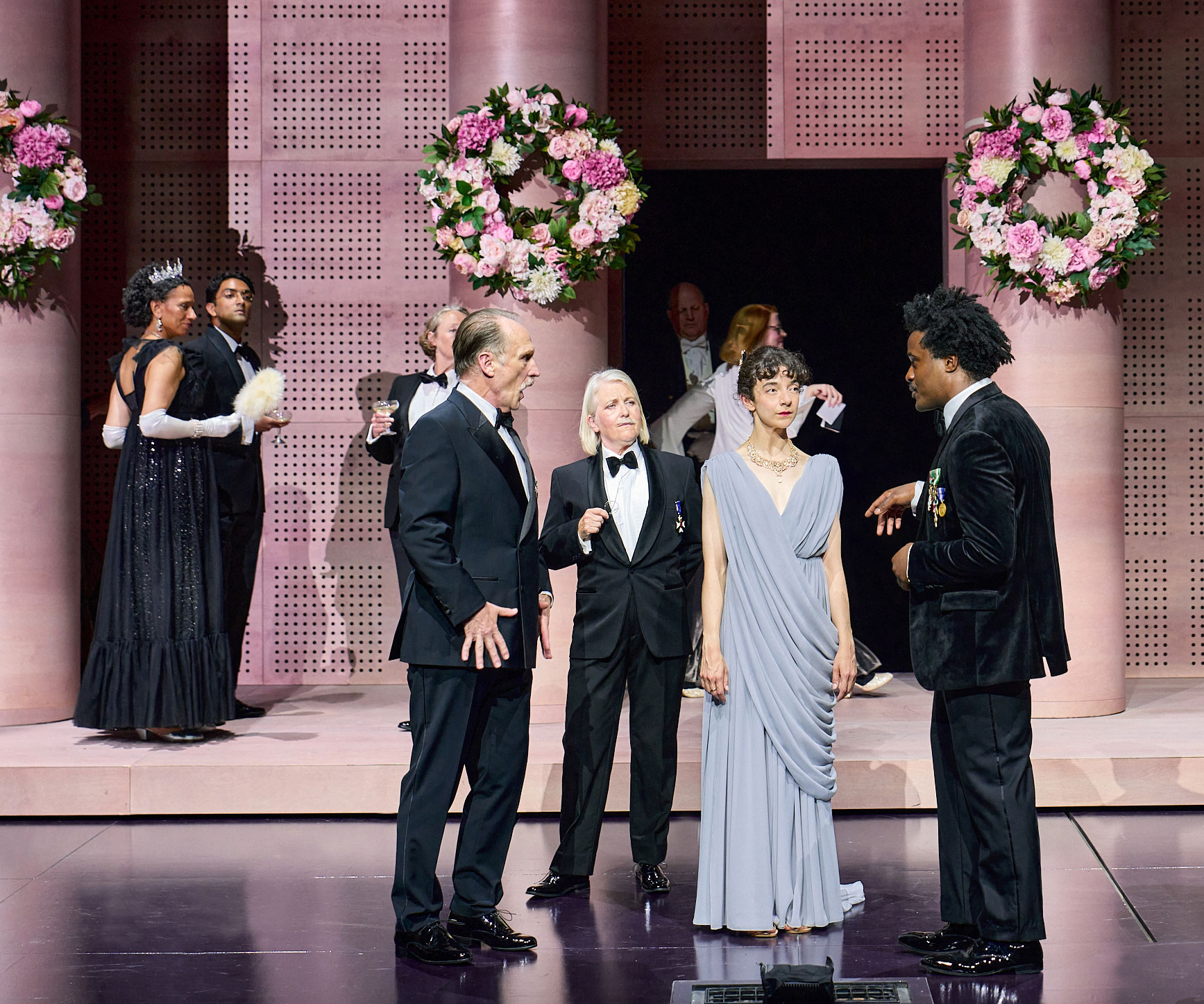 I'm always curious about the impetus for reviving a classic play at a particular moment. Usually, this reveals itself in the course of the production through a more contemporaneous framing of the narrative, creative, maybe colour-conscious casting decisions, or my favourite – the spectacle of new, inelegant, on-the-nose musical numbers. A revival of George Bernard Shaw's classic Pygmalion by Richard Jones comes to The Old Vic, but its raison d'être approaches very slowly.
Pygmalion belongs to the Western cultural canon in a way few English-speaking comedies outside those of The Bard can boast. If this had been in doubt, I need only have looked up from my programme to find myself flanked by Helena Bonham Carter, Johnny Flynn and Naga Munchetty, bright lights contributing to the anticipatory glow of the star-studded auditorium.
This almost universal appeal affords Pygmalion a head start; we happily nod along to the early dramatic beats made familiar by its metamorphic arc and the dozen interpretations it inspired. From She's All That to Ex Machina and the most notable – Audrey Hepburn's star-making multiple Oscar-winning vehicle, My Fair Lady, we are culturally conditioned to want this production to succeed in much the same way as we root for Pasty Ferran's heroine, Eliza Dolittle. Does it?
In the spirit of that generosity, let's start with the good. Ferran is just fabulous. So familiar am I with Hepburn's ear-splitting pantomime cockney, it was refreshing for this Eastender to hear Ferran's more grounded but still acutely turn-of-the-century flower girl accent. She admirably carries the slapstick first half with physical humour that accentuates her character's eccentricities without ever reducing her to a caricature. Throughout Eliza's transformation, Ferran maintains a core strength that transcends her many changes. She is easily the best part of the best scene, which takes place at Mrs Higgins' 'at home', and from this moment on, she does not let up her grip on the audience's admiration – a phenomenon.
The women in the play are generally written and performed more roundly than the men. Indeed, Jones' female characters are unique in their possessing a modicum of common sense. In particular, the Professor's mother, Mrs Higgins played with luminosity by Sylvestra Le Touzel, and his assistant, Ms Pearce (Penny Layden), are steadying presences through their unvain and pragmatic styles. Only they articulate any concern for where Higgins and Pickering's experiment will leave Eliza in the long term. Perhaps their own subjugation as women allows them to see not only Eliza's humanity but also how society will respond to the risk posed by those who can transcend the rigid class structures imposed by it.
As solid as these women are in their own right, they are more impressive as dramatic foils to Bertie Carvel's Henry Higgins. I am unsure what to make of Carvel's performance. I suspect he was brilliant. But I often couldn't discern whether he was playing Higgin's self-indulgence and pomposity to its ultimate comic narcissist conclusion or whether his own vaingloriousness kept him from grounding the character in a more nuanced and naturalistic portrait.
Some intent from Jones and Carvel must be assumed here; Carvel's Higgins has so few redeeming qualities and is bereft of the roguish charm Rex Harrington brought to My Fair Lady; it must be in service of some greater artistic function. If I reach for it, there is room to interpret this as a wholehearted repudiation of the ruthlessly jolly and gung-ho pathology exemplified by generations of curious and privileged British men who ravaged women and their communities in the name of scientific pursuit.
To take this reading further, there were some overtly feminist creative decisions I enjoyed. The costuming by Sarah Bowern successfully conveyed critical milestones in Eliza's transformative journey. She dons a simple black pinafore for her early phonetic instruction. But it is styled with a white shirt and striped tie to emphasise the student-teacher dynamic and her naivete. Later, when presented as a duchess at the ambassador ball, Eliza is draped in a lilac-grey Grecian gown embodying the Greek myth Pygmalion is named for, about a statue that becomes the subject of a sculptor's obsession.
At times the inconsistency of styling felt confusingly ahistorical but taking into consideration the mixture of anachronistic props and staging, its clear that Jones is seeking to establish a timelessness to his tale. Even more interesting is that in both examples, the romantic overtures that audiences have superimposed on Shaw's original vision are laid bare as problematic and harmful.
Pygmalion's ending has been changed almost as often as it has been adapted. Jones' surprisingly feminist interpretation thoroughly eschews My Fair Lady's shmaltzy and controversial conclusion while also side-stepping Shaw's finale. Removing Eliza from the binary of these two options elevates Ms Doolittle to a woman who not only stands in her power but shares it with others. In that sense, Jones has made Eliza's transformation, transformative.
Critically, while some confusing characterisation choices and the cartoonish tone distracted from these progressive ideals, Jones has made Pygmalion more relevant than ever. A week does not pass without us hearing of relationships predicated by a fundamental power imbalance that utterly undoes any facade of romantic love.
Here, Jones' intersectional examination of systemic classism and sexism forces us to reckon with the reality of these dynamics. Higgins may seem ridiculous now, but he and those of his ilk will be ever-present so long as their privilege exists. Perhaps then, this hopeful version of Eliza Dolittle is the hero we need today.
NEED TO KNOW: Pygmalion plays at the Old Vic until 28 Oct 2023