'We're not stuck here, we're from here' is more than just an emboldening refrain that book-ends PIRATES, Reggie Yates' bombastic feature length writing and directorial film debut. It's a sentiment so tightly coded into the film's DNA that it is impossible not to absorb Yates' love of the very particular time, place, and musical era the film gleefully recalls.
PIRATES follows the three hapless members of the 'Ice Cold Crew' – Cappo, Two Tonne, and Kidda – in a farcical caper from North to South London on December 31, 1999. Their destination? Surely the social highlight of any aspiring late 90's tweenage garage crew, the Twice as Nice New Year's Eve party in Vauxhall.
Cappo (Elliot Edusah) has returned home to his teenage domain after a first term at university. Unbeknownst to his crew-mates, he has also decided that his newfound sense of professional ambition is incompatible with his (somewhat ill-defined) role as the crew's manager. Meanwhile, the clumsily cocksure Two Tonne (Jordan Peters) and joyfully witless Kidda (Reda Elazouar) have set their hopes on the ICC's imminent breakthrough on the garage scene; an aspiration for which Cappo's eager participation is, for them, a foregone conclusion.
Like reminiscing with an old friend over a rediscovered wallet of Napster-sourced mix-tape CDs, 'if you know, you know', and you will find very much to enjoy here.
As Cappo prepares to announce his departure, our pre-Raskit-eers set out to overcome the more pressing pratfalls of finding girls, garms, and takeaway chicken in time to see in the new millennium amidst the glitterati of urban London. In typical 'coming of age' movie fashion, as the action unfolds, the three must learn to calibrate the shifting dynamics of adolescent friendships in the looming face of adulthood.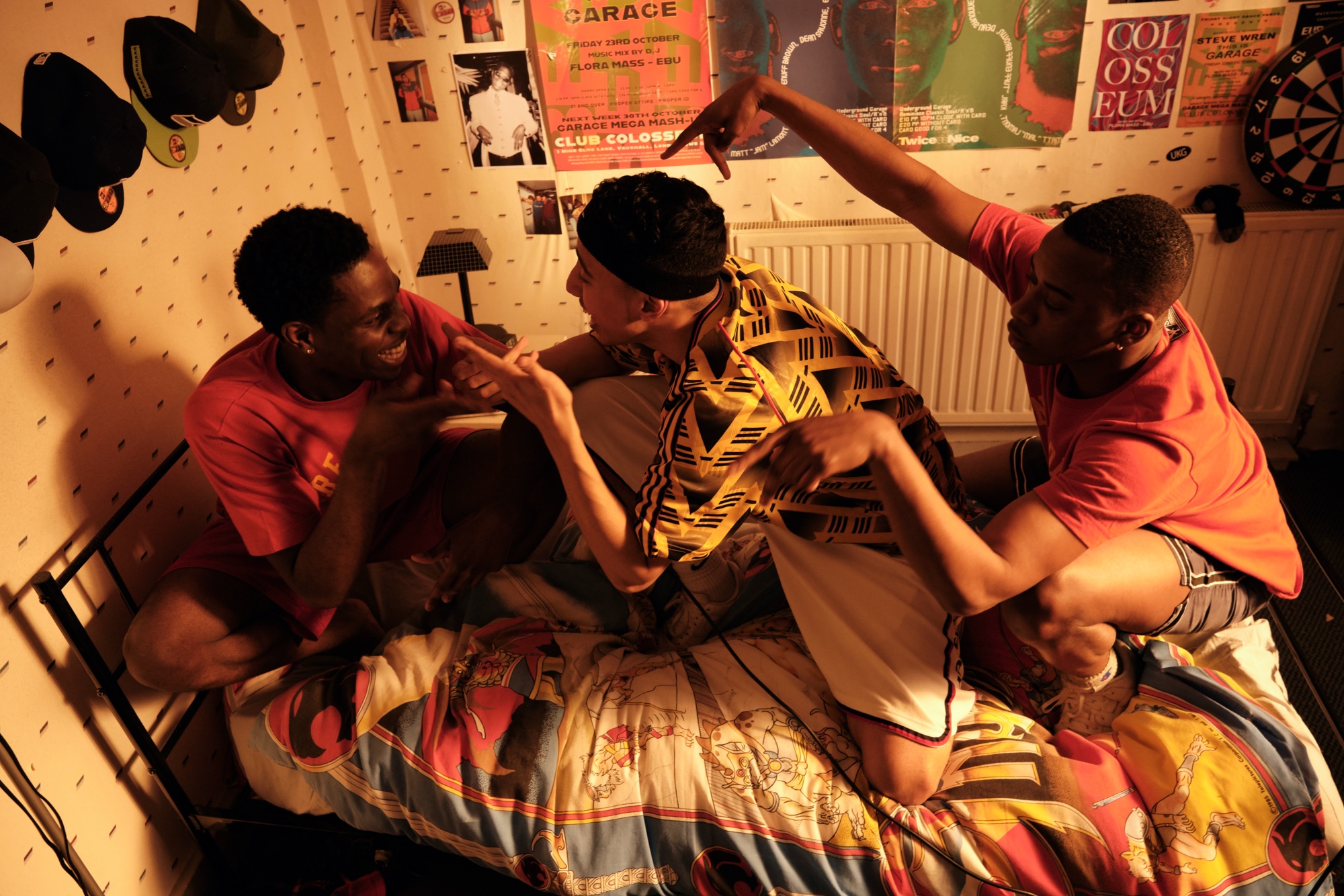 There is a lot in PIRATES that feels like familiar territory. Bickering adolescents cramped in a yellow hatchback (literally) failing to navigate the adult world is very Inbetweeners. The earnest-yet-undignified hustle of the Pirate radio scene recalls Some People Just Do Nothing. And a quest to win the affection of a love interest through the over-optimistic promise of exclusive nightclub entry? See: Kevin and Perry Go Large, and so on. It is perhaps one of the film's greatest triumphs therefore that, despite similarities with previous works, Pirates never feels derivative. This is achieved through a genuinely laugh-out-loud script, sharp performances from a cast whose enthusiasm for the project is palpable, and Yates' pleasingly bold directorial spark.
PIRATES is a film in which narrative arc and character development are circumstantial to the viewing experience. The film comprises a punchy string of (mostly) well-executed comedic skits, at times drifting into the outright surreal, which bounce along at unabating pace. This is set against a musical score that will delight anyone for whom old-skool garage bangers evoke the upward thrusting of a nostalgic gun finger. It's clear that Yates has taken a lot of care to weave the narrative around a joyfully stirring soundtrack, but I question how far the implicit warmth attached to this musical epoch will travel beyond millennial Londoners.
a genuinely laugh-out-loud script, sharp performances from a cast whose enthusiasm for the project is palpable, and Yates' pleasingly bold directorial spark
Visually, the film's 1999 setting presents an interesting challenge, as the current real-world resurgence of Y2K fashion makes the period styling appear oddly contemporary. It then falls to a combination of (occasionally clunky) references to 90s accessories (Motorola flip phones, Tamagotchis, cassette tapes, etc.) and foreshadowing nods towards future technological advances to reinforce the context.
From a critical perspective, there is much in PIRATES to pick at. Implausibly convenient plot contrivances, a few over-extended comic sequences, and a hurried and unsatisfying ending will, for some, typify style over substance. But it would be disingenuous to suggest that its faults will in any way dampen the level at which the film will be appreciated by its target audience, for whom it will feel tailor-made. Like reminiscing with an old friend over a rediscovered wallet of Napster-sourced mix-tape CDs, 'if you know, you know', and you will find very much to enjoy here