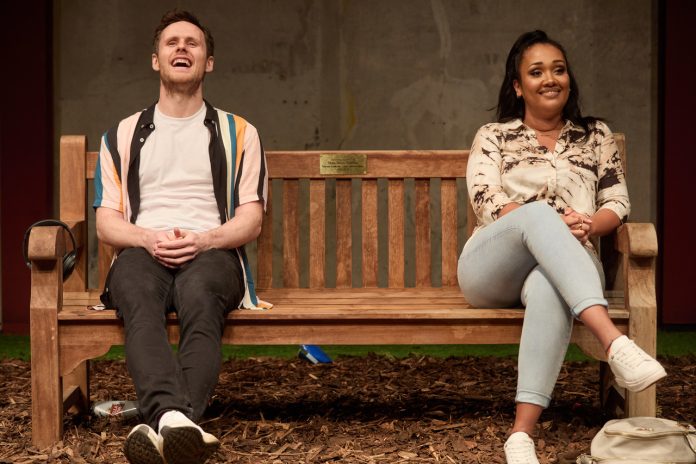 "So much of being human is about pain", laments playwright and actor Tori Allen-Martin, and never a truer word was once spoken when you think of all the pandemic related loses that have been endured for the last 18 months.
Allen-Martin is both the writer and one half of this two-hander where she stars alongside Tim Bowie (Theo) as Liv – best friends slash ex-lovers. Both are excellent to watch making the play easily relatable as there's real chemistry between them. It's hard not to see things from both perspectives.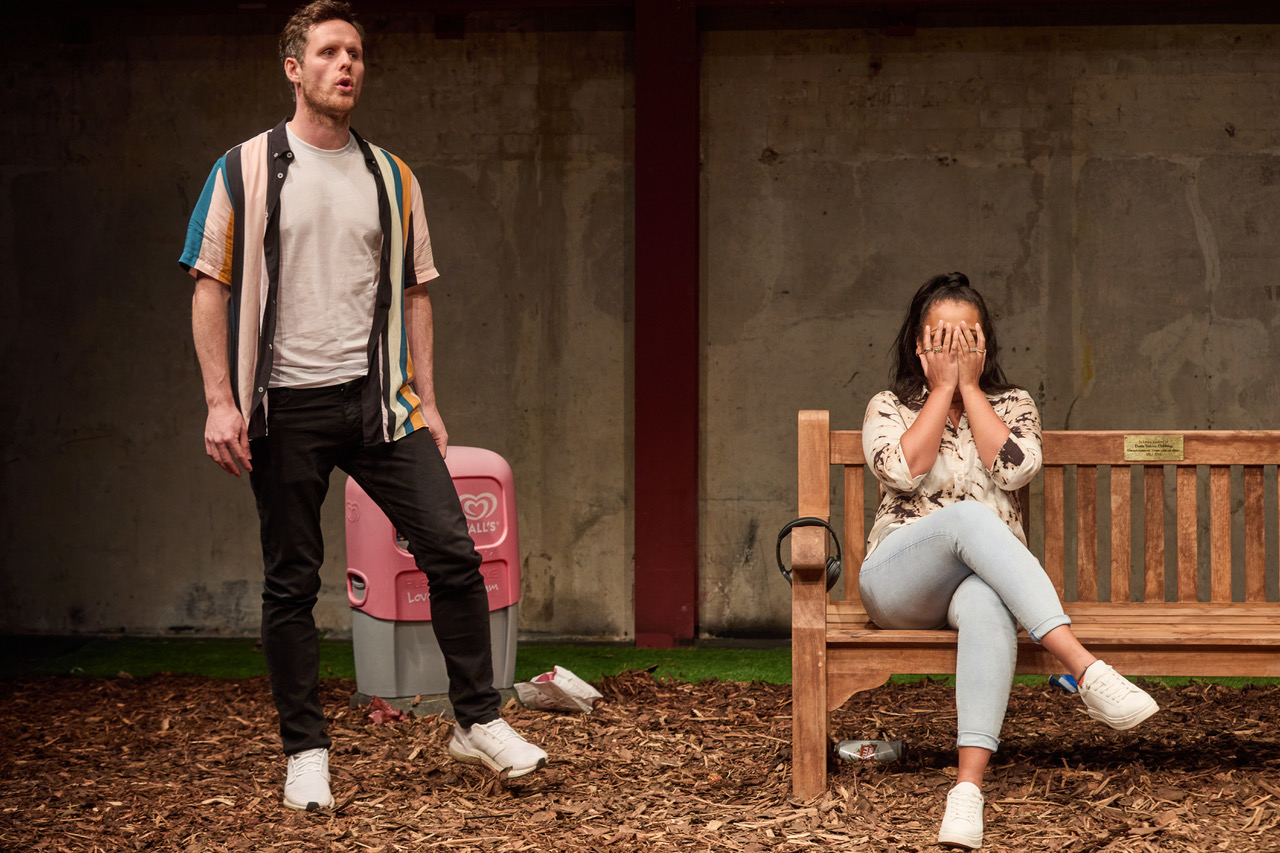 Park Bench is a two-act play. Act one is a 15-minute digital production which you can watch on YouTube now (directed by Christa Harris) before seeing the live production, Act two (co-directed by Sarah Henley & Timothy O'Hara). It's a snippet from one of Liv's and Theo's super awkward Zoom chats – complete with glitches and poor connections – and it ends with them agreeing to meet at their Park Bench.
It's such a clever concept to slickly cover how life is right now – where Zoom has completely transformed how we communicate personally and professionally. At the start of 2020 no one would imagine they would have to say goodbye to loved ones via Zoom as an alternative way of attending a funeral, yet here we are.
in a moment of nostalgic madness, all social distancing rules are thrown out of the window
But before you start to question whether or not you want to spend 50 minutes of your life feeling melancholy, I'd like to reassure you that Park Bench is so much more than that…
This was penned during lockdown and is timely and relevant. This is the first Liv and Theo have seen each other irl (in real life) since lockdown and there's that awkward – should we hug/not hug moment and plenty of nods to the pandemic and the current climate we live – including elbow greetings and a reference to how much more time we spent watching Netflix (other tv streaming platforms exist) over the past 18 months of being in and out of lockdown.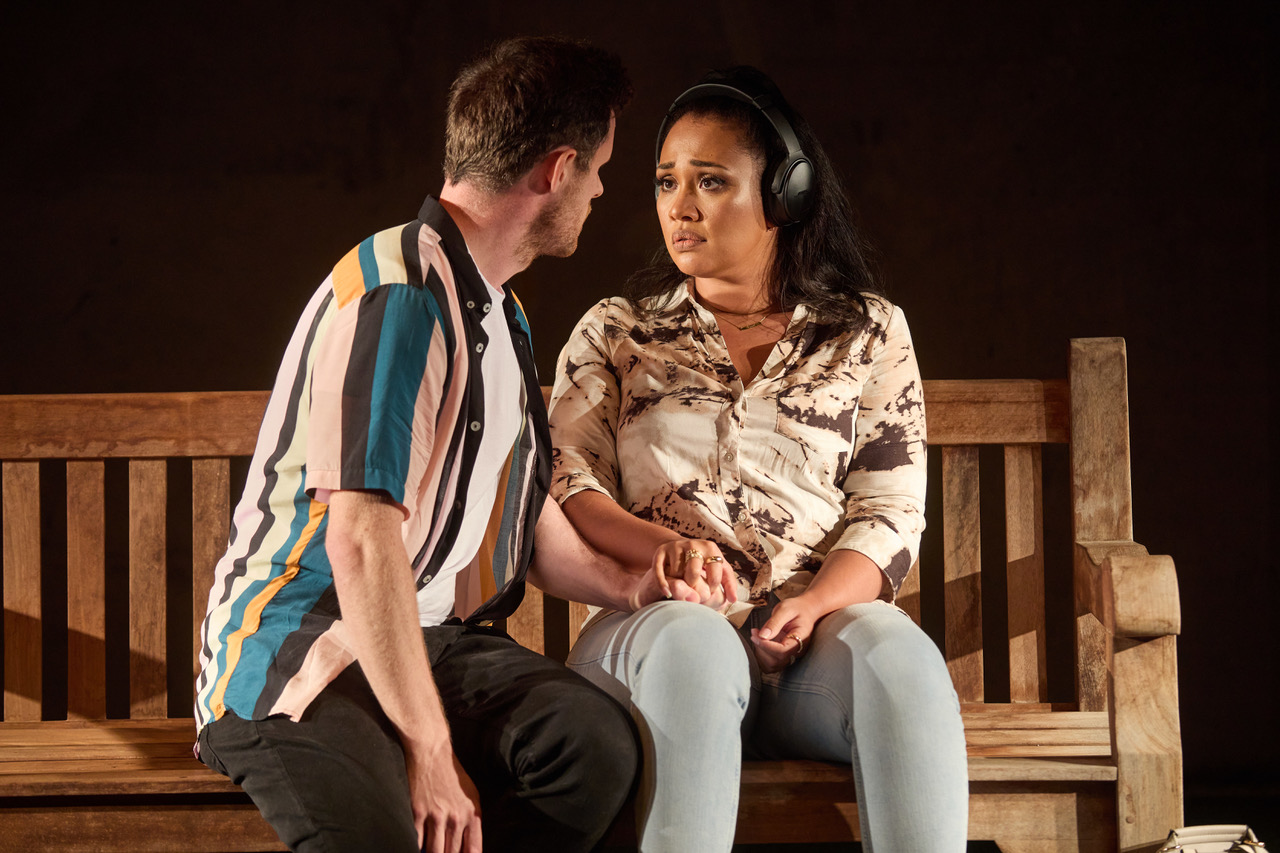 This is one of the many reasons why I rate this play, it's a prime example of how theatre can represent the now.
The set is minimal but realistic within a park setting, there's a pink unknown local authority bin, some dirt, leaves, a border of turf and of course a park bench which we learn is named after a dearly departed local, Doris.
Park Bench is largely centred around matters of the heart – Liv seems to be trying to get closure and Theo isn't quite ready to end things and can't imagine a Liv less life, but also isn't actually able to tell Liv those three little words, she desperately needs to hear.
Tori Allen-Martin is a skilled writer who frequently invites us to laugh out loud and bawl our eyes out in equal measure; such is her enviable talent.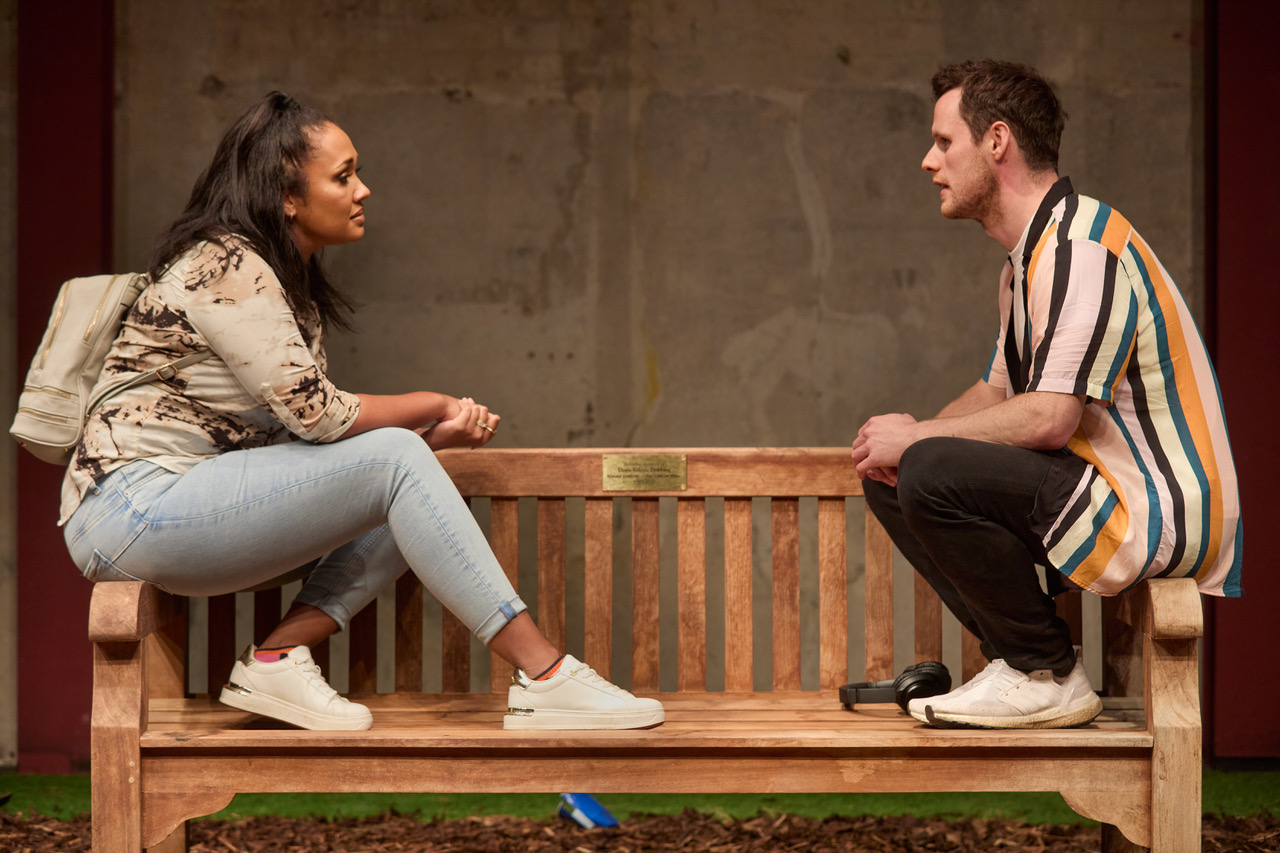 She doesn't shy away from difficult and painful subject matters either as the play deftly touches upon Liv's mental health struggles with depression and in an emotive scene, she truly opens up to Theo about some of the dark moments she's had about not wanting to be here anymore.
The mood shifts as they try to unpick where their complicated 'situationship' went wrong, Theo asks Liv to listen to a track and in a moment of nostalgic madness, all social distancing rules are thrown out of the window as they take a trip down memory lane leading to a long, real-time passionate clinch.
Either way, Liv wants closure. Theo wants Liv back but that's not happening anytime soon, and this isn't about happy ever afters though… It's about exes navigating that tricky path of trying to be friends after a breakup and choosing to walk away from situations and people that no longer serve you. Although I'm not sure if you still 'breakup' when you're in a 'situationship' – it's very muddy waters.
Park Bench left me feeling reflective and pondering my own love choices and that is a beautiful thing, thank you Tori!