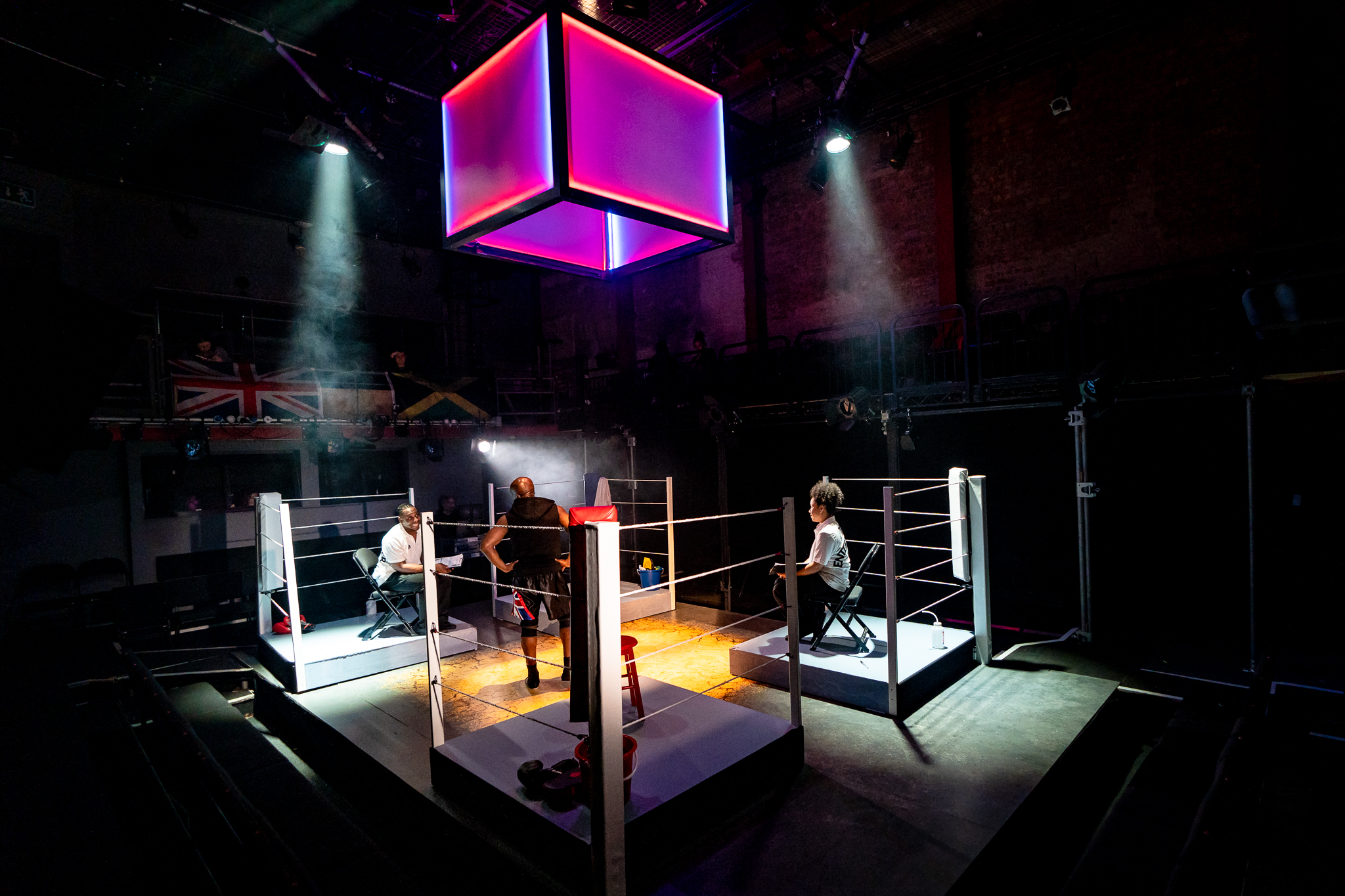 This three-hander, On the Ropes, is a narrative-based interpretation of the real-life travails and Lazarus-like rebirth of former 1970s / 80s British lightweight boxing contender, Vernon Vanriel with added spoken-word, song and movement elements.
Written by Vernon Vanriel and Dougie Blaxland, it details his charismatic rise, drug-addled and mental health essaying, fall; as well as his almost-decade long, near-demise on the streets of Kinston, Jamaica.
In so doing, his story also sheds light on 'our' current political Administration's alarming open 'love letter' to racist far-right ideology (i.e. the Tory government's Hostile Environment), and just to what extent the Windrush Generation's equitable status as British citizens forever seems to be in question, or under threat.
As well as emotionally-charged source-material, the piece also features performances with energy and flashes of both dramatic accuracy from choruses Ashley D. Gayle and Amber James – and true vocal integrity, particularly from Amber James in a multitude of roles.
How can such an interesting and emotive story become so diminished in the telling?
Well, what was the concept of having the majority of the action staged – not just 'in the round' – but within a 'boxing-ring'? This must have seemed appealing on paper. Unfortunately, from stall-level, at least, 'the ropes' cut off more than the 'opponent', in this case; they cut off the those audience members at ground level from truly becoming engaged in the performance(s).
Despite sterling, versatile – and energetic – work from James' and Gayle's chorus, Mensah Bediako's portrayal of Vanriel himself seems – the very opposite of the characteristic that apparently made the man, himself, both engaging and initially, at least – successful… both in and out of the ring.
"Huge respect to Vernon Vanriel for surviving and Labour's Tottenham M.P for noticing".
Whether portraying the 'hero' as a 9-year-old school running champion, teenage boxing prodigy, charismatic lightweight boxing contender, 29 year old crack-addicted mental and physical burn-out or shuffling, street-dwelling zombie, the actor seems to be giving the same energy.
In what – on paper – could be have been a virtuoso performance, it is left to the other two performers in this three-hander to bring the '(chariots of) fire'.
Of course, he works hard, sings capably, and does his fair share of the movement and dancing. However, his emotional range – even his 'boxing' – is completely overshadowed by the other two performers.
One of the other big failings, for me, was the use of music – both in terms of the songs 'integrated' / shoehorned into the piece, and the almost non-existent use of any incidental music.
Much of the dialogue was recited as spoken-word poetry, ping-ponged between the three actors. Although impressive to some degree, this recitative approach soon became repetitive when punctuated by each of the live-sung, backing tracked ska / two-step musical interludes. Presumably, it can be tempting to use musical interjections within a dramatic piece; as either an emotional short-cut, or to emphasise a point in a story.
Some of the songs were well-known ['You can get it if you really want', 'Kingston Town', 'Is This Love'], but it felt like a case of diminishing returns. The highlight, perhaps, was James' motherly rendition of 'Nobody Knows…'; even that seemed to serve no more function than to let us know what music inspired and informed our hero. It's not that the backing tracks were poorly constructed or that the live vocals were delivered badly (they weren't); it was just… perfunctory.
In fact, in many cases, the songs completely took us away from the story's heft and emotional weight. However, huge respect to Vernon Vanriel for surviving and Labour's Tottenham M.P for noticing.
NEED TO KNOW: On the Ropes is at Park Theatre until 4 Feb 2023 at Park Theatre