One Woman shows always run the risk of being self-indulgent displays of ego. Lava is not this. At all. In fact, it's not even a One Woman show. Lava is more than a play, more than a compelling spoken word piece; its Benedict Lombe's unfiltered, loud, angry, joyful, unapologetically black female expression – all wrapped up in a narrative that runs parallel to the history of the western world. It's a little bit Congo history lesson (a country which has had "more names that P Diddy") and a lot of heart, splicing emotion with anthropology with dry wit… and bible study.
The surface narrative is this: a woman, played by Ronkẹ Adékoluẹjo, receives an unexpected letter from the British Passport Office. This seemingly unremarkable event sets her off on a path of confronting an old, previously unquestioned mystery: why does her South African Passport not carry her first name? At its heart though, it's a story about the complexity of existing in spaces that are home and elsewhere at the same time – and being othered, particularly as a black woman – convincingly and expertly played by Adékoluẹjo, breaking the 4th wall, dancing and using the whole space. So convincingly in fact, that I think that she is the playwright!
I can feel and appreciate every detail that the tight-knit creative team behind this has put in
Despite being all these things and then some, Lava still has many of the classic elements of a proper, good play. A well-designed almost apocalyptic scene of colosseum pillars drips with 'lava' with a giant box big enough to fit a Transit van at the back bringing delicious surrealism. It makes me want to bun' Babylon, which I'm sure is intentional.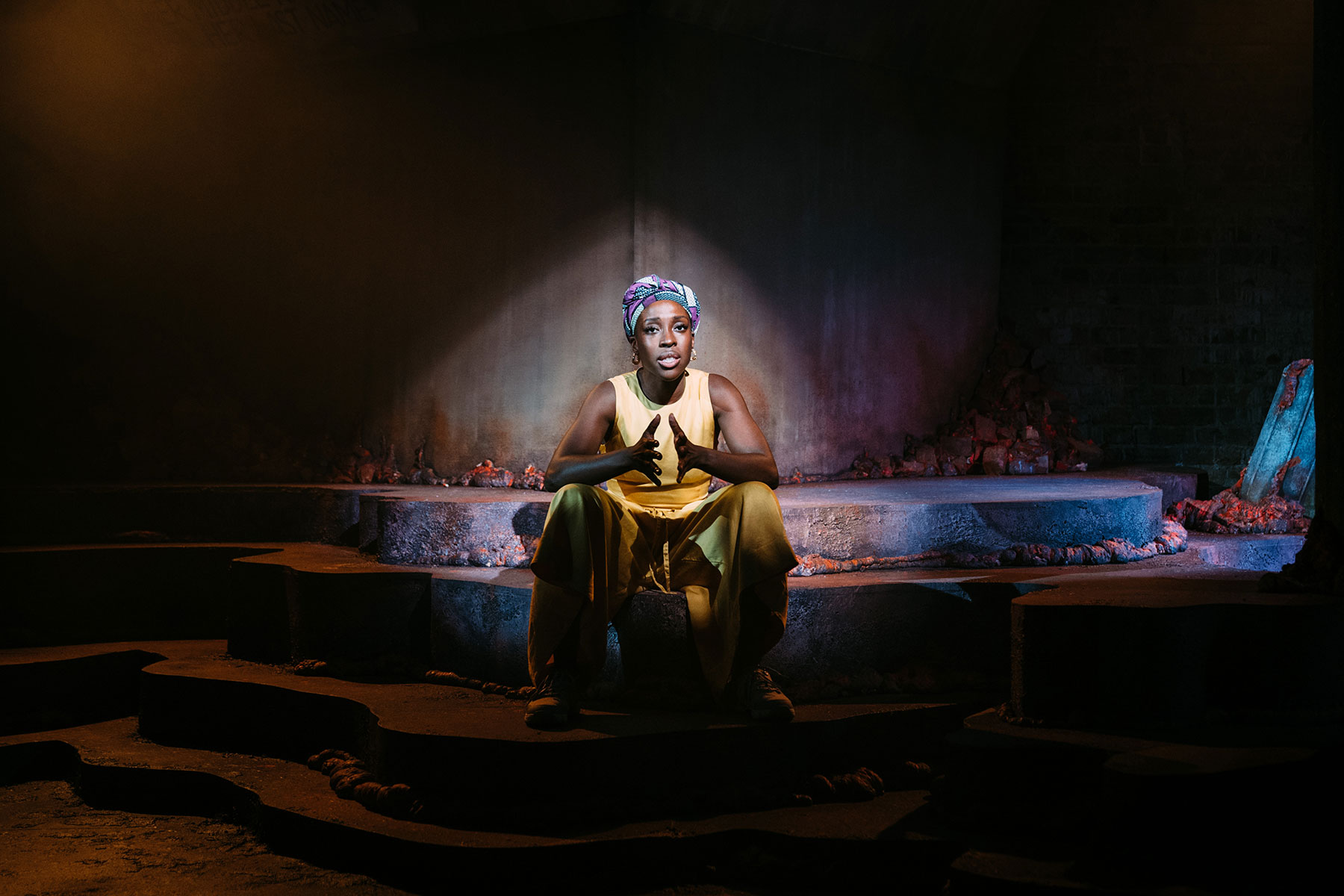 This set, by designer Jasmine Swan, perfectly balances the subtle lighting design by Jai Morjaria, which is dialled up and down to perfection throughout the 80-odd minutes. There's some quite clever use of sound from Josh Anio Grigg and just the right amount of projection by Gino Ricardo Green, on to the aforementioned giant box. I can feel and appreciate every detail that the tight-knit creative team behind this has put in – from the overall direction by Anthony Simpson-Spike to the movement direction by DK Fashola.
I'm also pleased to see there's a Dialect Coach in Eli Acquaah-Harrison, which explains a lot of the authenticity in the accents and characters that Adékoluẹjo plays so wonderfully. She really is magic, the cadence of her delivery moving from seriousness to comedy without being trite or making light. A hard thing to do, but boy does she do it well. She could take home metal for this performance – the whole team could, in fact.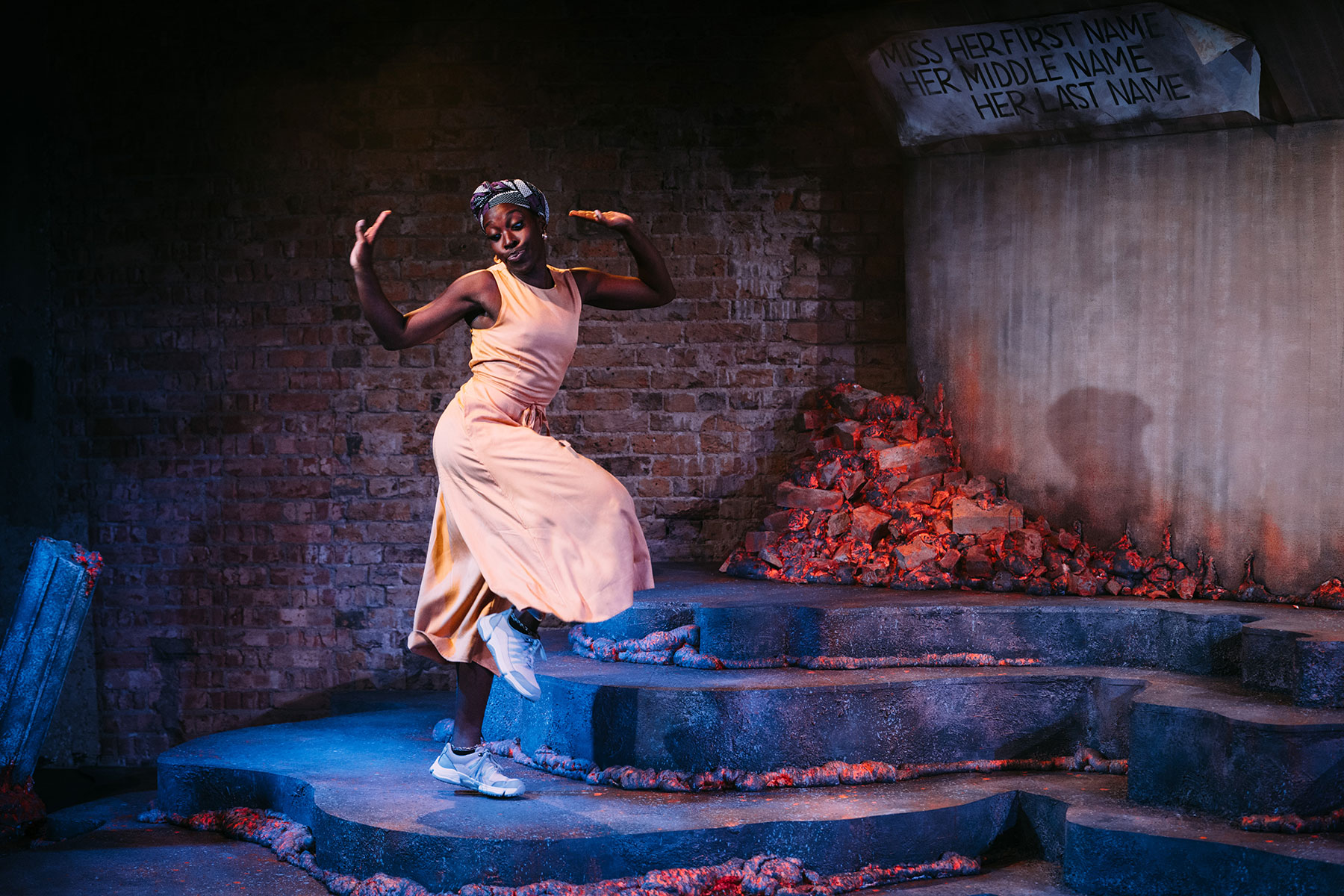 Lava lives up to its name in that what lives within many of us as black people is a scorching, boiling emotion from within that we feel – as echoes, as physical pain and, at times shared goodness. It explores as many angles of blackness you can think of in a very short space of time, with all the good and the bad, so it doesn't feel like it exploits our black trauma. I want my white partner to go see this, and all my white friends. In thinking this though, it does make me question, who has Lava been created and articulated for? Is it for the white masses? No – this is a play for us, as black people. And I love it.