"Do you feel free?" is how Nadine opens the show, whilst giving her wickedest whine and staring boldly out at the crowd, excited almost by the hundreds of self-conscious eyes staring back at her.
As the stage fills with lights, dancers pour in and soca swarms the stalls, horns blaring, you soon realise this is an invitation… a calling to free up yuhself and step into the wonderful world of carnival.
Yasmin Joseph's J'Ouvert is just that, a raw exploration of the history of carnival. It's a dynamic feel-good play about friendship, culture, history and womanhood that can be appreciated by all. Through the movement of bodies and time you meet a range of characters exploring the highs, the lows and even the pot holes history tried to pave over, in order to show us the real route that led to what we now know as Notting Hill Carnival.
It's 2017, two best friends, Nadine, played by Gabrielle Brooks, and Jade, played by Sapphire Joy, go to carnival both aiming to use it as a platform to make their impact on the world. As often is the case with carnival, things don't go according to plan. Directed by Rebekah Murrell, J'Ouvert sees them explore and push through the limits bestowed on them, strengthening their inner focus and confidence in self whilst having a good time and bussing a good whine.
Excessive staging or costumes were not needed as Gabrielle and Jade's talent shone brighter than any sequins or glitter. Truly the perfect duo, they pour into one another constantly, creating the feel of a strong friendship reminiscent to many of our own and so it is very easy to find yourself bussing up and brukking in your seat thinking you're on stage with them- trust me!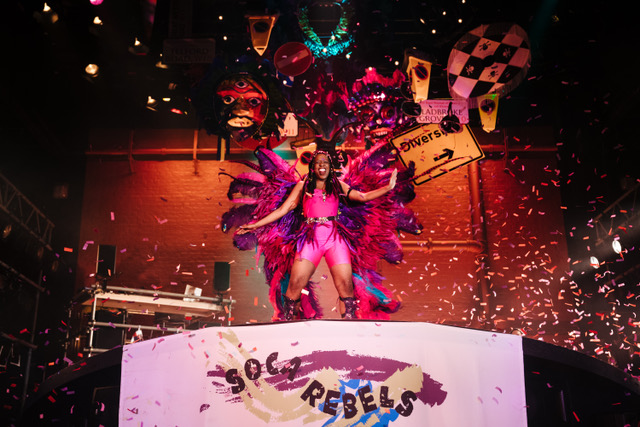 There were shared smiles and hips moving in unison as we all two stepped back into the night.
Supported by Annice Boparai, who plays Nisha, their lost but spirited friend that offers an interesting portrayal of a modern-day carnival goer and Zuyane Russell who is a known DJ and new performer with a comedic flair and insane ability to have even the stiffest among you clapping and swaying.
Yasmin Joseph is the amazing award nominated writer behind J'Ouvert. One of my favourite things about this piece is her how she's managed to perfectly depict how culturally Caribbean's choose to find joy to help process hardship and have the ability to turn the most raucous of realities we face into revelry.
This play is also used to challenge the cultural dissonance that exists among us, with realistic themes such as; the connotations borne from partaking in carnival as a woman (religious or otherwise) the casual aggression of the day and how it can lead to violence and the reality that not all skin folk are kin folk.
There are frequent references to Claudia Jones, 'the Mother of Carnival', and the ancestors that followed. The juxtaposition of casually sipping rum where blood once spilt is often referred to throughout the play, receiving an unanimous murmur of agreement from the audience each and every time.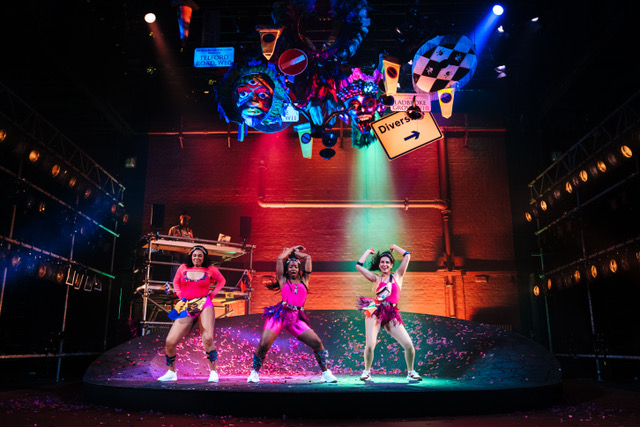 J'Ouvert feels like a safe place to explore but not drown in some of the less positive sides to Black History.
Gabrielle and Sapphire did a fantastic job of exploring the reality of what 'freedom' actually looks like for women within spaces perceived as 'safe'. Whilst it's freeing to be among our own at carnival you're reminded that for women something as simple as your choice of clothes or your decision to enjoy and dance could affect your societal status and greatly impacts how much governance you're given over your own body and the right to refuse sexual advances.
It's in moments like this you're reminded of the plays opening line "Do you feel free?" as you see the reality of chasing such freedom weigh down on these young women.
Overall you're taken through the journey of meeting the ancestors that made history, sip red stripe with the older folk who feel no way about parking their deckchairs anywhere just to chat life and get to see young women explore and push the unspoken boundaries still binding them in the community. In the final scene each whine will feel personal as it becomes clear that the women of the play are really dancing for their freedom, freedom from it all.
it is very easy to find yourself bussing up and brukking in your seat thinking you're on stage with them- trust me!
If you want to see a play that allows you to release yourself from the shackles of the learned cautiousness of being 'too loud' or there being 'too many' black people in one space, fearful almost to occupy it too confidently, then J'Ouvert is definitely the show for you.
Due to Covid restrictions you enter the theatre separated but by the end of the performance the audience are united. There were shared smiles and hips moving in unison as we all two stepped back into the night to Soca Boys. That is the J'Ouvert experience.
Notting Hill Carnival may be cancelled but this play isn't! I loved it and I'm definitely waving my flag for J'Ouvert.