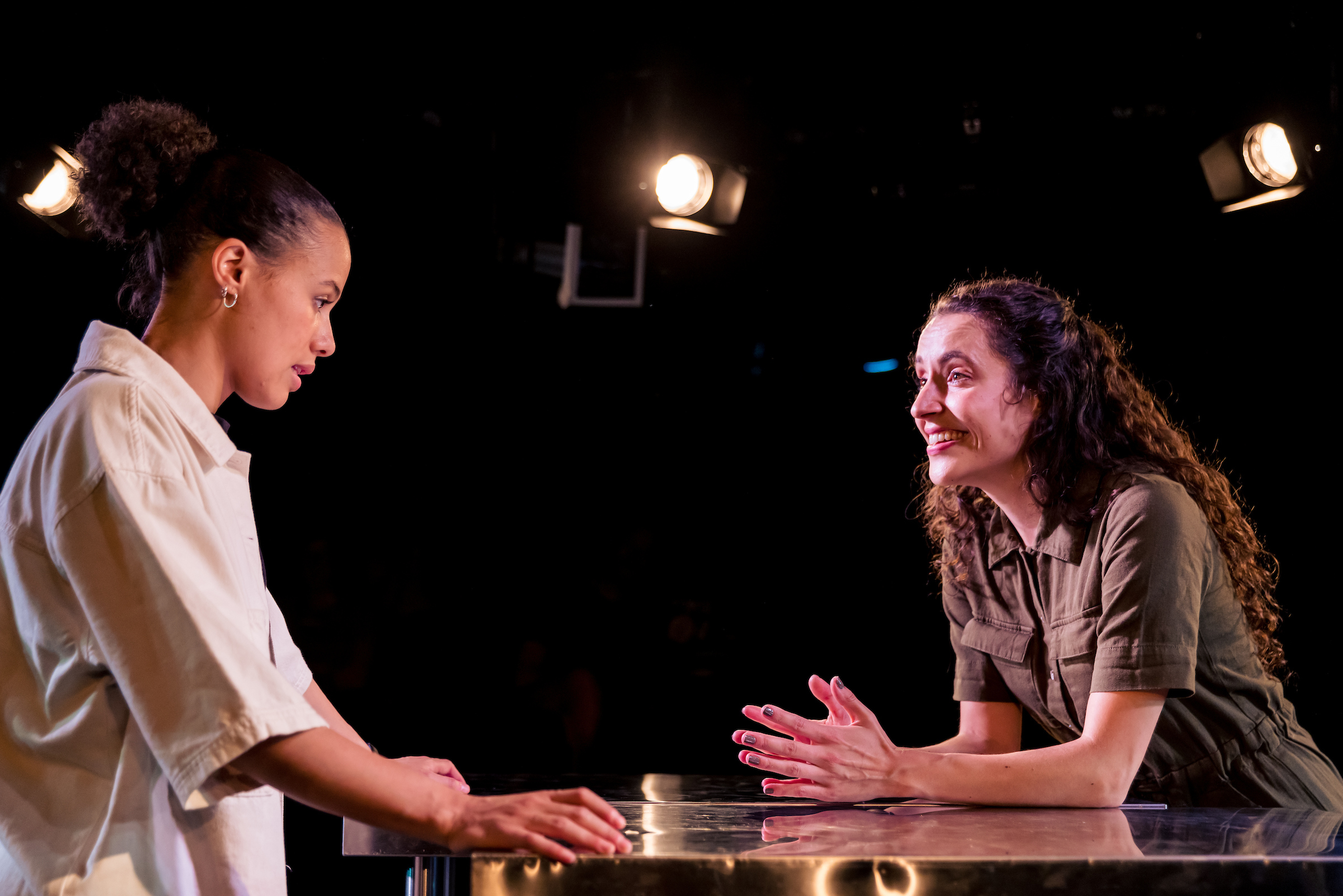 'I thought I was being romantic – but I'm just being drunk and gay'. In this drunken monologue, Lori (played by Eleanor Sutton) lets loose to Bex (Melissa Lowe) her messy and complicated feelings about love and food  – how they intertwine and make up her worldview.
At several points, we witness Lori and Bex at their most vulnerable, both in the depths of their arguments and in the heights of their love. What makes this relationship and play so unique, so fresh, and so unlike anything else, is that we see this vulnerability through the filter of food. This is how Lori and Bex first meet – Lori is a chef and Bex works for her as a waitress.  Food unites them; they bond over aphrodisiacs and cook for each other as an expression of love. We soon learn that the politics of food also divides them. Lori is white and middle-class and dines on expensive oysters, Bex, a working-class woman of colour, has a diet of ramen noodles and chicken nuggets.
Equal parts are funny and heartbreaking, this play is full of food for thought. 
Writer Chris Bush blends together food with the discourse around colonialism, class, and race, from emotional eating to cultural appropriation, baking it into a sharp commentary on England's socio-political landscape. Lori, who aspires to start a fusion restaurant, espouses this imperialist, holier-than-thou attitude to food, which teeters into racism.
She belittles ethnic cuisine and believes it can be 'elevated' with her expert British touch. But Bex cannot push back because, on the surface, Lori's argument is – however uncomfortable – backed by science and facts. Like a dangerously heated pan, her emotions simmer until they bubble into a scalding monologue about the state of our nation. Lowe's explosive and dynamic performance of Bex holds our attention the entire time. Sutton also balances the oppressive nature of her character and the unconditional concern she feels for Bex with immaculate precision.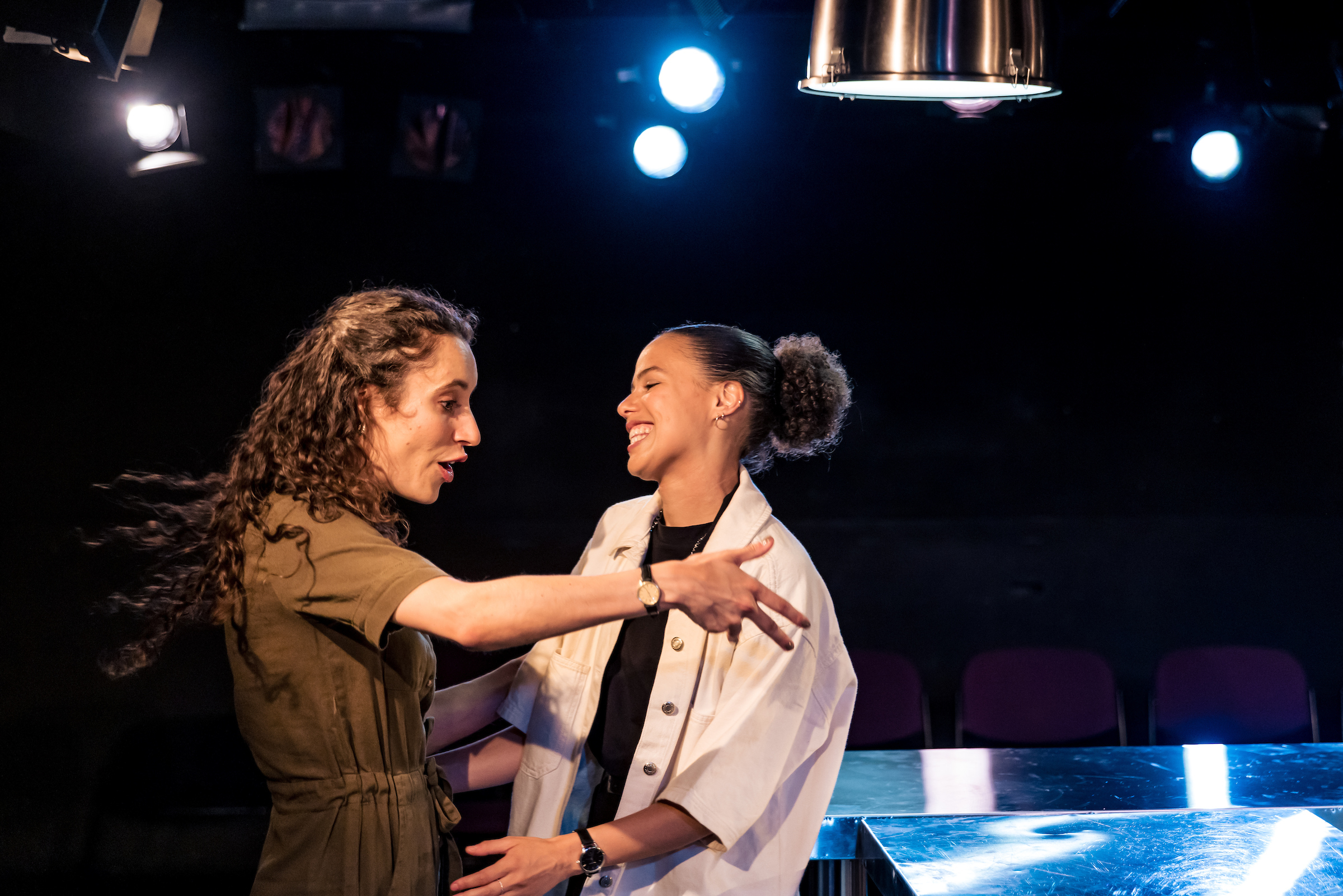 Bush's writing is layered and spellbinding, taking us from the first time Lori and Bex meet all through to the present day. In the naked round, they flirt and dance with metal service tables under the glare of the kitchen lights. As Lori unknowingly provokes Bex, the lights unnervingly flicker. Lighting designer Rajiv Pattan and director Katie Posner work harmoniously to eke out the depth and emotion behind Bush's words. Everything is out in the open with this bare-bones set design from Lydia Denno – which feels as much like a magnifying glass for the fractures in their relationship as it does a kitchen.
While Lori maintains it's easy to follow a recipe or a meal plan, it's never going to be easy for someone like Bex to up and leave the council estate for a 'better life' when larger societal forces are always at play. Those things are not in our control even though Lori is convinced Bex needs to just pull herself up by the bootstraps. We're looking intensely at a relationship, food, their – and our relationship with food. Equal parts are funny and heartbreaking, this play is full of food for thought.
NEED TO KNOW:
Hungry is at Soho Theatre 12-30 July 2022
|
More info