Heather Agyepong's new solo 'The Body Remembers' explores how trauma lives in the body especially for 'Black British Women and across different generations. As Britain's largest union, Unison explains:
'… Black British women are more prone than white women to experience common mental health problems such as anxiety, depression, panic, and obsessive-compulsive disorders. The rates of mental health problems are higher than average for Black women because of factors that result directly from their experience as Black women. These experiences include racism and cultural alienation'. (Unison.org.uk)
I was intrigued, (if not apprehensive) to see this insidious subject matter reflected on and explored as a solo work. As I entered the space, I was welcomed by a half hexagonal shaped audience area, with strategically placed chairs. Infront, another seating area, this time on the floor, populated with black and white African printed cushions. Each safe space accessorised with a piece of paper and a pencil. The white noise soundscape filling the theatre – creating an atmosphere from which to experience, and not be directed by.
Heather Agyepong is an enthralling storyteller, a truth bringer; her performance, and work are authentic, committed, invested and important.
This informal setting was a juxtaposition against the exposed stage, no wings or complicated set, just a white cloth backdrop for projection, and separate plies of personal items; these included a TV, self-help books, vitamins, an opened journal with an entry form a close friend asking her to 'please smile', headache tablets, Kalms, magnesium spray, a yoga mat, a camera, a whip, and yes, a cuddly toy!
Heather Agyepong is already present in the space, as the audience slowly enter, she is adjusting and taking care of her piles of belongings: these small significant shrines dedicated to her life and body. Dressed in a black dress and head wrap, with an earpiece attached, she carves the space, eyes closed – anxiety ridden. Agyepong is a conduit, for other black women's muted voices, she is divining for a place to be. Her gestural movement, like a conductor, memorising and necessary.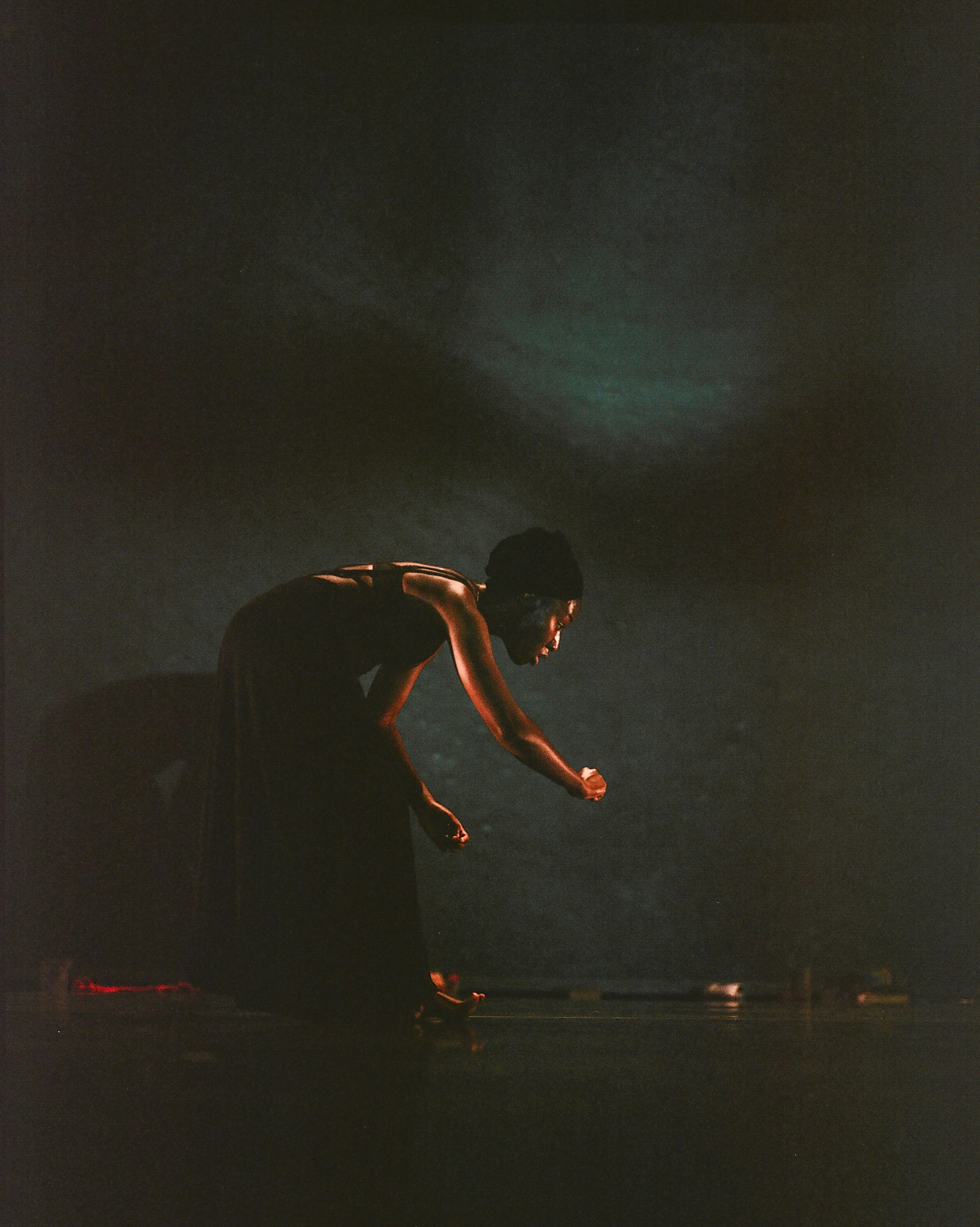 We see projected headings appear on the backdrop: 'The Mover' and 'You are the Witness', making it explicit from this introduction the role of both protagonist and viewer. Huge shadows are created as Agyepong's body appears as both a spirit and a shaman, combining free circling movement and ritualistic, bound and dynamic actions, she tries to shake away pain, to expunge and release trauma and memory.
The soundscape shifts effortlessly, giving over to voices of Black British women, who interrupt the space like a machete. We are witness to emotive accounts of physical limitations, debilitating mental health issues, a daily barrage of microaggressions and an underlying message of finding an energetic space, a place to just be. Images of Agyepong isolated body parts fill the backdrop as she relentlessly tackles with her breath, trying to summon words which are never uttered. She is driven by a source of light endlessly going back to it like a moth or broken bird trying to take flight, she tries to free herself and her voice which are bound by patriarchal and racist systems, causing her to go off balance, constantly looking for centre.
Donato Wharton & Raffaela Pancucci captivating soundscape pulsates, becoming staccato, incessant more rhythmic – matched by Agyepong's movement, which looks for home and release. We are met with an arresting running motif projected on the backdrop, this black figure echoing the music… is she running from herself, or to herself?
Never looking out to audience, Agyepong internal anguish is reflected within the constrictions in her body; we see her morphing from one women's story to another, carrying their own physical and emotional burden. The tracing of her body is repetitive, this state of being occupies the space. Agyepong embodies and depicts the energy of a child, mother, sister, aunt, grandmother, warrior, Doula, which all coalesce in her dance. Again, we are confronted by Gillian Tan's arresting images, this time an image of Agyepong's silhouetted figure in a circle, like she is moving within the barrel of a gun, or cleansing herself in the light of the moon.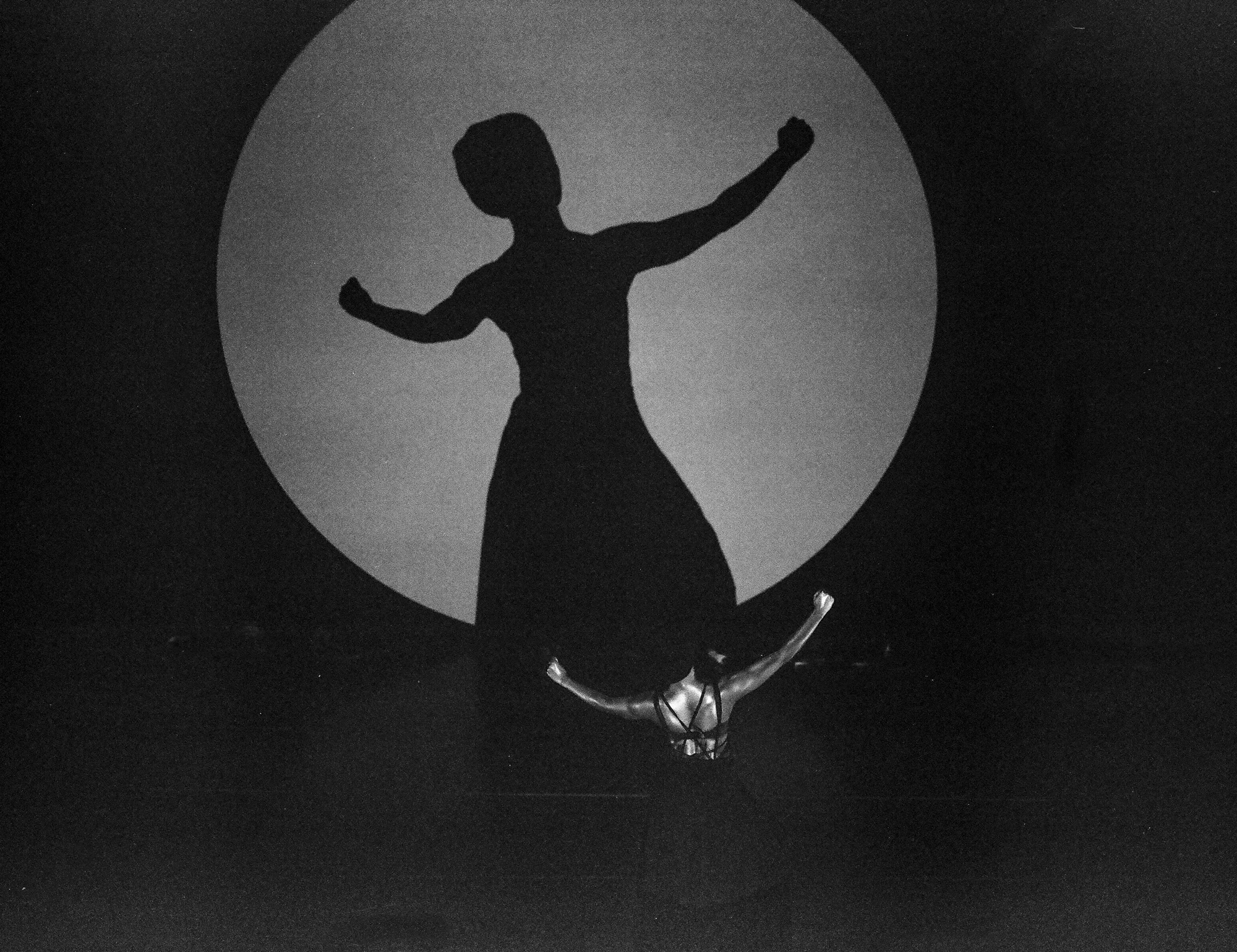 The audience are asked 'Where are you Holding Tension'? and 'What is your Body Telling You? as Agyepong ties herself up in suffocating knots. This attention to the audience's wellbeing is very powerful and tangible, asking the viewer to really consider how they are really experiencing the present moment. The only respite is at the completion of the solo, a moment of stillness, where Agyepong takes her earpiece out and stands vulnerable, resolute, looking out into the audience, she pans and meets our eyes, connecting with us for the first time. Before leaving, she switches on the TV, leaving the audience with fragments of images, she exits the space leaving her energy and the many lives we have encountered, in her wake – a trace, a memory, a captivating experience.
We are asked again by the writing on the backdrop to: 'Be Aware of the Space Between you and Others, Look at the Objects, Stretch, Write, Sit, Leave When You're Ready'. Kudos to the aforementioned creative team, and also dramaturge / co-director Gail Babb, movement / co-director Imogen Knight and psychoanalytic psychotherapist Dawn Estefan for their impressive, impactful, reflective, and cathartic work. Heather Agyepong has created a rich and engrossing solo. She is an enthralling storyteller, a truth bringer; her performance, and work are authentic, committed, invested and important.
NEED TO KNOW: Heather Agyepong's THE BODY REMEMBERS was at The Place on January 29