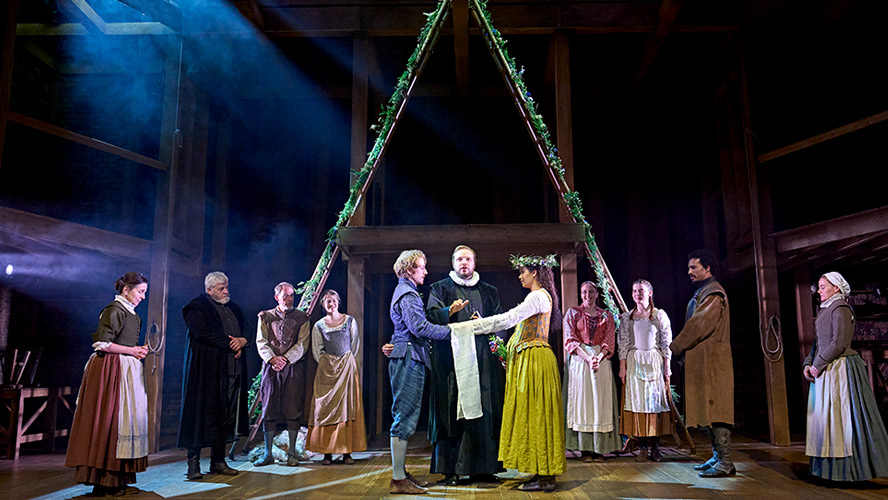 Madeleine Mantock's lead character swaggers into the frame of the transfer of RSC's adaptation of Maggie O'Farrell's Hamnet at The Garrick with a heavy limp. She fills the simple but expansive set with a low Warwickshire drawl, and her head held impossibly high. We are properly introduced to her by Will, as William Shakespeare is known in this production, who meets her as she frees a falcon into the wild, much to her wicked stepmother's dismay.
Although there are echoes of Shakespeare in Love in the humour and the combination of stage and real-life influences, this is not a rom-com or a Cinderella story. Our heroine has no need of rescue. She is several years Will's senior and possesses a dowry that dwarfs his meagre income as a Latin tutor. She introduces herself as Agnes with a silent G. This is not the name that we, the audience, are familiar with; Shakespeare's wife was Anna Hathaway. No?
"The moist faces of the cast and audience united in a terrible silence".
Hamnet asks the audience to reconsider everything we know about Agnes and Will. Scholars have described Anne Hathway as the 'wife-shaped void' in Shakespeare's otherwise reasonably well-documented life. Hamnet confidently establishes her as a woman of practicability, sensible but not cynical, active in the running of her home and its grounds. But there is more to her; she follows in the rich tradition of Shakespearean heroines with seeing and healing abilities. Undaunted by these powers, they form her reality as much as the more tangible parts of life.
Agnes can hear voices from the future, including those of her yet-to-be-born children, and it is with this precognition that she chooses to marry the young, feckless Will. Through the first half, we follow their early courtship, marriage and the birth of their children. I won't spoil them, but the scenes in which Agnes births her children are some of the most affecting, brilliantly directed to illustrate how she occupies the space between the world as it is known to us and the one that is sacred to her family both past and in the future.
Mantock's performance is initially unsettling, switching too swiftly from palpable and fierce to distracted and removed. Our familiarity with Will helpfully offsets these shifts at the beginning. But as her gifts reveal themselves, the cleverness with which Mantock approaches her performance is clear.
"…Despite best efforts, the losses women endure – our loved ones, the fruits of our labour, even our very names, cannot be erased".
She is peerless here. Not because of any inadequacy in what is a stellar and charming cast (particularly young actors Ajani Cabey, Phoebe Cambell and Alex Jarrett, who play Agnes and Will's children), but because director Erica Whyman and adapter Lolita Chakrabarti give Mantock the space to inhabit Agnes and strange space she occupies, and she does so entirely. In the process, they decentre the world's singular playwright in his medium, in his city, under the spectre of his greatest creation, by illuminating the woman who has existed only in the dark and baseless critiques of misogynists.
The tone changes in the second half of the play when Hamnet, Agnes and Will's much-loved son, is lost much too soon. The anguished reaction to his death by the cast is acute. Mantock's unbridled cries, familiar to anyone who has known grief, felt authentic. The moist faces of the cast and audience united in a terrible silence. Agnes cannot find her son on the other side, losing her essential connection to it, her vibrancy fading into unmoored preoccupation. Unable to provide any utility to his family, a heartbroken, despairing Will quickly flees.
Hamnet's death at 11 years of age took place during Shakespeare's second period, one that was marked by almost exponential creative growth. So much so that by the final act, Will has all but abandoned his wife and children save for a few letters and the occasional visit, totally engrossed in his work.
One of the scenes that showcase his creative process features him sparring with famed players of the Lord Chamberlain's Men, Burbage (Will Brown) and Will Kempe (Peter Wight). The players' interactions are light and free as they traverse the figurative and literal highs and lows of the multilevel stage. Each man one-upping the other with drunken bravado to reach creative heights.
It is commingled with a scene of the women in his home. In contrast, Will's wife, mother, children and staff move about the space in lyrical solemnity, their collaborative approach carefully choreographed by Ayse Tashakiran. They are occupied by bringing into the world and rearing children, foraging in the fields and developing medicines, managing the estates, cooking and cleaning.
It's a compelling juxtaposition that successfully rebalances the weight we usually grant brilliant male creators by giving gravitas to the undervalued labour of women, especially those who are illiterate. As such, the scene achieves that which I would have thought was impossible. It makes Shakespeare and his work seem smaller, less immediate and essential than the women's characteristically mundane work.
But it never does so in a way that indicts the Bard, his legacy, or theatre. Hamnet humanises Will as a man who cannot meet all of his obligations, who can be silly and selfish, and who is a childish and firm friend. This is due in no small part to Tom Varey's charming turn, brightening the action with every appearance and convincing us of the inertia and sense of helplessness that can come when the unthinkable happens. We see signs of his genius throughout, but the scant mention of the word 'Shakespeare' and the insight we are provided into his early directionless youth helps us to consider more deeply the man behind the Marvel.
Oh, but he is marvellous still. In the final act, the man who built The Globe remakes the world so that the son he shared with Agnes can live again. In the quietness of the closing scene, his intention, perhaps for the first time in this telling, is not to use the gift of his hand to grasp the world's validation and adulation but to create once again a home for Agnes between the natural and the supernatural. Varey and Mantock's chemistry and commitment to this moment convince us utterly that it is within the most sincere work of reimagining, of theatre, that one can transcend the suspended animation of grief and be reincarnated, as Agnes is.
And that is the work of this phenomenal production, to fill the 'wife-shaped void' that has haunted the story of Shakespeare's life, not in service to his unsurpassable legacy but in pursuit of his and her humanity. O'Farrell, Chakrabarti, Whyham and Mantock imbue Agnes with the vitality, peculiarity and heart she has long been denied but could easily have been divined in the remarkability of the women – witches, warriors, dreamers and healers alike – Shakespeare wrote into existence throughout his work.
We cannot know that, of course, definitively. Just as Will did not know that his Hamnet would live for an eternity, etched into our collective consciousness, inspiring myriad interpretations and expressions of human thought. But maybe Agnes knew. Could we be the voices she perceives at the outset? Willing her to commune with Will, safe in the knowledge that for all its glory and despair, their union is integral to his legacy of raising our imaginations to that which is sublime. I choose to believe it. Thank you to the remarkable women who brought Agnes back to life and, in doing so, reminded us that despite best efforts, the losses women endure – our loved ones, the fruits of our labour, even our very names, cannot be erased.
NEED TO KNOW: Hamnet plays at Garrick Theatre until 17 Feb 2024