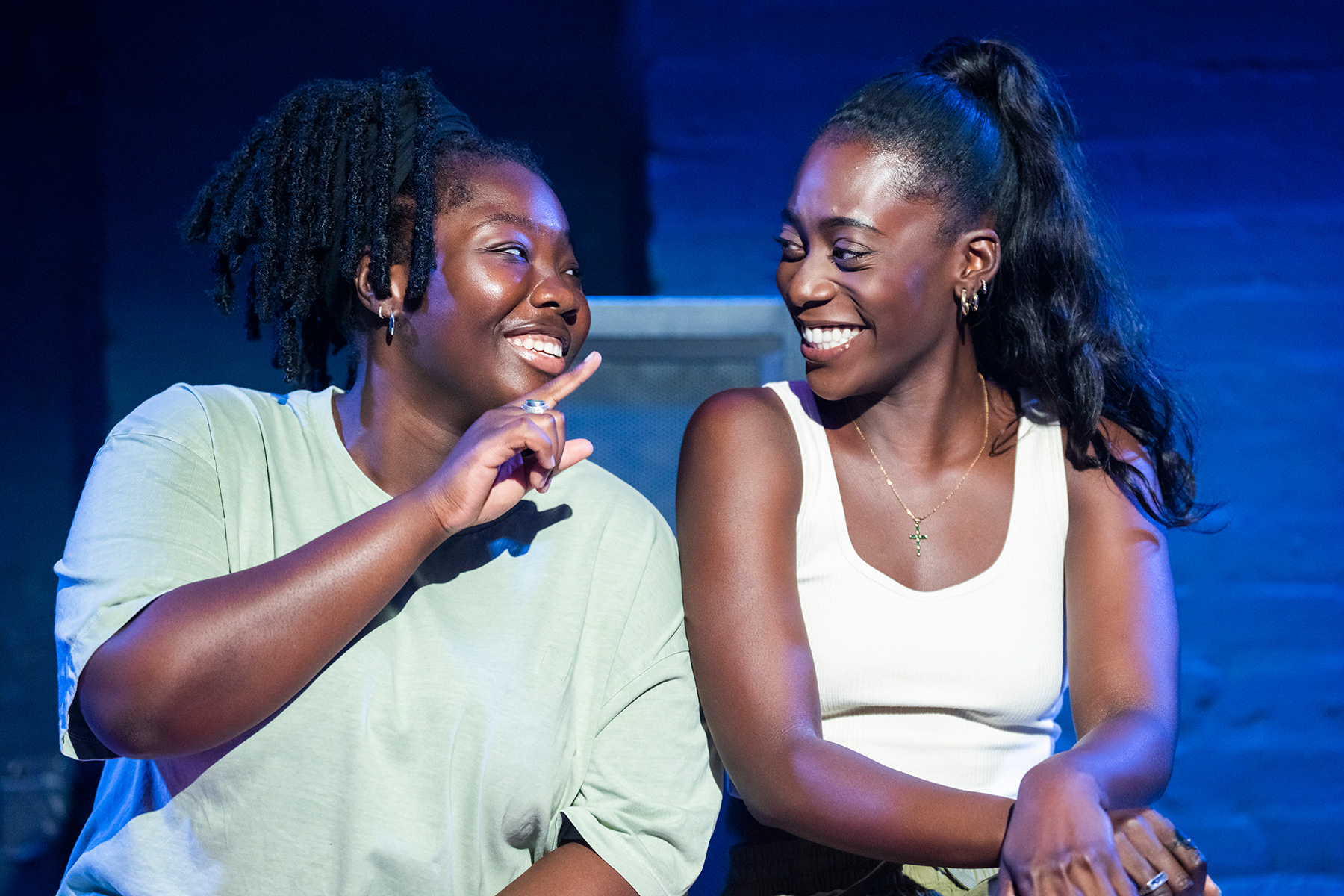 Where does cancel culture, the lust for social media and an AI takeover of your digital presence take you? To platform FLIP! That's the message writer Racheal Ofori (Black Ops) and director Emily Aboud (Pink Lemonade) make clear in this hilarious satire.
Set on a scarce stage in an intimate room at Soho Theatre, it's the perfect setting for us to meet best friends Carleen and Crystal — played by Leah St Luce (Mamma Mia) and Jadesola Odunjo (YOU), respectively. As the fluorescent lights beam down on these fresh-faced friends, we're sucked into their personalities, different yet primed for the social media gaze. While Crystal has a no-filter garishness, unapologetically ready to call out clout chasers online, Carleen has less of a thirst for social media. Or so we think. Yet this contrast doesn't take away the characters' synergy and their ability as a duo to tap into viral trends.
Through incredibly timed humour, well-executed dance numbers and a masterfully acted and chaotic comments section, this two-woman show plunges the audience down a rabbit hole of cancel culture. Something you can't help but feel is inevitable when Crystal announces they aren't afraid of getting cancelled because they "eat that sh*t for breakfast". The play holds space for buzzwords without crowding the dialogue and gives the audience a guaranteed ticket to a recognisable world. One that lacks accountability, particularly from the one controlling it.
For a 70-minute play, the audience isn't left feeling starved of content. We feel well-fed having just seen the car crash of the digital cosmos played out before us. The play manages to carefully hold space for all topics that make us question the humanity behind social media, including mental health and consent. These two are the real themes in this play. We see this through the juxtaposed breakdown between Carleen and Crystal's friendship. Feeling the visible stress that drips from Crystal's face while Carleen acknowledges everything but her best friend unravelling.
Racheal Ofori and Emily Aboud's collaboration is undoubtedly one the world needs to see again. However, what makes this play come alive is the dance and movement under Aline David's (School Girls; or, The African Mean Girls Play) direction. It's scene-stealing without feeling like you're submerged in a musical. All of this effortlessly pairs with the sharp dialogue Racheal Ofori has penned, confronting many of our fears when it comes to social media and the future of technology.
NEED TO KNOW:
Flip! plays at Soho Theatre until 25 Nov 2023. |
See listing