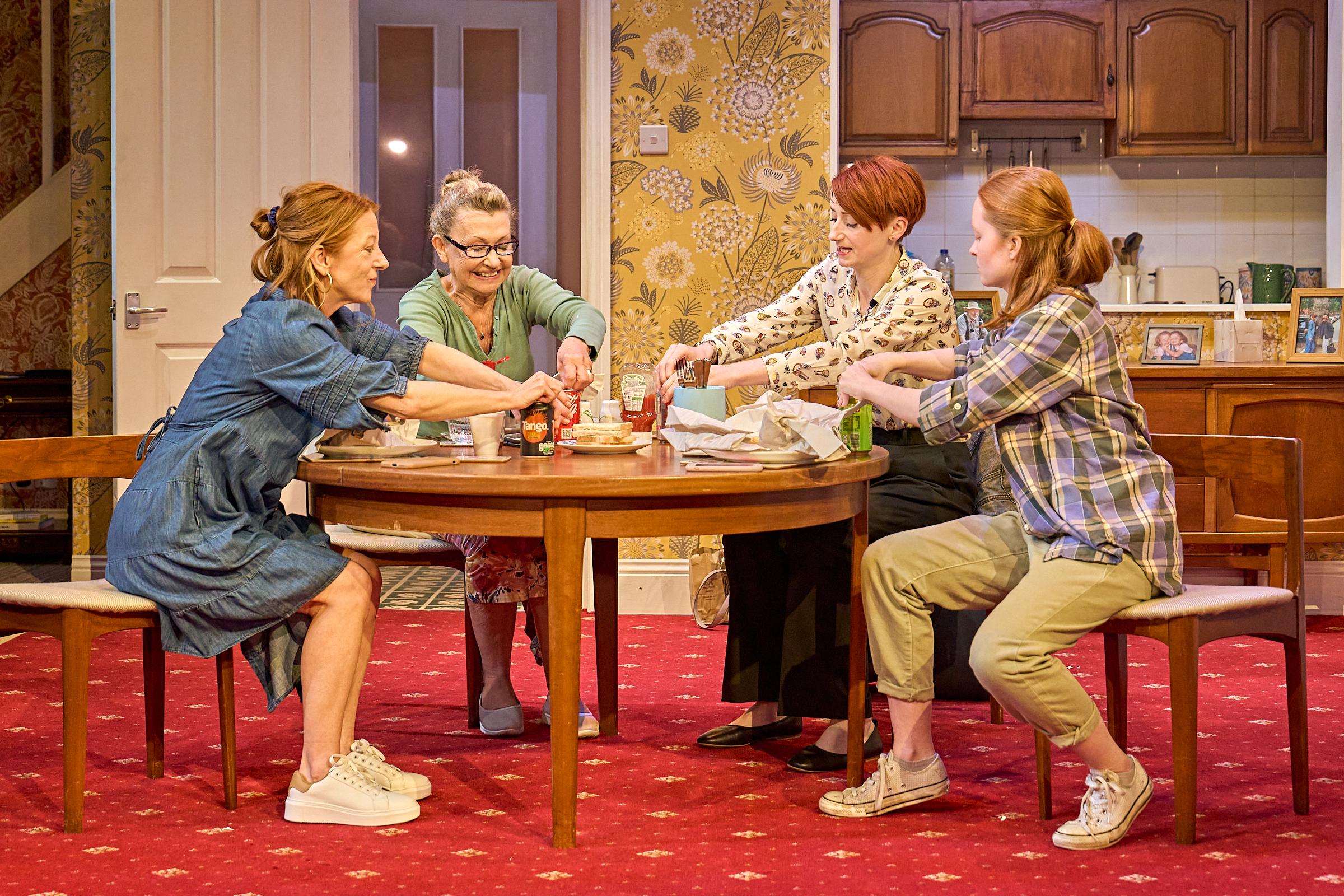 Olivier and BAFTA Award-winning playwright Michael Wynne throws a lot of prescient socio-cultural issues at the wall in Cuckoo – internet and smartphone addiction, mental health (albeit probing this with a relentless coyness), climate change, gendered violence – but, on the stage of the Royal Court, not much sticks.
All this is filtered through three generations of working-class women in Birkenhead, who we see at the beginning of the play, convening around a fish-n-chips dinner – widowed matriarch Doreen (Sue Jenkins), who is making money for the first time in her life through eBay reselling; her two daughters: Carmel (Michelle Butterly), who barely affords life on a zero-hours contract at Boots, and Sarah (Jodie McNee), who works in a primary school run by a hypocritical environmentalist; and Carmel's 17-year-old daughter, Megyn (Emma Harrison), an 'overly-sensitive' Gen-Zer.
Written with Wynne's classic comic wit, these women exemplify the worst of our phone-driven society, often letting minutes of silence lapse while they remain glued to their screens. However, this picture of everyday domesticity is abruptly upended when Megyn locks herself away in her grandmother's bedroom. Just as soon as we're introduced to this character, she suddenly disappears for most of the play, only communicating through texts to her family and unfathomable social media posts.
From then on, we learn just how complex and difficult each of these women's lives are, in a kitchen-sink comedy, directed by artistic director Vicky Featherstone. Doreen, Carmel, and Sarah spend a bit of time wondering just why Megyn has become a hikokomori all of a sudden. Maybe it's a mental health crisis, but Wynne points to a more external phenomenon too – in today's society, it's too easy to become paralyzed by information overload, constant newsflashes about the chaos unfolding in all corners of the globe, the fake realities flaunted on social media.
Although Carmel sagely – and dryly – comments that, if she didn't have her phone "as a constant distraction [she] might stop and realise how shite [her] life really is' – we have to wonder, with Megyn's sudden reclusiveness, at what cost this comes. But in Wynne's script, there's a frustrating unwillingness to confront the uncertainty of the world we all live in right now and to dig into these characters' psyches – instead, we are shown their existential dread in broad and humorous strokes, especially through Sarah's primary school anecdotes, ranging from armed six-year-olds to child abuse.
Yes, Cuckoo is a funny play, but with so much levity you may wonder what the overall takeaway of each woman's story is meant to be. All four actresses give compelling performances despite the one-noteness of their characters. Harrison, in her professional debut, provides some depth, especially to her bare-thin character arc – there's one moment, where she valiantly tries to hint at what life could be like without our phones. Within the four walls of Doreen's hyper-realistic living room, designed by Peter McKintosh with all the clashes of colour and boisterous furniture one might expect, this company has provided a true-to-life snapshot of Merseyside.
The thought put into making sense of place and culture makes up for the lack of connection one might have with the characters within it. The rest of the production is as well-crafted as any on the Royal Court stage would be – featuring, of course, the classic downpour of rain which has now become a trademark of London theatre, and spooky lighting design by Jai Morjaria which hints at something more ghostly in the air. There's a deliberately comic amount of stillness in this play – such at the opening tableau; however, largely, Feathersone's direction is static, with time entries and exits that slow the momentum.
No doubt, this is a good night out for those looking to have a laugh at some expertly performed physical comedy. But when looking for nuance or takeaway, this dark comedy exhausts itself pretty quickly. Emphasising the safety one can look for in their own family when the noise of the outside world can get a bit too loud, remains at the core of this play. But as for the rest of it, there's a directionlessness which frustrates more than entertains.
NEED TO KNOW: Need to Know: Cuckoo plays at the Royal Court Theatre until 19 August 2023