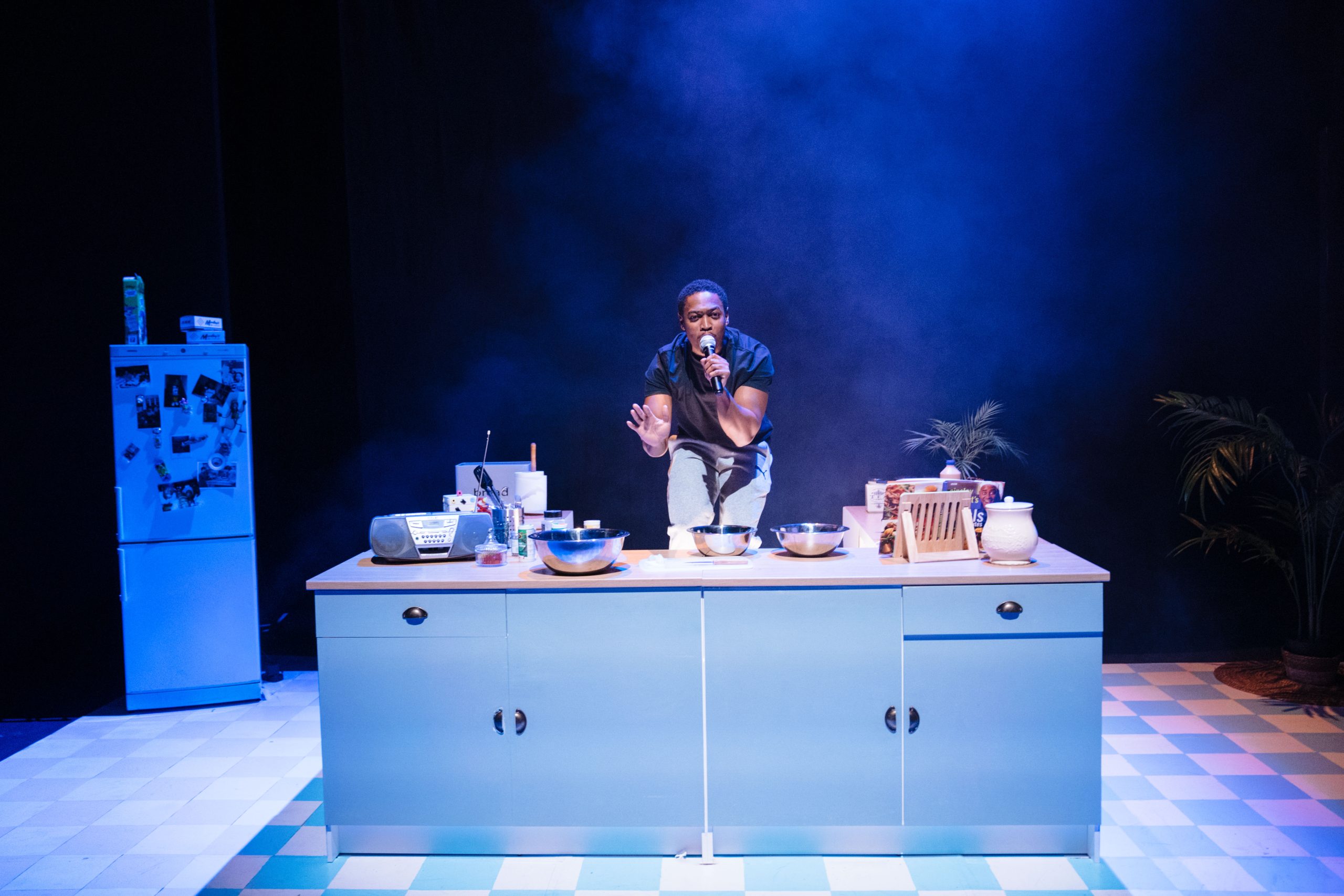 It's 2008. Corey Bovell's Chicken Burger N Chips, is aptly set in and around the protagonist's kitchen in Lewisham, South-East London – where the play is centred.  Allyson Julien has designed a set that includes an old school silver stereo; Jamaican crackers, a kitchen table with rizla, ashtray, a fruit bowl and a fryer – which serves as its own character within the play.
In this solo performance, Corey tells us that his London is the Lewisham Clocktower, where his family, friends, and more importantly… his barber reside. This is his home, where he learned about life. Those who know, know and will instantly be familiar with the name dropping of the now-closed Albertine's, Yates (I remember doing Karaoke there), Riley's and his beloved Ladywell Swimming Baths is being demolished. Ahh, yes… That will be the stench of gentrification.
Gamba Cole (BBC's Death in Paradise) plays the lead and proud Lewisham resident. It's the end of the school year and he's gearing up for a summer of fun with his friends, cochin' and Morley's.
Whenever appropriate or to emphasis a point, he deftly spits bars and rightfully gets respect from the crowd. It's like being at a gig including a chance for a bit of call and response which the audience dutifully join in with.
"This production is just vibes"
Whilst we hear the backstory, he's seasoning (Dunn's River, not Tropical Sun) and frying chicken with the aid of an Ainsley Harriet cookbook.
We hear about the thought process of stepping to a girl you don't know whilst competing with the mandem who have game but actually don't have game. His chat is cheesy, but his Lewisham swag means he can draw a girl from off the endz. The era is set with him asking for Jodie's BB (BlackBerry) pin. I feel so old right now.
There's an altercation with a group from off the endz and much is left to our imagination as we get insight into the life of a young black man complete with Sizzla's Just One of those Days.
We hear about his relationship with his pops. His mum moved to Manchester, so he was raised by his Jamaican dad who he has a strong bond with.
Meanwhile, his relationship with Jodie is flourishing and the play explores issues around expanding your horizons outside of music and Lewisham High Street. As he cleans his kitchen, he serenades the audience as we ad lib to Usher's You Remind Me.
He takes the 136 bus heading towards Elephant and Castle to see Jodie who said she lives in New Cross aka 'ghetto' as she has invited him round.  However, it transpires that she actually lives in Peckham, SE15.
I loved his depiction of being in Jodie's bedroom and all the feels when the nerves kick in as he sits on her bed. Impressed by the fact that she has vinyl and a turntable, she opts for  Karyn White's I'm Not Your Superwoman (TUUUUUNE!). Jodie shares her plans to go to university but for Corey negative self-talk kicks in, he doesn't think he has the brains to take this step.
One thing leads to another and their postcoital banter turns to matters of the heart and he truly opens up about what he wants out of life. He starts to think positively about his dreams and aspirations and shares this with Jodie.
He heads home. Walks through the park having survived the bus journey without encountering any postcode wars from Peckham back to the endz and unfortunately, the past catches up with him.
 Cooking fried chicken live on stage, provides an innovative dynamic
I'll say no more but let's just say there's no need for a summer of hoodies, sometimes dreams become reality because contrary to the media and news reports, actually black boys do deserve joy and to live happily ever after.
This production is just vibes and what keeps the show ticking along nicely is not only the Corell Bovell's slick writing or Gamba Cole's superb performance but the consistency of bangin' tunes which keeps the audience engaged and involved throughout.  Shout out to Sound Consultant, Francesca Amewudah-Rivers.
Cooking fried chicken live on stage, provides an innovative dynamic, Corey checks on it occasionally – stirring and tasting – and finally enjoying that satisfying first bite. It feels familiar and homely as we share the experience of cooking a meal with a loved one. Helping to set the scene, there's now of course, a familiar smell of fried chicken in the air, evoking hunger and nostalgia as the play draws to a close.
This is a fine, nostalgic play – from the sharp, witty writing and first-class performance to the on point sound, and direction (TD. Moyo). Chicken Burger N Chips deserves to be enjoyed by many. And, as someone who has fond memories of Blue Borough, this is a fitting ode to South London's Lewisham.
It's an absolute pleasure to see our stories told with such insight and accuracy.  Brap, brap!