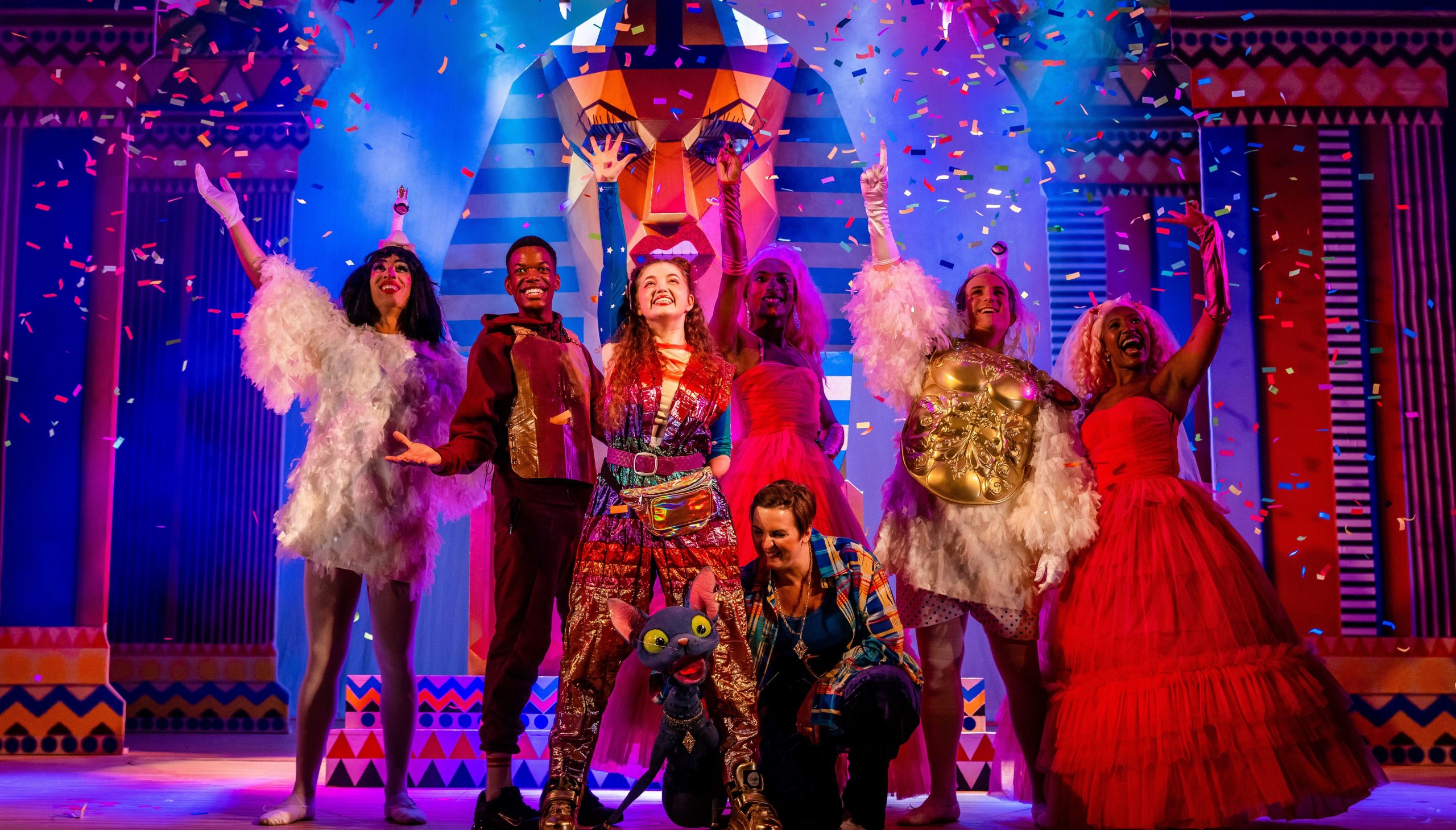 Since the Theatre Royal Stratford East opened up over 130 years ago in 1884, there have been a number of festive family shows in this theatre with Cinderella being the most performed pantomime. For Christmas 2022, there is a new twist to this classic tale for families to enjoy during the holiday season.
Directed by Eva Sampson (Heart Of Hammersmith, The Tide, More Than We Can Bear) with book and lyrics written by Leo Butler (Lucy Dog, Faces In The Crowd and Alison! A Rock Opera), and music and lyrics by Robert Hyman (Cinderella, Rapunzel and The Big Life), Cinderella is a new rendition of the beloved tale we all know and love set in Stratford East-Gypt with Sphinx cats, pharaohs and Empress Cleopatra (Gigi Zahir: Tempest, Fame Whore and Cinderella).
The panto starts off with a joyful song that introduces our main character Cinderella (Gracie McGonigal: The Crucible, Aladdin, Beyond The Stars). This is followed up by her best friend Sphinx who's a puppet (Kathryn Bond: Call The Midwife, Never Liked Her Anyway and t's True, It's True, It's True) breaking down the opening story of this version of Cinderella and giving the audience a classic greeting that will be used throughout the show.
Before the show has fully begun, we get a glimpse of Cinderella's personality as she comes onstage and hands out sweets to the audience to make everyone feel warm and welcome. This is a nice way to prepare us for what's to come, especially for those who have never been to a pantomime as all the typical tropes such as booing and cheering are introduced earlier on before anything happens.
Throughout the show, there are a lot of references to modern-day London from the different cities such as 'Brixton Colosseum' and Tooting right up to the social media apps that we use such as TikTok and Snapchat so that younger audiences can relate to it as it's relevant to the community. Marc Antony ( Wesley Bozonga: Anthony, Ted Lasso and Liar, Heretic, Thief) aka The Prince from Tooting felt like a typical East Londoner from the way that he talked to the way that he walked.
Cinderella's stepmother, Empress Cleopatra represents modern-day politicians as she wants to increase taxes and keep the gold all to herself but provides us with a villain twist. It does feel overbearing at times when the show tries to relate to the modern day as the story tends to get a bit lost in it all and it ends up feeling more that it's added in there just to please the audience rather than enhance the production.
Kathryn Bond plays three characters in this production and does a really good job of incorporating them into the story without feeling like one of them is missing from the plot. Her standout characters were Sphinx and Fairy GodMummy. Sphinx was the best sidekick that you never knew you had. Fairy GodMummy gave us the classic 'Behind You' scene for her introduction and an incredible song that had references to Thriller and other classic Halloween songs.
Gracie McGonigal has a wonderful singing voice and it fits completely with Cinderella. She's able to project a powerful voice when the character shows excitement in her ideas or confidence in herself. This is evident in 'The Light In You' performance in which she sings with the Fairy GodMummy about building up the confidence to believe in herself after the audience reassures her that she's special and that we believe in her. Although there were some great moments from her in the show, she did end up getting overshadowed by a lot of the cast, particularly the step-sisters and Cleopatra during the first act in particular as she wasn't in it as much and the plot started to lose its focus.
Micah Holmes (Kinky Boots The Musical, La Cage Aux Folles and Twang!) and Tendai Rinomhota (Grease, Annie and Emmerdale) are fantastic as the step-sisters Chrishell and Amanza who feel like they have just come from The Only Way Is Essex. There is one line that Micah Holmes says that gets a full-on laugh if you are from the African Caribbean community as it's something that you've heard before.
The set production was good overall. The best design was Cinder-Cellar which is Cinderella's hideaway. It's made to look like a cupboard underneath the stairs which has designs and items in it that represent the character such as a noticeboard with all of her ideas on Post-it notes.
Fairy GodMummy's costume and Cinderella's gold dress were both standouts. The mummy dress represented a typical fairy godmother costume that had been mummified and Cinderella's dress gave off rebel princess vibes.
The subplot with the introduction of Caesar (Alex Wadham: Little Shop Of Horrors, Avenue Q, A Midsummer Night's Dream), Marc Antony and Stinkus The Soothsayer, played by Kathryn Bond felt a bit unnecessary and completely out of place but not in a good way, particularly Caesar and Stinkus The Soothsayer. They were added as a way to introduce Marc Antony to the story with Caesar also being Cleopatra's love interest but they weren't needed at all as it didn't enhance the plot and could've been taken out completely.
Overall, this was a nice rendition of Cinderella to see but gets so disoriented with its side stories that it forgets about its main character and loses the main storyline.
NEED TO KNOW: Cinderella is at Stratford East until 10 Dec 2022