This year's Breakin' Convention was always going to be… different.
Of course, the event was socially distanced; a state of play that was enforced, with both rigour and politeness, by the venue staff; and seemingly well-respected by those attending.
For this year's understandably slimmed-down annual celebration and exploration of Hip-Hop dance, the indomitable Jonzi D hosted proceedings with his usual mix of bloke-y London charm and Caribbean 'back-a-yard' banter.
One of the first things he did, upon arrival on stage, was a spoken-word piece that sought to contextualise the entire pandemic. As he, himself, pointed out – for many in the audience, the show marked the first time they'd attended a theatre since before lockdown. By pointing out 'the elephant in the room', he achieved immediate rapport with us all.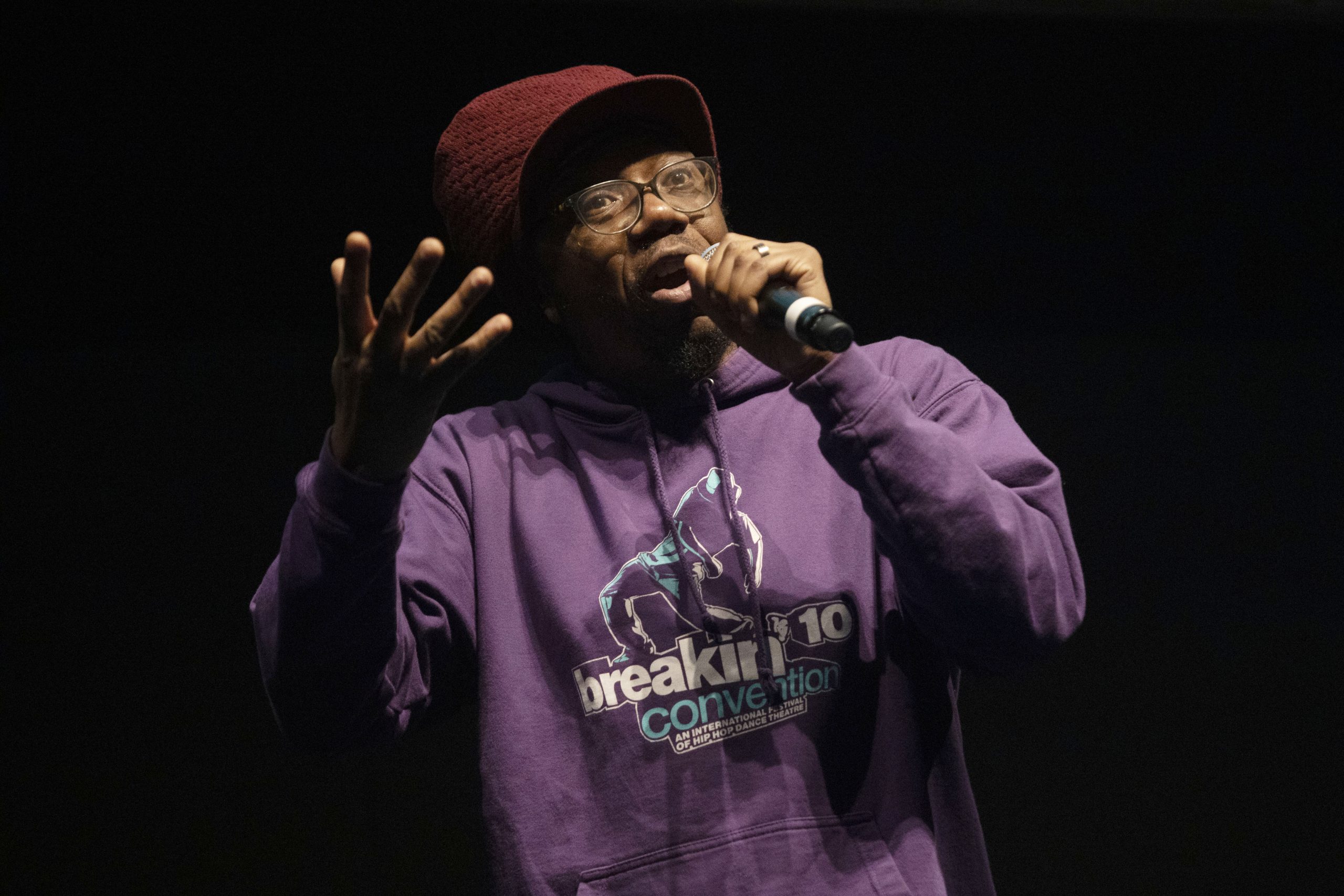 It was good to see so many parents out with their children; I'm sure, as much as the actual confinement, a lack of 'outside options' for a family's shared entertainment, was a big stress.
Those who have attended the annual event in the past – and who were somehow unaware of a global pandemic – might question if they had come to the right place.
Sadler's Wells is usually 'teeming' with bodies; preparing, repairing, sharing; in terms of noise, numbers and energy – there was simply no comparing.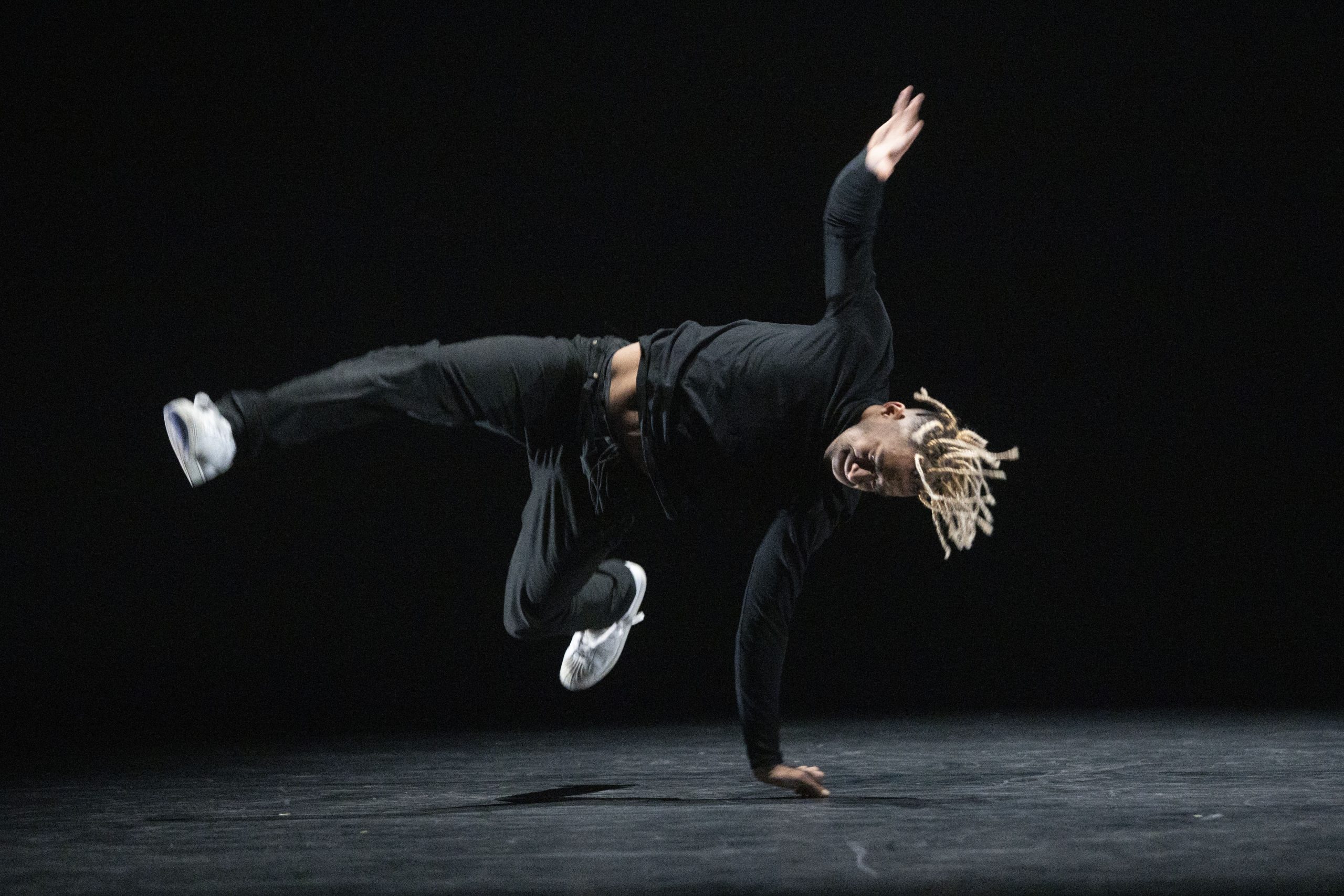 Similarly, because the bar was closed, there was no place to (sigh) take a breath and engage with people one hadn't seen for ages – or didn't know up to that point – to share insights – swap notes – connect.
Presumably, as theatre schedules slowly get 'back to normal' through next year, almost all venues – will go through a similar process… slowly, slowly. Of course, this is going to be a huge problem for those new(er) shows that perhaps need 'time for traction' – who's got that time anymore?
Anyway, what about the show's content?
The first of the night's live performances was one dealing with loneliness and depression, by a young, all-female 'popping crew' called A.I.M. The piece starts with the five dancers lying or sitting on the floor after a complete blackout; each individual illuminated equally. The dancers – after coming back 'into being' – seem reluctant to risk exposing too much; choosing, instead to remain a part of the neat unison lines, occasional tight and precise tutting pair-offs or slick line-shifts. Blackout – lights up; they've removed their coats. The tension remains. As the piece progresses, the dancers really begin to enjoy expressing themselves; more eye-contact, interaction with each-other.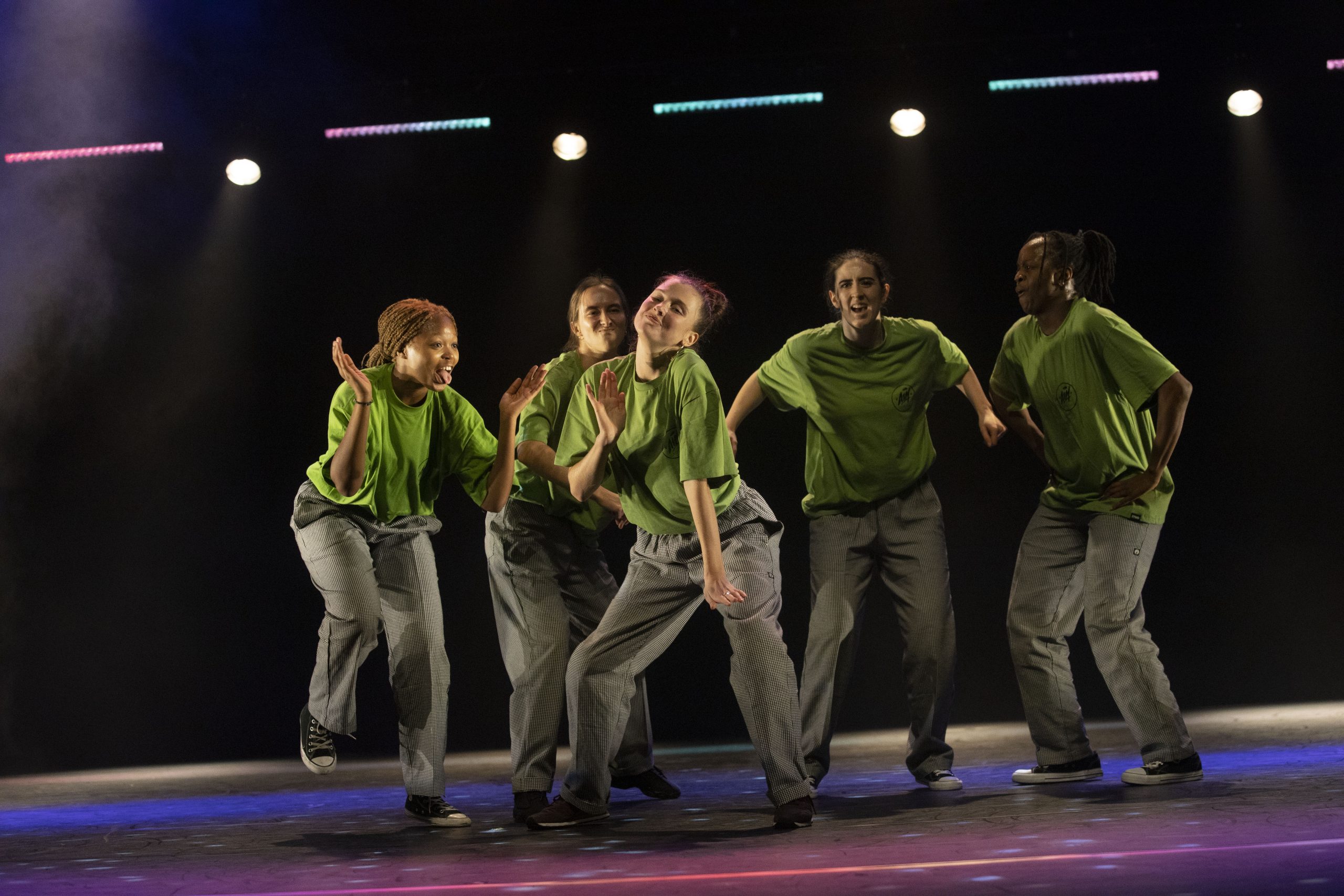 There followed a film by choreographer Botis Seva and director Ben Williams. It expanded upon the idea of social distancing, while delving into more personal, though no less powerful, areas (such as bereavement, single-fatherhood and mental health issues amongst black people).
It's a handsome black and white film with a powerful, committed performance from Botis. There's no dialogue, and the dance element present here comes from an overhead shot of the dancer unfurling from a foetal position, twitching to an unheard pulse, and seemingly exhibiting the aftershocks of yet another silent scream. The wall in the small apartment is full of photographs – each one signifying the absence of the one single person he seemingly can't live without – despite there being someone who – if they could talk – would say the same. A timely reminder of just how quickly and unexpectedly our lives – or unity – can be unravelled.
After this came a male duet from Birmingham-based O'Driscoll Collective. The piece starts with, what looks like a refusal-of-entry from a bouncer to a 'punter'. What takes place following this, is about 7 minutes of some of the best male duetting I've seen in a long while. The clarity and precision of the unison work – especially while executing some intricate tumbles, freezes and capoeira moves – is a delight; as is the body-mirroring. There appears to be a natural ending at one point… a hesitation – then they're back, dancing with each-other, if only to 'consummate the interaction… with a hug.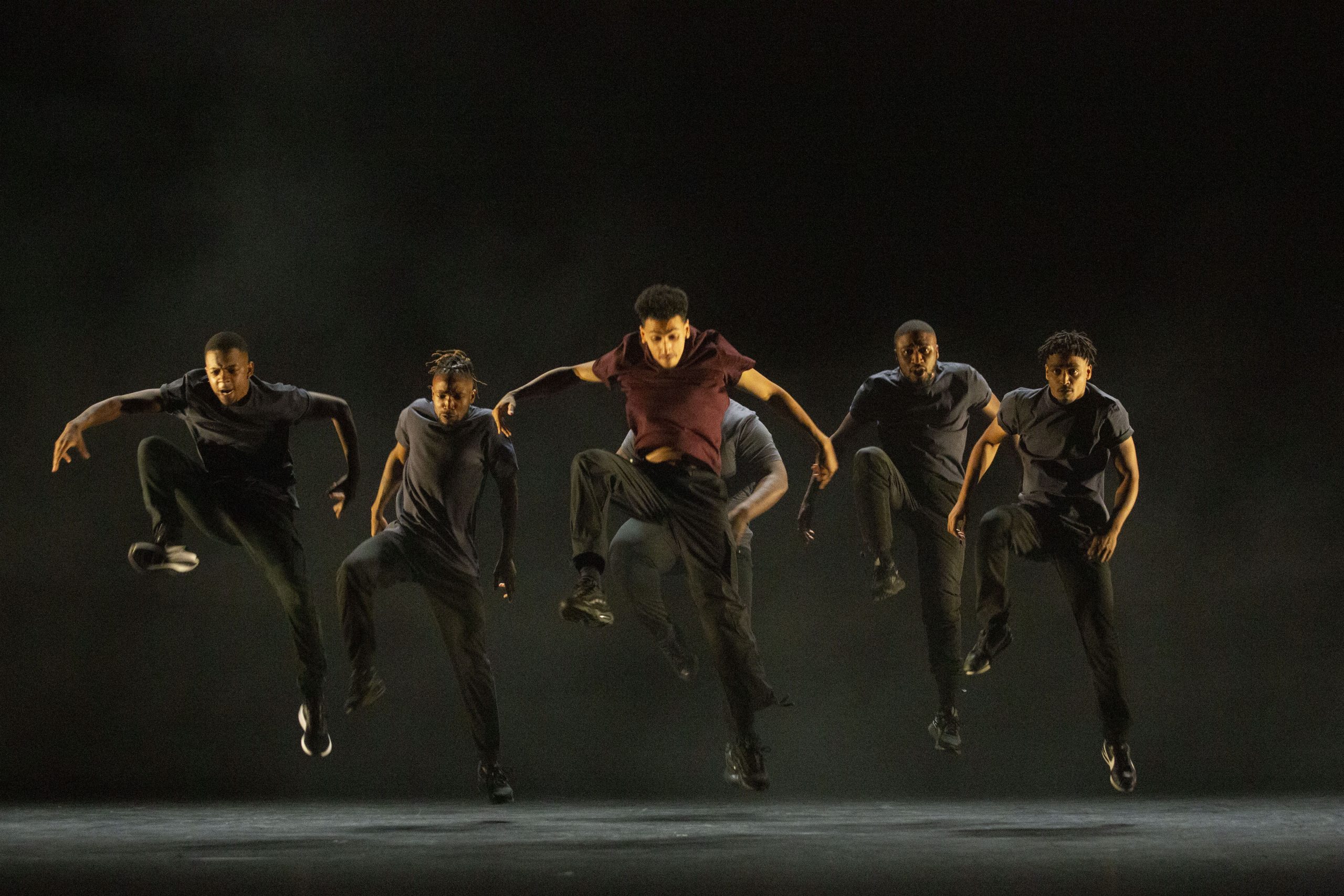 When they finally say goodbye, there is mutual respect and understanding between them that leaves no doubt that, what started out as an (emotionally and physically) awkward engagement, ends with them both exiting having realised that their lives have benefited greatly from the encounter; the audience could say the same. Are they a part of the same person? Do they exist out here with us? Friends? Lovers? Enemies? All – or none – of the above? It doesn't matter. An amazing piece of hip-hop dancing.
Barely has the audience had time to catch breath, before another film starts, Our Bodies Back; this time a collaboration between Jonzi D himself, and female poet and performance artist Jessica Care Moore. It is a vital piece about Black female empowerment, features four varied Black female dancers filmed in different parts of the world. Moore's words are incredibly powerful, and her delivery – strong, emotional, defiant, real – is a pitch-perfect. So, too is Jonzi's filming.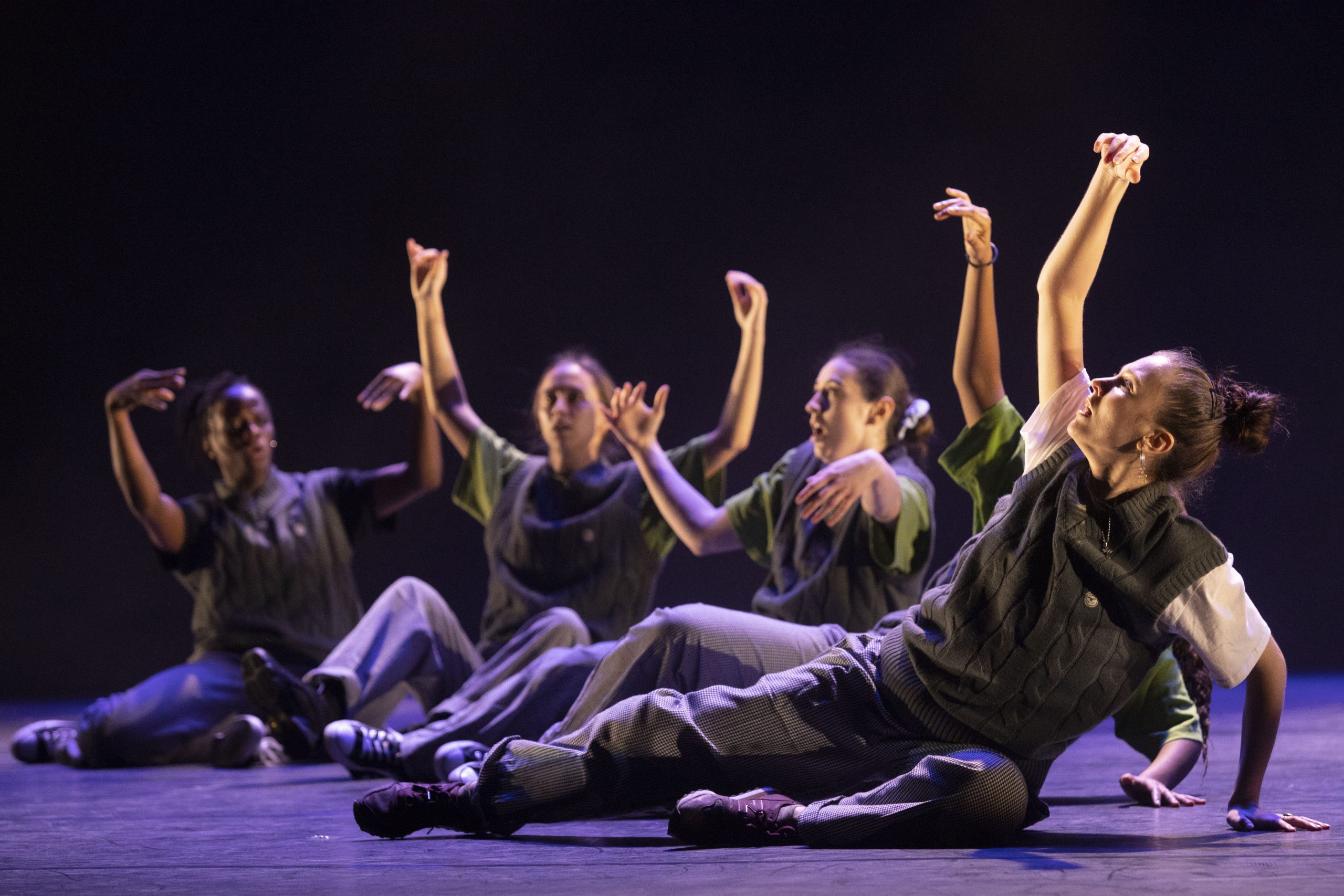 Finally, we have a piece by Boy Blue -the company created by Kenrick 'H20' Sandy and Michael 'Mikey J' Asante in 2002, they create the same choreography for different members of the company. Krumping – when it really hits home – is a dance form that relies on consistency of intention. The problem with getting younger lads and boys to stand in for adult males in a krumping ensemble is that the different approximations of rage subtly affect the timing and – by affect – our perception of the line.
I'm glad to have seen it.
I hope to be seeing a lot more theatre and dance in the coming months and years.
NEED TO KNOW: Breakin' Convention was at Sadler's Wells 11th – 12th December 2020.