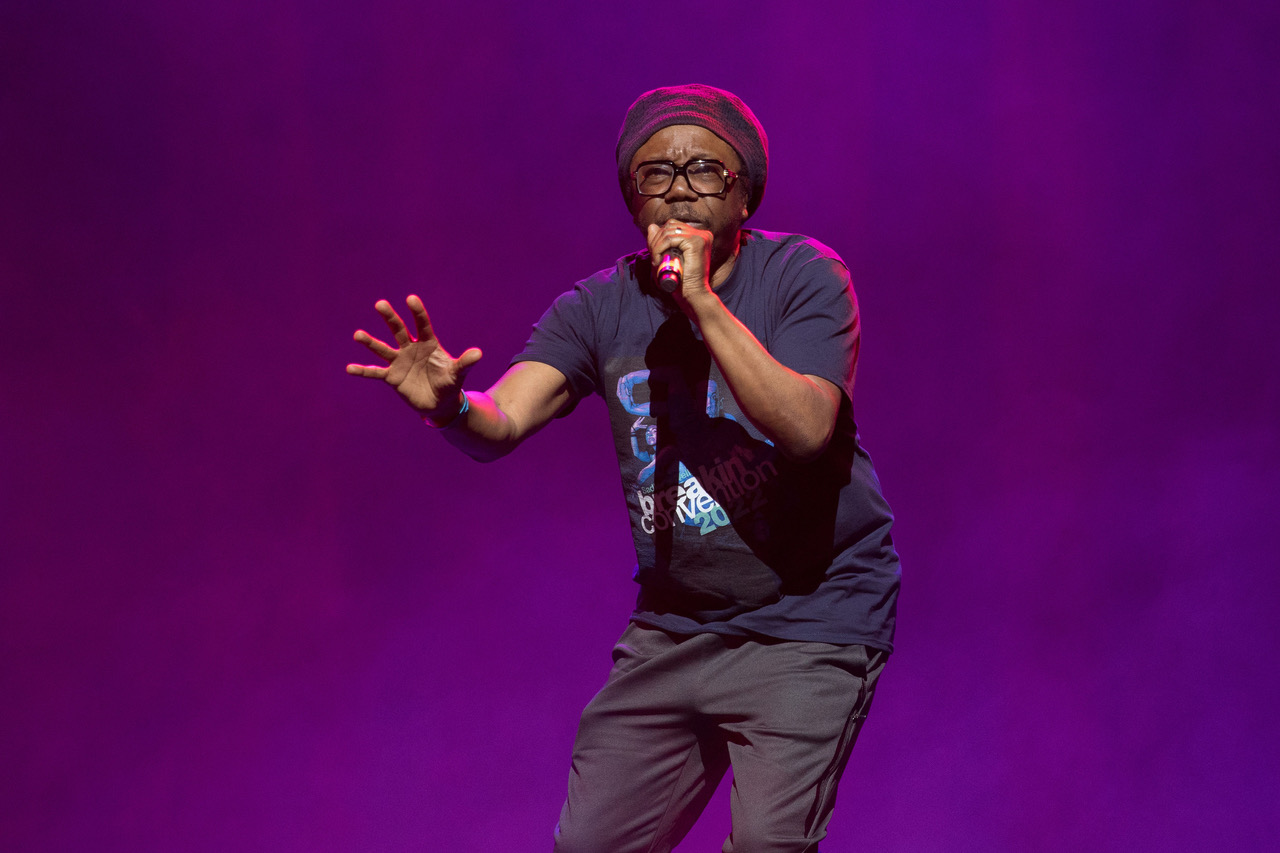 On Saturday 30th April, I was an audience member at the19th Breakin' Convention, at Sadler's Wells, (the flagship venue for national and international dance). The event was hosted by the charismatic, polymath Jonzi D & the supremely talented, artist and BSL interpreter, Jacqui Beckford.
Entering the convention, I was overwhelmed by the sheer number of intergenerational audience members, queuing outside, eagerly awaiting the start of the stage performances. The hive of activity, and buzz of excitement emanating from the young artists and families; it was like being at a pop concert with a huge sense of community spirit.
The auditorium was blasting out preshow music, and pulsating basslines, creating a growing atmosphere of anticipation. A standing area in Infront of the stage was home to the next generation of dance artists, this inclusion added to the concert-like feel.
Breakin' Convention founder Jonzi D whetted our appetites, starting proceedings with a spoken word offering, and discussing issues pertaining to the zeitgeist. The topics forensically exposed ranged from Boris's party blunders to Patel's possible deportation of 'illegal' immigrants to Rwanda. The hosts rounded up their introduction with a mantra of peace, love, unity and hip hop.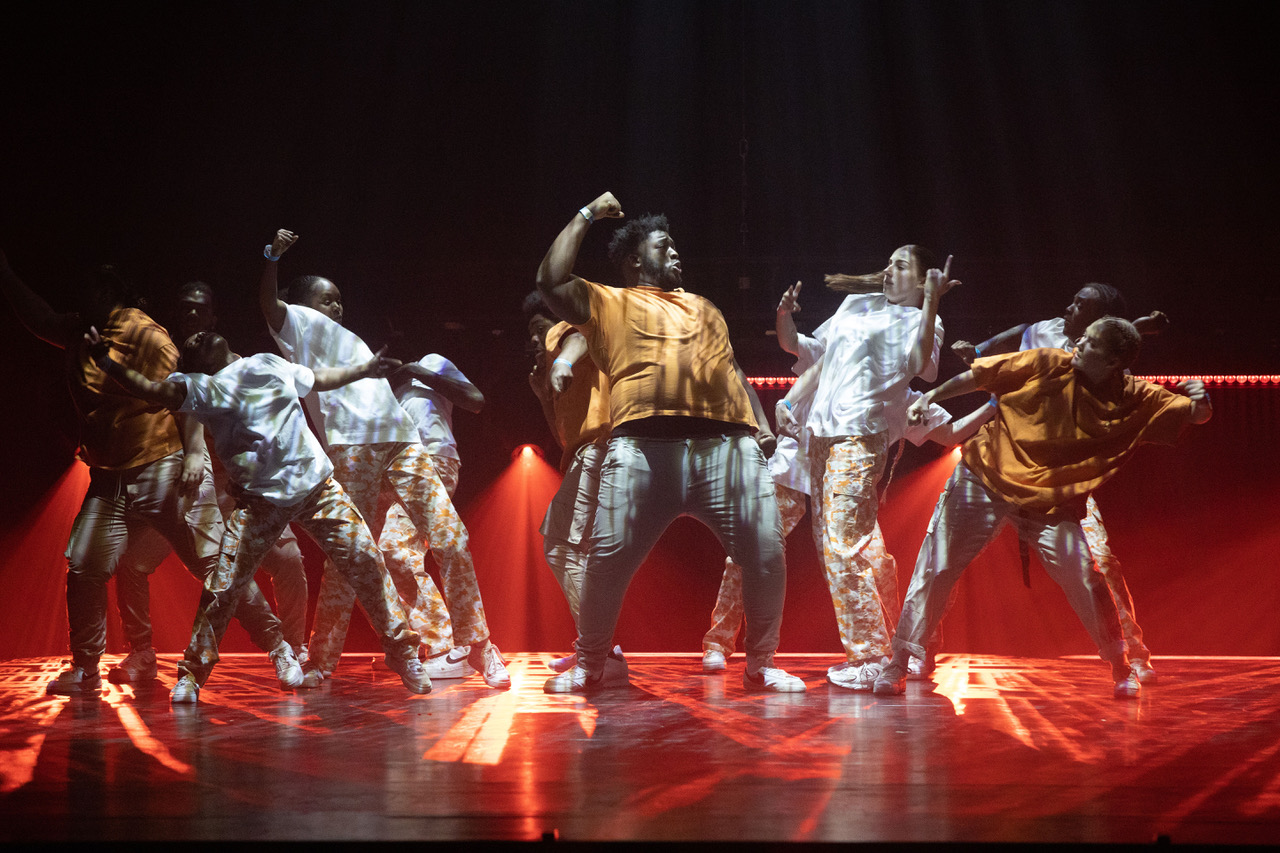 First on the programme were EASTablishment (UK), an East London crew, full of energy and crowd-pleasing dance formations. The impressive array of lighting states emphasised their capable and expressive artistry and showcased the united ensemble. The choreography incorporated a mix of well-composed dance forms. A standout section featured a powerfully liquid-like trio full of expression, drive, and punctuated power.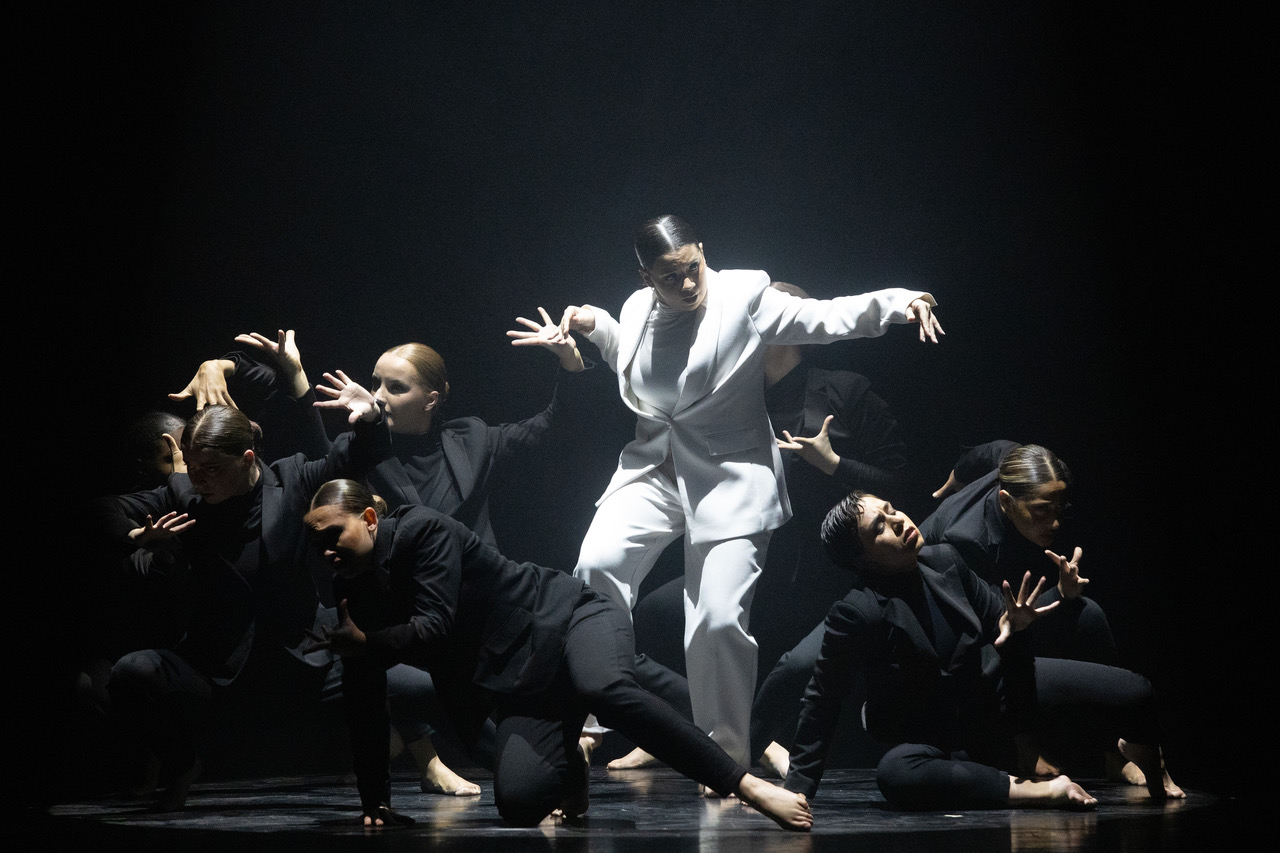 Next up was the articulate Oxygen (Netherlands). A solo figure donning a white suit appeared in a spotlight, surrounded by dancers in all black suits – perhaps a metaphor for the light permeating the shadows. The piece was concise, powerful, and depicted the manipulation of limbs, and figures fighting for the spotlight. This extremely strong group employed well-executed partnering and adhered to the film like music score with precision. A stunning portrayal by a bold, no-nonsense company, expressing a clear narrative.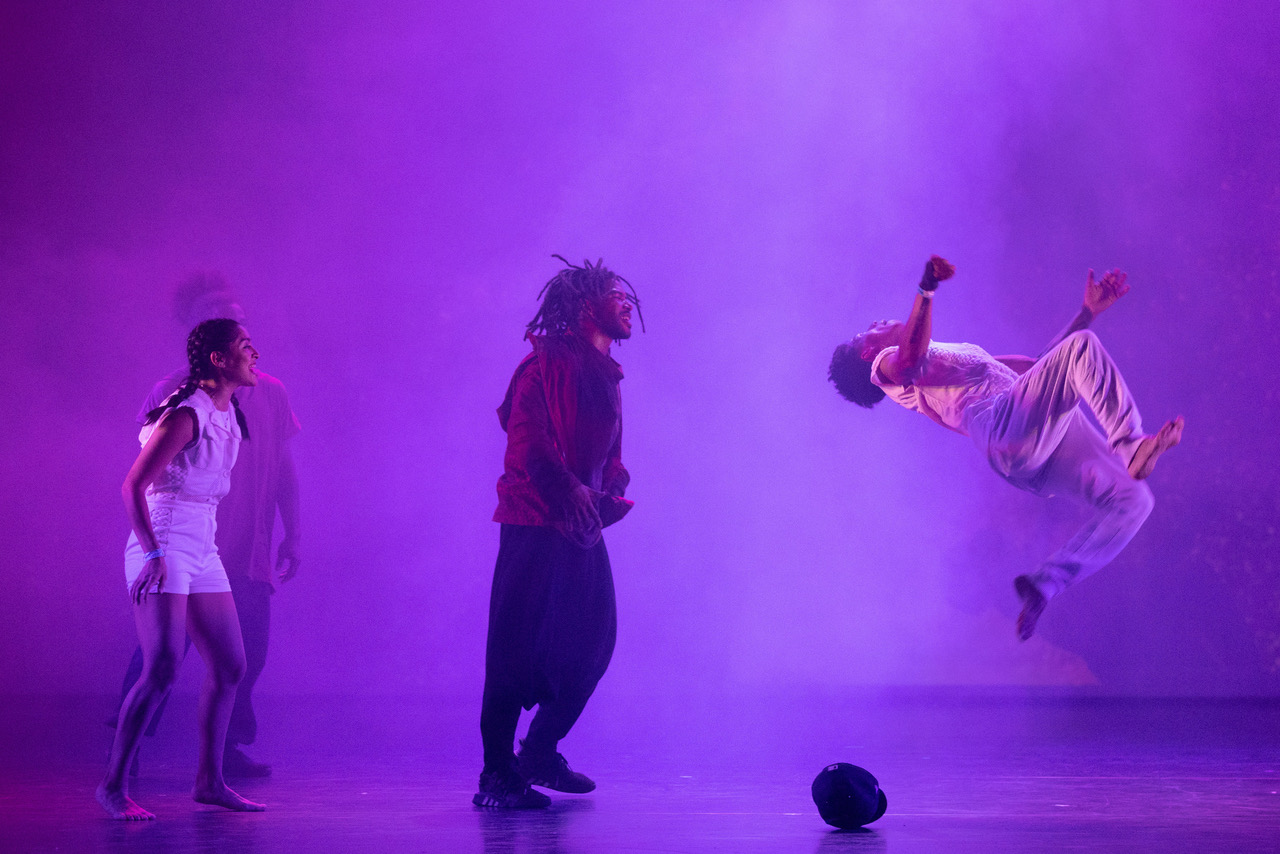 D1 Dance Company (Peru) entered the stage in the projected glow of a film – a travelog of Peru, from its distant past to its present. The work told the emotive stories of the dancer's fight for survival. Using Afro-fusion hip hop, and contemporary forms the dancers were on a physical and spiritual journey to find their identities and be themselves. Through projection, props, and episodic dance they explored social narratives of water shortages, gun violence, murder, and poverty.
D1's acrobatic and playful work juxtaposed with the hard-hitting themes of struggle and resilience. Shout out to company dancer, Michael, whose visceral movement and committed performance were significant. The ending message of finding joy and moving forward is both universal and needed.
Soloist dancer Mr Kriss (Czech Republic) appeared through a haze of smoke, which filled the stage, a rug draped over him and a feeling of displacement, ungroundedness, and journeying. The nomad is pushed, pulled, and manipulated by the rug, (which appears to have a life of its own). Mr Kriss's display of hair raising, amazing b-boying and threading skills added a contortionist quality to the work. Themes of finding your place and hopelessness flooded my senses. An owe inspiring music played live, evoking a beautiful yet haunting soundscape for the stunning dancer to present a thought-provoking work of lamentation and yearning.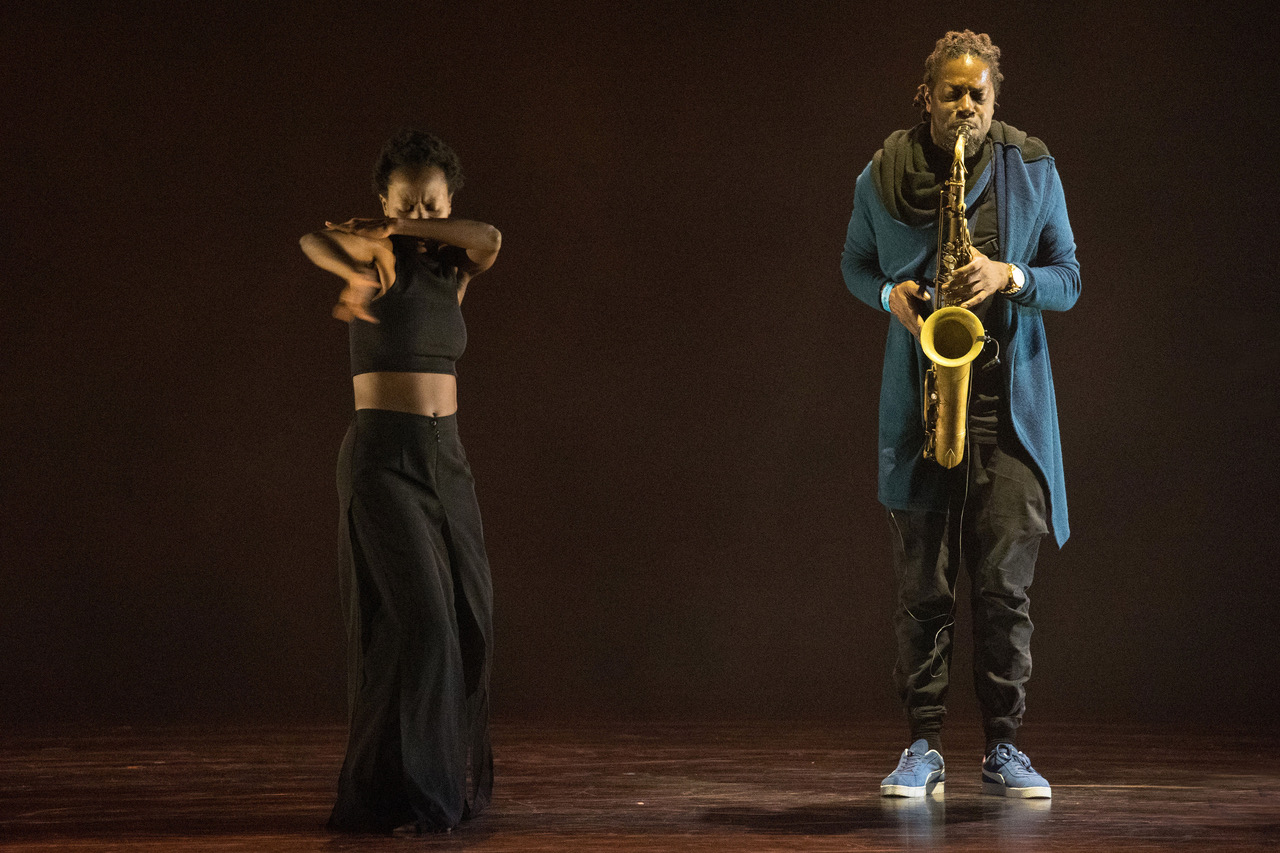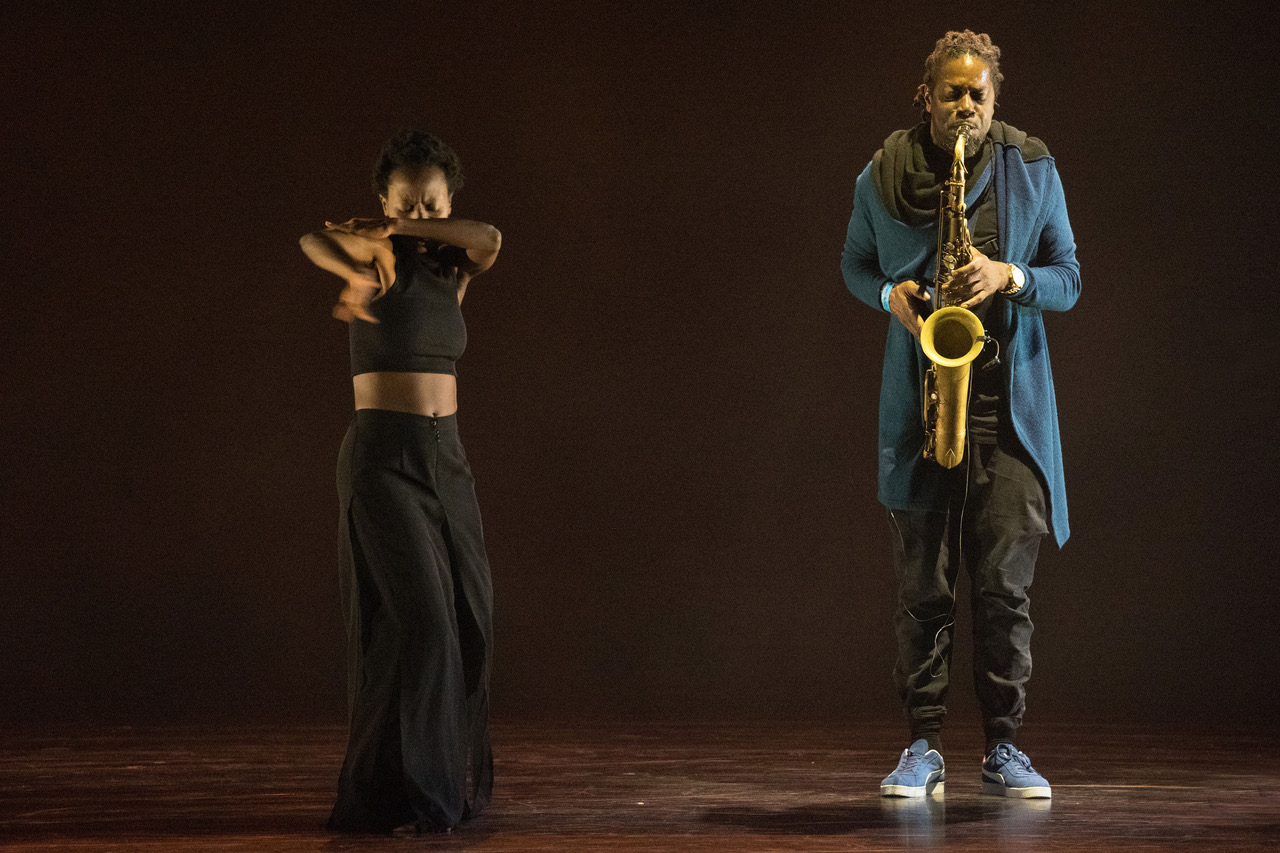 Jessica Care Moore, Axelle 'Ebony' Munezero & Soweto Kinch (USA/Canada/UK)
During the Covid lockdown, Breakin' Convention presented a socially distanced event and took the decision to include dance films in their line-up.
Our Bodies Back was one such film that aired that night. The aforementioned international collective performed this work live. The work was breath-taking, raw, visceral, important, necessary, and unapologetic. The performance was based on Moore's response to USA media coverage of a Black mother, who jumped to her death, taking her children with her: and was an indictment on how Black bodies are policed and traumatised. Moore's vocal delivery was akin to a machine gun taking shots at the system.
The soundscape/music by Soweto Kinch was reminiscent of Harlem jazz, spoken word happenings and Black Panther rallies. Munzero's otherworldly dancing utilised waacking and contemporary dance. She embodied the vital essence of regal queen, deity, ancestor, haunted spirit, and traumatised mother. The piece was arresting and hung in the air well after it had finished. Best of the night!
The 60-minute interval gave way to graffiti art, cyphers and breakdance tutorials all over the building, as well as another performance opportunity in the Lillian Bayliss theatre.
Compagnie Niya (France) opened the second half. A gifted steel pan musician and a magnetic solo performer began a movement and music interplay. The soloist threading waving, slicing, and gesticulating with synchronicity to the music. I could have watched the two memorising performers for much longer before they were joined by a captivating violinist and a trio of imposing dancers. The company displayed wonderful freestyling prowess and moments of agile partnering but was a little hesitant with unison choreography. Their physicality and skill were a pleasure to watch.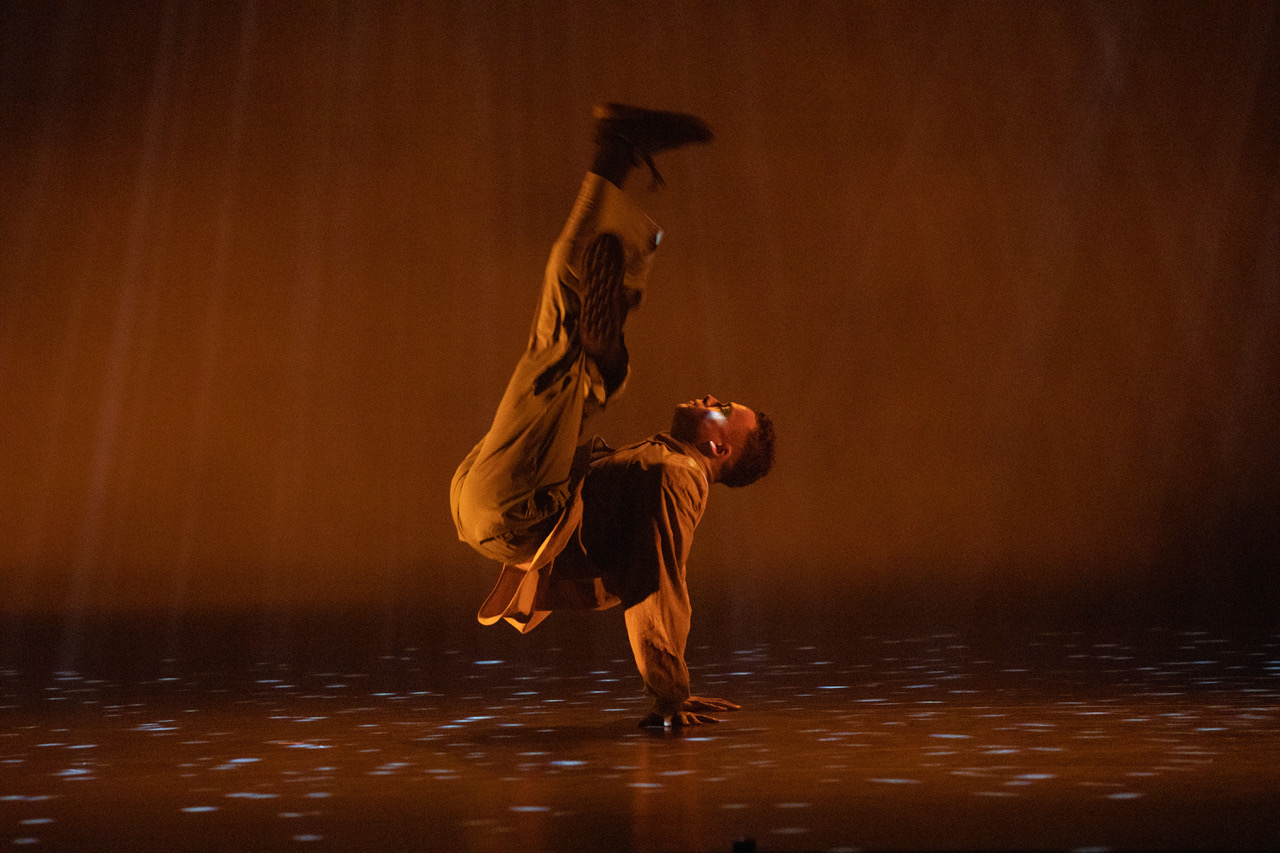 Far From the Norm (UK)
Olivier Award-winning Botis Seva presented a dark and fearless piece full of strongly committed performances. The piece was immersive in impact and the lighting composition added to the explosive energy presented by the dancers. So relentless was the dancing, that I wanted the artists to take pause and catch their breath. The space was used like a terrain ready for combat, with great use of dynamic transiting on and off the stage. Seva highlighted the performers as individual powerhouses. A standout moment was an impressive and intricate tutting sequence, which was well executed and garnered a huge positive response from the audience.
Compagnie Antoinette Gomis (France) Took us on a spiritual and emotive journey through the sands of time – from ancient Africa to contemporary refugees, distraught and cut adrift on a boat. We were privy to travelling griots, spirits of the past and ritualistic practices. The work featured well-constructed ideas and imagery. Some movement phases could have pushed the energy to match the drive in the music and transitions could have been truncated and/or developed. However, the impact was captivating and palpable.
The performers involved in Breakin' Convention did a remarkable and inspirational job in storytelling, communicating our humanity, and creating a diverse and international platform for hip hop culture. The creative team delivered an experience which personifies the true meaning of dance: social cohesion, connection, and pleasure!
The music tracks and score were stirring and visceral. Beautifully imagined lighting framed expressive bodies revealing and concealing performers with well-timed precision, adding to the mystery and depth of the piece. I have to highlight the many armed deity/spirit scene and the performer who captured the hopelessness of being displaced, through a spellbinding and frenetic movement sequence. Gomis presented an eclectic work which is deserving of praise.
The performers involved in Breakin' Convention did a remarkable and inspirational job in storytelling, communicating our humanity, and creating a diverse and international platform for hip hop culture. The creative team delivered an experience which personifies the true meaning of dance: social cohesion, connection, and pleasure!