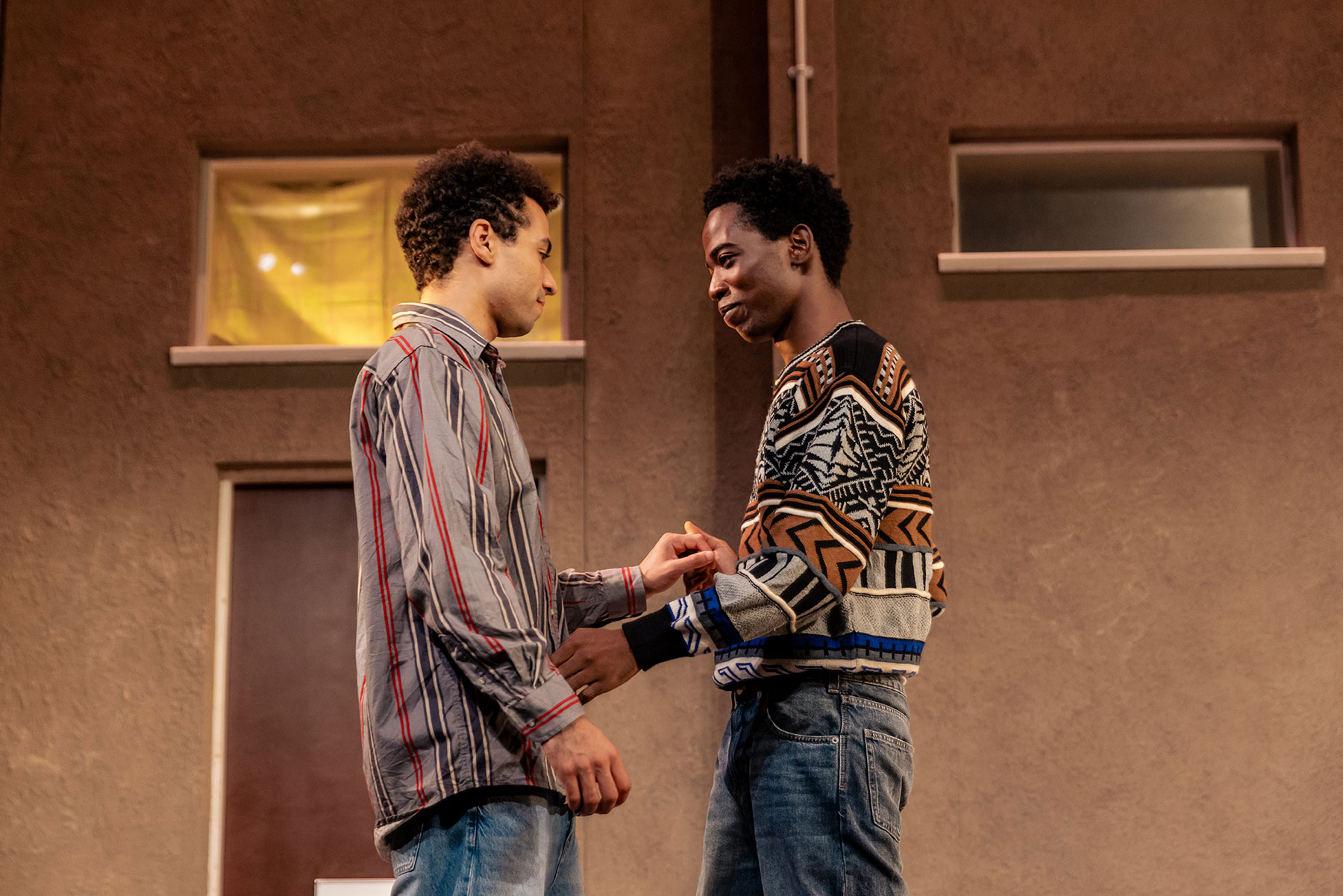 Thirty years on and Theatre Royal Stratford East's revival of Jonathan Harvey's acclaimed Beautiful Thing – the love story of two 15-year-olds, Jamie (Rilwan Aibola Owokoniran) and Ste (Raphael Akuwudike) – remains just as timely and funny as ever. Director Anthony Simpson-Pike has maintained the fundamental simplicity of this coming-of-age/coming-out story as it was first told in 1993 while imbuing this almost all-black ensemble piece with a freshness which sets it apart from the many revivals (and screen adaptation) over the years.
Outside flats 11, 12, and 13 of a south east London council estate, unfolds the stories of Jamie and Ste. Rosie Elnile's superb set is almost dollhouse-like – there's no way it architecturally makes sense; but it highlights the claustrophobia of this council estate, where the walls are thin, sound travels, and no-one's secrets, no matter how taciturn, are truly safe. And so it is in his bed where Jamie, who gets his acerbic wit from his mother, Sandra (Shvorne Marks), shares his most intimate moments with Ste, the sporty son of an abusive alcoholic father and brother to the local drug dealer.
The rest of the cast, Leah (Scarlett Rayner), the misunderstood and neglected girl-next-door; Sandra and her younger boyfriend Tony (who is played both as frustratingly obtuse but also charmingly perceptive by Trieve Blackwood-Cambridge), all lay bare their innermost insecurities on the streets of the estate – a beautiful touch that hints at the universality of everyone's struggles.
"As this East-End revival shows, it's a slice-of-life that is applicable to anyone and everyone"
Marks truly delights as Sandra. "South-East Thames Barmaid of the Year" – a character who everyone can relate to, whether they are a single mother or not. Hitting every comedic beat, she dominates the stage, making pains to show us how devoted she is to ensuring Jamie can have a good life. Balancing her exuberance with a tender vulnerability, Marks shows us just how challenging familial relationships can be. Despite her best efforts, the only solace Jamie finds is with Ste – the boys' relationship blossoms tenderly but with a levity that stops this play from feeling too bleak.
Above all, Simpson-Pike's tight and energetic direction of Beautiful Thing doesn't indulge in the painful trauma of being gay, of being 'different', of feeling like an "outsider" – instead the beauty of community is championed. In the final scene, with Elliot Grigg's beautiful light design and Xana's immersive upbeat sound, Jamie, Ste, Leah, and Sandra's stories coalesce into a beautiful, heartwarming vignette of love and solidarity. This is the one place where the production noticeably strays away from the original text – and is a scene worth waiting for.
Beautiful Thing may be a gay comedy-drama set in Thamesmead but as this East-End revival shows, it's a slice-of-life that is applicable to anyone and everyone – whether this is the first time you're watching it, or whether you've been lucky enough to watch a previous iteration.
NEED TO KNOW: Beautiful Thing plays at Stratford East until 7 Oct 2023