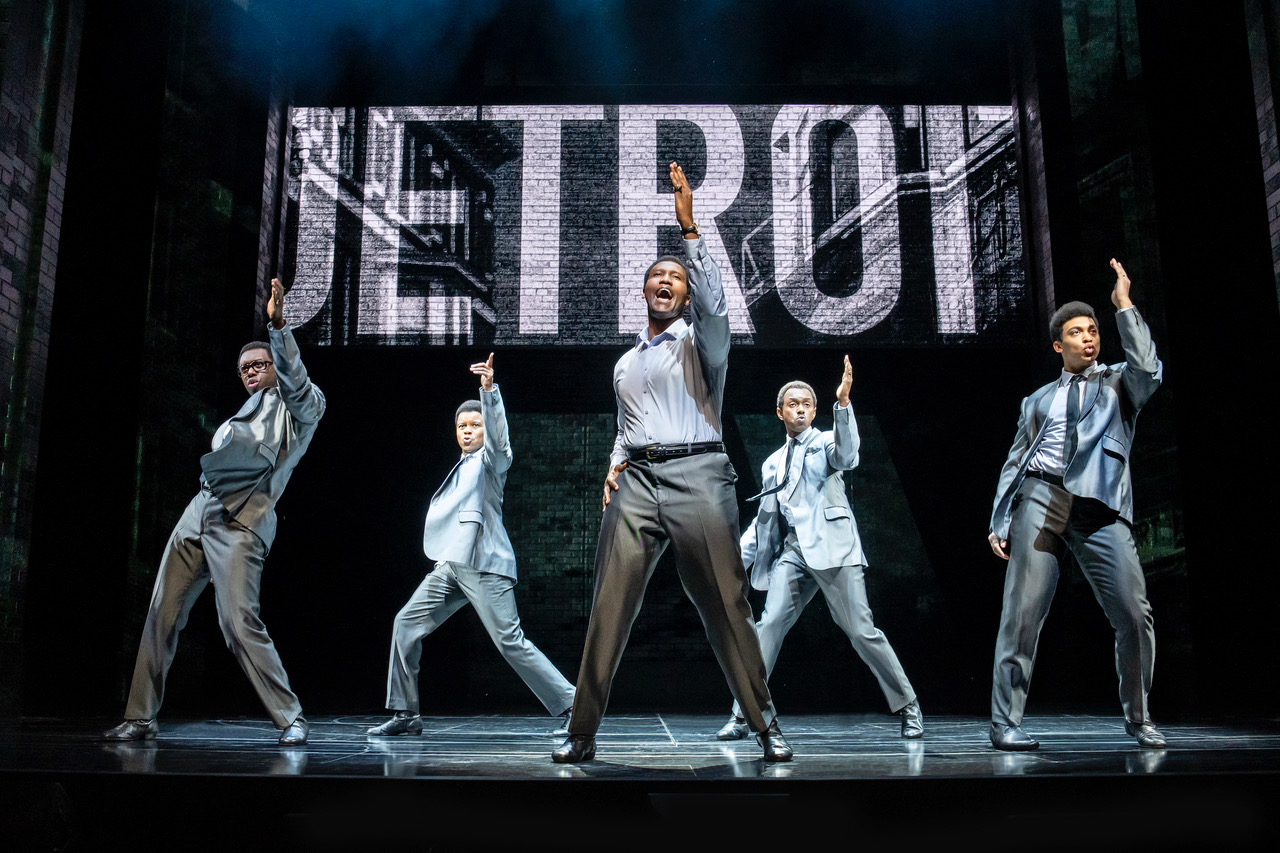 I must admit that prior to watching Ain't Too Proud at the Prince Edward Theatre, I didn't know much about The Temptations beyond their well-known hits My Girl, Just My Imaginatio', and Ain't Too Proud. However, after seeing this play, I now have a much better understanding of their story and how they made a significant impact on white music lovers during the 60s and 70s, a time when the Civil Rights movement was at its peak.
Narrated by Otis Williams (Sifiso Mazibuko), who was the founder of The Temptations, the play takes us on a journey of how Otis formed the group. We learn about his childhood and how moving to Detroit from the South resulted in him hanging around with the wrong crowd, leading to his imprisonment in a juvenile prison. Determined not to fall back into his old ways, Otis decides to use his singing talent to form a group. Through a lucky encounter with Motown manager Barry Gordy, the Temptations were signed to Motown Records who were one of the biggest record labels at that time.
The play provides a poignant portrayal of the challenges and triumphs that The Temptations faced throughout their career. The group had to navigate the pitfalls of fame, as egos and personal conflicts often caused turmoil and resulted in frequent changes to the band's line up. The group also struggled with substance abuse, domestic violence, and greed, which caused serious issues that threatened to tear the group apart.
Despite these challenges, Otis was committed to keeping the group together and persevered through personal sacrifices, even at the cost of losing his family. Ain't Too Proud weaves together the highs and lows of the group's journey, showcasing their remarkable talent and featuring all of their iconic hits.
What I loved about this musical was the sheer talent that beamed off the stage. Every actor could sing! When Melvin Franklin (Cameron Bernard Jones), Paul Williams (Kyle Cox), Otis Williams (Sifiso Mazibuko), David Ruffin (Tosh Wanogho-Maud), and Eddie Kendricks (Mitchell Zhangazha) started to harmonize as a group, the whole audience gasped in awe.
Every performer on stage oozed black excellence, and I was amazed by the amount of talent on display. The cast, in general, performed exceptionally well, and every single person on stage gave a memorable performance.
"What I loved about this musical was the sheer talent that beamed off the stage".
I also appreciated the attention to detail in the costume design by Paul Tazewell and hair and wig design by Charles G. Lapoite. Both designers had done their research and created amazing costumes and hairstyles that perfectly fit each era and made the characters look amazing on stage.
I was also pleased that the play touched on civil rights and racism. Often, musicals shy away from these topics, but Ain't Too Proud didn't. However, I would have loved these topics to be explored more in-depth, but I understand that with an overwhelmingly white audience, it may have been difficult to appreciate as much.
Despite the many aspects of the musical that I loved, I found myself drifting off at times during the play due to its slow pace and at times boring storyline. The musical felt more like a concert with a forced story than a proper musical. With little dialogue and endless songs, I wished that the writers had spent more time working on the script to make the play more memorable.
Additionally, I found the set design a little lacklustre. With few props and endless projections, the set was dark and drab and often fell flat. It felt like the set was constantly in an industrial car park rather than multiple glam locations.
However, although I found the play at times underwhelming, the rest of the audience couldn't get enough. There was endless laughter and cheers, and people were singing aloud and swaying their shoulders. It's fair to say that I may have been the only one who didn't love it as much as everyone else did. Nevertheless, this play has great talent, amazing singing and dancing, and a cast who are fantastic. Watching a predominantly all-black musical left, me feeling proud of my community, and that alone makes Ain't Too Proud worth a watch.
NEED TO KNOW: Ain't Too Proud is at the Prince Edward Theatre until 7 January 2024 (group bookings) and 1 Oct 2023