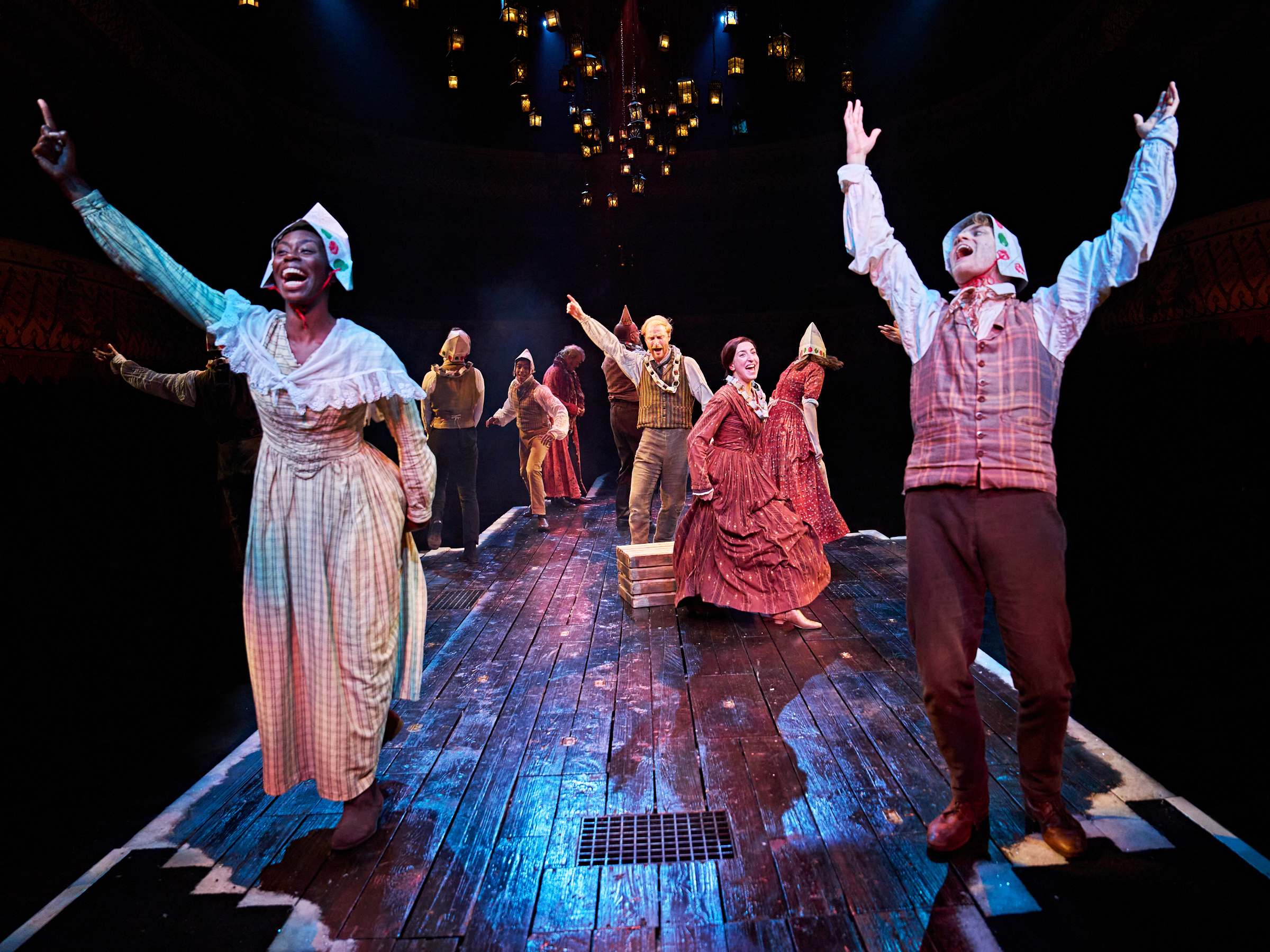 One of my favourite Christmas films is 'A Christmas Carol' as it not only makes me feel good, but it also makes me reflect on my life to ensure I don't end up like Scrooge!
Although it's not December yet, I am ready to start the festivities early, and Jack Thorne's 'A Christmas Carol' was the perfect play to get me in the festive mood. I was extremely excited to finally be able to watch the infamous annual Old Vic Christmas sellout.
On arrival, you are greeted by ushers who are handing out free mince pies and satsumas, whilst the cast greets audience members as they take their seats. This added to the Christmas atmosphere that was perfectly set by the props on stage.
The play tells the classic Dickens story of Ebenezer Scrooge (Owen Teale); a mean-spirited and selfish old man who detests Christmas. On Christmas Eve, Scrooge is unkind to his employee Bob Cratchit (Roger Dipper), also refuses to give to charity and declines his nephew's invitation to spend Christmas with him.
That night, Scrooge is visited by the ghost of his old business partner Jacob Marley. After this he is visited by three ghosts; the ghost of Christmas Past, the ghost of Christmas Present and the ghost of Christmas Future.
The Ghost of Christmas Past takes Scrooge on a journey through Christmases from his past, allowing Scrooge to see himself as an unhappy child being unfairly treated by his father. The Ghost of Christmas Present shows Scrooge, his clerk; Bob Cratchit with his family. At Bob Cratchit's house, Scrooge sees Tiny Tim, who is very ill, but full of hope. The ghost then takes him to see his nephew Fred's Christmas celebrations. Finally, The Ghost of Christmas Future terrifies Scrooge by showing him visions of his own death.
Although the story hadn't really changed, I loved the direction that Matthew Warchus gave this play. With an outstanding cast, minimal set design, great sound effects and creative use of props, this version might be my favourite yet!
There are many aspects to the play that really stood out to me. One of my favourites was the unique stage design by Rob Howell. The stage cuts down to the centre of the auditorium and has a long narrow path for the cast to walk along, allowing the audience to see the stage clearly.
Further, the use of props was very effective in creating different environments. From hanging lamps that moved, sparkled and summoned the energy for the ghosts to moving wooden frames that became walls, doors and tunnels. I also enjoyed the musical element of the play. The cast rang bells and sang traditional Christmas carols, whilst a live orchestra played beautiful music.
A Christmas carol was superb! The story was beautifully told and was a visual delight. I absolutely enjoyed every second of 'A Christmas Carol' and felt it instantly warm my heart"
The interactive nature of the play made it particularly entertaining. Not only did the fully costumed actors greet the audience as we entered, but they also invited audience members on stage, and created a fully interactive Christmas feast at the end which involved practically the whole auditorium.
The cast was fantastic; every actor was engaging and entertaining. I really appreciated how diverse the cast was, especially as many theatres tend to shy away from adding diversity to classic plays, with both Scrooge's Nephew and The Ghost of Christmas Past being played by talented black actors.
The only thing I would change would be the never-ending fake foam snow that falls on the audience. I had to dive into my scarf to avoid the foam frizzing my hair, whilst my Sister-in-Law had no choice but to let her braids get destroyed by foam. Clearly, The Old Vic didn't think about audiences who have textured hair!
Nevertheless, A Christmas carol was superb! The story was beautifully told and was a visual delight. I absolutely enjoyed every second of 'A Christmas Carol' and felt it instantly warm my heart; especially at the end where audience members were encouraged to donate to a local food bank. This was a nice touch after seeing how much Scrooge's newfound generosity had transformed those around him.
I would recommend this play to everyone of all ages, and I will certainly be coming back next Christmas to re-watch it!
NEED TO KNOW: A Christmas Carol is at The Old Vic until 7 Jan 2023.