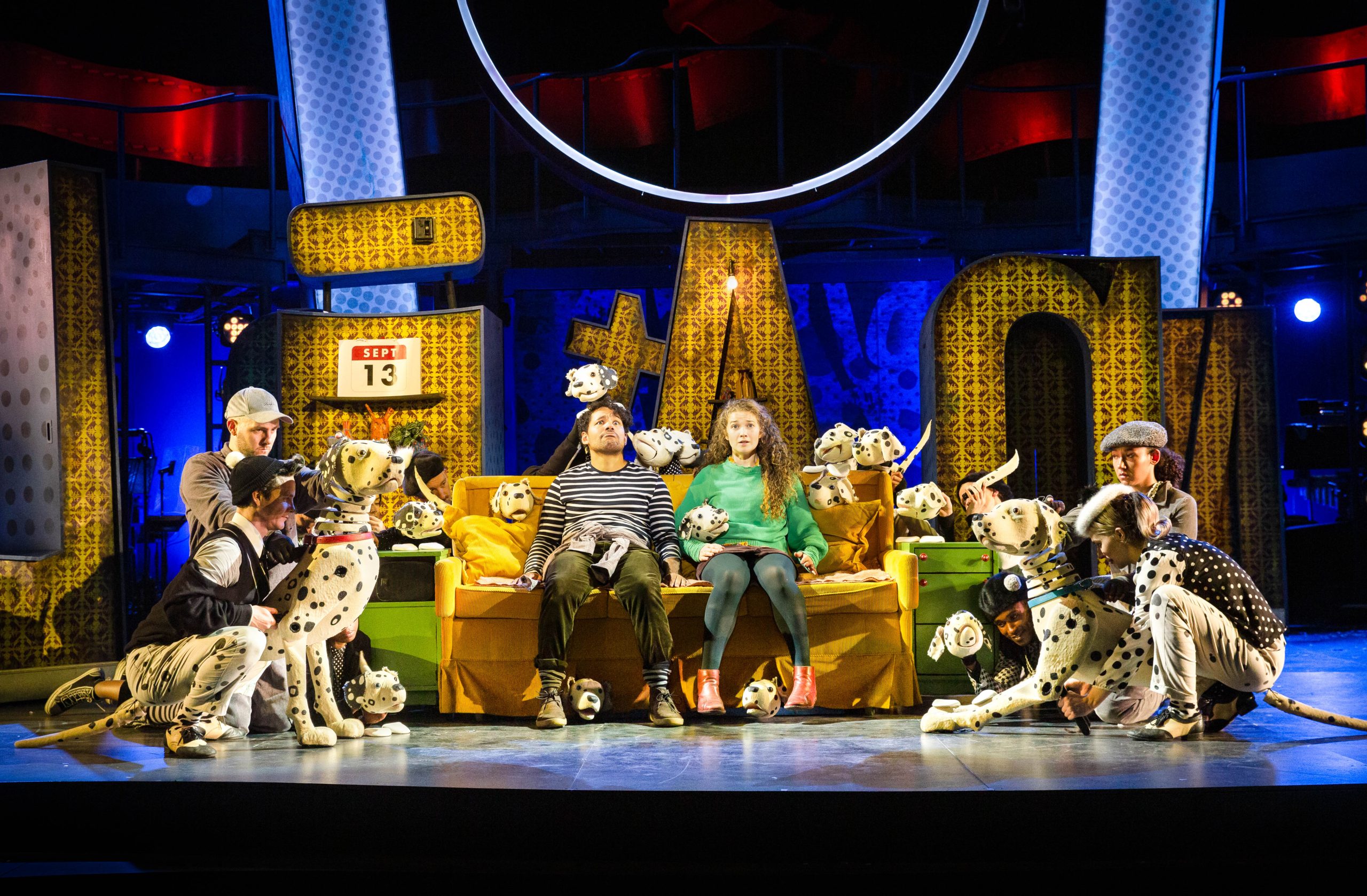 As a huge Disney fan, I was excited to watch a musical version of the classic 101 Dalmatians. Both the cartoon and live-action movie success comes from the simplicity of the plot, along with the adorable puppies that dominate the screen. Creating a musical was extremely ambitious, but sadly it didn't quite measure up to the movies.
Thanks to the current heatwave, Regent's Park Open Air Theatre is one of the nicest venues to watch a play. With food, drink and a great atmosphere; I was excited to spend my evening watching an all-time classic turn into a musical.
The storyline is practically identical to the original book/film but with a modern twist. Pongo the Dalmatian (Danny Collins and Ben Thompson) is tired of living a joint bachelor life with his owner Jasper (George Bukhari). On one of his many trips to the park, he experiences love at first sight when he meets Perdi the Dalmatian (Emma Lucia and Yana Penrose) and manoeuvres Jasper into meeting Perdi's owner; Danielle (Karen Fishwick).
"I would certainly recommend 101 Dalmatians to young families".
The owners (and dogs) fall in love and marry. Perdi later gives birth to a litter of 15 puppies, and influencer Cruella De Vil (Kate Fleetwood) happens to be in the neighbourhood when she finds out that her followers want her to do a photoshoot with Pongo and Perdi. The shoot, although disastrous, results in Cruella going viral. This sparks an evil plan, involving Cruella wanting to buy all 15 puppies. When Jasper declines her offer, Cruella hires her nephews to steal them – for her fur coat!
Whilst there were many things I enjoyed about the play, overall I found it underwhelming.  From jokes that fell flat to lacklustre dance routines; I struggled to keep engaged throughout. The songs in particular disappointed me the most. As a musical, I was hoping for a fun and catchy songs, but instead, they were boring, tacky and unforgettable. I also found the revamped story cheesy and felt a bit like watching Children's theatre.
I understand that it is a difficult task to pull off a beloved story successfully, especially when it involves both convincingly portraying talking dogs and including new musical numbers that will engage and entertain. The production was successful in achieving some of these elements – particularly in the use of puppetry. Every puppet was fantastic and I certainly felt that they enhanced the show. Puppetry Designer Toby Olié did a great job at creating such outstanding puppetry for this play.
I was amazed by how much puppetry can create such cool and magical special effects. Dalmatians Pongo and Perdi are each played by two puppeteers, one controlling the head at the front of the body and the other is the back legs of the dogs. The movement was realistic and fascinating to watch. Movement director and choreographer Liam Steel did an outstanding job!
However, unfortunately, outside of the puppetry, I felt the show was a dog's dinner. Although I personally did not love the show, I could see that every child in the audience was blown away. I would certainly recommend 101 Dalmatians to young families.
NEED TO KNOW: 101 Dalmations is at Regent's Park Open Air Theatre until August 28, 2022.