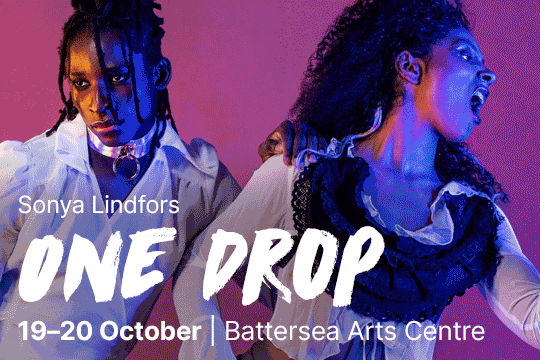 One Drop, a new performance by award-winning Cameroonian-Finnish choreographer and artistic director Sonya Lindfors, is a speculative summoning, a decolonial dream, an autopsy of the Western stage and an operetta.
Defying definition and belonging to multiple categories, the work dives into the poetics and politics of relations, creating a performance that reignites connections lost or forgotten.
The title of the work refers to two separate concepts – the one drop rhythm which is a reggae style drum beat as well as to the one drop rule of the Race Separation Act, created in the United States in the early 1900s, according to which a single drop of "Black blood" made a person "Black" despite their appearance. Through its multiple starting points, the work interrogates the ghosts of the Western stage and its entanglements and relationships to capitalism, coloniality and modernity.
NEED TO KNOW: Sonya Lindfors One Drop takes place at Battersea Arts Centre from Thu 19 – Fri 20 October, 7pm Part of Dance Umbrella Festival 2023