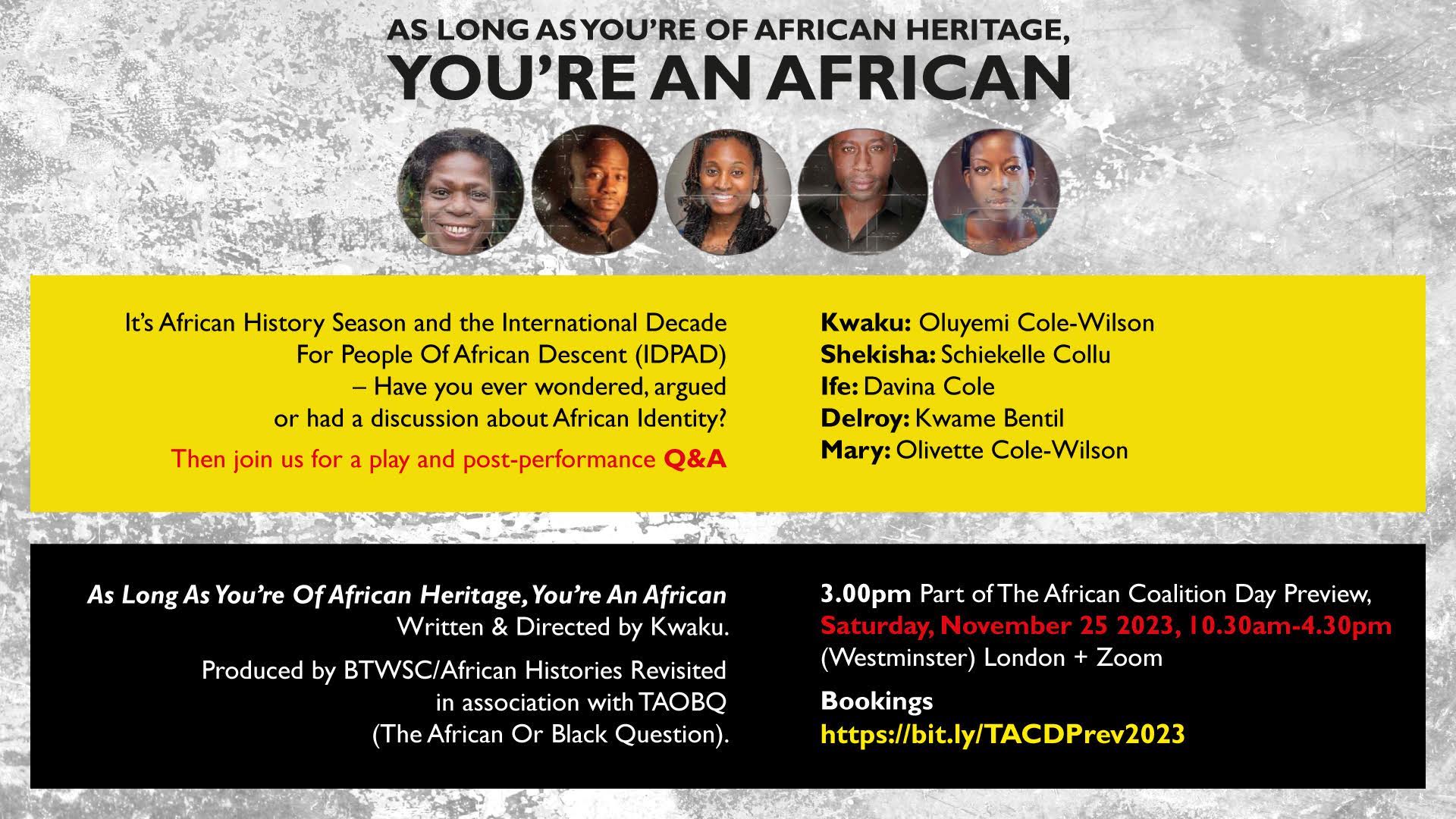 Saturday, Nov. 25, 3.00pm – part of The African Coalition Day Preview.
Click here to book.
A play exploring identity during African History Season 2023 & IDPAD 2015-24.
Taking its starting point from Peter Tosh's 'African' song, 'As Long As You're of African Heritage…' posits that anyone of African heritage is African, irrespective of where they are born or based.
The play, punctuated at various points with music, is set within the course of a management committee meeting of an African-led voluntary organisation. We witness the dynamics of the meeting change from congratulatory back-patting on account of a successful fundraising exercise, to putting plans for a Black History Month (BHM) event on hold, as tensions rise around the issues of identity within the British African community, where there is often a disconnect from Africa, especially by those born in Britain or the Caribbean.
A seemingly innocent comment by Sierra Leonean-born Ife (Davina Cole) triggers Shekisha (Schiekelle Collu), who's of Jamaican heritage. The elderly Caribbean-born Mary (Olivette Cole-Wilson) tries to pacify Ife, whilst Delroy (Kwame Bentil) desperately tries to keep the meeting on course. Geeky Ghanaian-born Kwaku (Oluyemi Cole-Wilson) tries to defuse the tension by playing portions of records that underscore his take on some of the issues that arise.
A Q&A with the cast and the play's writer/director Kwaku moderated by community activist Nana Asante follows the performance, which provides the audience with an opportunity to engage with the issues raised in the play. *Please note that this play is about African identity can be triggering for some.
Produced by BTWSC/African Histories Revisited in association with TAOBO (The African Or Black Question).
NEED TO KNOW: As Long As You're Of African Heritage, You're An African – part of the African Coalition Day preview takes place at The Abbey Centre, 34 Great Smith St, Westminster, London SW1P 3BU | 25 Nov 2023, 3pm