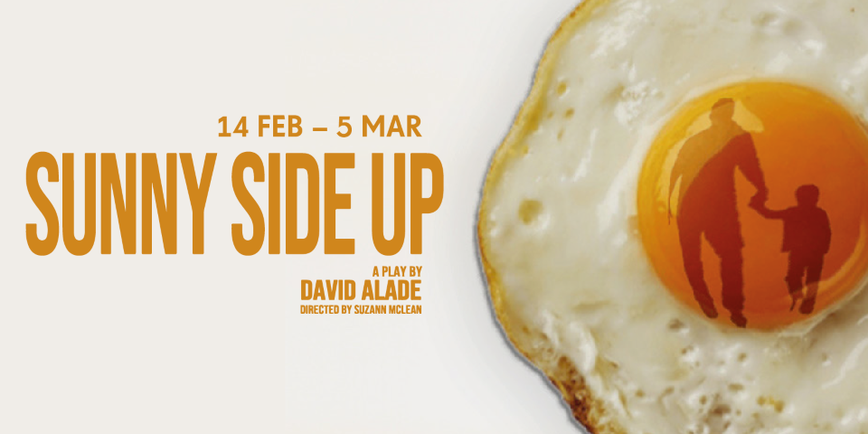 Theatre Peckham is pressing replay on the critically acclaimed production of Sunny Side Up written and performed by David Alade (The Fisherman: National Tour, The Fields: Sky, Casualty: BBC). Following on from its sold-out run at Peckham Fringe in 2022, this lyrical piece, blending drama and poetry, transfers to the main stage for a three-week run.
Based on a true story, Sunny Side Up is an unforgiving coming-of-age story set in the mind of Peckham-born David, looking at his younger self – Little D. The journey sees a young Black boy go from childhood innocence through a harsh transformation into manhood, all leading up to the loss of his father, Sunny.
Told via spoken word and featuring a host of characters in this epic, the playful and heartfelt play forces us to question how society shapes the vulnerabilities and masculinity of young Black boys.
David Alade says, "excited is an understatement. I feel fulfilled to be able to tell this story, a story of family, love, and grief. Super chuffed that following Sunny Side Up's success at Peckham Fringe 2022 I get to bring back a newer, longer version in a bigger space with a wicked set! Working with Suzann and bringing our ideas together and giving life to what I've written is what has made this process beautiful, I can't wait for people to meet Lil D."
Leading the creative team will be director Suzann McLean (Theatre Peckham's Artistic Director/CEO), joined by designer Natalie Pryce, and rising star in sound design Rasaq Kukoyi championed by award-winning sound designer Tony Gayle.
Director Suzann McLean says, "Sunny Side Up rings true for all that Theatre Peckham is about, providing a space for the young people of Peckham to platform their own unique stories. David is exceptionally creative, both his writing and his performance are captivating, which makes the play so compelling for audiences. It's a 70- minute wake-up call, a call for change in the way society shapes young Black boys for the battle of life."
Cast and creatives
Written and performed by David Alade Director Suzann McLean Designer Natalie Pryce Sound Rasaq Kukoyi & Tony Gayle
NEED TO KNOW: Sunny Side Up is at Theatre Peckham from 14 Feb – 5 March 2023