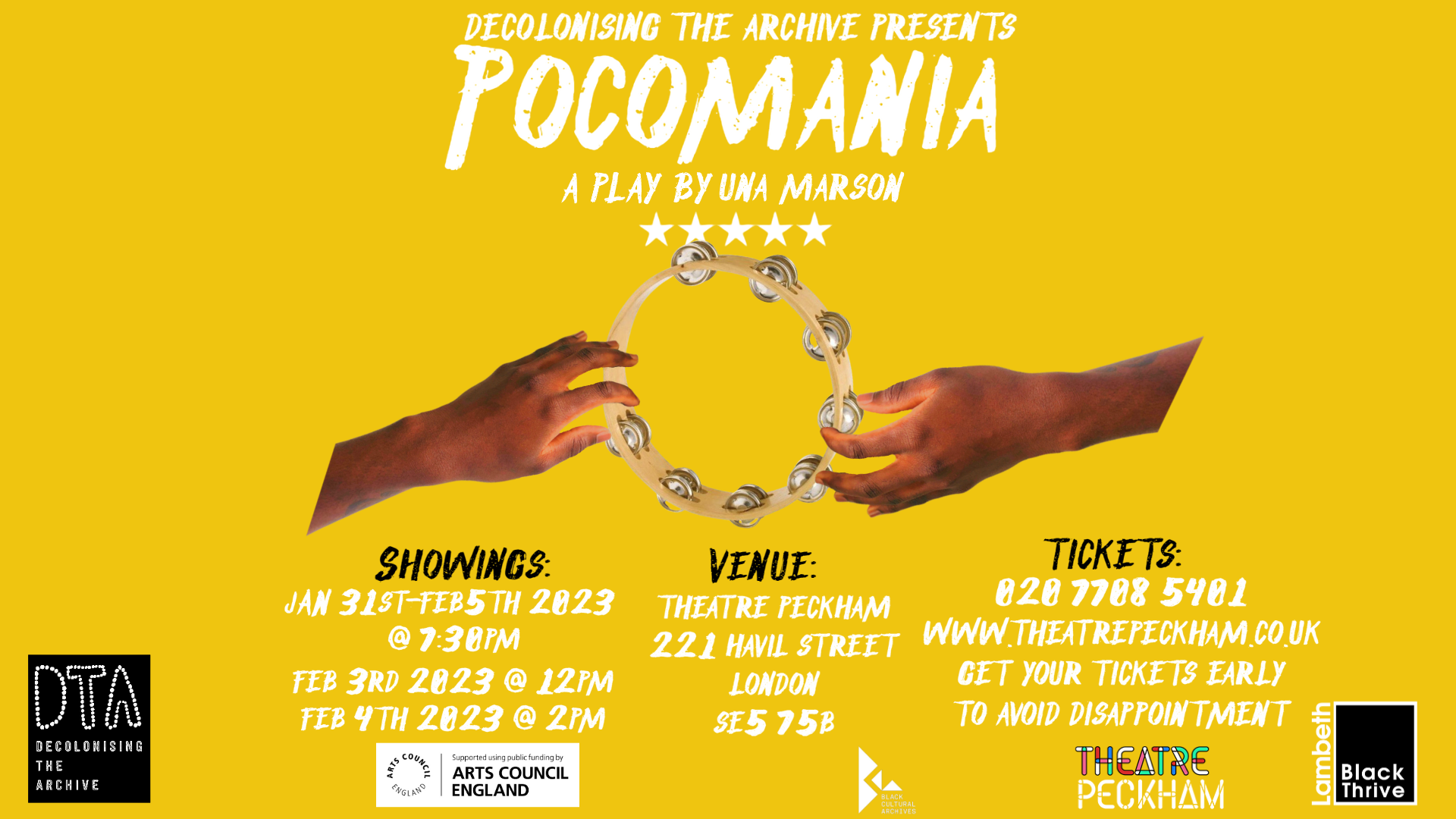 Presented by Decolonising the Archive and Black Cultural Archives
Decolonising the Archive (DTA) is collaborating with Theatre Peckham, the Black Cultural Archives (BCA) and Black Thrive to stage Una Marson's Pocomania. This alliance will bring Una Marson's lost play to the British Theatre scene for the first time in history, 85 years after its debut at the Ward Theatre, Kingston Jamaica. The play is an African Caribbean cultural marker and fuses theatre, music, movement, and vibrant aesthetics to syndicate its themes. Performances are from January 31st – February 5th, 2023, at Theatre Peckham directed by Ano Okera.
Una Maud Marson (1905-1965) was a pioneer of her time who contributed much to shaping her country's cultural identity and the visibility of African Caribbean people in Britain. Marson was the first Black female producer at the BBC. This project is a result of the research conducted by DTA's Connie Bell in Jamacia three years ago. Bell worked to unearth this magnificent manuscript, laying handwritten in the institute of Jamacia, and brought it to Britain.
"This is ground-breaking. Not only for British theatre but for how British archives and history are taught."
-Dr Jacqui Dyer (CEO of Black Thrive Lambeth)
Pocomania follows the journey of young Stella Manners. Set in the aftermath of the first World War Stella, a young middle-class woman loses the love of her life to the war effort. Faced with depression Stella is fascinated by the sound of the drums coming from her neighbour's yard. As she navigates the shifting landscapes of imperial Jamaica, Stella confronts themes of love, loss, displacement, manipulation, spirituality, and awakening.
Described at the time as 'the Birth of Jamaica's National Drama' the play foregrounds issues of identity and illuminates the tensions in Jamaican nationalism. Pocomania is a testament to this sweeping process of social change taking place across the Caribbean in a post-emancipation context. An emerging Jamaican middle class socialised in colonial respectability comprehends its national identity against colonial class structures.
Pocomania is a religious tradition rooted in Africa, fusing both Christianity with African spirituality. Despite being demonised by the colonial system, Pocomania became a popular form of worship practised by formerly enslaved Africans in Jamaica in the mid- 19th century.
This collaboration draws on these hidden retentions and bears witness to the process of erasure, and silence, in archival documents within the context of Black British history. Una Marson's extensive legacy has been hidden, scattered across time and space- only recently revived.
We envision that by positioning the play Pocomania as a point of departure, the programme will support further knowledge of African Caribbean folklore. This knowledge is of great value to heritage and community groups working around reparative conversations concerning identity, culture and well-being in Black communities living in Britain.
Decolonising the Archive invites audiences to join us in this journey of adventure and discovery through performance, music, and movement. Within the walls of Theatre Peckham, we bring the community together to empower each other and change the way we do-history.
The production will take place in the context of a community engagement programme using theatre and the archive of Melba Wilson (located at BCA) to provide new ways for Black audiences to access and engage with conversations around mental health. Applied Theatre: Performing Indigeneity and Culture in a New Land' on 14th January at the National Theatre and 'Reparative Theatre as a Community Response' on 6th February 2023.
NEED TO KNOW: Pocomania by Una Marson is at Theatre Peckham from 31 Jan – 5 Feb 2023