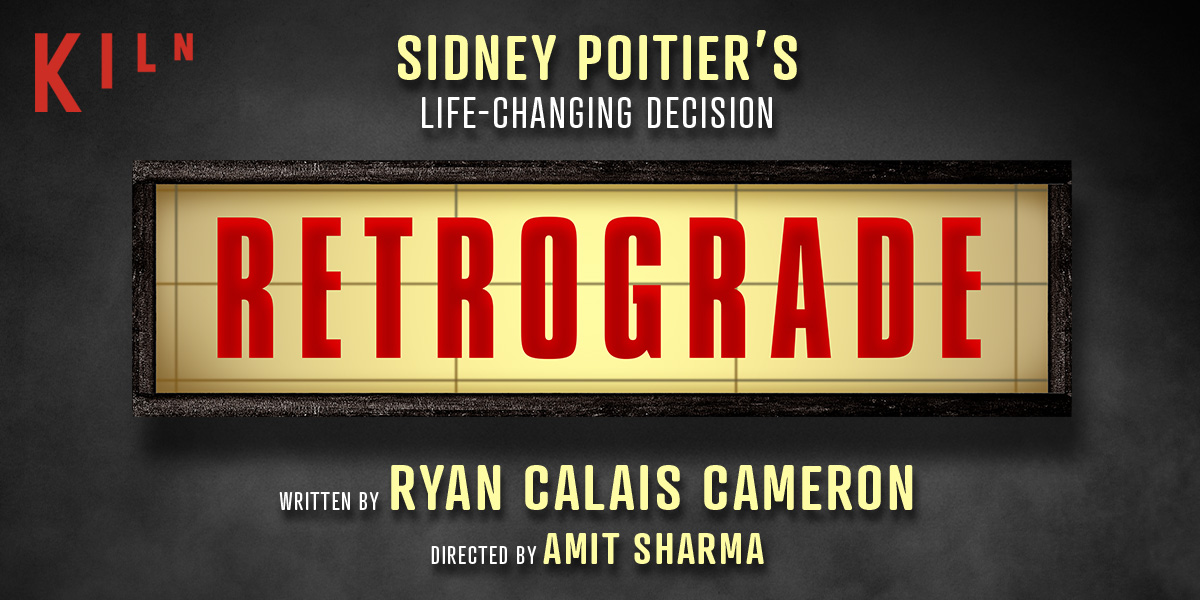 Directed by Amit Sharma;
Designed by Frankie Bradshaw;
Lighting Design by Amy Mae;
Sound Design by Beth Duke;
Casting Direction by Juliet Horsley CDG;
Kiln-Mackintosh Resident Assistant Director Jessica Mensah
The Golden Age of Hollywood. Behind closed doors, aspiring actor Sidney Poitier is offered a lucrative contract that could make him a superstar. But what is he willing to sacrifice?
From the writer of award-winning, sold-out, For Black Boys Who Have Considered Suicide When The Hue Gets Too Heavy, Ryan Calais Cameron's explosive new play explores identity, resilience, and integrity as it examines a true event in 1960's Hollywood and the reality of a Black actor's journey to stardom.
Directed by Kiln Associate Director Amit Sharma (The Boy with Two Hearts, Then Barbara Met Alan), this world premiere explores a moment in a career which paved way and changed perceptions, cementing the legacy of a Hollywood icon. Retrograde asks the question; how much have we really evolved?
NEED TO KNOW: Retrograde is at Kiln Theatre from 20 April to 27 May 2023 | Post show Q&A: Tues 2 May
All performances will be audio described.
Captioned Performances: Thu 11 May 7.30pm; Fri 12 May 7.30pm; Sat 13 May, 2.30pm & 7.30pm
Touch Tour: Thu 18 May, 6pm
Relaxed Performance: Sat 20 May 2.30pm
All tickets to first preview £15
Under 26 – £10 (subject to availability).
Access, Over 65, Local, Student and Group rates available, for further details, please see the website.
Subsidised tickets
We offer free tickets and exclusive discounts to those who can't afford to come. If you fit any of the below criteria, get in touch and we can help you get a ticket.
If you are homeless, out of work or receive Housing Benefits, Income Support, Jobseeker's Allowance or Employment and Support Allowance (valid ID, statements or proof of universal tax credit will be required when collecting tickets).
Employees of NHS, Police Force, Fire Brigade, Armed Forces, The Coastguard, RNLI, Prison Officers or Social Care Workers (valid ID payslips and name badges will be required when collecting tickets).
Email FreeTickets@KilnTheatre.com