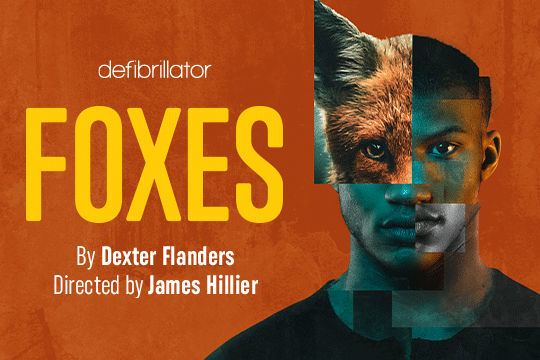 Artistic Director of Defibrillator Theatre James Hillier directs this fierce 5 star play by powerful new voice in British Theatre Dexter Flanders.
Available to watch from 27th Nov for 48 hours. Witness for yourself the captured electric last night performance at Theatre Peckham.
Daniel is a young black man trying to keep up with his life, which is moving fast. When his relationship with best friend Leon explodes everything is knocked off its axis, introducing a taboo into his family home that has the power to tear the closest and most loving relationships apart. Foxes explores masculinity and homosexuality within London's Caribbean Community and black street culture.
★★★★
"Dexter Flanders shows how complex, and at times how devastating, the Black gay experience can be. Shattering." The Guardian

★★★★★
"James Hillier's taut direction. Mesmerising.. Spell-binding.. exhilarating." Reviews Hub

★★★★★
"Sensational performances. Exactly what great theatre should do." Everything Theatre

★★★★★
"A Groundbreaking
Theatrical Triumph."
Broadway Baby