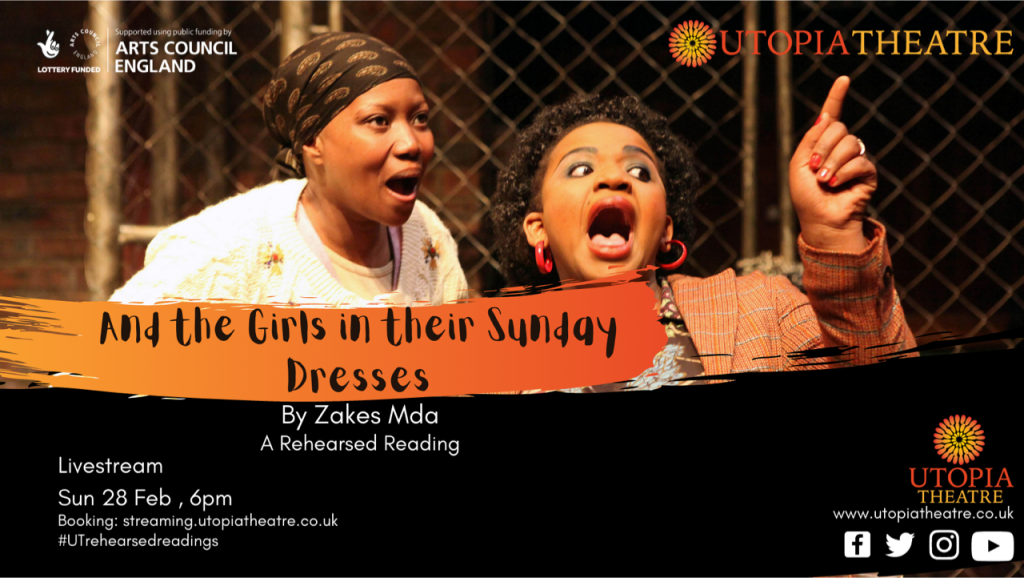 Throughout 2021, Utopia Theatre will be hosting a series of Rehearsed Readings from some of the best playwrights from Africa and the African Diaspora. The first of these productions is 'And the Girls in their Sunday Dresses' by Zakes Mda. Directed by Mojisola Elufowoju, CEO and Artistic Director, Utopia Theatre, And the Girls in the Sunday Dresses features Tatenda Naomi Matsvai (The Lady) and Sabrina Richmond (The Woman).
"Two very different women meet during a long wait to buy subsidized rice and discover they have more in common than their poverty; an old man and a child share a last loving waltz; a cynical, disabled gangster learns humanity from a committed social worker, and a young girl finds her missing father and her role in the political struggle."
This production will be brought to light through the captivating performances of our talented cast through a pandemic-safe virtual stream. It is part of Utopia Theatre's Creative Hub, aimed at creating a sustainable talent pool and enabling the strengthening of black African communities within the Arts.
Cast and Creatives
Mojisola Elufowoju (Director)
Mojisola Elufowoju is an award-winning theatre director (Here's What She Said to Me, Iyalode of Eti) and workshop facilitator of Nigerian descent, and the Founder and Artistic Director of Utopia Theatre. She is passionate about the growth and development of black performers and creatives. Her roles also include Director at the National Theatre (NT) and Trustee of Sheffield Theatres Trust.
Mojisola Elufowoju Twitter | Mojisola Elufowoju Instagram
Tatenda Naomi Matsvai (The Lady)
Tatenda Naomi Matsvai is a multimedia performance maker, poet, writer born in Zimbabwe, raised in South East London. Her work explores African Oral tradition and Ritual through multiple mediums (body/sound/poetry/projection) to create engaging performances that facilitate communal dialogue between audience and performer. She recently graduated from the European theatre arts course at Rose Bruford She works with memory, time space, and myth to create work that mess with linearity, allowing her to collapse her desired future into her work or explore things she has feared in the past or fears for the future, here and now.
Tatenda Naomi Matsvai's Instagram | Tatenda Naomi Matsvai's Twitter
Sabrina Richmond (The Woman)
Sabrina Richmond, trained as an Actor in New York, is a Writer & Director with a background in journalism. She has performed at venues in London such as Southwark Playhouse, Pleasance, The Vaults, Arcola, Lyric Hammersmith & Theatre 503 and recently online for the Old Fire Station, Oxford and The Space. As Oxford Playhouse Evolve Artist 2020/21, she's developing a show, Devil's Doorbell about the right to sexual pleasure.
She's a Tamasha Theatre Playwright 2019/20 alum & The Space theatre bespoke-sponsored playwright. Directing Work Shown At; Southwark Playhouse, Theatro Technis, Pleasance, Lion & Unicorn. Recently Online For The Space and various other companies.
Writing Credits: Short Plays, Genetic Beauty (Virtual Collaborators), My Cape Is Invisible (Pleasance Theatre), Hands Off My Womb! (Chapel Playhouse) & One Acts: 13 Secrets (Old Fire Station), An African In The Snow (LABS Program, Pleasance Theatre).
Sabrina Richmond's Instagram | Sabrina Richmond's Twitter
NEED TO KNOW:
And the Girls in their Sunday Dresses will be streaming Sunday, February 28, 2021 at 6pm. Tickets are available now on the African Theatre at Home website. To book tickets, please visit
|
www.utopiatheatre.co.uk/our-work
|
£6 for the live stream |
Book Now
Coming up
Further productions will be announced later in the year.
21 March 2021 – The Black Hermit by James Ngugy
25 April 2021 – Son of the Nile (a play for young people and all those young at heart) by Afeif Ismael
About Utopia Theatre
Utopia Theatre is a producing company formed in 2012 to create for the British and international stage, exceptional world class African theatre with imaginative flair. We create old and new plays and re-imagine classics in a way that demonstrates their contemporary relevance and appeal to a new audience and regular theatregoers. The company is dedicated to demonstrating the rich cultural heritage of Africa's theatre canon, and in so doing, dispel stereotypes and encourage authentic voices from the African Diaspora.
Connect
Stay up to date with Utopia Theatre's work: Utopia Theatre's website | Utopia Theatre's Instagram | Utopia Theate's Facebook | Utopia Theatre's Twitter #UTCreativehub #UTRehearsedReadings