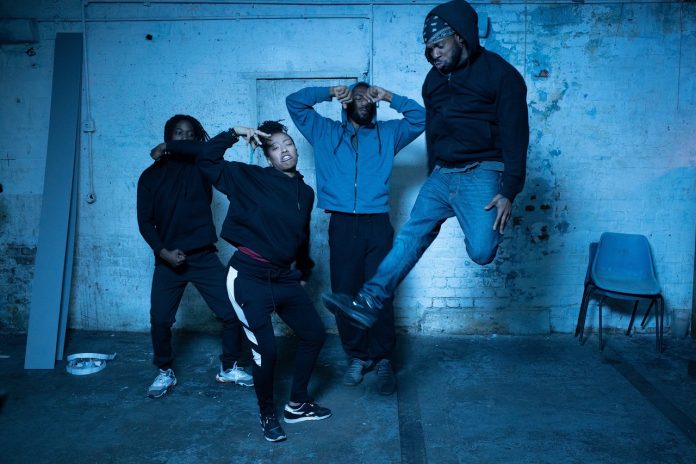 HERE/NOT HERE, a brand new British, Deaf hip hop drama exploring British Sign Language, Krump street dance, football and Visual Vernacular – the choreographed and poetic form of sign language – will have its TV premiere on Film4 and Together TV on Monday 11 May and will also be hosted online on BSL Zone where it will remain available to watch following the broadcast.
HERE/NOT HERE brings together a diverse creative team and company from Deaf and hearing communities and is directed by award-winning film-maker and Deaf artist Bim Ajadi whose recent works include docu-drama Dot and short film 4. Written by Jonzi D, Artistic Director of the annual hip hop dance and theatre festival Breakin' Convention, the film is a unique collaboration with the film's professional and non-professional, Deaf and hearing cast. The music is composed and produced by Torben Lars Sylvest a long-time collaborator of Olivier Award-winning choreographer Botis Seva.
HERE/NOT HERE is an urban, funny and thought provoking hip hop drama film which sees three rival groups – Deaf VVers, footballers and Krumpers – clash over who should use an abandoned warehouse space. Despite their differences, they find and inspire a common language through movement to communicate, collaborate and come together.
Bim Ajadi (Director) is an award-winning film-maker from London. He co-directed Look Up for the opening of the 2012 London Paralympics Ceremony (Channel 4) and directed and edited I Believe a music video for Zebra Uno, which won Best Music Video and Best Editor at the CKF International Film Festival. Other film credits include 4 (BSLBT), and, more recently, Dot a docu-drama for BSLBT, as well as an online commercial with NFTS alumni. Bim is profoundly deaf, which gives him a unique visual perspective.
Jonzi D (Writer) is an MC, dancer, spoken word artist and director, Jonzi D is the foremost advocate for hip hop who has changed the profile and influenced the development of the UK British hip hop dance and theatre scene over the last two decades. Since founding Breakin' Convention in 2004 Jonzi has triumphed in raising the profile and giving a platform to hip hop disciplines, which has gained worldwide recognition as being at the vanguard of the development of the art form. Through professional development projects Open Art Surgery and Back to the Lab, Jonzi has supported hundreds of hip hop dance and rap/poetry artists on their journey to creating theatre.
His critically acclaimed works include 1995's Lyrikal Fearta, 1999's Aeroplane Man, 2006's TAG… Just Writing My Name, 2009's Markus the Sadist and 2013's The Letter: To Be Or To MBE? Jonzi has been featured in HBO's Def Poetry Jam, had his short films Silence da Bitchin' & Aeroplane Man screened on Channel 4, toured his work extensively all over the world and delivered his own TED Talk about the influence and evolution of hip hop culture.
NEED TO KNOW:
Film4
Monday 11 May, 8am (pre-watershed version)
|
Click for more
|
BSL Zone –
www.bslzone.co.uk/
Monday 11 May, available from 8.30am
|
Together TV: Monday 11 May 7pm (pre-watershed version) & 10pm (post-watershed version)