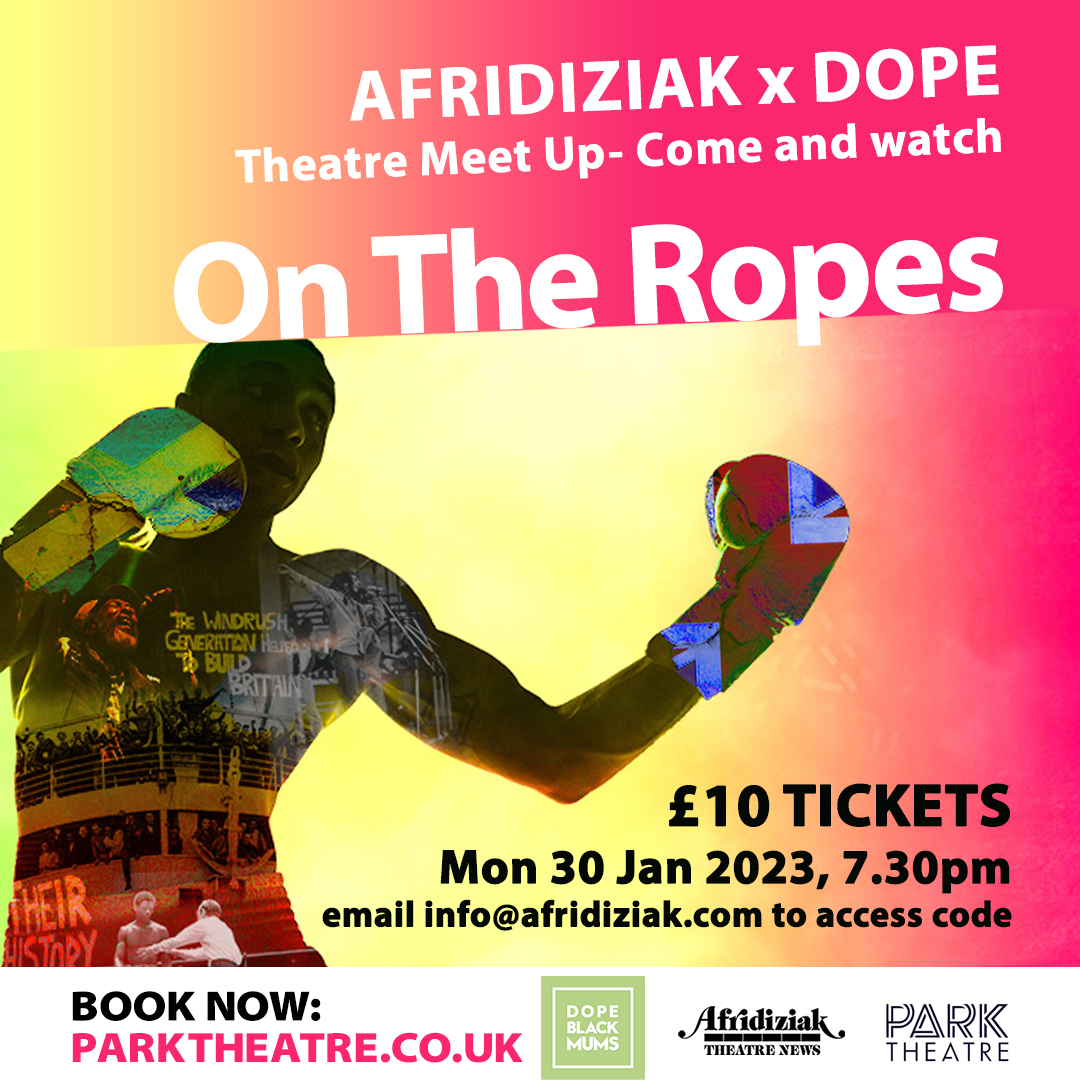 Join us on Monday 30 January, 7.30pm for our first Afridiziak x Dope Black Mums theatre meet-up of 2023 – tickets are just £10.
The lovely people at Park Theatre are offering us £10 tickets to see On The Ropes by Vernon Vanriel and Dougie Blaxland
On The Ropes
Pulsating with the rhythmic energies of blues, reggae, and boxing, On The Ropes is an uplifting musical drama telling the extraordinary story of Vernon Vanriel who arrived in Britain aged 6 with his family as part of the Windrush Generation, and rose to prominence as one of the most charismatic and influential Black British boxers of the 70s and 80s.
In 2005, having lived in North London for over 40 years, Vernon found himself trapped in Jamaica, and in a bare-knuckle fight for his right to citizenship with the British Home Office.
In an energetic fusion of live music, humour, poetry, and the duck and weave of the boxing ring, On the Ropes is a celebration of Vernon – aka The Entertainer – and, ultimately, of how courage, dignity, and a fighting spirit can triumph over prejudice and injustice.
Redeem this offer:
To redeem your discounted tickets to see On The Ropes on Monday 30 January, please head to this link here and use promo code ATNDBM. Tickets are valid for bands B or C (yellow or black seats).
If you're coming, let me know by dropping me an email: sophia@afridiziak.com. Hope to see you there. Please spread the word and let friends and family know, too.
---
About the Afridiziak x Dope Black Mums Theatre Meet-Ups
Our theatre meet and mingles are hosted by Nina Malone (Dope Black Mums) and Sophia A Jackson from Afridiziak Theatre News. All are welcome. It's an opportunity to enjoy theatre at a discounted price and meet fellow theatre lovers. Read our interview on Theatre Fullstop.
Want to host us for a meet-up at your theatre? Please let us know by emailing sophia@afridiziak.com.