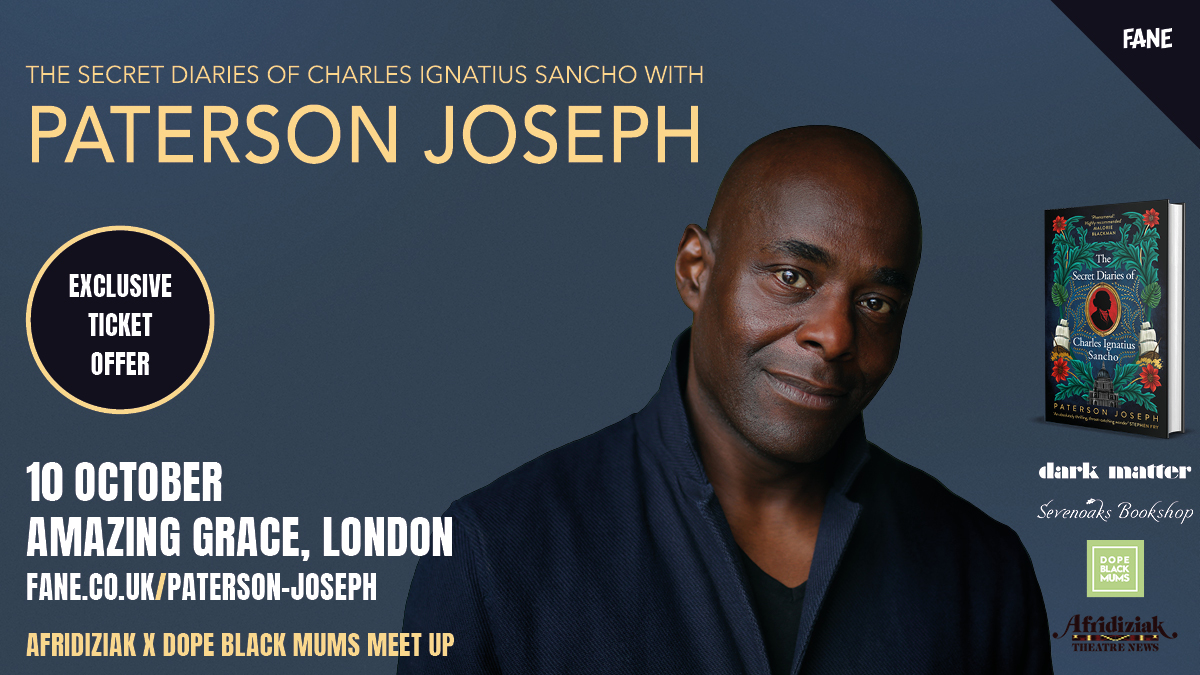 Join us on Monday 10 October, 7.30pm for the next Afridiziak x Dope Black Mums Meet and Mingle for Paterson Joseph's Book Launch | The Secret Diaries of Charles Ignatius Sancho.
Beloved British actor and writer Paterson Joseph will be live in conversation at Amazing Grace, London on 10 Oct to celebrate his debut book, The Secret Diaries of Charles Ignatius Sancho: the extraordinary story of a man born on a slave ship who became the first black Briton to vote.
It's 1746 and Georgian London is not a safe place for a young Black man, especially one who has escaped slavery. After the twinkling lights in the Fleet Street coffee shops are blown out and the great houses have closed their doors for the night, Sancho must dodge slave catchers and worse.
So how does Charles Ignatius Sancho meet the King, write and play highly acclaimed music, become the first Black person to vote in Britain and lead the fight to end slavery? It's time for him to tell his story, one that begins on a tempestuous Atlantic Ocean, and ends at the very centre of London life. And through it all, he must ask: born amongst death, how much can you achieve in one short life?
Set in the beautiful surroundings of a 17th Century church, this promises to be a moving and magical evening.
In partnership with Afridiziak, Dark Matter, Dope Black Mums and Fane.
---
NEED TO KNOW
This event takes place on Monday 10 October, 7.30pm at Amazing Grace 9a St Thomas St, London SE1 9RY

To get £15 tickets, including a glass of bubbly or wine, use the promo code AFRI15

To get £25 tickets, including a SIGNED copy of the book (RRP £16.99) and a glass of bubbly or wine, use the promo code AFRI25*
*Please note that you'll have the option to add a book to your basket, but you can ignore this if you use the AFRI25 code. A book will be included in your ticket.

If you're coming, let me know by dropping me an

email

. Hope to see you there.

Please do spread the word and let friends and family know, too.
Afridiziak and Dope Black Mums Theatre Meet-Ups
Our meet and mingles are hosted by Nina Malone from Dope Black Mums and Sophia A Jackson from Afridiziak.

All are welcome.

Want to host us for a meet-up at your theatre? Please let us know by emailing

sophia@afridiziak.com

.