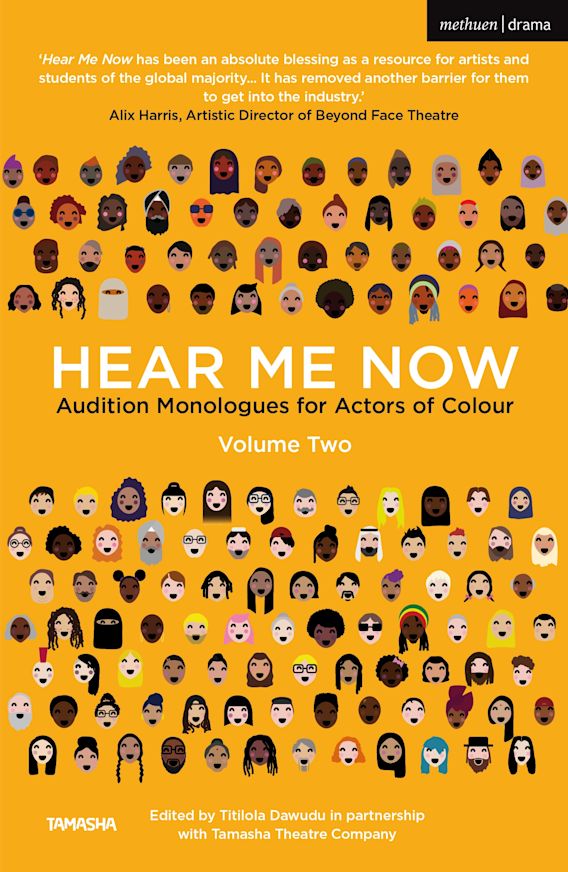 With a focus on actors and writers who are either ethnically diverse and/or deaf and disabled, Volume Two follows the success of the 2018 smash, Hear Me Now: Audition Monologues for Actors of Colour. The new volume features over 100 brand new monologues, with a foreword by BAFTA-nominated actress, Ashley Madekwe (County Lines, Four Weddings and a Funeral, Secret Diary of a Call Girl).
Conceived in 2016 by writer-producer Titilola Dawudu and produced in association with Tamasha, the book of short, new monologues was a first of its kind, bringing together playwrights and actors in creative workshops to generate better and more varied audition material for ethnically diverse actors than the largely stereotypical characters generally found in published play texts. Hear Me Now Audition Monologues for Actors of Colour was published in October 2018 by Oberon Books. Volume Two will be published on 25 August by Methuen Drama (an imprint of Bloomsbury Publishing who acquired Oberon Books in December 2019).
Titilola Dawudu, writer-producer and co-creator of Hear Me Now said:
"Hear Me Now has now become more than the sum of its parts. It has been the most collaborative and connected piece of work that I have created and been a part of. To be able to produce a second volume, work with so many artists and publish so many stories – all during a pandemic – is very special."
Debo Adebayo, Lead Producer of Tamasha commented:
"From the first moment Titi told us about her idea for a book of monologues we knew this was a project we had to collaborate with her on. Since its release, it's become so much more than a book and it's been wonderful to see this project grow into the force it has become today. It now represents a movement, creating opportunities, new writing and safe spaces for people to come together to speak, discuss and perform. A new volume prioritising D/deaf or disabled actors and writers, and those from beyond London, is a natural evolution for the format."
The new volume sees the coming together of ten theatres and regions from across England, as well as 100 actors, 50 writers, five dramaturgs, 10 facilitators, signers, access workers, audio engineers and directors. The theatres include Belgrade Theatre (Coventry); Unity Theatre (Liverpool) with support from 20 Stories High; Beyond Face (Plymouth/Devon); Contact Manchester; Derby Theatre, Graeae (London); HOME Manchester; Leeds Playhouse and Mercury Theatre (Colchester).
London
Monday 19 September | The National Youth Theatre
Doors open from 6.30pm
West Midlands
Friday 23 September | Birmingham Hippodrome
Doors open from 7pm | Tickets available here
Manchester
Monday 26 September | Contact, Manchester
Doors open from 7pm | Tickets available here
NEED TO KNOW: Hear Me Now: Audition Monologues (Volume Two) was published on 25 August.
Related links
Hear Me Now • Afridiziak Theatre News
Tamasha's Hear Me Now podcast | Hosted by Titilola DawuduIn partnership with Afridiziak • Afridiziak Theatre News