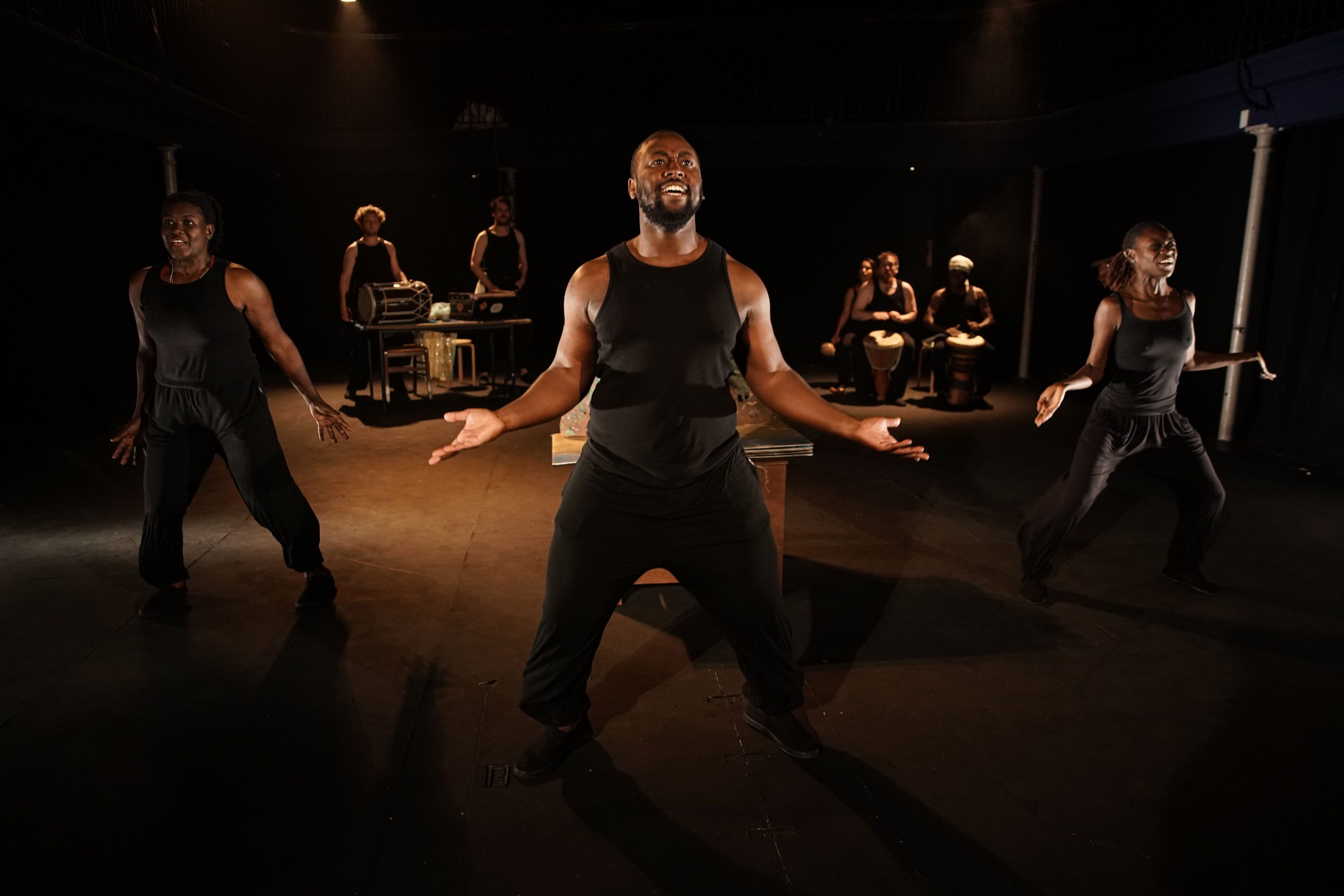 Re:Verse Theatre are delighted to release production photos for The Hamlet Voyage which continues at the Bridewell Theatre until 23 July 2022.
The Hamlet Voyage: A new play by Rex Obano, long-listed for the Alfred Fagon Award, had its world premiere on board the Matthew ship at the 50th Anniversary Bristol Harbour Festival 16-17 July, followed by its London premiere at the Bridewell Theatre 20-23 July with Press Night on Friday 22 July, 7.30pm.
In 1607, sailors on the first English voyage to reach India stopped off in Sierra Leone for supplies and to recover from scurvy. It was recorded in the ship logs that during this stop the sailors performed Hamlet for the local West African dignitaries. This begs the question…why?
Re:Verse Theatre presents The Hamlet Voyage, a new play by Rex Obano recently long-listed for the Alfred Fagon award (one of the most prestigious awards championing the work of Black British playwrights). The play examines a unique cross-cultural encounter that took place before England became deeply involved in the Atlantic slave trade, before the age of British imperialism, and before Shakespeare became a global name.
Writer Rex Obano: "To be writing about the first recorded performance of Shakespeare outside Europe is a very exciting prospect indeed. I have always been interested in writing Black British historical drama, especially those stories that are little known, buried deep in the annals of history and confined to memory. Such stories as this explore Britain's past but also tell us about Britain's future."
Director Ben Prusiner: "What is so unique about this story is that it takes place before England became deeply involved in colonialism or the slave trade, and so we see these three cultures (English, Temne and Mughal) encountering each other for the first time. We are still critical of English colonial ambitions, but the play also presents an opportunity to showcase storytelling, music and theatre from West Africa, South Asia and Western Europe."
MEET THE COMPANY
Playwright

Rex Obano

(BBC Radio 4

Faith Hope and Glory

)

Designer

Olivia Altaras

(

Props for Punchdrunk and Wise Children

)

Puppetry director and designer

Anurupa Roy

(

Katkatha — New Delhi-based puppet theatre company)


Music director

Jeevan Singh

(

Percussionist for the band RSVP Bhangra and Emma Rice's Midsummer Night's Dream at Shakespeare's Globe

)

Movement director,

David Dravie-John

(

Founder of

Pax Productions, rooted in West African performance)


Assistant director

Neuza Pereira Sa

Shakespeare & Maritime History Dramaturge,

Laurence Publicover

(

Bristol University, co-editor of Shipboard Literary Cultures: Reading, Writing, and Performing at Sea

)

Sierra Leonean History and Culture Dramaturge,

Joseph Bangura

(

author of The Temne of Sierra Leone: African Agency in the Making of a British Colony

).
Cast: Pauline Babula; Marieme Diouf; Joe Feeney; Eliot Giuralarocca; Danann McAleer; Adam Scott-Rowley; Ayodele Scott; Natali Servat and Ray Sesay
Listings information
The Hamlet Voyage
London
The London Premiere will take place at the Bridewell Theatre
Press Night will be held on Friday 22 July 7.30pm.
20-23 July at the Bridewell Theatre, 14 Bride Ln, London EC4Y 8EQ
7:30pm each day & 2pm, Sat 23 July followed by a post-show discussion with cast and crew.
The London performance is suitable for audiences 13+
Info: www.re-versetheatre.com
Instagram @reversetheatre
Facebook @reversetheatre
Twitter @Re_VerseTheatre
Re-Verse Theatre
This project has been in development for over a year, starting at the heart of the pandemic lockdown. Beginning with a modest crowdfunding campaign and eventually gaining the support of a half dozen organisations plus community and education partners, Re:Verse Theatre was able to produce two workshops and a staged reading to develop the script and the production's unique style. The play brings together movement, music, puppetry and storytelling styles from Mughal India, Renaissance England and the Temne people of Sierra Leone.
The Hamlet Voyage was developed as part of Re: Verse Theatre's school engagement project, which they have been running in four schools in Bristol teaching young people about West African storytelling and drumming alongside English sea shanty singing and Shakespeare. Heritage Lottery Fund has supported it and they are looking to expand the programme to other cities and possibly other countries as well. The education webpage is available to the general public to use.
Info: https://www.re-versetheatre.com/education
MEET THE CAST
Pauline Babula
Ugandan Born, UK-based actor.
Marième Diouf
Senegalese was born, a London-based actor.
Joe Feeney
Eliot Giuralarocca
As Artistic Director of Dragonboy Productions, he creates and develops new work for the theatre. Recent credits include a national tour of In and Out of Chekhov's Shorts (Dragonboy Productions) which he created from some of the best of Anton Chekhov's short stories and playing Prospero in a production of The Tempest – a show that he adapted and created with the Spanish company, Le Tendre Amour and which was subsequently nominated for the Gran Premio de España de Artes Escénicas.
Danann McAleer
Danann trained at The Bristol Old Vic Theatre School. Theatre includes Dr Semmelweis (Bristol Old Vic), Richard II (The Vaults/Turbine), Under The Greenwood Tree (Cheltenham Everyman), Midsummer Night's Dream & Our Country's Good (Tobacco factory), King Lear (Bristol Old Vic), Frankenstein & Penny Dreadful (Red Rope Theatre), Comedy of Errors & The Tempest (Lord Chamberlain's Men), Don Quixote (The English Concert). The film includes: Is That All There Is? (Fuego Films), Living in Crime Alley (Frame To Film), Seven Days that Made The Führer (Channel 5), Watch Over Me (CBA).
Adam Scott-Rowley
Adam trained at The London Academy of Music and Dramatic Art (LAMDA). He is an actor, performance practitioner, and director. He is the creator and performer behind the multi-award-winning and internationally touring show 'THIS IS NOT CULTURALLY SIGNIFICANT', which has developed a cult following and inspired a new generation of theatre-goers across the globe. Adam's focus is rooted in defying traditional theatrical norms and creating confrontational, unsettling, and form-defying high-intensity theatre.
Ayodele Scott
Ayo is a respected teacher, workshop leader and performer of West African Arts in England. He was born and raised in Freetown, Sierra Leone, where music and theatre were all around him. He originally performed and toured around West Africa with many dance and theatre groups, including the National Dance Troupe of Sierra Leone, Kailondo and Tabula Theatre Companies, and won the Progress National Actor of the Year Award.
Natali Servat
Ray Sesay