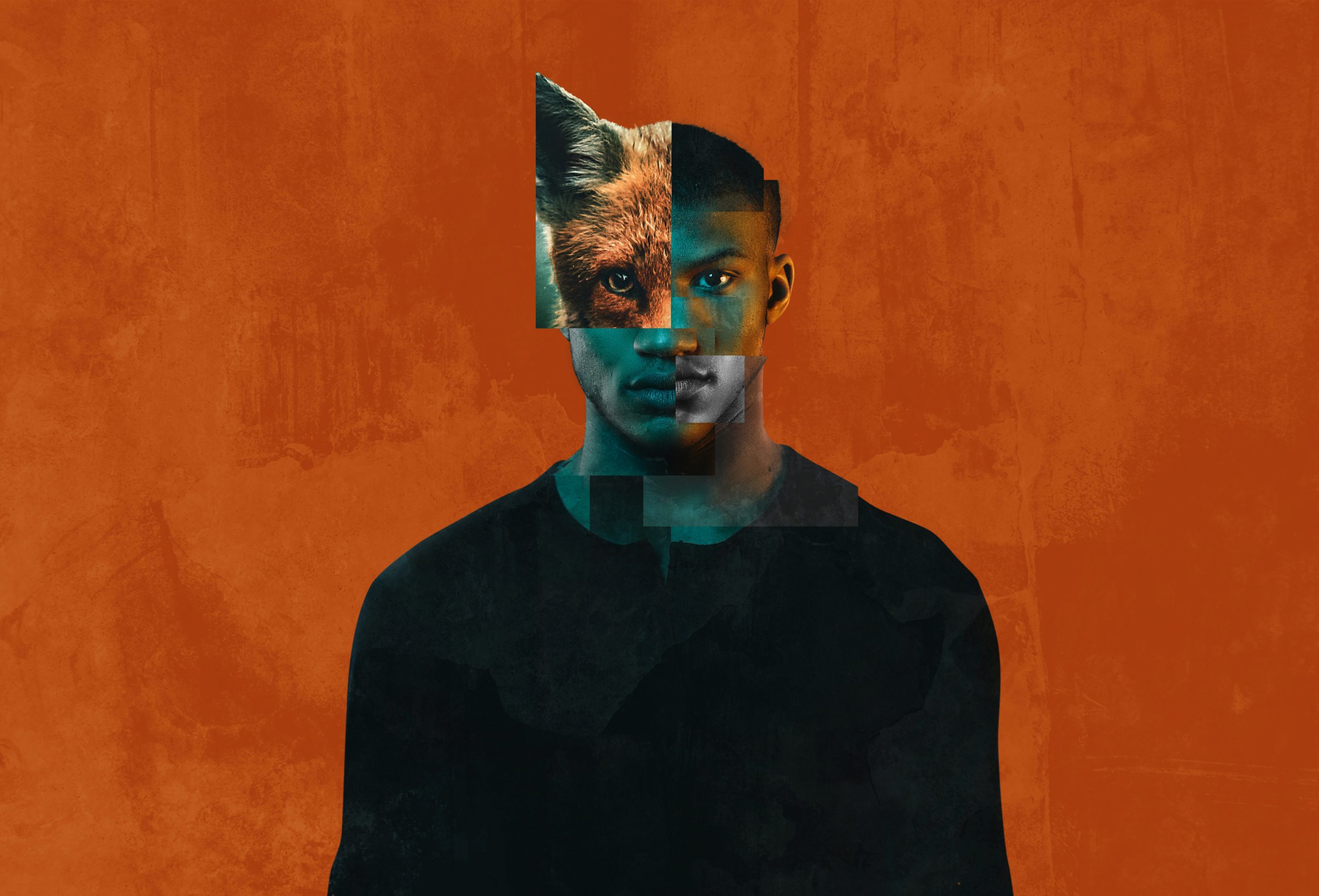 The cast has been announced for Dexter Flanders' unmissable debut play FOXES, coming to Seven Dials Playhouse for a limited season this summer following critically acclaimed runs at Theatre503 and Theatre Peckham. Lauded for its incredibly authentic performances and exceptional writing, FOXES tells a deeply moving and complex story of family, community and sexual identity, tackling the Black gay experience with tenderness and beautiful depth.
The production will be accompanied by an exciting Associated Programme encompassing a number of professional development sessions.
The programme is presented in partnership with Mind in Haringey and Afridiziak and includes movement and martial arts workshops and a poetry session with Poetic Unity. Highlights comprise multi-award-winning playwright Roy Williams in conversation with Dexter Flanders and a writing workshop with poet, playwright, performer, Inua Ellams and a scratch night inspired by FOXES on the theme of 'Animal Instincts'.
Returning to their highly praised roles are Michael Fatogun (Sweet Like Chocolate Boy, Tobacco Factory Theatre), Anyebe Godwin (Little Baby Jesus, Orange Tree Theatre), Doreene Blackstock (Sex Education, Netflix; Equus, Trafalgar Studios) and Tosin Alabi (Queens Of Sheba, UK National Tour). Nemide May (Albatross, Represent Theatre; Silent Witness; Doctors) is newly-cast in the role of Meera who joins under the direction of James Hillier (Sunnymead Court, The Actors Centre/ Arcola; Not Talking, Arcola).
The production will also feature movement direction by Gerrard Martin (…cake, Theatre Peckham; GHBoy, Charing Cross Theatre) and intimacy direction by Robbie Taylor Hunt (Everything After, Q Theatre Auckland). Additional creatives include design work by Erin Guan (Tokyo Rose, Edinburgh Fringe), lighting and projection design by award-winning Will Monks (Ali & Dahlia, Pleasance; Trojan Horse, Edinburgh Fringe) and sound by Josh Anio Grigg (Faith, Hope & Charity, National Theatre; Crucible, Yard Theatre).
Foxes is presented by Defibrillator and Seven Dials Playhouse.
★ ★ ★ ★ Shattering tale of faith and family (The Guardian)
★ ★ ★ ★ Like a love letter to Black London, FOXES epitomised Black British-ness (Afridiziak)
★ ★ ★ ★ ★ A ground-breaking theatrical triumph (Broadway Baby).
Associated Programme
Director/Writer Development Programme
An opportunity for up-and-coming writers and directors to develop a 10-15 minute scratch piece in response to FOXES to be performed as part of Defib Write Night at Seven Dials Playhouse on the 29th May. Each piece can have a max of 3 actors, the company will be provided by partners Theatre Peckham.
5 writers and 5 directors will be paired together by the Defibrillator team.
Participants will have an opportunity to watch FOXES and an accompanying exclusive Q&A with FOXES creatives on Friday 6th May and will be encouraged to consider the themes, characters, style, structure of the play and how they might write a short play in response.
The programme will start on Thursday 12th May with an introductory session and a workshop with Dexter Flanders and James Hillier on their experiences of collaborating and creating new writing.
Participants on this course will also gain entry to all 'In Conversation With…' Q&A's & writing workshop with Inua Ellams.
Dates Friday 6th – Sunday 29th May 2022
Times Various
Price £250
Q&A with Jennifer Thomas and Mildred Yuan from United Agents
Jennifer Thomas represents screenwriters, playwrights, directors and as part of United Agents Book to Screen Department is responsible for selling film & television rights in our books. Mildred Yuan represents world-class performers and creatives. Her clients include Olivier Award-winners, National Television Award winners and household names. She helps clients to find their superpower and guides them to take control of their careers. Join Jennifer and Mildred for a Q&A packed with industry insights.
Date Tuesday 17th May 2022 | Times 4:30pm – 5:30pm
Price £5
Writing Workshop
Poet, playwright, performer and Fringe First winner Inua Ellams shares insights from his award-winning works in a writing workshop.
Date Thursday 19th May 2022
Time 2pm – 3.30pm
Tickets £20 | £15 Concession
Art Alkhemy Sip & Paint Session
This is a painting session with a twist! Unleash your creativity with a cocktail in one hand, a paintbrush in the other, and Hip Hop and R&B on the loudspeakers. Sip & Paint feeds your creativity while providing an atmosphere for you to be surrounded by like-minded people, as you listen to the music you love, sip your favourite drinks, and paint your imagination to life on canvas.
Date Friday 20th May 2022 |Times 9.45pm – 11pm
Price £25
Martial Arts / Stage Combat hosted by The Academy of Heroes
Join premium trainers from The Academy of Heroes who specialise in Martial Arts and Stage Combat for a one-off workshop.
Date Saturday 21st May 2022 | Time 12:30pm – 1:30pm
Price £15
Poetic Unity: Animal Instincts
This poetry slam session is presented with Poetic Unity, a Brixton based charity that provides support and services for young people across the UK who use poetry as a tool to support young people's mental health, education, personal development, physical health, and community cohesion. Artists from Poetic Unity will perform work based on the theme of 'Animal Instincts'
Date Sunday 22nd May 2022
Time 5:30pm – 7:45pm Price £5
In Conversation With… Roy Williams and Dexter Flanders
Award-winning playwright Roy Williams joins Dexter Flanders, the writer of FOXES for a special 'In Conversation With…' event.
Date Wednesday 25th May 2022 | Time 9.30pm
Tickets £7 | £5 Concession
More In Conversation With… events announced soon!
Black Heritage Pub Quiz
Bring some friends and grab a drink at Seven Dials Playhouse for a one-off Pub Quiz focusing on Black pop culture and history.
Date Wednesday 27th May 2022 | Time 9.30pm – 11pm
Tickets £5
Mista Strange and Strangers Party
A night of performances that will spotlight and up-and-coming queer rappers. With performances from Mista Strange and further performers to be announced followed by a DJ and a Rum Bar flowing all evening!
Date Saturday 28th May | Times 9:30pm – 11pm
Price Free for FOXES ticket holders | £10 for non-ticket holders
Movement with Daniel Bailey
Join a movement workshop with Urdang Academy trained Daniel Bailey who is currently dance captain at Get Up Stand Up! The Bob Marley Musical.
Date Saturday 28th May 2022 | Times 12:30pm – 1:30pm
Price £6
Defib Write Night
This is an opportunity to see the work created by the artist participants of our Writer/Director Development Programme. Having collaborated with the Defibrillator team, the work will be presented in a series of scratch performances at Seven Dials Playhouse, performed by Theatre Peckham's rep company.
Date Sunday 29th May 2022 | Times 4pm and 7pm
Price £12 | £8 Concession
Pan Afrikan Drumming Class
In Afrikan culture, drums are seen as connectors to the ancestors, and broken drums are therefore symbolic of a broken connection. In repairing drums we are physically repairing our relationship with those who came before us and to whom we owe our existence. This is at the heart of Ukombozii Ancestral Drums: Ukombozii means liberation in the Swahili language and incorporates our desire to heal our Afrikan selves, Ancestral expresses our desire to build a healthy respect for our ancestors and Drums are the medium through which we will do both.
Date Saturday 4th June 2022 | Times 12:30pm – 1:30pm
Price £10
Many more events to be added, including free workshops with Mind in Haringey and a Black Queer Playground.
Writer Dexter Flanders
Director James Hillier
Designer Erin Guan
Associate Designer Renzo
Lighting & Projection Design Will Monks
Composer and Sound Josh Anio Grigg
Movement Gerrard Martin
Intimacy Director Robbie Taylor Hunt
Fight Director Esme Cooper
Producer James Hillier
Associate Producer Alfiah Jade Brown
Associate Producers Vernon and Linda LaVia
Assistant Director Dylan Verley
Casting: Annie Rowe CDA
Producers: Defibrillator and Seven Dials Playhouse
Cast: Doreene Blackstock, Michael Fatogun, Tosin Alabi, Nemide May, Anyebe Godwin
Social
Twitter – @defibtheatre | @7DialsPlayhouse
Insta – @defib_theatre | @7DialsPlayhouse
Facebook – @defibrillatortheatre | @SevenDialsPlayhouse
Defibrillator
"Theatre that brings an electric pulse to the heart." www.defibrillatortheatre.com
Afridiziak
Launched in 2008 by Sophia A Jackson, Afridiziak Theatre News is the UK's leading digital publication celebrating the black theatre experience with news, reviews, listings, interviews, offers, and our newly introduced meet-ups. www.afridiziak.com
NEED TO KNOW:
FOXES will run from Tuesday 3rd May to Saturday 11th June (95 minutes) at Seven Dials Playhouse, 1a Tower Street, London WC2H 9NP | How to get there: The nearest underground station are Leicester Square (Northern and Piccadilly lines), Tottenham Court Road (Northern and Central lines) and Covent Garden (Piccadilly line). The nearest rail station is Charing Cross | Tickets from £15: Book
sevendialsplayhouse.co.uk
or call 020 3841 6600