An exhibition of photographs by Michael Mayhew and a new artwork by Cherelle Sappleton in the Lyttelton Lounge at the National Theatre, 23 February – 15 April.
Bright Young Tings, an exhibition of photographs from the National Theatre Archive's Michael Mayhew Collection is a rare snapshot of the work developed by black theatre practitioners between 1979 and 1982. Michael Mayhew was the NT's Art Director (from 1976 to 2009) when he was first asked by Charlie Hanson to take publicity photographs of the newly established Black Theatre Co-operative. Shot in 35mm black-and-white film on a Nikon EL2 camera, Mayhew's tightly framed images capture the emergence of the Black Theatre Co-operative and a spirit of hope in its cast and company members.
In the 1970s and 80s there was an explosion of new black-led theatre companies in the UK, primarily focused on London. This came about through frustration at being marginalised and misunderstood but was also inspired by the achievements of playwrights such as Barry Reckford, Errol John and Wole Soyinka in the 50s and 60s. The next generation of theatre producers and makers sought not only to stage plays exploring what it meant to be black and British, but also to create an environment where young black practitioners could access training in all aspects of theatre-making.
Mayhew went on to shoot more images of theatre productions and rehearsals with Foco Novo and Temba Theatre, leaving a legacy of over 1000 newly digitised photographs at the NT Archive. Mayhew deposited his collection at the NT Archive in 2012. Researching this collection revealed that in addition to photographing productions at the National, his private collection also documented fascinating and rarely revisited period in black British theatre history.
To respond to this archive collection, the NT commissioned Cherelle Sappleton, a young British-Caribbean visual artist whose work focuses on photography, moving image and collage. For Sappleton, Mayhew's images provide the opportunity to pause and consider the politics of 'making' and the spaces in which creative work can be made. As she explains, 'My collages are normally made from disposable or freely accessible materials such as magazines, but here I'm using historical documents as source artwork and this is complex. There is a sacredness in what is held in this archive. But archives are not complete, and if they are doing their jobs well, they will constantly transform.'
Kobna Holdbrook-Smith, Vice-Chair of Act for Change said, 'These pictures document a "big bang" of diversity in UK theatre that we can still see generating and inspiring life now.'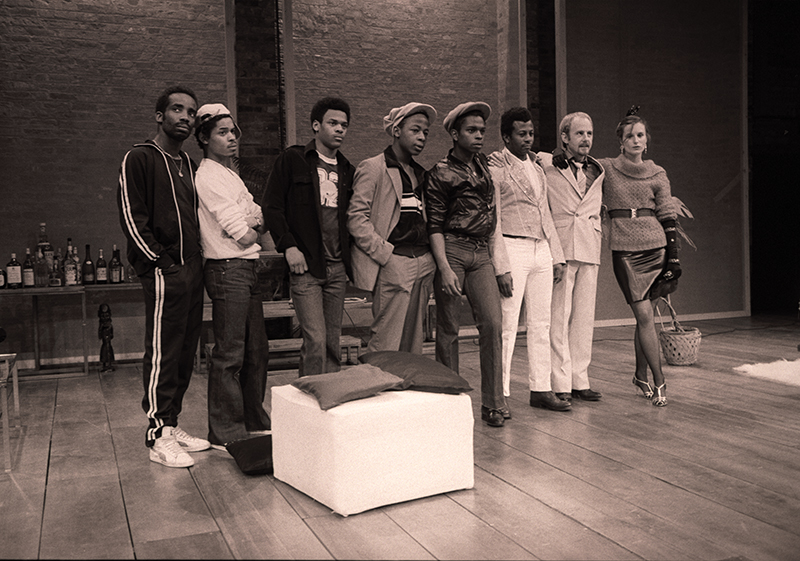 A series of events will run alongside the exhibition to explore and challenge the content and context of the work.
In Context – GLC Story, Black Feminist Theatre 1981 – 1986
Saturday 1 April, 2 – 5pm, Cottesloe Room, £25/£20/£7.50
Exploring the Greater London Council's support for grassroots arts at a crucial time in the development of many young black theatre performers, writers and companies. Contributors will also explore the legacy of Black Feminist Theatre between 1981 and 1986.
On Screen – Tunde's Film (dir. Tunde Ikoli and Maggie Pinhorn, 1973, 49 mins)
Saturday 1 April, 6 – 7.30pm, Cottesloe Room, £5/£3
Tunde Ikoli's play Sink or Swim was performed by Foco Novo at the Tricycle Theatre in 1982, photographs of which feature in the Bright Young Tings exhibition. This screening is of a film made in 1973, written and co-directed by Tunde Ikoli and Maggie Pinhorn.
In Context – Black Woman Time
Saturday 11 March, 2 – 5pm, Cottesloe Room, £25/£20/£7.50
Explore debates around black women playwrights and theatre-makers with play readings and contributions from director Jo Tyabi and NT Associate Natasha Bonnelame. A counterpoint to the exhibition which highlights plays by male black playwrights in the 80s and 90s.
Stage Photographers
Saturday 4 March, 6 – 7pm, Cottesloe Room, £6/£5
Exploring the practice and process for stage photographers with Michael Mayhew, Nobby Clark and other photographers who have worked with the NT.
NEED TO KNOW:
The Black Plays Archive is an online catalogue for the first professional production of every African, Caribbean and black British play produced in Britain. Visit in person by appointment – NT Archive 020 7452 3135.
|
See website for booking and details