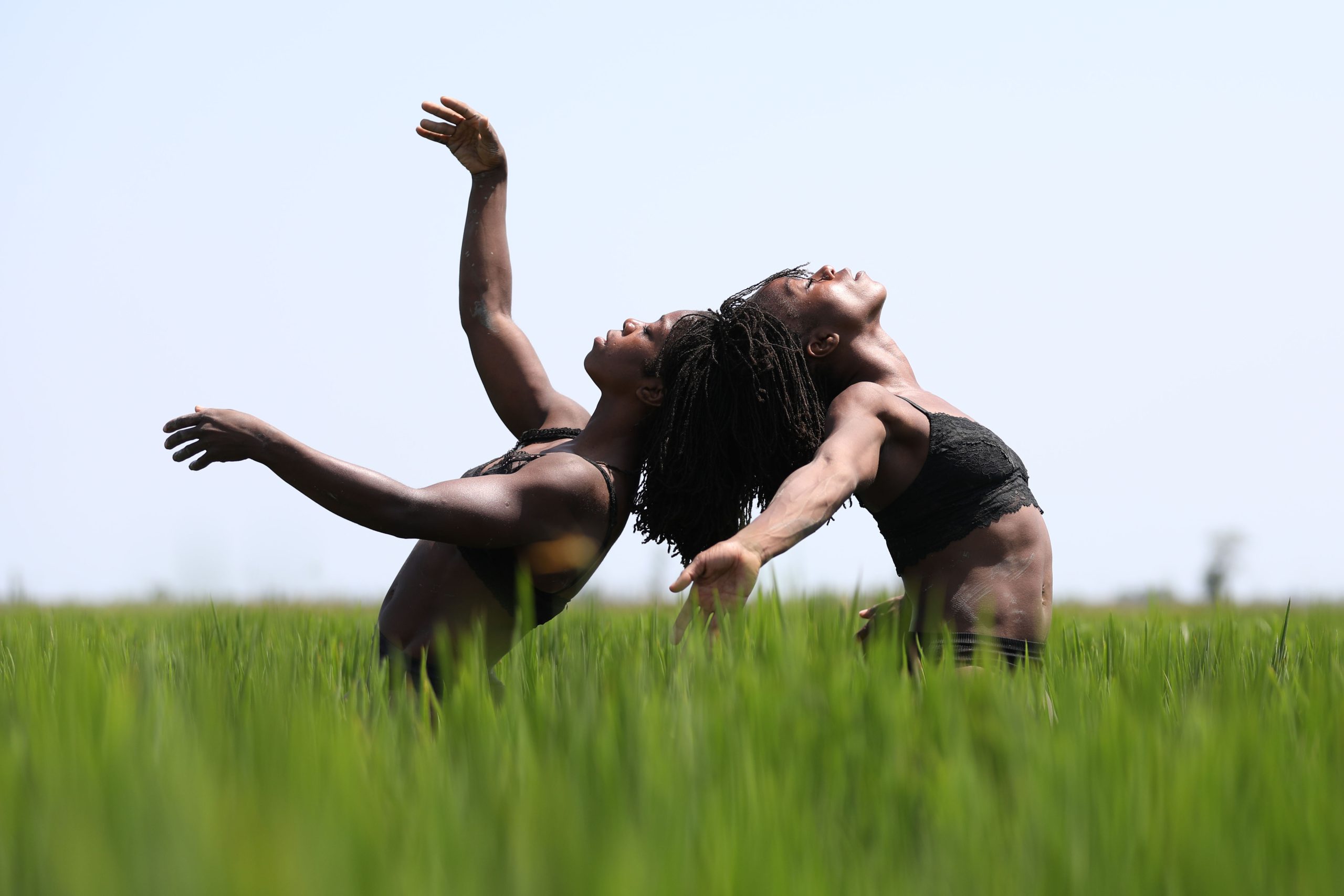 Alleyne Dance, founded by London-based identical twin sisters Kristina and Sadé Alleyne present Far From Home, a new touring production premiering at The Place, London, on 4-5 November 2022 then touring in 2023. As well, Close to Home, a parallel project created with local communities will premiere as part of Lewisham's year as the Mayor of London's London Borough of Culture 2022 and Dance Umbrella's 44th Festival on 22-23 October.
Both works explore similar themes in different ways while retaining Alleyne Dance's distinctive choreographic edge. Far From Home looks at humanity via stories of migration and the consequences that the search for "a better life" has for those forced to seek it due to social or political devastations.
Devised, choreographed and performed by Kristina and Sadé Alleyne, Far From Home brings the company's powerhouse physicality and style to the stage. Informed by their training as athletes and epitomised through their signature blend of circus skills plus West African, Caribbean, Hip Hop and Kathak dance forms, Far From Home features an abstract but compelling narrative highlighting the emotional trauma experienced by migrant families, as well as the impact on communities where migrants "settle".
See listing: Far From Home
www.afridiziak.com/whatson/far-from-home/
Kristina and Sadé Alleyne said: "The research and creation process for Far From Home has taught us so much. It has been a true privilege for us to speak to many people who have been affected by the themes in this production and to be trusted to bring those stories to life on stage. It has also been a dream of ours to expand Alleyne Dance, so we welcome our new company members with open arms and thank them for everything they have given to creating this work."
Taking audiences on a journey of separation, loss, travel, friendship, and struggle plus the joy of reunification and reconciliation, Far From Home unpicks the meaning of tolerance and the practice of integration in our increasingly politically partisan world.
This production features costumes by Giulia Scrimieri (City for a Thousand Trades, Birmingham Royal Ballet; The World's Greatest Show, Royal Opera House; Game of Thrones season 7) and music by Giuliano Modarelli (Sidi Larbi Cherkaoui, Jose Agudo) incorporating Alleyne's trademark rhythms, created via the dancers' own bodies. Emanuele Salamanca (Aakash Odera Company, Expo Milano) and Salvatore Scollo's (Alesandra Seutin | Vocab Dance, The Place London) set and lighting design layer shadows and natural materials including earth and water, all of which contribute to the atmosphere of Alleyne Dance's most ambitious project to date.
Close to Home is a parallel, regional project, drawing on the same themes but working with presenting venues to focus on highlighting the diversity and culture within their local areas. Supported by Alleyne Dance Company through classes and workshops and drawing on their own stories, casts of local movers will work together to create a piece that reflects their personal histories and real-life experiences of the community at large. For the premiere in Lewisham, Close to Home: The Mass Dance Event will feature an intergenerational cast of 200 – 400 local performers exploring the stories of Lewisham. Highlighting themes of change and activism, this exciting dance work will celebrate the positive impact of migration on our communities and our homes.
See listing: Close to Home
www.afridiziak.com/whatson/close-to-home-the-mass-dance-event/
The World Premiere of Close to Home is presented by We Are Lewisham in partnership with The Albany and IRIE! dance theatre, in association with Dance Umbrella and Trinity Laban, with the support of the National Lottery Heritage Fund.
Info: https://www.alleynedance.com/