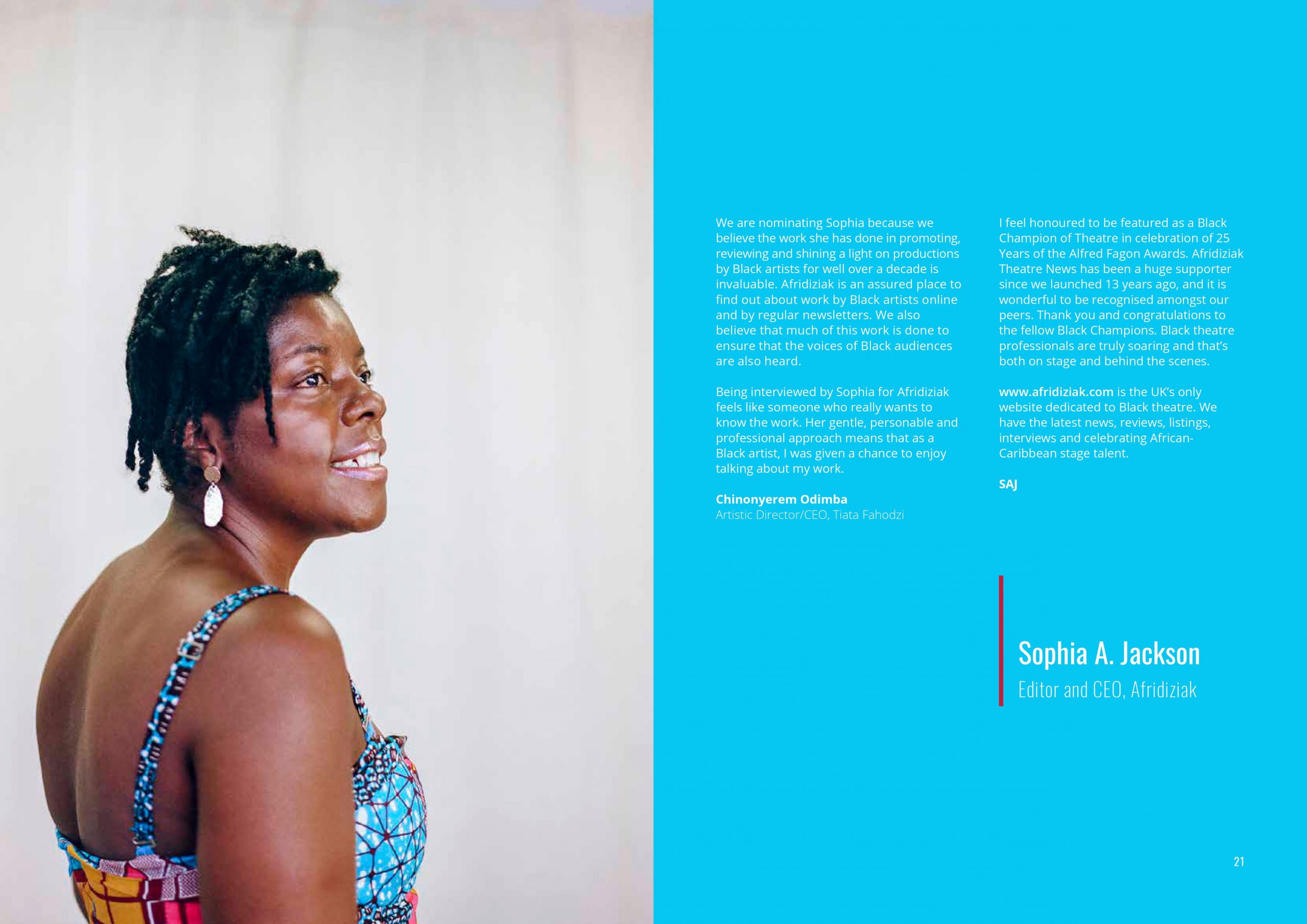 For its 25th anniversary, the Alfred Fagon Award Board felt this would be a great occasion not only to celebrate writers, but to turn the spotlight on 25 roles that don't normally take centre stage. The behind the scenes roles that contribute to the ecosystem of the theatre industry, whether that be casting directors, drama teachers, sound designers or volunteer coordinators, each of these 25 play a vital part in the growth and sustainability of theatre, as well as being role models to a generation following behind them.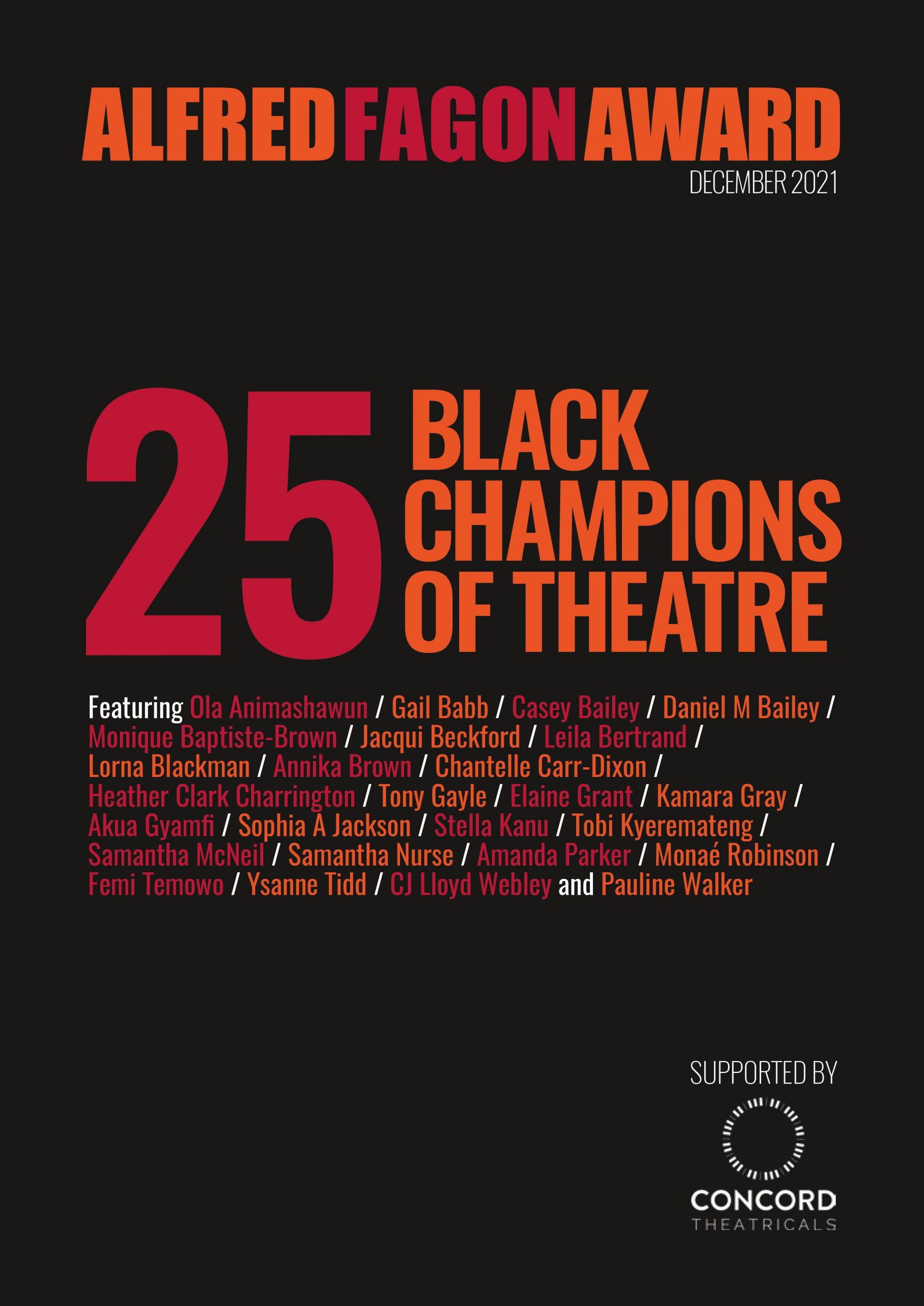 The 25 Champions were invited to a photoshoot during October and November 2021 and the beautiful portraits are featured in a specially-created magazine dedicated to them.  This was supported by Concord Theatricals. The printed version of the magazine was first made available at the 25 Alfred Fagon Award event at the National Theatre on December 3, 2021.
Sophia A Jackson, editor and founder of Afridiziak Theatre News, said: "I would like to say a huge thank you to the wonderful Chinonyerem Odimba for nominating me. I'm honoured as it means so much to be recognised by my peers in the industry and to be included amongst such esteemed company. Thank you to everyone involved with the Alfred Fagon Award including Pauline Walker".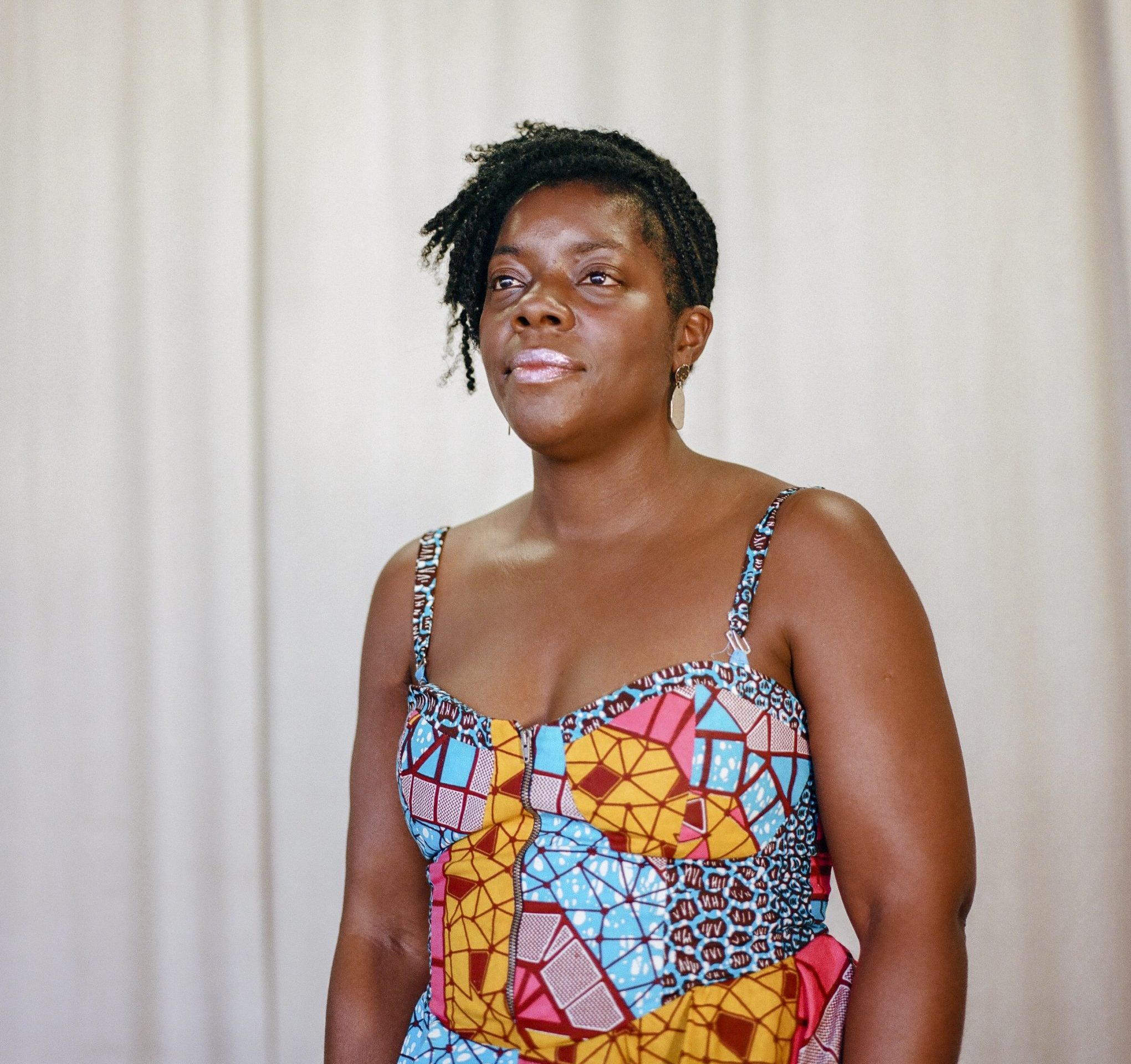 The 25 Champions are:
Akua Gyamfi,
Founder and Managing Director, The British Blacklist


Amanda Parker FRSA, 
Founder and Chief Executive of Arts Inc


Annika Brown, 
Operations Director


Casey Bailey,
Writer, Educator, Poet – work for education and community
Chantelle Carr-Dixon,
Finance Officer, Yorkshire Dance


CJ Lloyd Webley,
Lightpost Lead Artist


Daniel M Bailey,
Digital Capture Producer


Elaine Grant, 
Head of Access Programmes, Mousetrap Theatre Projects


Femi Temowo,
Musician and Composer


Gail Babb,
Lecturer at Goldsmiths, University of London, Producer, Winner of Kenneth Tynan Award 2021


Heather Clark Charrington,
Director of Audiences, Southbank Centre


Jacqui Beckford,
British Sign Language Interpreter


Kamara Gray,
Founder and CEO of Artistry Youth Dance


Leila Bertrand,
Casting Director


Lorna Blackman,
Drama Teacher


Monaé Robinson,
Participation Producer


Monique Baptiste-Brown, 
Head of Marketing and Audience Development, Brixton House


Ola Animashawun,
Dramaturg


Samantha McNeil,
Volunteer Manager


Samantha Nurse,
Creative Producer


Sophia A Jackson, Editor and CEO of Afridiziak


Stella Kanu,
Executive Director, LIFT


Tobi Kyeremateng FRSA,
Founder of Black Ticket Project


Tony Gayle, Sound Designer,
Light and Sound Recognition Award, Black British Theatre Awards 2021


Ysanne Tidd,
Costume Supervisor, Dyeing and Breakdown Artist, Young Vic


Special Recognition, 
Pauline Walker, Creative Producer and Administrator, Alfred Fagon Award
Patron
Baroness Floella Benjamin 
The Trustees
Yvonne Brewster OBE
Sheelagh Killeen 
Olusola Oyeleye
James St Ville (Chair)
Brian Walters
NEED TO KNOW:
The recognition involved a photoshoot with Myah Jeffers for a celebratory e-magazine and you can find it
here
and on the
Alfred Fagon Award website
|
The Alfred Fagon Award is supported by The Peggy Ramsay Foundation
Related links