The High Table is an epic family drama between the heavens and earth written by Temi Wilkey. Afridiziak caught up with Temi during rehearsals to find out what to expect from her debut play at The Bush Theatre.
LA: Thank you for giving up your time for this interview. I am really looking forward to seeing this show. Can you tell Afridiziak readers what The High Table is about and what to expect?
TW: The High Table follows the story of Tara (Omotara) and her journey to getting married to her girlfriend, Leah. She's left it a bit late before telling her parents because she's anxious about it. They've said that they're not coming to the wedding partly because of their religious beliefs, but also because of the Nigerian culture and feeling quite far away from homosexuality. There's a chorus of ancestors who are watching the whole thing and deciding whether or not to bless the wedding and trying to bring about some harmony within the family.
And what to expect…? Hopefully you should laugh, expect to laugh. Expect some music, we have a live drummer called Mohammed Gueye, he's amazing. Expect to learn things about pre-colonial Nigerian history, I would hope.
I think you should DEFINITELY see it if you're queer because above all it's a gift for queer black people.
LA: That'll be good!
TW: Yeah! Expect a love story, expect a family drama, expect African spirituality.
LA: I know for sure it'll be a laugh. The title says it all… Nigerians, High Table… enough said!
TW: (Laughs)
LA: Who or what inspired you to write this play?
TW: I guess it's just themes that feel important to me, like the way that your queerness can sit with you being African, and the idea that lots of people have that being queer [is] somehow un-African. I wanted to write a play to challenge that and to kinda live in that as well. I think the most important thing with plays is that they just can't be one-sided. The magical thing about them is that you have to really understand somebody else's perspective and I think that was quite healing for me in lots of ways to try and understand where that homophobia stems from.
I guess also the fact that homosexuality isn't legal in Nigeria where I descend from, so looking that square in the face which I've never done before; looking at that illegality and how difficult that is when you are queer and you don't live there. Feeling like, "if I grew up in my country of origin, where would I be?". Those are the reasons. And the spirituality elements came from being really interested in pre-colonial practices and religions. And wanting to write about black queer love; about two people being in love.
LA: So how long have you been writing this play for?
TW: Nearly two years
LA: Have you noticed any changes, any surprises since writing it and reaching this rehearsal process?
TW: There have been huge shifts. It feels embarrassing to even go back and talk about earlier drafts 'cos you're like "ugh!", horrified! There's been loads of discoveries and also some things I remember and I'm like "Oh God, I'll never share!". It's just funny to look back at how things were before, like having to cut certain characters. Then there are other things that I had forgotten and I'm like "I can't believe that wasn't there from the beginning, it's so integral to the character's journey".
The main discovery is learning what it's like working with a group of actors. It's an entirely different thing when actors take on a play that you've written, and you're working with people who are giving you notes. It just changes it entirely and you learn a lot from that.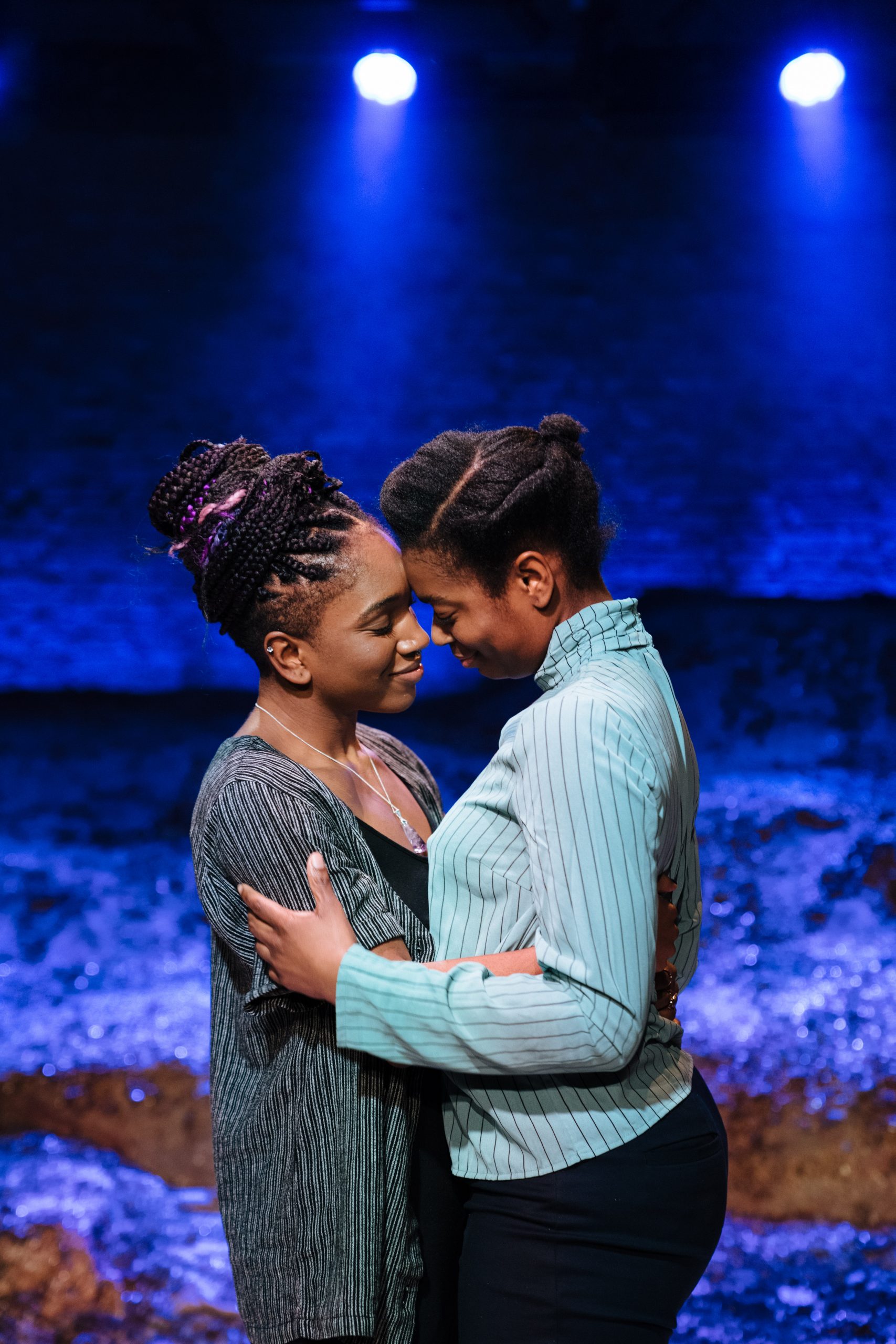 LA: What were some of the challenges in writing this play? I'm guessing you had to do some research with the religion and pre-colonialism themes. How did you go about it?
TW: To be honest Google was a very good friend of mine. Also reading articles and then going to the books that the person who has written the article has mentioned. I don't think I expected the play to be staged, so I didn't write down my bibliography which I really should have. As soon as we got into rehearsals, people were like "Where did you read that? Can I read it?". Next time I write a play I will be more diligent remembering exactly where I got my sources from. Before I knew I was going to write this play, I was researching pre-colonial history. I would recommend 'A history of Nigeria' by [Matthew M. Heaton] and Toyin Falola. It's a really good book. It goes from Ancient pre-colonial days through to modern day.
LA: Who should see this play, and why?
TW: I think African people should see this play whether you're West African, South African, East African, but also from the Diaspora, West Indian, Caribbean, black British because it explores pre-colonial history and I think that's important for everyone.. And it's jokes. If you're black you'll enjoy that element of it. I think you should DEFINITELY see it if you're queer because above all it's a gift for queer black people.
Everyone should see it because loads of people who have read this play at this point who are white and queer have said that they related to so much of it… Or are white and straight and felt [like] "wow, obviously this isn't my story but I could definitely connect to this part". Because it is in fact about family at the end of the day. In whatever way, everyone has been a part of some kind of family, whether that's blood or chosen. You can relate to the difficulties and the joys of that. If you're black and/or queer, it's a specific invitation to you above all. Everyone should be able to get something from it.
LA: Do you have a favourite character?
TW: No. You can't! If you've written them, you can't. You love them all equally. Oh, no way! No… Maybe, actually maybe! Is that thing like when you're a mother and you say "Oh, I don't have favourites' ', but when you look closely you realise you do. There is an ancestor who is probably my favourite character if I'm honest, but because you write from everyone's perspective you have to understand all of the characters. I do love them equally.
LA: Who do you identify with the most?
TW: I probably identify the most with Omotara because she's around my age going through similar things that I was going through when I started writing the play. We have to relate to everyone otherwise the characters aren't real and [become] a bit one-dimensional.
Expect a love story, expect a family drama, expect African spirituality.
LA: You're also an actress as well. Any advice for those wanting to combine writing with their acting career?
TW: Just have a go, that's the only advice I can give. I probably wrote this play because I don't know anything else like it, and as an actor you'd probably write plays that you would like to be in. I don't want to be in this because I wanted to see it and experience it. You write the kind of thing you wish you could see on a stage or perform in, but haven't seen yet. So if there's anything you feel like you want or is missing, [you write about it].
LA: What other themes are you interested in or hoping to write about in the future?
TW: I don't think I'm done with colonialism. There's lots more that I need to discover. Sometimes you write things because you want to know more about them as well as wanting other people to know about them. I'm really interested in magic, spirituality and sex itself. This play is not about sex, it's so much more about love and obviously sex is a big part of love. It's actually not very sexual because of where the couple are in their relationship. It's not the main focus because they've got their family to deal with. But sex more specifically [is what] I'm interested in exploring and writing more about.