Susan Wokoma – interview
A Raisin in the Sun by Lorraine Hansberry
Presented by Eclipsed Theatre, Sheffield Theatres and Belgrade Theatre
Susan Wokoma has become an increasingly frequent face on our TV screens in recent years. The actress has appeared in hit British comedies Uncle and Bluestone 42, children's series Hotel Trubble and Horrible Science as well as cult Channel 4 series Misfits. But the south Londoner cemented herself as a TV star last year as Cynthia in ground-breaking comedy series Chewing Gum. As well as gracing our tellyboxes, Wokoma has also trodden the boards at the National Theatre, Royal Court and the Almeida.
The RADA graduate is starring as Beneatha Younger in A Raisin in the Sun. Set in 1950s Chicago, the play follows the lives of African-American family, the Youngers with Wokoma playing the headstrong young daughter. Wokoma explains her character's moniker has a very literal meaning. "She's been given that name because she's haughty and educated in a way that a lot of black women weren't at that time. Lorraine Hansberry calls her Beneatha because the character sees and lot of other people as being beneath her. Little fact for you there. (Laughs.)"
Wokoma describes the play as 'the greatest play ever written' and is quick to point out how pioneering this work was when it first hit Broadway in 1959.
People should come and see A Raisin in the Sun if they want to see a truly brilliant play. It's a no brainer for me."
"It's amazing that a young black woman had a show put on in the fifties and have it be such a runaway success. It's still something that we struggle with now to be honest. What makes this production great is that it's dealing with things so ahead of its time. It also comes down to it being beautifully written. What the characters say, what they talk about, and what level it connects to the world at large is incredible. The dialogue is amazing the characters are really drawn out."
Wokoma is full of praise for her fellow cast members, including Ashley Zhangazha (read interview) who she acted at the National Youth Theatre with. "Ashley is playing my brother and having known him as a teenager, to be together as professional actors is brilliant. I know Alicia (Bailey) and of course Angela (Wynter) because Angela is Angela. It's just a wonderful group of people and it's so warming that we've come together to produce this story that is so relatable and real."
Throughout our interview, the south Londoner is articulate and her detailed answers are often punctuated by a plummy laugh. She is bright and mindful of the social significance of the production written over six decades ago.
"It's not just a black story, it's a great story, but it does talk about the struggles and the things that hold them back being black at this time. Things are a bit harder, because they are black and they are poor. The play doesn't skirt around that; it says it in black and white- excuse the pun. In rehearsals we've been talking a lot about the American Dream, this idea of social mobility. This play says this dream is universal, but for this family those two things stand in their way. That is just a reality and that's what makes race incredibly important to the story. But it also taps into the fact that there are always obstacles to people achieving what they want."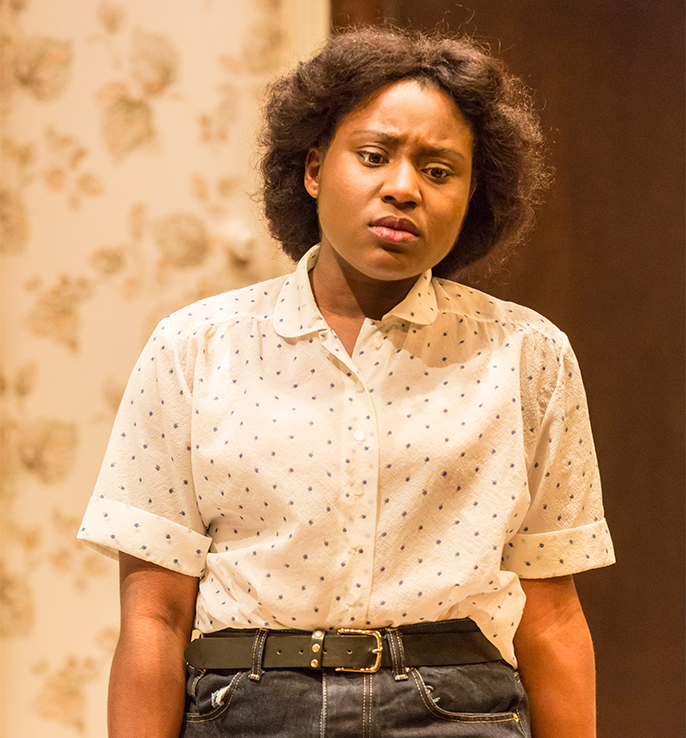 I find Wokoma incredibly engaging and full of intelligent observations. She speaks candidly about inequality within the arts but conveys no resentment, simply stating her own experiences. When asked if A Raisin in the Sun is comparable with any classic black British works she answers frankly:
"No, I feel I've been lucky. I've done a lot of youth theatre and was lucky to get into RADA and to have such a host of theatre at my fingertips. I can tell you what a classic, beautiful black story is and I haven't found a play by a British writer that embodies that. I'm open to being told otherwise, but I can't think of a black British play that's a classic"
The actress goes on to relate this lack of canonical black British drama to ingrained ideas of our nation's historical demographic. "I don't for a second think black British people weren't writing plays, they just weren't being produced. I think black American stories are streets ahead of black British stories 'cos we've been sold an idea that there were no black people in the UK before the Windrush. Which to this day people are trying to maintain. Look at the furore over Trevor Nunn's all white production of 'War of the Roses' last year. Because they wanted it to be realistic everybody had to be white. I don't know why people are so reluctant to agree that there have always been people of colour in the UK."
I think black American stories are streets ahead of black British stories 'cos we've been sold an idea that there were no black people in the UK before the Windrush."
Wokoma's roles have often challenged the inherent standards within the industry, such as her participation in Phyllida Lloyd's all female productions of Henry IV and Julius Caesar. She is particularly excited about her recent role in Chewing Gum. The innovative comedy series is written by and starring Michaela Cole as the confused and gregarious Tracey. Set in a Tower Hamlets estate, Wokoma plays Tracey's Ludo obsessed sister Cynthia in this of urban coming of age romp. When asked about her experience of filming Chewing Gum, Wokoma is resoundingly reverent
"It never happens that you get to see a young black woman be funny and flawed and confused. My favourite scene was my character's hen do. We were sat around doing a take and I thought 'I've never had this. Where I'm on screen with three black women, we're not crying, we're not talking about suffering, we're just sitting around and being funny.' None of that I took for granted at all. Too many times on TV black characters are incredibly boring cos they're stock characters, particularly with women."
Patriarchy within the arts is clearly something that Wokoma is eager to confront. She asserts that interesting roles for black females are considerably thinner on the ground than those for black males. Making Chewing Gum unique in its portrayal of young black women struggling with life's various flummoxes.
"Black men have their challenges and have their avenues for being able to showcase themselves, in a way that black women don't. Especially black women who look the way that I do or the way Michaela does. It's not until you get the opportunity to do it that you realise how rare it is and how lovely it is. It's been incredible and more than anything else, I've had such a laugh and a lot of creative freedom and that was because Michaela was at the helm and she trusted me. I just hope that Channel 4 and other channels will follow suit. Not just with black people, if you look at East Asian actors in the UK there's nothing and hardly any disabled actors. The industry needs to wake up to the fact that people want to see other narratives by people who aren't posh, white, middle aged actors."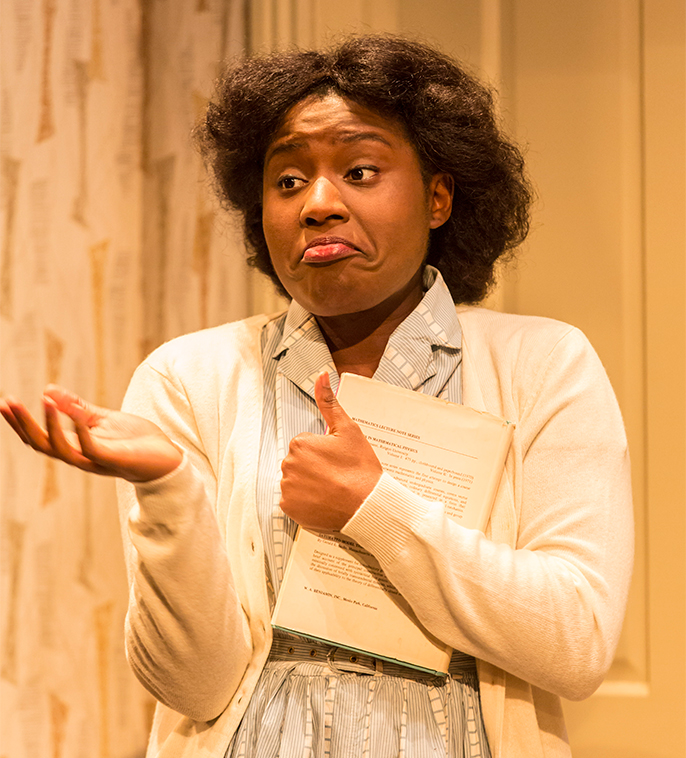 Wokoma's motivation as well as her obvious talent has paid dividends in her acting career. Having won the Best Supporting Actress BBC Audio Drama Award for her role in Three Strong Women she is rapidly gaining acclaim. Wokoma puts her fierce ambition partly down to her parents who are both originally from Port Harcourt in Nigeria.
Too many times on TV black characters are incredibly boring cos they're stock characters, particularly with women."
"The thing that I most recall is my parent's ridiculous work ethic. I remember I'd just picked drama GCSE at school and my dad did the best thing in the world. He called me into the room and handed me the remote and told me to flick thought all the channels. I did and then he said 'Can you please tell me where all the black people are?' It was like the biggest slap in the face, it woke me up. What he was saying was, it's going to be hard and even when you get to the state where it's going well you'll still be overlooked and you better be ready for that. What I got from my parents that you need to work hard and you need to work ten times harder because you're black and you're also dark skinned and a woman and you're working class."
Wokoma has refused to let these factors stand in her way and I can't help but be humbled by her relentless drive. At 28, the actor is wise well beyond her years, not to mention a sterling performer. Having delved into the beauty of A Raisin in the Sun and its artistic significance, Wokoma is categorical in her reason why people should see the play.
"People should come and see A Raisin in the Sun if they want to see a truly brilliant play. It's a no brainer for me."