Shani Pride – interview,
The Hollywood Success Worldwide Tour comes to London
Shani Pride has achieved great success as one of Hollywood's talented ingénues. Since her breakthrough role in the movie One Special Moment, the actress has gone on to appear in many feature films and countless TV roles. Having starred in hit series such as CSI Miami, Weeds and cult classic Charmed, Pride is much in demand.
The LA native has spent years honing her craft, and is now crossing the Atlantic to share her experience with London's vibrant acting community. Her global project The Hollywood Success Worldwide Tour will be kicking off in our capital on the July 2, 2016 [find out more]. Speaking to an effusive Pride about her upcoming tour, she explains that the event will include a number of seminars, workshops and individual exercises. As Pride puts it "The day is about giving people the tools and information to understand how to approach their acting career like a business."
Pride's innovative approach to industry success is deeply holistic. The actor explains that the day is focused upon the individual's purpose as an actor. She explains that she's "walked the walk" and this is the approach that has enabled her to reach her own acting goals.
"Understanding how to approach your life from a physical, spiritual and emotional perspective is vital to becoming a balanced and healthy person. Then incorporating that with the business aspect of it is transformative. If you don't have a driving force behind you, you can't pursue your goals."
The day is about giving people the tools and information to understand how to approach their acting career like a business.
Coming from the Mecca of the acting industry, Pride admits that rejection is a big part of being in Hollywood. The former athlete explains that the competitive nature of acting is why being focused and knowing yourself is so important. "There is a lot of rejection which is why my programme is so based on meaningful, substantial content rather than just being an actor. Of course there are those who think 'I just wanna win an Oscar' or 'I just wanna be a star' but if there's no bigger picture, you'll lose momentum and it's such a hard industry to keep motivated in. We get to the truth of who you are as a human being first and then expand beyond that, because that allows you to be able to handle rejection. Then when you have a bad audition or don't get a job, your perspective is clear. It's disappointing but it doesn't define you because you understand your main motivation."
When asked what her own motivation is, Pride laughingly shares: "It sounds ironic but my purpose in life is helping other people find their purpose in life. (Laughs.) So for me it's about philanthropy; giving back. Ultimately I want to build schools, I feel that education is the answer to so many trials and social issues. This programme is a form of education, because finding your purpose is a form of education in itself."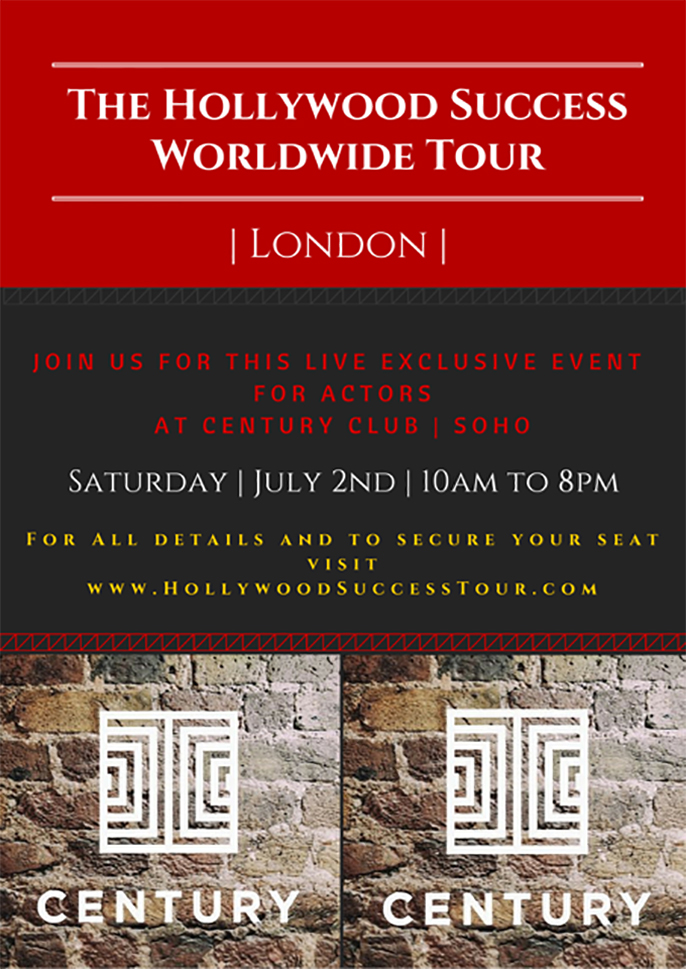 Pride's passion for motivation is obvious, during our interview she frequently compliments me on my choice of questions and is incredibly engaging. The educator puts this energy to great use by regularly mentoring at the Youth Mentoring Connection. She reveals that inspiring and enabling young people is her primary passion as "You can say one thing to a child and it can totally change the trajectory of their life." Pride's own trajectory made a sharp U turn during a ninth grade production of Guys and Dolls. Up until then, the artist's main ambition was to take part in the Olympics as a runner. She elaborates
"I was the Cigarette Girl, I had no lines, but the thing that was so amazing about that experience was that I was onstage the entire time in the wings. I was able to see the audience's reaction and how the play affected them so positively. That was it. I was bitten by the bug and never looked back."
We get to the truth of who you are as a human being first and then expand beyond that, because that allows you to be able to handle rejection.
Luckily, her parents were supportive of the aspiring artist's career change, and Pride went on to study drama at the Los Angeles County High School for the Arts and later graduated from UCLA. The philanthropist has rarely been out of work since, having starred in numerous ad campaigns and films such as Love Don't Cost a Thing and Prenups. When asked what her favourite role has been thus far, Pride answers reflectively
"I've enjoyed every role and learned a lot. As far as my favourite, that's yet to come. I'm working on several projects now, and so I will have an answer to that question within the next six months to a year. (Laughs.) For me, my favourite role will be one that challenges me beyond anything I've been challenged to beyond this point."
Having embarked upon her career straight out of UCLA, Pride believes she hasn't played such a challenging role as yet because she wasn't ready. Also as a young (and I as I point out, classically attractive) actor, there is a tendency to be typecast. "Often when you're young, the roles don't tend to have a great deal of depth. Most actors that we respect don't have their groundbreaking roles until they're older. For me, a dream role would be something like Aileen Wuornos in Monster. I look at Charlize Theron who's so beautiful and able to transform into a role that's so gritty and dark. So that is the type of role that I'm aiming for."
Pride's investment in the transformative power of drama has prompted her to make a documentary about artistic expression across the world. Having visited France, she is planning to continue filming throughout Asia and Africa, to explore how art can evoke a positive change in any community.
"I want to explore the connection between artists and humanitarian causes in all parts of the world, and how we're all connected and in tune with each other."
Pride's investment in promoting positivity through art is incredibly inspiring. It also challenges the idea of Hollywood being merely a commercial machine. The actor's introspective focus has not only enabled her to crack Tinsel Town, it has also enabled her to pursue all manner of life goals. Most significantly, Pride is eager to help other actors achieve the same. As an end note, Pride explains that people should attend The Hollywood Success Worldwide Tour because: "This is unlike any experience that anyone has had. I purposefully designed it that way because I want the person that arrives to not be the person that leaves. It's an event that will help you take your career to the next level and get you to wherever you want to be."
---
Info: The Hollywood Success Worldwide tour kicks off this Saturday 2 July in London. We have a special 2 for 1 ticket offer for Afridiziak readers – more information, here.