Racheal Ofori – interview
Portrait, Calm Down Dear Festival 2015, Camden People's Theatre
In 2013, Calm Down Dear made history as the UK's first feminist theatre festival. Now in its third year, the annual collection showcases unique dramatic work from provocative female artists. One such innovator is Racheal Ofori who will be presenting her show Portrait. The Italia Conti graduate intriguingly describes her solo show as "A satire of modern existence." Ofori goes on to explain that the production is based around the main protagonist Candice; an 18-year-old south Londoner who is pondering her place in the world.
"Usually she'd be applying for university and being nervous but her A Level results, but she's questioning the system and why we should go to school when there aren't any graduate jobs. She also toys with the idea of racial and social inequalities as she herself is very stereotyped as a black, urban teenager."
Ofori will be portraying several different characters in her show, including Ghanaian settlers, college mentors and American women. She explains that she wants to reflect different voices, which are relevant to Candice's experience. "As a young woman, Candice is contemplating what it means to be female and the racial inequalities that are so widespread. The other characters tend to be caricatures which embody what she is talking about."
It's different. It's poetic, it's funny, there's a bit of entertainment on the dancing front too
When asked why she has chosen to include the American perspective in this piece, the artist discloses
"A lot of this piece is based on my own experience and when I was growing up, there weren't many black women in the UK that I could use as references. Even now when you think of prevalent black women, you immediately jump to Rihanna and Beyoncé. When you think of black female actors, there's few British examples. The media is American heavy, you're constantly fed black female American stereotypes. The other characters in the play punctuate Candice's monologue. So for her, these are her references which is something that needs addressing."
Ofori will employ music, dance, poetry and monologue in her highly innovative work. She reveals a lifelong interest in poetry and explains that she wanted to use different techniques to make the issues raised more relatable.
"I found that poetry really worked as a form, you can relate things really effectively when they're funny and when you've got the flow of rhyme. It keeps the tone light and humorous whilst still addressing key subjects. For example I look at how women's ideals have changed over the decades, from us wanting to look like boys in the 20s to wanting to be curvy like Monroe in the 50s. As the piece got longer, the more lyrical style enabled it to flow."
Whilst Ofori's work is uniquely personal, she says she draws inspiration from various sources, including film and music. "I enjoyed the energy of Josephine Baker, I was interested in the way she made herself the class clown and that's how she gained notoriety. I admire Maya Angelou and anyone who embodies a sense of liberty in their performance. That's why I love James Brown; that uninhibited roar when he sings. Theatre is such an open platform so I am inspired by that liberty of expression."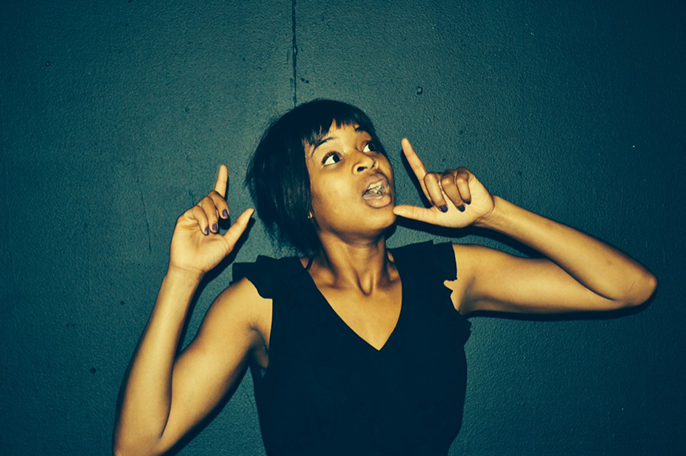 The Londoner admits that the show is largely based upon her own experiences; as such Candice shares some common features with the artist. Ofori is first generation British, her mother having left Ghana to start a new life in the UK. Candice is also of Ghanaian descent and Ofori explains that she was eager to present that common culture clash.
"Growing up, a lot of my friends had immigrant parents and felt that cultural gap. I wanted to make that Ghanaian connection and also specify this one culture and accent. There is a tendency for people to forget that Africa is a continent full of individual nations, not one block nation. So I wanted to avoid a generic African accent or outlook."
As well as expounding issues of self-image, Portrait also examines the pressing topic of stereotyping. Ofori reveals that a change of schools prompted her interest in this subject.
The poetry is clever and witty, and overall it's interactive and engaging.
"I went to a state school in Camberwell, called Archbishop Michael Ramsey, it doesn't exist anymore. It was a great experience, but then I got a scholarship to go to a private college in West Sussex and it was a completely polaric experience (Laughs.) In secondary school it was kind of this bubble. We were all the same, working-class kids trying to figure out the world. Then I went to this college where ski trips were the norm. So Portrait is an amalgam of that time in my life, discovering that the world was so much bigger than I had thought. Also, it was quite an eye opener to see the way this other group of people from a different background saw me. I realised people had preconceived ideas of me and I fitted into this new world in a different way."
Ofori is clearly ambitious and unwilling to be bound by such preconceived attitudes. She is also incredibly motivated. Upon graduating in 2013, she decided to circumvent the volatile acting world by creating her own work. Portrait was the result and the concept for the show grew rather serendipitously out of Ofori's third year dissertation. Rather than resting on her laurels after university, Ofori took her show to Camden People's Theatre as part of the first ever Calm Down Dear Festival. It was during the festival that she made links with Fuel Theatre Company. After a lot of dedication and hard work, this summer she achieved her dream of performing Portrait at the Edinburgh fringe.
"After two years of working towards Edinburgh, I was so excited to get there and the reception was fantastic. I had so much fun. Now, the dust is settling, and I can't believe that happened. Am so thrilled to be part of Calm Down Dear again and am really excited to be going on tour with Fuel Theatre."
Having received excellent reviews for Portrait, Ofori says she intends to continue with her writing. Having discovered a talent for satire in her debut show, Ofori now has her sights firmly set on writing comedy dialogue. But before Ofori makes her next giant leap, she has a national tour to complete. So before bidding this driven creative farewell, I ask why people should come and see the show.
"Because it's different. It's poetic, it's funny, there's a bit of entertainment on the dancing front too. The poetry is clever and witty, and overall it's interactive and engaging. My main aim in my writing is to connect people, and with this show you will connect in ways that you didn't think you would."
---
Info: Racheal Ofori's Portrait is showing as part of Calm Down Dear 2015: A Festival of Feminist Theatre. Book tickets