Paapa Essiedu – interview
RSC Hamlet
Actor Paapa Essiedu greets me with a warm embrace and the exclamation: "Let's hug, I'm feeling affectionate from the rehearsals." Certainly the friendliest reception I've received from an interviewee. I meet Essiedu in the RSC's Clapham rehearsal room, where preparations are underway for the new production of Hamlet. Having been cast as the title role, Essiedu says rehearsals are going "brilliantly, lots of fantastic ideas being shared, but it's exhausting." The actor describes hearing he'd been cast as "Amazing. A true feeling of elation and euphoria." Such was his excitement that he almost got run over by a bus on Holborn High Street, which he jokes would have been an ironic way to greet the news. Luckily the Guildhall graduate is unharmed and eloquently relates the concept behind the RSC's new offering.
"It's contemporary. It's set in an imaginary country that has influences from all the members of our cast and Hamlet is coming from a separate world into another world, which he doesn't understand. The play is about Hamlet being an alien and being isolated so we've worked hard to create that in a very visceral way. We use designs and music and all sorts to make it clear."
This is far from Essiedu's first foray into the Bard's work. Previous roles include the lead in Romeo and Juliet at the Tobacco Factory and Burgundy in the National Theatre's production of King Lear. However, the Walthamstow native says that he does not consider himself a classical actor.
Hamlet is an incredibly intelligent witty, mentally capable man. But he's also emotionally fragile, brittle, and volatile, which is something that I fully associate with flaming youth".
"The BA Acting degree at Guildhall can be considered classical training in some respects. But it's also broad and I'm drawn to many different styles of work. I'm interested in roles that are challenging and anything that teases out hidden parts of a person's character."
Essiedu goes on to describe how his training at Guildhall gave him "real grounding and a lot of different aspects of being an actor." Whilst the course included many different genres, covering disciplines such as TV and radio, Essiedu shares that the cannon featured strongly. He pays specific tribute to the school's Head of Voice, Patsy Rodenburg, describing the teacher as "an expert when it comes to Shakespeare, so it was a real blessing to have someone like that to ground you. The thing about Shakespeare is you never know how to do it. So many different schools of thought and so many different views and interpretations of it… It's a lifetime's work."
There has been a resurgence of Shakespeare's tragedy in recent years, such as the Barbican's production starring Benedict Cumberbatch last summer. I am curious what Essiedu believes makes this production unique. The 25-year-old swivels contemplatively in his desk chair before answering.
"I think something that will be important to our production is that he is young. He's a young guy. I think there's something that can be gained from that because Hamlet is an incredibly intelligent witty, mentally capable man. But he's also emotionally fragile, brittle, and volatile, which is something that I fully associate with flaming youth, (Laughs.) Before you get made mild by the cynicism of the world. There's something that's fiery about being young."
Having an age appropriate Prince of Denmark sounds ingenuitive. Essiedu himself embodies a characteristically youthful urgency. He uses lots of hand gestures and has a tendency to laugh mid-sentence as though tickled by his own stream of consciousness. He also has a stunning vocabulary, using many adjectives and often adding inflection for comic effect. He continues his analysis of the play by saying:
"It's going to be a thrilling production. It's not the full five hour epic, it's still the vast majority of the play but we want to keep it lean and keep it clear, so a 10-year-old that comes to watch this play for the first time or an older person who comes to watch it for the first time will be able to understand and gain from it."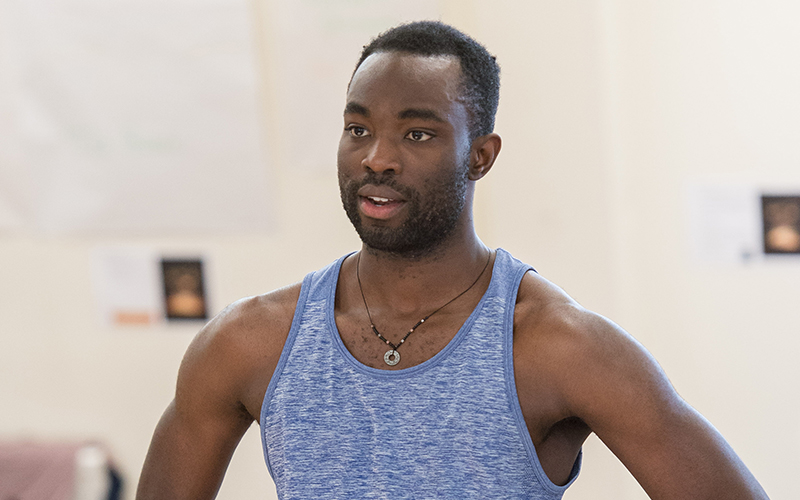 Essiedu has previously worked with the RSC as Fenton in the Merry Wives of Windsor, but this is his first experience of working with director Simon Godwin and he is full of praise for the dramaturgist.
"One thing about Simon Goodwin is he's probably the most collaborative director I've ever worked with. To the extent (Laughs) that if you didn't know him better you could mistake him for coming into the rehearsal room with nothing. He is so receptive and so open to ideas and so brilliant and quick at weaving different concepts together to make something concrete. I think he trusts his genius, because that's what I think he is; he's genius at what he does."
In his four years as a jobbing actor, Essiedu has achieved great success in his craft. As well as his television work including Channel 4 comedy drama Not Safe for Work, the actor has performed extensively onstage. An especially political role was that of Gabriel in Anders Lustgarten's Black Jesus. The play set in Zimbabwe focused on the use of child militia in the early years of Mugabe's government. Essiedu defines the work as "a brilliant play – incredibly powerful and intense, touching upon a vital issue. I did it with Cyril Nri who's playing Polonius in this production."
People who haven't seen Hamlet before should come and see it because it's an incredible story that touches upon almost all aspects of the human psyche. It will tap into inherent parts of you because it's a magical piece of work. People who have seen it before come and see it because you're going to see that play in a way you've never seen it before.
The artist admits that his flourishing career has some drawbacks, such as a lack of free time. When asked about his other interests, the actor laughs. "At the moment it feels like there's nothing else. It can seem like I'm at rehearsals all day, going home, learning lines, going to bed, waking up. But I live in a great house with a bunch of other actors, so it's a creative and empathetic environment. Actually me and the guy who's playing Horatio (Hiran Abeysekera) have recently started doing rock climbing, and it's good for keeping yourself fit, which we're all going to need for the year ahead."
The Ghanaian heritage Londoner is in demand. He has received fantastic reviews for his stage work, and his notoriety increased after he had to step in as Sam Troughton's understudy to play Edmund in King Lear in 2014. But Hamlet is such an iconic part, often considered to epitomize the human condition in drama. I ask Essiedu if he considers Hamlet to be the ultimate role for an actor and he shrewdly responds:
"If it was that then I'd have to quit acting (Laughs.) I think the thing that attracts people to it is that the character is a virtuoso. I was watching an interview with I think Orson Wells and he said that 'Hamlet is a play written by a genius about a genius.' I think actors are inevitably attracted to how agile his mind is and the huge dichotomies that exist inside him, whether to live, to die, to act or to be silent."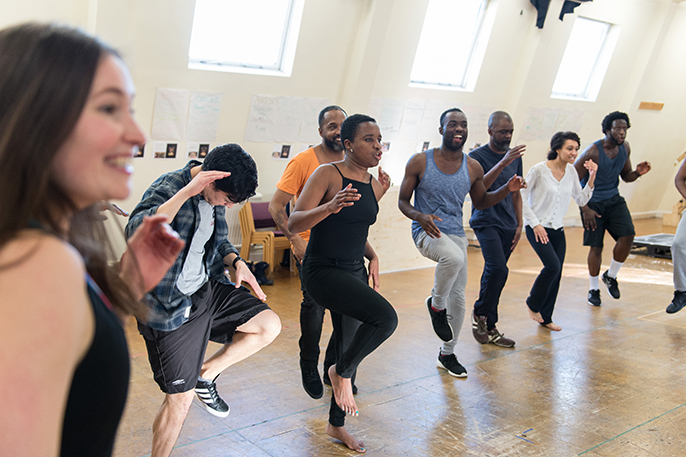 Essiedu has had to make some rather fundamental life decisions himself. Having been awarded a place at UCL to study medicine, the teenager made the leap from aspiring doctor to aspiring actor after taking a gap year. He describes his break as "the most stereotypical gap year." He travelled around Europe and South East Asia as well as working as a charity street fundraiser. Essiedu looks back on this time positively and reflects upon the pressures that are placed upon adolescents today.
"I think all of it was crucial to my development as a person. I think everyone should take a gap year. Fourteen years of education consecutively is enough to send anyone doollally. Today kids are put in a position, where they've got to figure out what they want to do with the rest of their lives so early. At 14 you're choosing your GCSE subjects. At 15 you're choosing your A levels and then university. I didn't know I was gonna be an actor, but I chose to do A level drama and after my gap year decided to apply to drama school. Much to my mother's chagrin."
As a young man, subject to family pressures and personal developments, I wonder how much of himself Essiedu has put into his portrayal. He concedes:
"A lot I suppose. Another person said that, 'You don't play Hamlet, Hamlet plays you.' Every person that pays it is going to have their individual own interpretation and that's going to be infused by their own sense of personality and character. He's such a three dimensional human that Shakespeare's written, so I think it's inevitable that you're going to puta lot of yourself into it."
Whilst casting a young actor in the role of Hamlet is a rarity, casting an actor of colour is even more of a rarity. Although not unheard of (Adrian Lester received phenomenal acclaim for his Dane in 2000) it is unusual. In particular, highly established theatre companies tend to be predisposed towards white actors in their casting choices. Upon being asked if he thinks being cast as the title role in the RSC's Hamlet is significant, Essiedu replies expansively:
"If it is significant, the significance lies in the industry as a whole as opposed to inside our production. In the industry, for the last 25-30 years we've been doing ethnically diverse plays and TV shows and films so I suppose it should have happened before now, I think it's exciting that it's happening now. To be honest, it's more about the lens through which people are willing to tell stories. A story like Hamlet is universal it could be told through the eyes of an English aristocrat, it could be told by a native Indian, an ancient Chinese person. It can fit into so many different molds. It only serves to keep the public interested and satisfied to give them a variety of different lenses through which to see these stories. So in that way I think it is significant and will hopefully help people connect with the play in a way they haven't before."
The actor strikes me as ambitious, intelligent and highly energetic. Incredibly enthused by his current role, he gave fascinating insights on the character and human nature. Before he returns to the buzz of the rehearsal room, I conclude our interview by asking Paapa Essiedu why people should come and see Hamlet.
"People who haven't seen Hamlet before should come and see it because it's an incredible story that touches upon almost all aspects of the human psyche. It will tap into inherent parts of you because it's a magical piece of work. People who have seen it before come and see it because you're going to see that play in a way you've never seen it before."