O-T Fagbenle – interview
Ma Rainey's Black Bottom by August Wilson
National Theatre
How does one go about describing the multifaceted specimen that is O-T Fagbenle? The Londoner is a writer, producer, director, musician and actor. He also has the longest eyelashes I have ever seen not attached to a baby deer. Lashes aside, the artist has shown phenomenal talent across a staggering range of artistic disciplines. Last year his short film M.O.T.H (Man Of The House) won the best horror/sci-fi award at the London short film festival. He also collaborated with friend Stefano Moses in writing the hit track Storm for US rap sensation, Tyga. Currently flexing his acting muscles, Fagbenle is performing in Ma Rainey's Black Bottom at the National Theatre. In preparation for his role as Levee, whom he describes as "a narcissistic megalomaniac who is on the verge of a nervous breakdown." Fagbenle spent several months in New Orleans soaking up the bluesy atmosphere and speaking to jazz musicians.
Fagbenle's commitment to the role may be partly because it is one he has always wanted to play. He describes his first introduction to August Wilson's piece when he was studying at RADA.
"I first did a speech from this play for our contemporary text class run by Lloyd Trott. I fell in love with the part there, and weirdly enough I have been trying to find an avenue to put the play on. So when I heard that the National Theatre was doing it, for my money the greatest theatre in the world, I did everything I could to come and meet Dominic (Cooke-director) for it."
When I go to the theatre I want to be moved to laughter, moved to thought, moved to emotion and Ma Rainey gives you all of that
The Looking star professes that he would take the seminal work of August Wilson over Hamlet – a bold statement for a classically trained actor. This leads me to ask what Fagbenle considers so significant about this play.
"It works on so many levels. It's an entertaining play, it has great music, the characters are entertaining; so on the basic levels of enjoying a play, it just works. But then there are the deeper philosophical levels that the play works on. It has a subtle but present look at the dynamics between those who have power and those who don't."
Fagbenle continues his analysis of the work in between bites of his vegetable curry, having recently turned pescatarian. He shares that the change is part of a five-year plan to go vegan. Despite my pleas, he selflessly lets his lunch go cold in favour of eloquently answering my questions.
"I sometimes think of this play almost as a metaphor for how riots come about. People who are disenfranchised and angry with society and that feeling bursts out into the streets. The tragedy is that the people who are most badly affected by that are the people in their own community. It's within their own community that the windows get smashed and the looting goes on. I think there's something we often miss when we look at circumstances like this is looking at the sub textual power dynamics that facilitate something like that."
The play is set in 1927 Chicago and is a fictionalised memoir from the life of Blues legend, Ma Rainey. The work follows Ma Rainey's journey of recording her famous track after which the play is named. Whilst the play centres on the Blues star, played by Sharon. D. Clarke, it is very much an exploration of this prodigal era. As Fagbenle points out, there are many similarities between Ma Rainey's world and the world of today.
"I'm always fascinated by what the parallels are with today. We have a tendency to either nostalgise the past or make it into a horrific thing, but more often than not we find there are similarities. Once again in power dynamics, the way music producers exploit young artist is something we see today – also the power of celebrity. There's loads of things that are unique about this period in US history; prohibition, the industrial boom and racial politics as this is before the civil rights era. Many people would have had parents or grandparents who were slaves. It is also fascinating to think about racial politics pre-civil rights. It is sometimes a bit of a jump to put your mind in a place where people can be hung. Jesus Christ was nailed to a cross, these people were being hung publicly with no trial in a relatively modern era."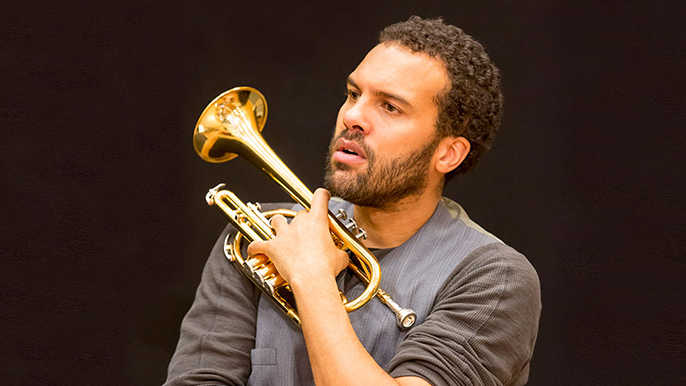 Delving into the power dynamics of wealth and the arbitrary racial divides of the period, the play presents various perspectives from the era. Fagbenle's character Levee is an industrious trumpet player, lured by the emerging Jazz scene. The artist explains Levee's complex relationship with Ma Rainey, played by Sharon D. Clarke.
"He's impressed with the way Ma Rainey wields her power; she seems to have superceded her race through her celebrity and that's attractive to Levee. Ultimately Ma Rainey is the old and Leve is the new. Leve is trying to burst into Jazz and Ma Rainey is stuck in Blues from his perspective. So in a way, he wants to metaphorically kill his sensei. He wants to usurp her and take her place."
Levee's fierce ambition is certainly something he and Fagbenle have in common. As a child, Fagbenle toured the Edinburgh festival with the South Coast Jazz band, going on to star in hit series such BBC's The Interceptor and has received incredible reviews for his stage work including his portrayal of Sportin' Life in Porgy and Bess. His work as a writer has gained considerable momentum since M.O.T.H. and Fagbenle is developing a show for the BBC with his brother's company Luti Media. Fagbenle neatly avoids telling me anything about the project, but does reveal that writing is something he's passionate about pursuing.
"One of the things I'm excited about right now is venturing into that sphere of creating original content and getting diverse voices out there and telling the weird and kooky stories that are in my head. Sounds like a blast."
When I point out how impressively varied his work has been, Fagbenle humbly thanks me.
"I appreciate you saying so, diversity of work was one of my ambitions. It's been one of my greatest blessings to have that breadth of experience. I love to be able to try my hand at the diversity of my art."
Upon being asked what has motivated this desire to try everything, the artist shares that as a teenager he studied at an African theatre company run by theatre practitioner Rufus Orishayomi. "That was my first grounding in professional theatre. We would dance and we would sing and play drums, sometimes we'd help build the sets. So I guess I was brought up in a tradition that didn't divide up different sorts of expression. Telling the story would manifest itself in dance, or comedy or song so that was very natural. It would seem weird to then pigeon hole yourself."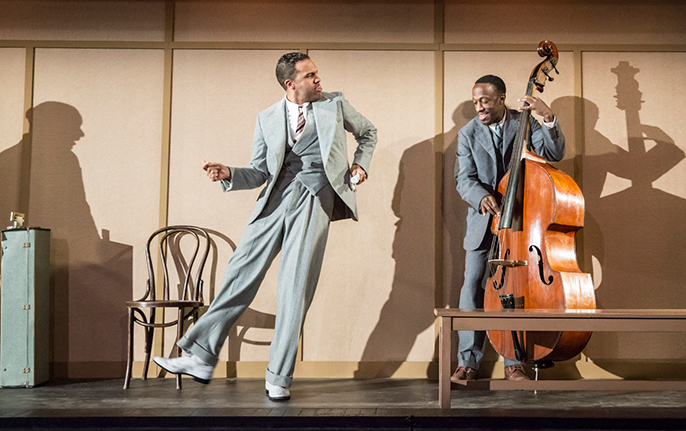 Ma Rainey's Black Bottom works on so many levels. It's an entertaining play, it has great music. It has a subtle but present look at the dynamics between those who have power and those who don't.
Fagbenle gives careful consideration to each question put to him, turning his eyes heavenward with a contemplative 'mmm' before responding. In particular his response to my question whether he believes music was a relevant part of the civil rights movement shows deep introspection.
"Often I question myself about what I do, am I giving enough to society? Is what I do enough when there are people dying in wars and famine when I'm entertaining? I vacillate between the two and there's a spectrum of art, and some of the ways that it helps is tangible and some of them aren't. Ultimately there is a spiritual strength given to people through music, through hearing their stories told back to them. But also there are songs, which are explicitly political. More recent examples would be Bob Marley, or Marvin Gaye, which increased knowledge of certain political situations. So I think there's various ways in which music does play a huge part in galvanising people and getting them know that they're not alone in their struggles."
2016 is set to be yet another big year for Fagbenle. He has completed filming for Sky crime drama The Five which will be broadcast later this spring. He will also be continuing work on his mysterious programme for the BBC and hints that he has various projects in the pipeline.
I ask him why people should come and see this play?
"Because it's a lot of fun and moving. When I go to the theatre I want to be moved to laughter, moved to thought, moved to emotion and Ma Rainey gives you all of that."