Michelle Inniss – interview
She Called Me Mother
Michelle Inniss' new play She Called Me Mother breaks new ground in more ways than one. It is the debut show from Pitch Lake Productions which Inniss founded with actor Cathy Tyson (read interview) and director Cara Nolan. It is also the first show to be commissioned by national consortium, Black Theatre Live (read story). But what makes this show such a pioneering piece of work is the poignant subject matter. Described by the playwright as "A walk in the life of a homeless woman" the play explores the life of Evangeline Gardner – a 70-year-old Caribbean woman, living on the streets. The revelation that this tale was inspired by a real person makes the show all the more significant. Inniss explains
"My mother had suffered a stroke and to visit her I used to pass through London Bridge station. There was this Caribbean woman selling the Big Issue. I was brought up to call elders 'auntie' and so when I first addressed her, probably because I was so worried about my own mother, instead of saying 'auntie' the word 'mother' came out of my mouth. Her face just lit up and after that whenever I saw her, she'd always want to give me something. She'd go into her bag to find some sweets for me or something. We'd literally chat about the weather and things like that. I never got to know anything about her life or how she came to be homeless."
The presence of black people in the arts is still underrepresented. This piece is written by a woman of Caribbean descent, starring an actress of Caribbean descent and is about an elderly woman of colour.
Inniss' motivation for the piece comes from a deeply personal place. In her lilting Liverpool tones, the writer describes a touching encounter between herself and this woman. "When my mother passed away, I was going through the station and was clearly upset. When the woman asked me what was wrong, I told her what had happened. She went to her trolley, picked up some change and told me 'Go and buy some flowers for your mother.' I said 'I can't take that from you.' But she insisted."
Inniss relates how she bought a single white rose from a flower stall in the station arches. A droplet of water resting on the petals stirred the writer's imagination. "I put the rose in my winter coat to protect it. When I took it out at the chapel of rest, the droplet was still there. It just got me thinking, why was this women there? Why was she in London Bridge station? She's an elderly Caribbean woman, where were her family? Where were her loved ones? What could have happened to leave her in this situation? After that, this was the only thing I could write. I just imagined a life for her – a life before she was homeless and the events that led to her being there now. I created a past and a daughter for her and the play centres on that relationship."
With an estimated 2,500 people sleeping rough in England each year, homelessness is a real problem. Yet it is rare to see this disenfranchised social group represented in drama. The isolation of old age is also a topic usually shied away from. But Inniss has decided to confront these elephants in the room by placing them on centre stage. The writer has conducted a great deal of research for this piece, working with homeless charity St. Mungo's.
"I contacted St. Mungo's to find out more about homelessness in Britain and we're hoping to raise money for the charity through this play. Everyone within Pitch Lake has done research into this subject. We also contacted Cardboard Citizens, which is a theatre company, which creates productions with homeless people. The actual demographic of the homeless community, in terms of age and ethnicity is hard to determine. But a huge survey has been conducted called Rebuilding Shattered Lives. Lots of different agencies, such as rehabilitation charities, domestic abuse centres and immigration agencies have come together to produce a true picture of the situation in the UK. It's especially focused upon women, as the number of women sleeping rough is rising each year."
As well as raising awareness of indigence, representation and inclusivism are primary concerns for Inniss. Her company Pitch Lake Productions aims to create leading roles for BAME women and extend diversity within the arts. The writer explains that the company bloomed quite incidentally through developing this play. "Cathy (Tyson) sent me the email with the application for Black Theatre Live and that was only at the end of last year. We worked really hard on it, then the director Cara Nolan came on board and we successfully pitched it to Derby Theatre and out of that came the company."
The show will be starring Cathy Tyson, but this is not the first time Inniss and Tyson's paths have crossed. The pair were at school together in Liverpool and Inniss is delighted to be working with her old school chum. "It's lovely. We've stayed in touch through the years and it's great to reunite as Liverpool 8 girls. (Laughs.) Also, my mother was from Trinidad and the show is written in the Trinidadian vernacular. Cathy's family is also from Trinidad so having that understanding of Caribbean language and the humour is really important to the piece."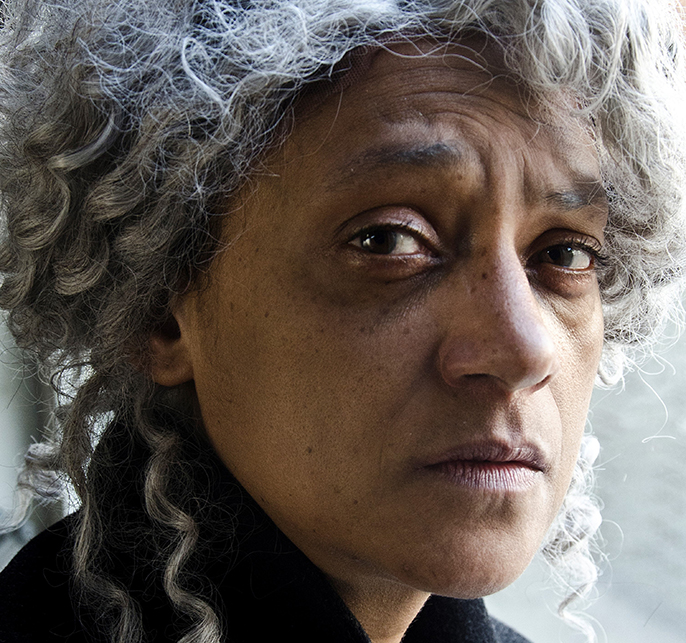 Hopefully this play will make people think and realise that just because you're homeless, you're still a human being."
The writer and Spanish teacher seems to be on a solo mission to further diversity in the arts. With this is mind, the show will be touring in association with Black Theatre Live. This national syndicate of touring theatres aims to promote new work from BAME writers and companies. Inniss expounds the significance of the organisation and is passionate about getting quality productions to audiences outside the capital.
"Black Theatre Live is significant in taking good quality BAME productions to the regions. I think sometimes we're very spoilt in London. We have access to a lot of things and when you go even a little way out of the city things change, sometimes quite dramatically. So I think BTL is brilliant in that sense. Also their commitment to representation – BAME people in the arts are still underrepresented. I am of Caribbean descent, my play stars actresses of Caribbean descent and is about an elderly woman of colour."
In writing this play, Inniss has addressed so many critical issues in one fell swoop. Attitudes towards race, homelessness, women and old age are all explored in this brave new work. I find Inniss' commitment to change inspiring. With the national tour kicking off on October the 8th, I ask Inniss why people should go and see She Called Me Mother?
"To have that experience. To be able to spend a moment walking in the shoes of this woman and feel her longing and fear of seeing her daughter again. I think that it will give people some insight into the people that they pass by. The people they glance at, then turn their head because they don't want to think about their situation. Hopefully this play will make people think and realise that just because you're homeless, you're still a human being."