Kirsten Childs – interview
The Bubbly Black Girl Sheds Her Chameleon Skin
We caught up with playwright and songwriter Kirsten Childs for a brief chat about her current work, writing, inspiration, and musical theatre. Childs' first effort at writing for a musical was for The Bubbly Black Girl Sheds her Chameleon Skin (see listing), the story of a girl who grows up wanting to be a dancer. It debuted at Playwrights Horizons in 2000 and won her an Obie Award. The play is now being performed in London at Theatre Royal Stratford East (more info).
Childs first started writing musicals as a response to the lack of meaty roles for black actors. When she was a young adult she went to New York and auditioned for one of her first jobs. Secretly she didn't know if she could do it and was hiding her real lack of knowledge about stage musicals. She had watched many on TV but had never been in a play or really been to see many plays as the theatre was not accessible within her community growing up. In New York she was surrounded by people who had studied theatre and knew so much about it but she was an undercover novice when and wanted to find out what she could do.
When she started out on the stage she was once in a show full of black actors but the play itself was originally constructed for a white cast and a white audience, as most plays have been historically. This specific performance was a Comedy of Errors and she had never seen so many black people in such meaty diverse roles. Usually black characters were limited to 'the help', drug addicts, or criminals and at that time in her career it was a great experience to see all the black cast in such varied roles and this was an early inspiration for her.
It was at this point in her life that she decided that she wanted to write for a black audience with black characters. At the time, there were not a lot of roles for black people when Childs was starting out in the industry and she was met with a lot of naysayers who didn't believe in her vision. A lot of people from her own community tried to discourage her vision and keep things the way they had been for so long.  Childs focused on her vision of creating new roles and jobs for black actors and changing the way they had been represented in the industry.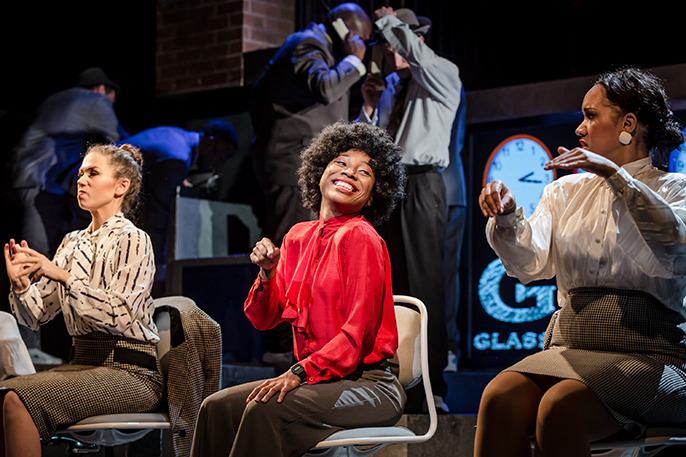 Childs revealed to me how powerful musicals are to her, they transport her to another place and time. Growing up watching movie musicals with Doris Day and Julie Andrews when she was a child gave her the musical bug, she loved these performances and seeing how women came alive on stage and screen, but they were always white which was not reflective of her reality or community. She remembers watching a televised version of Cinderella and the lead female character stating 'I can be whatever I want to be'. This was a powerful thing for a young girl to hear but being black this was something relatively unheard of. In the black experience you couldn't be whatever you wanted to be, but in that moment she really believed these words and this was a powerful shift in her reality.
When Childs wrote The Bubbly Black Girl she wanted to convey the black experience and tell the truth about what is going on in our communities. Truths about race, class, gender in America that she was afraid to tell, for fear they would destroy her and those around her. Truths about, the killings and injustices against black people, racial profiling, segregation, sexism and internalized racism.  Colourism in the black community is a very real thing and she wanted to deal with this issue in the play. People couldn't always talk about these things openly, not just because they were trying to avoid the issues but also to save themselves as they didn't want to bring more attention their way. Being black is enough to make you stand out, so talking out about the things that affect you as a black person can be difficult and challenging. Silence sometimes is and was a form of self-preservation.
Musicals don't have to be fluffy or cute, they can be serious weighty things that handle serious and weighty real life issues. They can handle tough issues and have an impact on the audience, if you allow yourself to be open minded.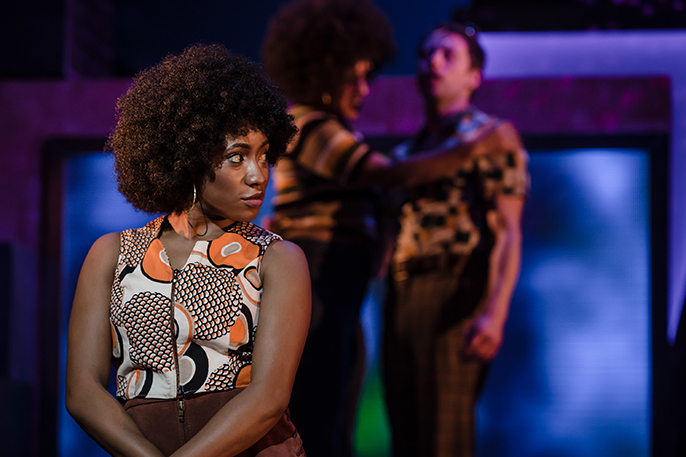 I asked Childs what impact she hoped to have when she writes her musicals. She told me that she honestly did not even think about the impact that she would have on an audience when she first started writing, she wanted to entertain an audience and just wanted them to enjoy her work. There were things she wanted to highlight in her work, things that were never normally openly discussed within the black community and she wanted to bear witness to them and talk about them. The first time she realised that she had made an impact was when an Asian man saw Bubbly Black girl and at the end of the performance came up to her and said that this was his story too. This revealed to her that we are all going through something and her work was important and needed to be shared cross culturally.
Currently she is working on a new production with Playwrights Horizons, a play called Bella. The inspiration behind this production came after a morning when "I was walking down the street and I saw this woman with a really eye-catching figure," Childs says on the phone from New York.
"She was with her man and she was so extra curvy, especially from behind. And what caught my attention was the way every man, from every race and background stopped and looked at her. I knew I wanted to write about her and tell a larger-than-life story about a larger-than-life woman." Bella is scheduled to run in New York this summer, watch this space for it to hit London.