Gina Yashere
Underbelly Festival
Gina Yashere took time out of her day to talk to Afridiziak about what has been going on for her Stateside. She's currently staying in south London with her best friend until the end of her stint at Underbelly in London's Southbank in this weekend.
How long are you here in the UK with us?
I'm going straight back to New York after Underbelly (we both laugh) I've got stuff to do back home, more work and things I have to get home for.
Yashere's proper East End accent has not been tarnished after her time in the States and her raw humour made me laugh as soon we started speaking.
Underbelly is always a fun show to do and I love it, I always do it every year although I just had a two year break but I'm happy to be back doing it this year. It's great to be a part of it. This year I've got new stories to tell the audience, loads of new things to talk about so I'm looking forward to it.
How do you prepare for shows like this?
It's organic, whatever life throws at me on a daily basis I write down and then I throw it out there when I'm on stage, that's basically it. It is a very simple process.
You make it sound so easy but it's not, you have a natural talent for making people laugh.
Yeah I mean I've been doing this for a long time so my brain automatically knows when something is going to be funny and when something is going to be material. Then I take it to the stage.
You're also hosting Sommore's gig, her first ever gig in the UK this coming Friday (the 16th June). Sommore is the American actress and comedienne who you may know from films such as Friday after Next (2001) and Soul Plane (2004). Did you put her up to coming over the pond?
Nah, I mean there is an audience everywhere and if you're a comedian worth your salt you want to go everywhere to perform. Same as I've gone out there, she's coming over here. It's the sensible thing to do really there's an audience over here so it's a no-brainer really. But to answer your question I've never actually met Sommore, so this will be the first time we meet in London. We know of each other on the comedy circuit but we've never had the chance to meet.
Underbelly is always a fun show to do and I love it. This year I've got loads of new things to talk about so I'm looking forward to it.
How this came about was that her manager contacted me a while ago and told me that Sommore wants to come over to the UK and they knew that I'm a big name over here, I am one of the biggest black comics in the UK, and they asked me if this was something that we could do together and I was like yeah sure. I'm up for introducing her to the UK audience, definitely up for that. And when Kennedy of Harmony Productions started putting the show together I was the first person he called and I was like yeah let's do it. I'm going to be in the UK anyway doing my Underbelly show so yeah it works out perfectly.
Sounds brilliant – a great fit for both of you. Well talking about the States that brings me to my next question. Obviously here in the UK we recognize that there is a lot more opportunity for black and other ethnic minorities in entertainment and media over in the US. But how did you know moving out there was going to work for you? You sold your flat and possessions; you gave up a lot and took a big leap of faith when you moved out there. 
Ha! I didn't know. That's the whole point of exploration I had no idea, all I knew was that it was something I really wanted to do. My thing, my mission in life is always to do what I want to do, to try everything. On my deathbed I want no regrets, I want to be able to say you know what I did it I tried it. If it works it works, and if it doesn't I can still say well you know what at least I tried. I gave it a go. I never want to go "what if?"  I never want to regret things. If things work out great if not move on to the next thing. And I have always wanted to live in the States, even when I was a child I wanted to live in the States.
I remember saying it when I was six-years-old. My mum will tell you, when I was sixI used to say to her – "but why Bethnal Green? Of all the places in the world that you could have gone you couldn't go to Miami? You couldn't at least let me have some fun and a beach?!" I used to say that to her all of the time. I was like you could have gone to America when you left Nigeria, I could have been in LA, or Miami somewhere hot and sunny with a beach. So since I was a child I knew that I wanted to be in America and that never changed so it was inevitable that I moved out there and still live there.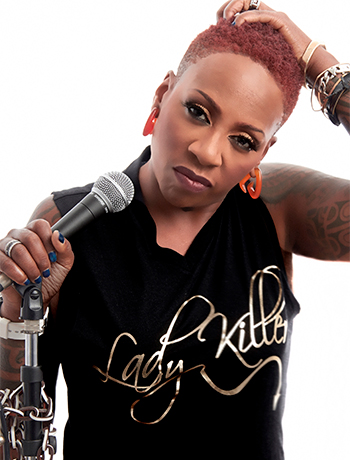 What was your first month in the States like?
I was in LA at the time and the weather was nice. I remember thinking I can't believe I'm living in Los Angeles! I'm in the sun, I'm in America, and this is my dream. I was excited. The first month out there I knew nobody, like absolutely nobody. There was a local farmer's market where people go to eat and shop and sit around, I used to go there to buy my food and sit and eat all day just reading and people watching. Then in the evening I would go to a local comedy club and sit in a corner and just watch other comedians and see if I could get on. That's basically what I did everyday for my first 6 months in America.
What was your first break in the US? 
My first break was Def Comedy Jam.
Wait you went big straightaway, excuse me if my research is rusty but you went big like that straightaway?!
Well yeah I suppose so. I mean look at that time I had been doing comedy here in the UK for 10 years so it wasn't like I was a beginner so when they called me I was like yeah damn straight you should be calling me! I'm good!
Nice I like that confidence. 
You know what I mean, I knew was good. That was my attitude. I was at a comedy club, an urban comedy club and they were show casing comedians for Def Comedy Jam and I just turned up to see if I could get on. At the time Damon Wayans son, who is also called Damon, Damon Wayans Jr, went on and he destroyed that s***, absolutely killed it, smashed it. So at the time all of the other comedians were like oh no we don't want go on after him. Obviously they're all there showcasing for Def Jam so they don't wanna go on after that and then flop after he smashed. But I was like f*** it, I'll go on. I don't give a s***. I was ready, I'd been doing it for 10 years so I knew I was good at this I don't care who's been on before me, I'm good at this in my own way. I got on there did my thing and I smashed it!
I love that! 
I don't think Russell Simmons was there that night but Stan Latham was there the guy that booked it and that night he asked me "are you going to be here or are you going back to London?" I said no I live in LA now. Ha! He asked for my number and then 2 days later I got a call and they're asking for Gina Yashere saying "Hey we'd love to book you for the new season of Def Comedy Jam." And I'm like ok cool (in her broad East End accent) but how much are you paying me?
We both crack up laughing. 
Yeah that was it, I was so cool about it and that was it. I'd done a million stand up shows so I wasn't scared or overwhelmed I was ready. I knew it was going to work.
I love that, you had that confidence, that real belief in yourself. So fast forward to today and you're living in New York City, what made you choose New York?
When I was in LA I loved it, the sunshine the lifestyle, loved it. I had the lovely two bed apartment with a roof top pool, had all of that. The lifestyle was amazing but the comedy was s***. The comedy clubs were rubbish it was all full of actors pretending to be comedians because they thought that was a way on to TV. Everybody sees stand-up now as a stepping stone to getting on TV and then in to the movies. You couldn't make any money in LA cos the comedy clubs weren't really paying you as their mentality was that if you get on stage and get seen by a director and then get discovered, well then you're in the movies so they thought they were doing us a favour. And I was like NO MOTHERF*****! This is what I do for a living you ain't doing me no favours, this is what I do.   You can't expect me to do what I do and you're not paying me.
I would go to a local comedy club and sit in a corner and just watch other comedians and see if I could get on. That's basically what I did everyday for my first 6 months in America.
The bar staff are getting paid, the waitresses are getting paid, the security is getting paid, everyone else working here is getting paid but me. But yet it's the people on stage doing the comedy that are bringing in the crowds and the money that is paying all of these staff and I'm the one not getting paid. The audience have paid to see me and I'm not getting paid?! So I was like I need to go somewhere else where I can get paid for this. I was constantly getting on planes going to different places to get my money and then just coming back to LA and sunbathing.  At the time I was going to New York every year and I'd go there for about a month and my pockets would be bulging with money and then I was just thinking why am I coming to LA where I don't get paid when I can be in New York where I can be making a gang of money. So I just said to myself I'm outta here and gave up the pool and the flat and moved to New York. It's been fantastic ever since.
That's brilliant and smart, I respect that. You have to get that money. Your fanbase is international, you're always travelling, I follow you on Facebook and you're always jet setting somewhere new. Where is the strangest place that you've been asked to perform? 
So a few years ago, I was doing shows across Bali and Indonesia, great shows, they were good fun. Then one time this guy, a bit of a geezer, English geezer, he owns a few hotels in Indonesia and he says to me "I f*****g love what you do and I got this little hotel on an island and if you come and do a show for me I'll let you stay for a whole week for free". So I was like DONE! I called my best friend in London and told her you need to book a flight and get out here quick I've got a hotel for a week, meals included all free! She hopped on a plane and was there 2 days later. This place was a tiny little island off the coast of Indonesia called Gili Trawangan. They have no cars and no motorbikes; everyone gets around by bicycle or foot or a little horse and carriage. There are a lot of diving instructors and people go out there to dive and then get pissed at night and have a good time.
Did you dive? 
Ha no. It's so funny. It was the first comedy show that they'd ever done and they set me up on a little stage with a marquee and I was 30 feet from the ocean doing a show for 100 diving instructors and divers. I opened up the show with "I can't believe I'm on this island, I can't swim for s*** and you lot aren't getting me in that water." So many instructors offered me free diving lessons and I never did it, I was like no you're alright. I've done it once like 10 years ago in Mexico and for me that was enough, I am not doing it again. The rest of that week on the island myself and my best friend spent chilling out by the sea, eating the fresh fish that the local fishermen had caught. It was lovely. That will always be one of my favourite gigs.
You've got a new gig now, congratulations on your new spot on The Daily Show with Trevor Noah as the Brexpert. What are you going to be bringing to that what are you going to be saying about Britain and Brexit? 
I've done it I started back in March.
Was it a one off? I thought it was a recurring slot!
Yeah it is, but it's not always about the same thing so I've talked about Brexit and then the Elections and whatever is going on I'll be covering. I'm not just going to be doing British stuff I'll also be doing European stuff and LGBT stuff and whatever I can talk about.
I see. Well that leads me into asking you about something more personal. So in regards to LGBT 'stuff' when did you decide to come out because you haven't always been out as it were, well in your comedy anyway. When did you know you were ready to talk more openly about something quite private? 
It wasn't a particular day that I said I'm ready to come out. I mean I'd always been out, all of my friends and family knew so it wasn't a big deal. But I was like you know what in this industry I've got enough counts going against me. Being black, being female, and I don't look like Halle Berry, and looking at me I wasn't the most feminine do you know what I mean? I did not need people to put more labels on me. So that's why I never really talked about it publicly. The thing is I'm not the sort of comedian who talks about sex a lot I don't really talk about personal bedroom things like that. I've always tried to sell myself as a different type of comic and do the stuff that people weren't really talking about.
To be fair it's no-one's business really, it's because you're in the public eye people want to know everything about you. 
Yeah and to be honest I'm not that interesting. The fact that I'm gay is not that interesting . I'm in a long term relationship and we do normal things. I'm not one of these people that sleeps around, it's not my thing. My life is kind of boring . Me and my girl we live in our house in Brooklyn, we do daily things, we go shopping and eat and do normal everyday stuff that people do. I've never thought to talk about that side of my life as it's normal and not that exciting. I'm just a normal person. But it got to a point where people who didn't know me thought that I was hiding who I am and I was like no I'm not hiding who I am so f*** it this is who I am, take it or leave it.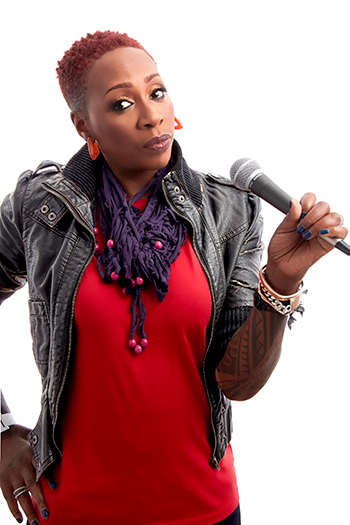 What you've done is inspiring especially to the youth, it is ok to be who you really are. Have you had a lot of positive feedback about it? 
To be honest it's not been a big deal I'm not one of these people running around saying ooooh look at me I'm gay! Laughs. No I'm not like that. In one of my shows I just dropped it, yeah I'm gay there you go. Boom! My audiences still come out, I haven't noticed a loss in audience or a change. Gay people have been coming to my show before and they'll still come out. Black people, who are open-minded, have been coming and will still come. The people who don't give a s*** are going to come out and have a laugh no matter what and that's what it's about.
So in terms of the scene in the UK, how do you think things have changed or improved for black people and other ethnic minorities trying to perform and do comedy? Do you think things have progressed or are things still backward? Are we still waiting for Sir Lenny Henry to retire? 
Yeah I think it's still backward. How many black comics have got their own show on TV right now in the UK? Tell me how many.
*I sigh because I can't think of any. I rack my brains.* Erm I can think of Michaela Coel and she's not got a stand up show her show is a comedy series. No I can't think of any.   
Exactly. I mean you can count 700 white guys who have a show on TV but you can't think of one black person right now who has their own regular show on TV. It's like black people get one chance and if we don't get massive viewing figures immediately they're like ah you see black comedy doesn't work and then that's it, your chance is over.
Yeah that's because they put the shows on at midnight when we're all asleep. Wait Javon Prince had one. But yeah that's finished. There's no one I can think of right now. 
Exactly! And then these white guys get chance after chance. It's like oh that didn't work let's try this. Oh that didn't work let's try that. They get more chances. But if a black comic doesn't get those high ratings straightaway, that's it you're cut you don't get anymore chances. If you don't become an overnight smash that's it you're out the door, see you later and they'll say "yeah we were right black comedy doesn't work."
But what can we do it's like a brain drain we keep losing great talent as you guys have to go to the States to get the right recognition. 
You have to make your own content. That's what I admire about Kojo the Comedian. He is a f*****g hustler! He's out there making his own content. I actually learned from Kojo, I'm like you know what he's making his own content f*** the TV channels you make your own s*** and make them come to you and that's what you've got to do. I took a leaf out his book and said yeah I'm not waiting for these TV channels, I'm going to make my own content. To be honest television is dying. They're going to find themselves out in the cold unless they move with the times and with the audience and into the future. Most young people aged 24 years and under do the majority of their viewing online anyway so TV is a dying form. People pick what they want to watch and download it or stream when they want how they want. They're not waiting for the TV to bring it to them. So people just need to make their own content and get it out there.
That's some real talk! Before I let you go I have one last question. Are you still friends with Sir Lenny Henry? 
Hahaha oh yeah for sure he is so supportive. He always messages me and tweets me to tell me how proud he is of what I'm doing and what I've achieved. He even said to me once I'm jealous of you, I wish I could've gone the route you took and done this comedy thing the way you did. He stays supportive.
Is there anything you else want to tell the fans? 
Get your f*****g tickets! Get your Underbelly tickets for the 23r 25  June. I sell out every year so get them in time don't wait until the day before get them now and come have a laugh.
---
Info: Gina  Yashere will have her own one hour show at the Underbelly Festival on Southbank  from  23-25  June. In a rare UK appearance with some hysterical tales to tell, the star of Comedy Central's The Daily Show with Trevor Noah, BBC's Live at the Apollo, The Tonight Show with Conan O'Brien, The Jay Leno Show,Mock the Week and so many more is back in the UK for three nights only. Book tickets