Fola Evans-Akingbola – interview, Death in Paradise and Game Of Thrones
In the two short years that Fola Evans-Akingbola has been on the acting scene, she has made quite a name for herself. Originally from Bermondsey, the rising star has already starred in Holby City and BBC drama Death in Paradise. The actress also happens to have starred in the biggest show on the earth's stratosphere Game of Thrones as one of Khal Moro's wives. Fast becoming a seasoned globetrotter, the talented ingénue has just returned from Ireland where she was filming a pilot for MGM-Hulu. Ever the professional, Evans-Akingbola is keeping schtum about the main storyline, but does let slip a few details.
"The show is called Dawn and it's about three tribes fighting for survival at the dawn of time. My character is part of the human tribe and I think what's amazing about the project is even though it's set at the dawning of man, it's dealing with themes and tensions that are ever present and universal. I think that's about all I can say without getting myself into trouble. Sorry!"
Whilst the Identity Drama School graduate isn't able to discuss the show, she is full of praise for the production team, including the director Robert Stromberg who directed fantasy film Maleficent.
"He was a really amazing person to have at the helm, he's also won Oscars for his production design on Avatar, so you could see that creative flair during the pilot. Also the writers Ken Nolan and Hank Steinberg were such experienced and talented people to be on a project with. So I'm very excited about it."
I think people are applauding of badass female characters, but if you're only badass it's just as one dimensional as being like 'Save me!' What I like about the female characters in Game of Thrones is they're so well developed.
Evans-Akingbola comes across as bright and motivated during the interview. She shares that despite a childhood dream of playing orphan Annie, she never intended acting to be her career. After acting with the National Youth Theatre until the age of 12, she took a break from performing during secondary school to focus on her studies. In fact the artist had been accepted to Kings College to study Religion, Philosophy and Ethics, but then "Did a U-turn." After some modelling and stage work, Evans Akingbola decided that acting was her calling. Very friendly, she asks how I am and if I'm a fan while she reveals how she discovered she's landed the part of Game of Thrones.
"My agent is so sneaky, he'll always find a clever way of telling me when I've got a part. I was on location in Guadeloupe filming for Death in Paradise and when he rang I said 'I'm sorry if you can't hear me, my Wi-Fi is really bad.' he said 'Oh, I wonder if it will be better in Spain.' It took me a few minutes to realise the Spanish desert is where they're shooting Game of Thrones and I'd got the part."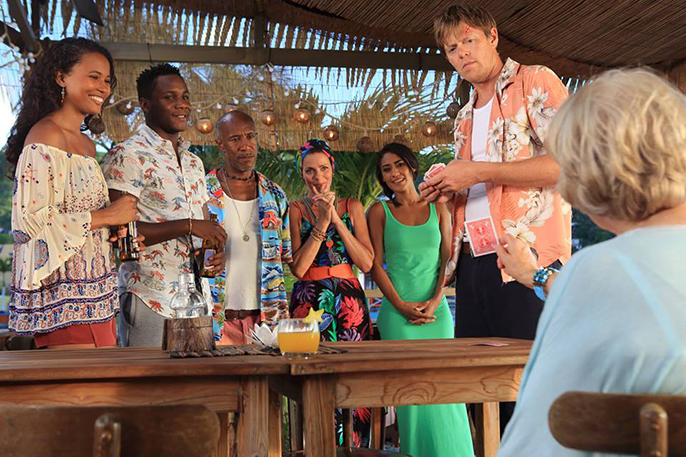 The actress admits to being 'hyped' upon getting the role, and describes the experience as 'Incredible. I was a fan of the show before and now it's in its sixth season, it's like a well-oiled machine. Also the attention to detail, from the pomegranates to the horses, it's just fantastically done."
Evans-Akingbola explains that one of the biggest draws of the show was its strong female characters, in particular Emilia Clarke as Daenerys.
"I think people are applauding of badass female characters, but if you're only badass it's just as one dimensional as being like 'Save me!' What I like about the female characters in Game of Thrones is they're so well developed. Daenerys is a strong woman but she also has her insecurities and other elements. So it was amazing to be on set with Emilia when I was doing my scenes."
Championing and supporting women is a passion for the actress, she reveals that she volunteers as an equality champion at Greenwich charity the Her Centre. The organisation supports over 1000 women a year, who have been in or are experiencing abusive relationships. Evans-Akingbola elaborates
"I'm a feminist and I'm passionate about womens' empowerment and want to explore how we can improve the world on that level, that's something I could talk about for hours. Sadly, because I had to go away for filming, I haven't been as involved as I want to be of late. But my plan is to be as active as I can be now I'm back in London. I think it's one thing to sit at the dinner able and say you're passionate about something, but the next step is doing something about it. So, I plan to commit all I can to that cause."
The Actor's Temple graduate has been called away from her hometown several times in her short yet illustrious career. She spent last summer in LA during pilot season and shares that despite the frenzied pace she came back with "a skip in (her) step." Thus far, the actress has filmed in the Irish mountains, Spanish desert and the halcyon island of Guadeloupe for her role in Death in Paradise. Evans-Akingbola admits to feeling lucky to have spent time in such a beautiful location, and the heat made for a relaxed set as it was too hot to get stressed. The actress played regular character Rosie Fabrice in the show, whom she describes as "A sweet and sensitive girl." Evans-Akingbola had the added challenge of perfecting a Jamaican accent, citing Miss Jamaica from the Miss World competition as her inspiration.
"It was a challenge, ideally you want to not be thinking about your accent at all so you can just be in the moment. But I think an accent really helps the actor get into character. Our identity is linked to language and language is so linked to culture and so it's all entwined. I loved being a part of the show, working for the BBC was such an honour and it was great to have such a diverse cast."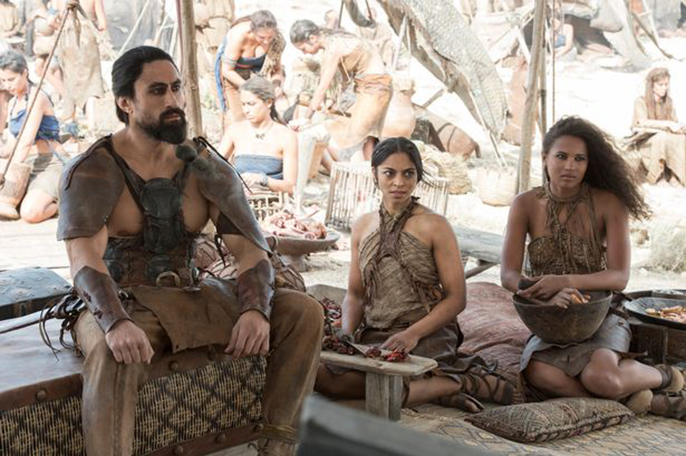 As a mixed race actress, Evans-Akingbola feels there is still work to be done in terms of multicultural representation on stage and on screen. Having spent time in LA, she reveals that Fox series Empire has proved a game changer.
"The diversity conversation is hot in LA following on from Empire. On some levels America is ahead of the UK and in other ways they're not. Especially for me as a mixed race actress, there's a lot of opportunities out there, partially because it's a much bigger country with 95 main channels. In the pilot for Dawn, we had an international cast, we had Irish actors, Brazilians and people from New Zealand. I think having a melting pot in a production is brilliant because it makes sure that people feel that their story, their voice is important."
At such an early stage of her acting journey, a long and exciting road lies ahead for this discerning young artist. Evans-Akingbola has her head screwed on and with her talent is an actress we'll be seeing a lot more of in the future. Before ending the interview, I am curious to know what Fola Evans-Akingbola sees for herself in the next five years. She answers with shrewd optimism.
"I always think if you make too firm a plan, you'll be disappointed and risk people laughing at you. But ideally, I would like to be working consistently both in the UK and America with an amazing team of creatives. I don't care about the scale of the production, whether it's a small stage play or a huge movie, so long as the story and the character and the team are something I can get behind. So, whatever comes my way, I'll be happy if I can tell stories that move, interest and entertain people."